My First Splinterlands Tournament Win

Hello there.
I am interrupting my regular Splinterlands posts [Documenting My Splinterlands Knowledge], with a post about my first Splinterlands Tournament win. If you're a new player, and haven't played in tournaments, then you are missing out on a lot. This is a topic that I should have tackled earlier, but forgot to. I'll make a more in depth post about it next time. For this post, I'll be discussing the recent tournament I joined.
There are 2 Novice tournaments that are created by Splinterlands. The "Summoner's Novice Beginner Training", and the "Scarred Hand Novice Beginner Training". I usually join both, and the highest I've ever reached was 3rd place. I like the Novice tournaments because everyone is mostly in an even playing field since cards are all level 1.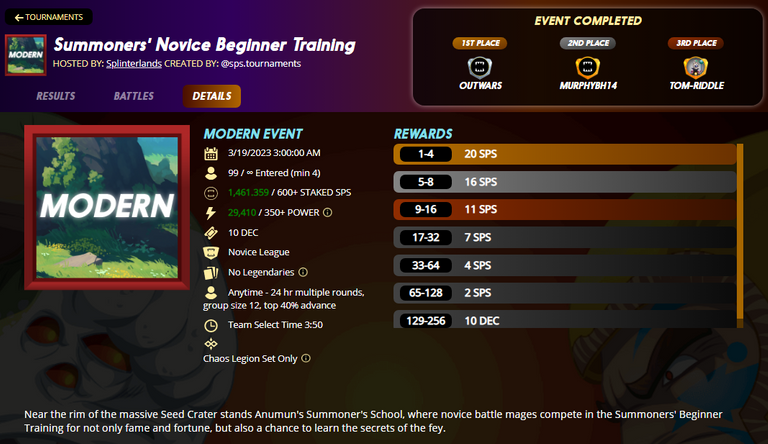 Apart from making a post to document my first tournament win, I'm not really here to gloat. Since my Splinterlands posts are mostly geared towards newer players, this is no different. I'll show my battles, and give some inputs on them. These are my Round 1 Battles: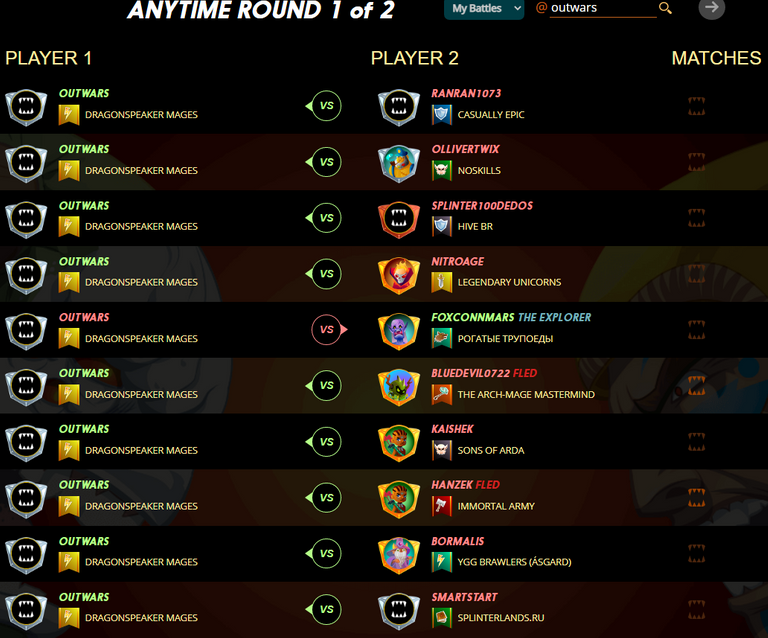 Round 1
---
VS RANRAN1073
https://splinterlands.com?p=battle&id=sm_UYLyUbY9KNGIkJGl5Wyd&ref=outwars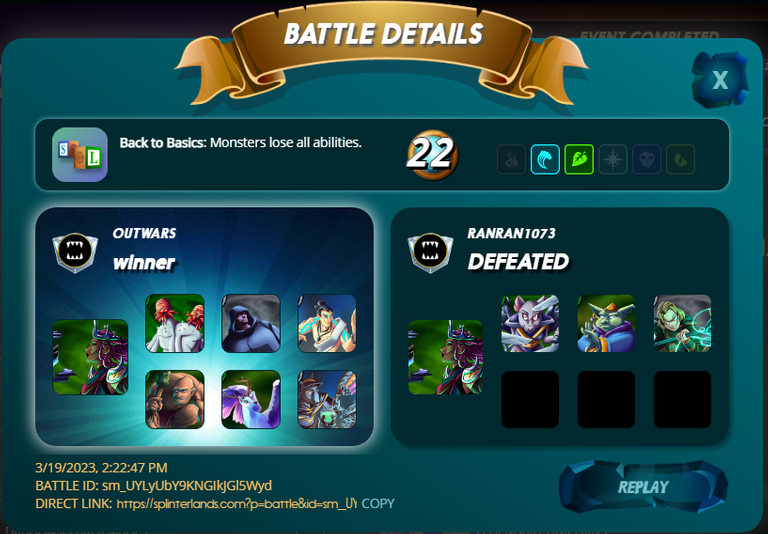 Back to Basics battles are usually just magic teams, with a focus on Obsidian, and Thaddius if available. People usually have 1-2 tanks in front, and focus on damage at the back. I wanted to have a lot of bodies to take damage, so I just opted with 2 Magic attackers, and a lot of tanks. I made my opponent waste their 3 damage attacks on 1 cost monsters and tanks.
---
VS OLLIVERTWIX
https://splinterlands.com?p=battle&id=sm_NLiCpYXJZLcbkolDUP4p&ref=outwars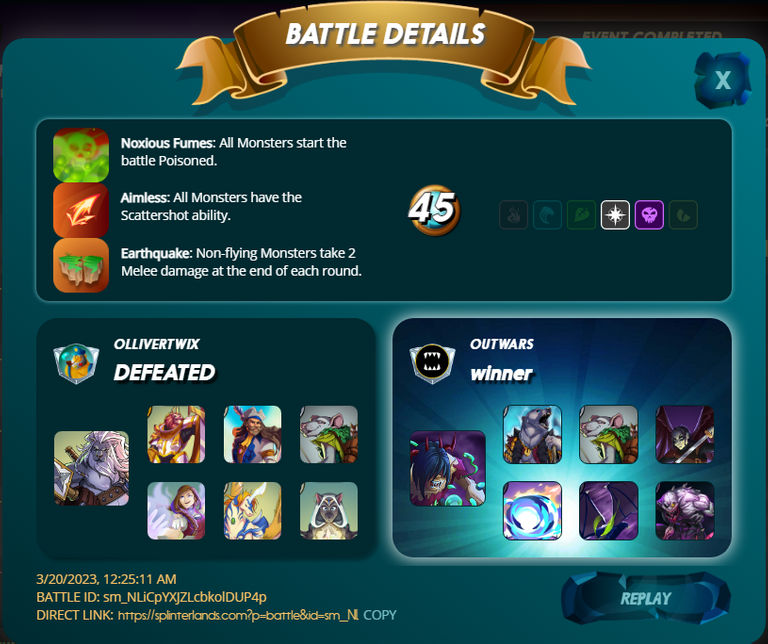 There are two rulesets that deal damage. That is why I opted with Thaddius to lower their HP, and used Will-o-wisp which has the Weaken ability, to lower it even further. It also has Flying so only poison will deal damage to it. I added more Flying monsters and my win condition is the Riftwing. I included Arkemis and the Night Ghoul as my tanks. Arekemis blocks a tick of Earthquake damage with Protect, and the Night Ghoul taunts any Melee sneak. The Marksrat Martyr replenishes the Arkemis armor at the end of the round, while also making my Pelacor stronger. My opponent didn't really have a way of outlasting my Riftwing with Scavenger in the late game.
---
VS SPLINTER100DEDOS
https://splinterlands.com?p=battle&id=sm_KeEWG61rv6tZqXMhxESw&ref=outwars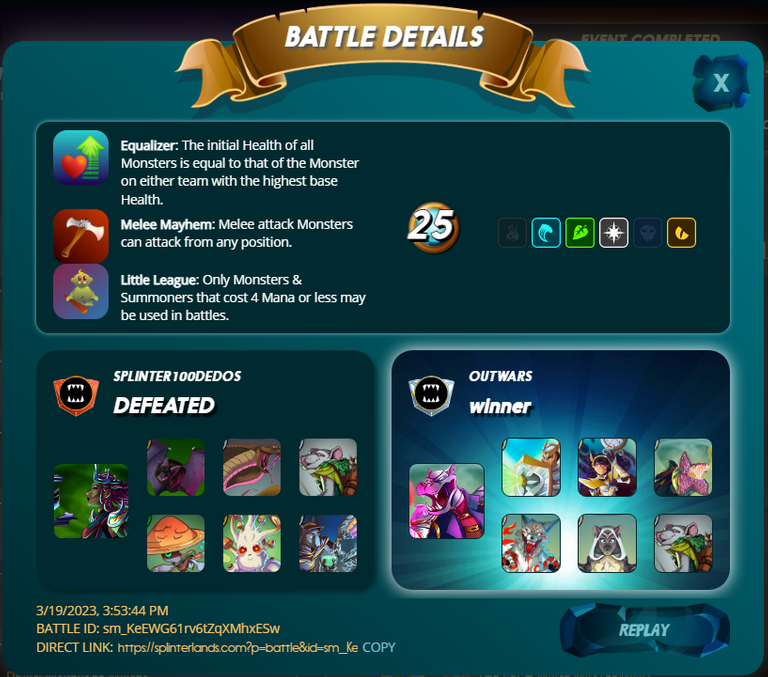 I actually considered a similar lineup as the opponent. Madcap Magus is really strong especially with Equalizer. I opted with Sloan and Range damage because Life has healing from the Venari Crystalsmith, and the Scavenger of Vulguine. I want my Vulguine to stack HP so that my Heal will be higher than the damage they can put out, and my backline will be safe. It worked, and I was able to win.
---
VS NITROAGE
https://splinterlands.com?p=battle&id=sm_1WnTr0sUq178JAojTRuH&ref=outwars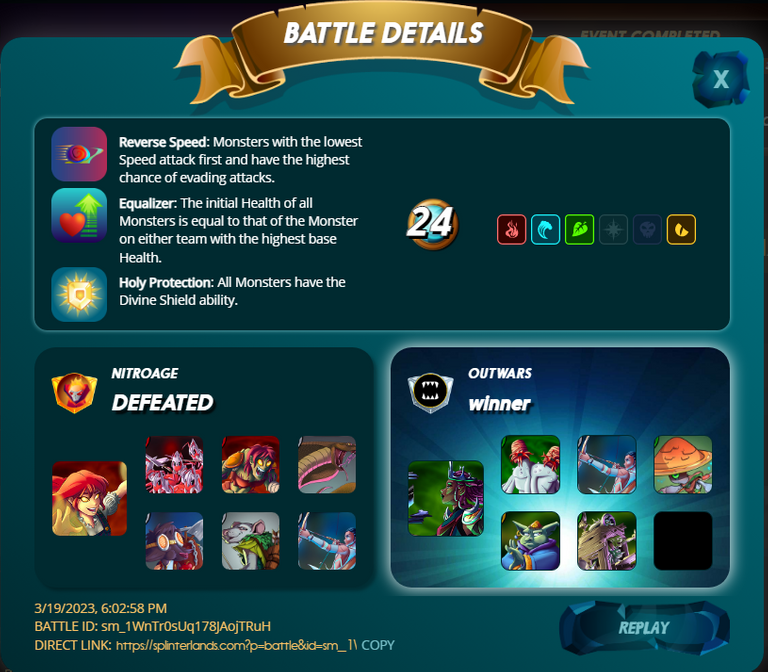 Remember when I said Madcap Magus was strong in Equalizer, here it is in action for my team. To be fair, it wasn't too effective because of the Holy Protection blocking its Life Leech. I always like including a healer in my team since it helps keep my tanks healthy and my backline safe longer. Even though the Goblin Tower costs a lot of mana, it is perfect for the Reverse Speed, and the Holy Protection. I placed my Xenith Archer at the second position to hopefully buy more time for my Madcap to stack HP.
---
VS FOXCONNMARS
https://splinterlands.com?p=battle&id=sm_pnzYsMAuC3BPksBv2imH&ref=outwars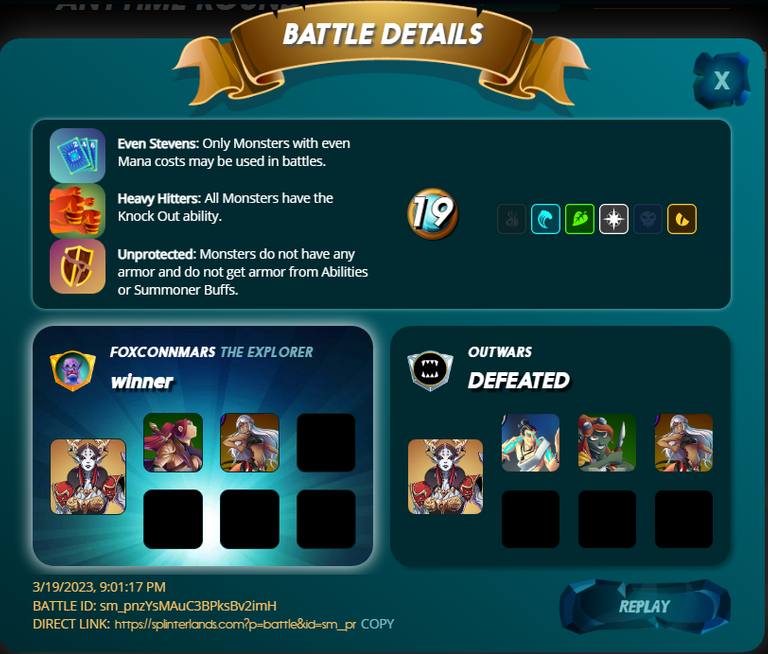 Quora is just too OP. I don't have her, but she is really strong in Novice tournaments. I don't think I could have fielded any team that can beat theirs, even if I knew their team beforehand. Don't dwell too long on battles that are impossible to win, and just go next.
---
VS KAISHEK
https://splinterlands.com?p=battle&id=sm_lh1bY2kB32bUS1333fgK&ref=outwars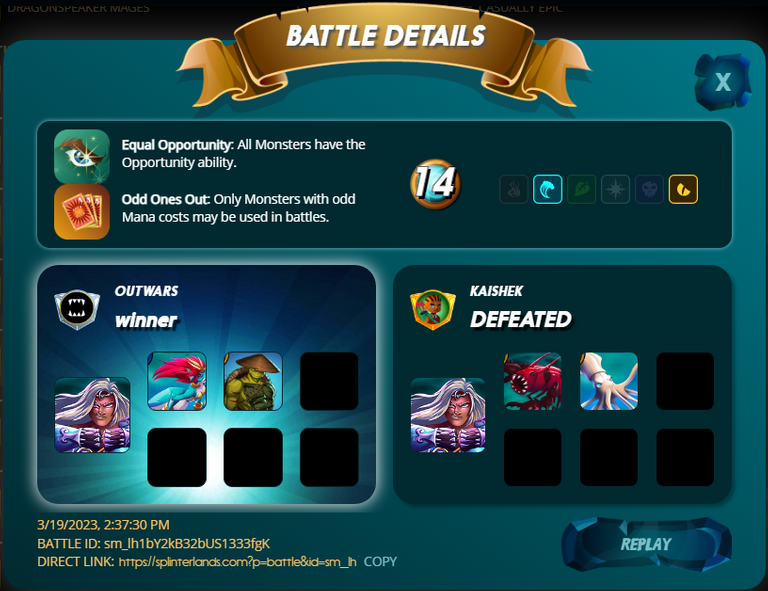 I am actually very proud of this setup. It was a sort of Eureka moment when I thought of it. For level 1 cards, there are only a few cards that can deal 3 damage on low mana to immediately kill my Merdhaali Guardian. The opponent also needs to have similar speeds so they can destroy the armor, and then deal the killing blow before I can Repair or Heal. I think my team is good for Odd and low mana battles, and I can't wait to test it out more.
---
VS BORMALIS
https://splinterlands.com?p=battle&id=sm_5QFSvclASCqnfcLT7tJ2&ref=outwars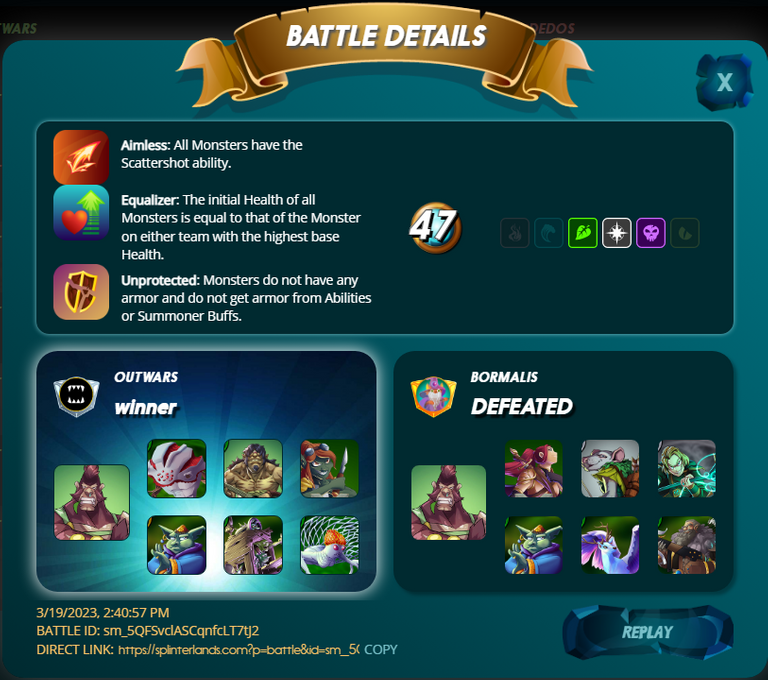 I wrote earlier that Quora is OP, but I forgot to add that she is not unbeatable. Here is a battle where I am able to defeat a Quora. I added the Mycelic Slipspawn even though it was an Aimless ruleset because I was scared of facing another Katrelba. I used the Mycelic Infantry as the main tank, and the Equalizer helped increase its HP. Because of Aimless, my opponent's attacks were all over the place, but my Katrelba was able to focus on their backline one by one, eventually getting enough stacks to win.
---
VS SMARTSTART
https://splinterlands.com?p=battle&id=sm_BIdoc4NU6BREhIaLKgxV&ref=outwars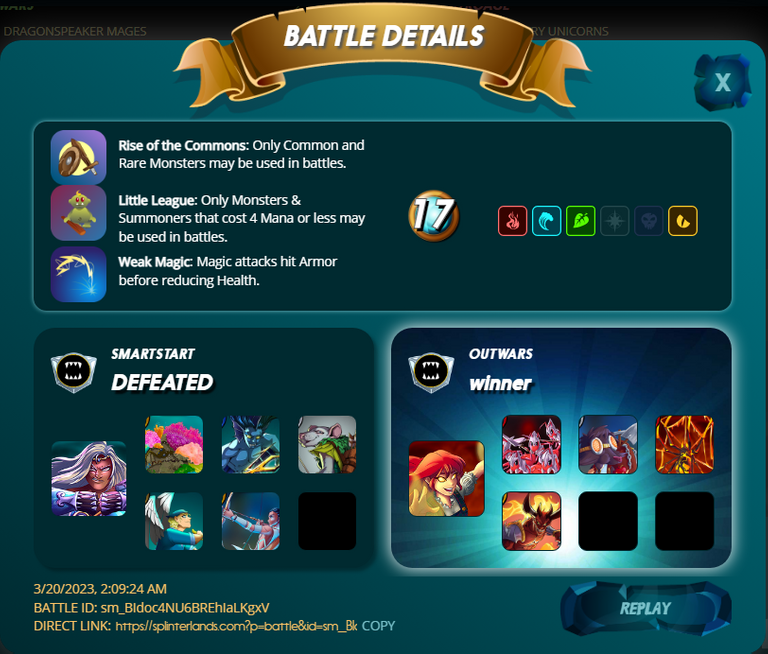 For Little League, I usually prioritize Fire because the Antoid Platoon has Shield, which can negate a lot of damage. Because we have Weak Magic, I also added the Scavo Hireling to Repair the armor in case the opponent uses Magic attacks, which is usually a big weakness of Antoid. I added a Snipe monster to kill the backline if the opponent uses a similar team, and I used the Pyrewatch Devil for its Life Leech in case the opponent used sneak. Everything worked perfectly and I got the win.
There were 2 opponents that Fled the battle and I ended Round 1 with a 9-1 record.

Final Round
Only players who made the cut from Round 1 are able to participate in the Final Round. I was able to move on to Round 2, and I am expecting even harder battles. These are my opponents for the Final Round: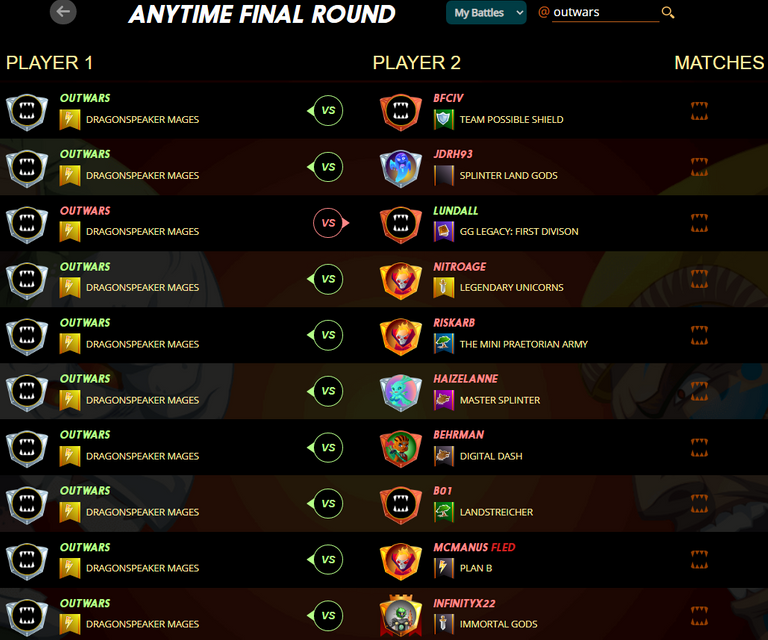 ---
VS BFCIV
https://splinterlands.com?p=battle&id=sm_maeUqb2lVSyyUHVQP5dI&ref=outwars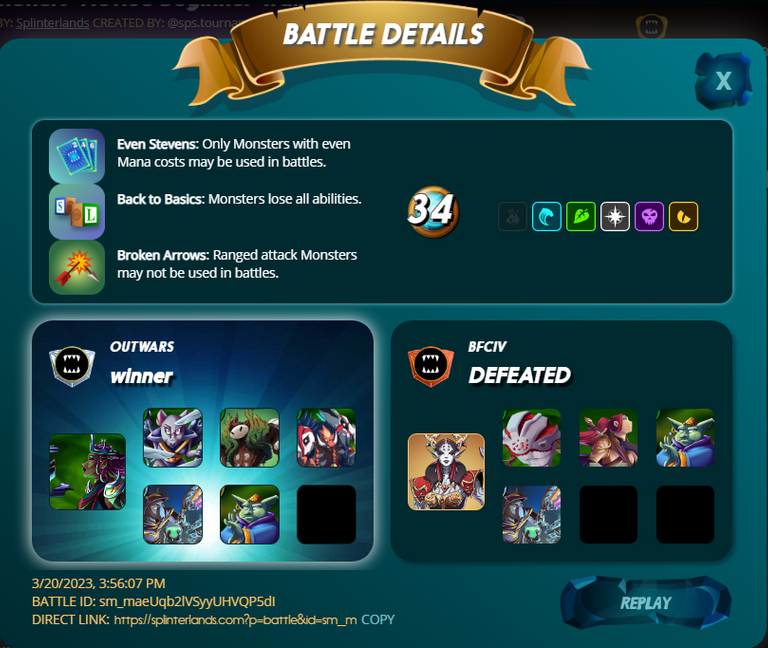 And the first battle is against another Quora. While it is good for me that it is a Back to Basics ruleset, so Quora doesn't have the Bloodlust and the Healing, it still has the Melee attack, so it can attack twice in the front position. I just opted for value for my tanks, and some magic damage at the back. Helios, Quora, and Mycelic Infantry all cost a lot of mana. Obsidian increases my backline damage, Venari Knifer costs 2 less mana than the infantry, but has the same HP. The Terracious Grunt has 10 HP for 6 mana. I'm not sure if my opponent used a bot or if they forgot about the Back to Basics, but my team was more effective.
---
VS JDRH93
https://splinterlands.com?p=battle&id=sm_1FYdmoRUkR6MBNNZgqSY&ref=outwars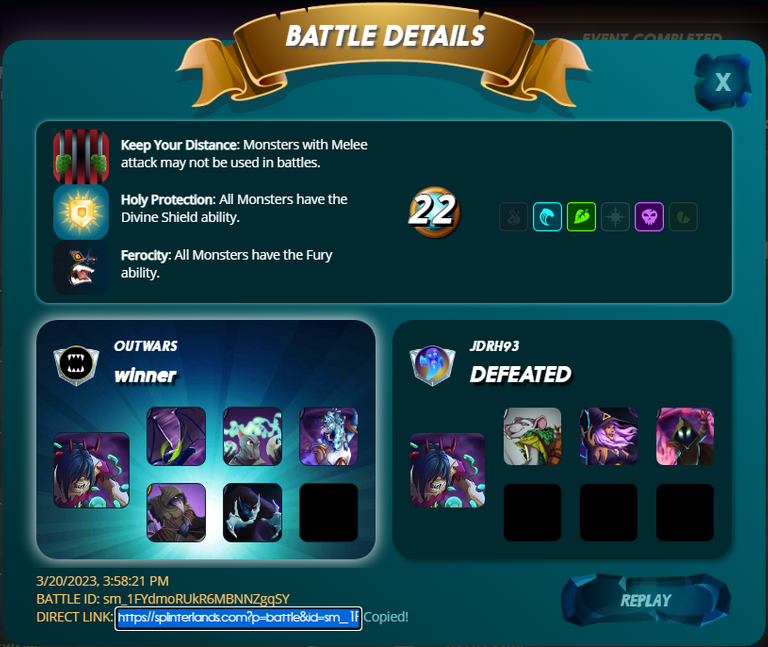 For Keep Your Distance, it's mostly going to be either Obsidian magic, or Thaddius range+magic. Because of that, I decided to also go for a mix of both myself. As my tank, Riftwing is the ideal choice. It has 5HP, and can evade some attacks from Range attacks. I have my 2 Life Leech monsters after it. Then I had Ravenhood and Soul Strangler at the back. My opponent had an interesting team, but this is why I don't like the Magi Necrosi in the Thaddius mirror. It just becomes a 1 damage monster, and the Bonesmith can negate it completely even without Holy Protection.
---
VS LUNDALL
https://splinterlands.com?p=battle&id=sm_gr8oNcd9k5DY8tnh7hMy&ref=outwars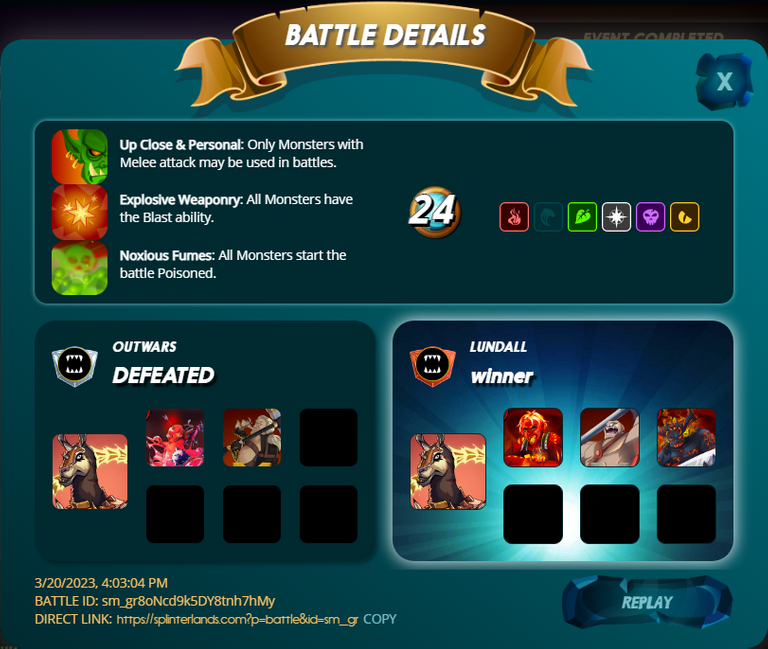 I don't have Forgotten One, and my opponent does. That in itself makes this battle unwinnable. The Forgotten One is the only monster in Chaos Legion that has Immunity at level 1. This is why it is so strong in Novice tournaments like this. This battle wasn't even close. Just another go next battle.
---
VS NITROAGE
https://splinterlands.com?p=battle&id=sm_SuZMzKWsMqhNkENeewaJ&ref=outwars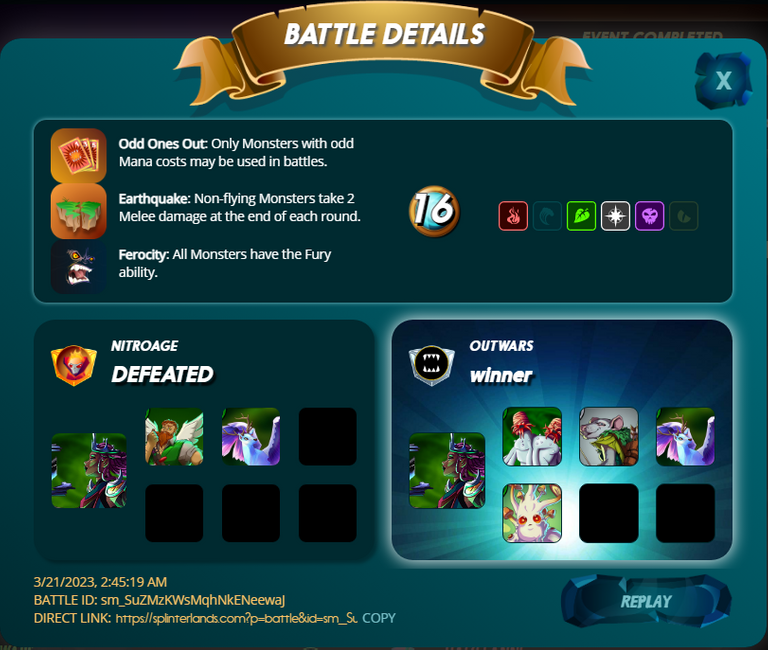 I was actually tempted to use a similar team as my opponent. In Flying Ruleset in Novice Tournaments, Regal Peryton is king. My team wasn't a eureka moment, but rather a what if, experimental lineup. I didn't want the draw, and I'd rather risk it for the biscuit. It was a good thing that it worked. I might consider using this team composition in the future as well.
---
VS RISKARB
https://splinterlands.com?p=battle&id=sm_QZvHYUnwyLCnAXdXT2tS&ref=outwars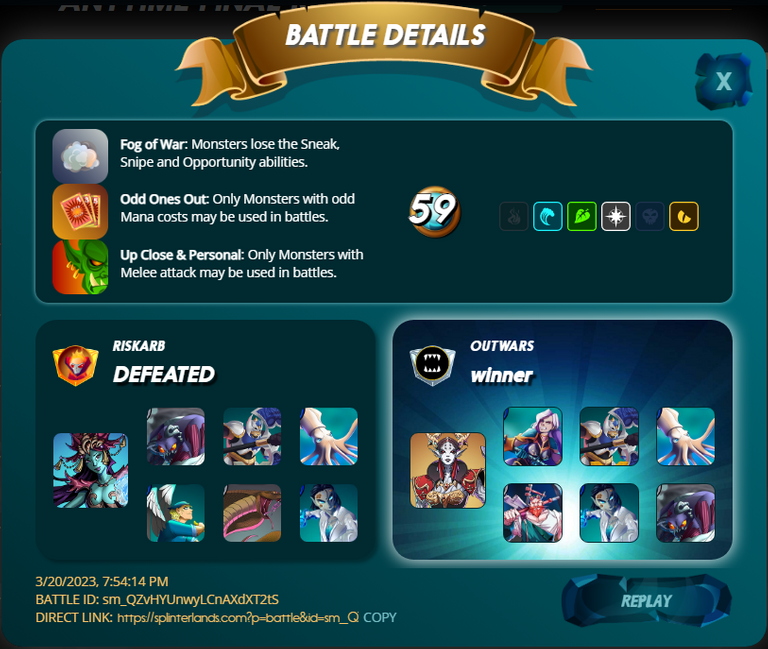 My comp was a product of trial and error. Because of Fog of War I had to check which had the most Reach monsters. I then Wanted debated between +1 Speed or HP, and arriving on Speed so I can attack earlier. I then placed my Disintegrator at the back even though it won't be able to attack until the end, since the -1 Melee damage is so important. I was able to win handily because my opponent forgot about the Fog of War.
---
VS HAIZELANNE
https://splinterlands.com?p=battle&id=sm_BOd59y10sK1XImIrcrXw&ref=outwars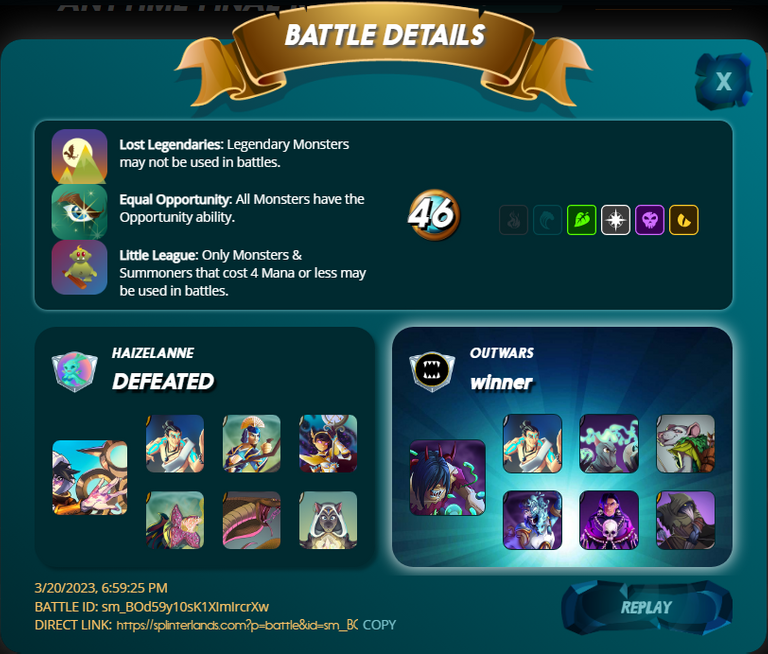 I think my opponent wanted to counter range attacks, or just wanted to attack first with the increased speed from Ilthain, or both. I always like to play flexible teams, so I tried to counter both magic and physical damage. This is why I really like using Ravenhood since it gives me that option. Thaddius takes care of the magic damage, while the Protect from Ravenhood delays physical damage. Since we have Equal Opportunity, I placed the Marksrat in the middle of my two magic Life Leech monsters.
---
VS BEHRMAN
https://splinterlands.com?p=battle&id=sm_Kv8CfRZzFLVFaNmvfEe0&ref=outwars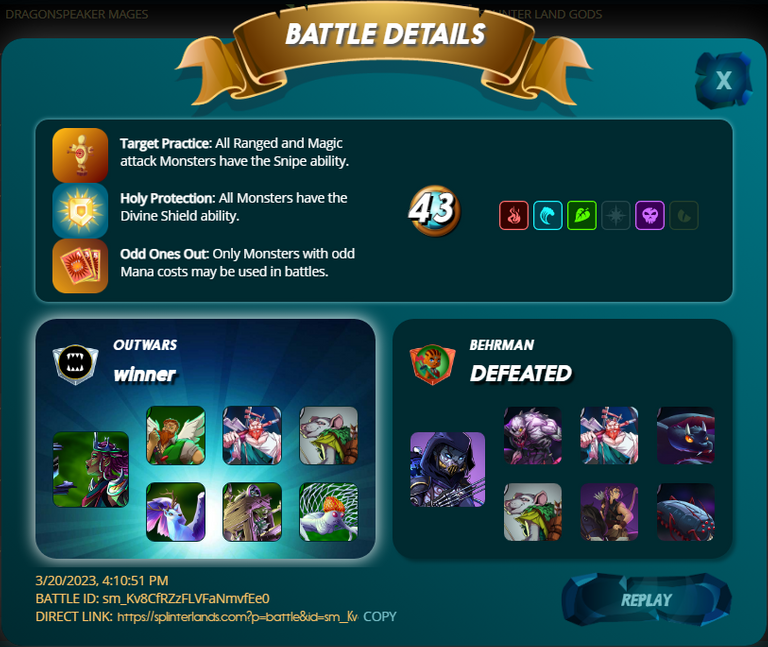 Apart from Healing, another ability that I like using is the Taunt ability. I want to spread my opponent's damage hoping that they will take time before they can kill my monsters, while I can kill some of theirs with my focused attacks. This worked perfectly in this battle. My Mycelic Slipspawn bought enough time, and I had two opponents attacking my tank and my front line each. By the time they were able to kill my Slipspawn, Liza was already near the front and was easy pickings.
---
VS B01
https://splinterlands.com?p=battle&id=sm_WO3BlbF9xNtKZXIXPHL8&ref=outwars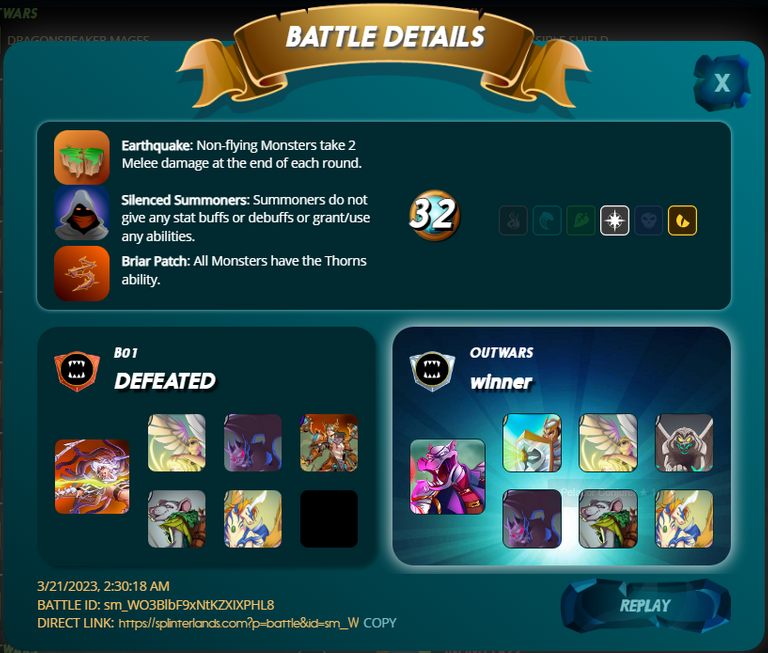 My opponent and I had similar lineups, except they used Sthispa, and had Runic Skyclaw. As we can see from the battle, using 9 mana for the Runic Skyclaw backfired on them. I was able to put 2 melee monsters that soaked up damage, and Skyclaw was useless once it got into the first position.
---
VS INFINITYX22
https://splinterlands.com?p=battle&id=sm_MXotCxtYcjuBeS1YASC6&ref=outwars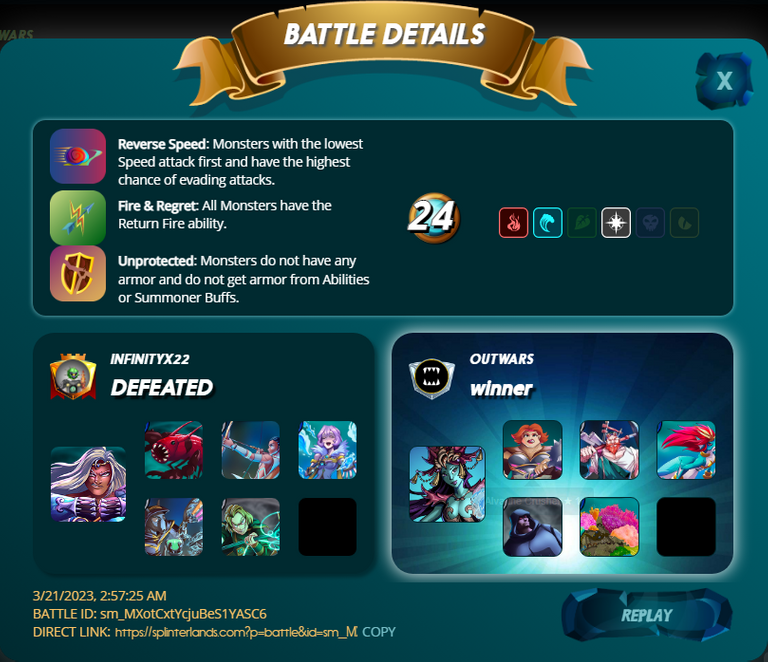 This battle could have been different if my opponent placed their Water Caller at the back and continued to stun my team, but hindsight is 20/20. I can understand why they placed it there though. It has 1 Speed and 5 HP, so it's a good tank. I was expecting my opponent to use Fire sneak, which is why I had my 1 costs at the back. In the end, I still won even though I had the wrong read.
I had one opponent who fled, and I finished the tourney with an 18-2 record. Here is the final ranking: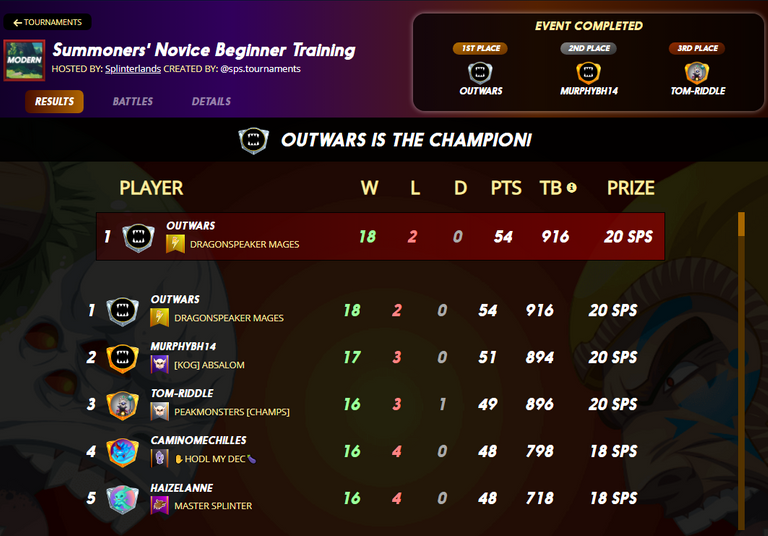 I wasn't able to face any of the top 2-4, and I might not have won first if I did. But if I wanted to make myself feel better, I can also say the same for them. I might have been able to defeat them if we faced each other.

Apart from documenting my tournament, the other main thing that I wanted to show in this post is something that is not too obvious but hopefully can inspire newer players. If you look at my battles, I only mostly used Reward/Brawl cards and Starter cards. For cards not easily attainable, I used Arkemis, Night Ghoul, Septic Slime, Lemell Refugee, Junker, and Suidae Shaman. If you look at the market, these are among the cheapest Riftwatcher cards available, and for the Arkemis, I actually won it in a giveaway in PeakD. I bought these RW cards, and some I remember winning in another giveaway, while I was trying to grow my tournament deck.
If you look at my opponents, they were using Magi of Chaos, Quora, Hunter Jarx, Forgotten One, Gorth, Sthispa, and Magi Necrosi. I can even add Runic Skyclaw, Corair Bosun, and Queen of Crows, since they are higher priced Rares, and I don't have them. In Bormalis battle, I even defeated a team having 3 epic cards.
I'm not saying anyone can get first place. I have a lot of experience on my side, and I try to field unorthodox teams that tend to take my opponents off guard. But what I am saying is that it is possible, and this post is the proof. Even if you can't get the top spots, you can still get Top 16 or 32, and accelerate your SPS staking. Because of these tournaments that are practically instant 2SPS [There are only 99 entrants, but top 128 get 2SPS], I am able to increase my SPS bit by bit, and I am able to join more tournaments with higher staked requirements. It's also a good preparation when we finally switch to SPS staking for ranked battles, and move away from CP.

If you are able to reach this part after reading everything, I would like to thank you so much for going through all that. It was in the middle of writing this that I realized it was going to be too long for a lot of people. If I were to write another tournament post, I'd probably just discuss the Final Round, and omit Round 1.
And for the crazy ones that are still reading. I would like to reward you with more than my thanks. I want to give one of you [I'd be amazed if there is even 1 haha] a legendary card. To qualify, I want you to give one of the cards I mentioned as not easily attainable, or one of my opponent's cards that I gave emphasis to. Also include the battle where they appeared. In case people start copying each other, I will choose the ones who said each first. I will send the card once the post pays out to give the maximum chance to everyone.
And as always, these are Not Financial Advice, and Do Your Own Research.
If you want to start playing Splinterlands, you can use my link:
Splinterlands Referral Link
---
---