Owly Farm Gaming Releases Tournament and VIP NFTs!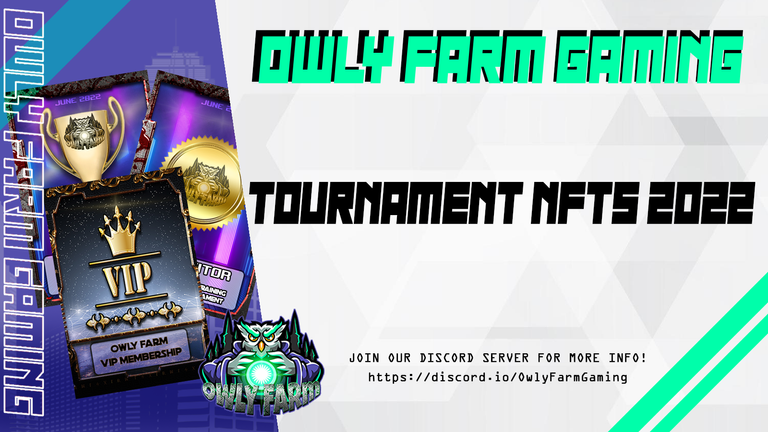 Owly Farm Gaming release tournament NFTs!
As additional rewards to Owly Farm hosted tournaments, the team will mint reward NFTs for tournament winners. This initiative is to give thanks to all community members of Owly Farm, especially the loyal fans. There will be different designs for borders, trophies, and backgrounds each month, to the rarity of the NFTs.
"It also allows us to do some promotion for our partners who supports us and help us to do these Esport tournaments."
To obtain the tournament NFTs, community members should participate in Owly-Farm-hosted tournaments. The NFTS will be tradable in the WAX blockchain and can be viewed in Atomic Hub. Aside from NFTs for tournament winners, there will also be consolations for NFTs and bonus NFTs for participants. These can be claimed over NeftyBlocks and can be sold and bought in Atomic Hub.
---
NFT Types
Trophy NFTs – Top 1, 2, and 3 of each tournament will receive a 1 to 1 limited NFT. This is to honor their greatness in being the best of the best in Owly Farm tournaments.
Owly Farm Badges – Those who participate in Owly Farm tournaments will receive Owly Farm Badges which can be blended into Owly Farm VIP Passes. Only 25 Owly Farm VIP Passes will be minted 15 will be listed for sale on WAX Blockchain and 10 will be for the blending event.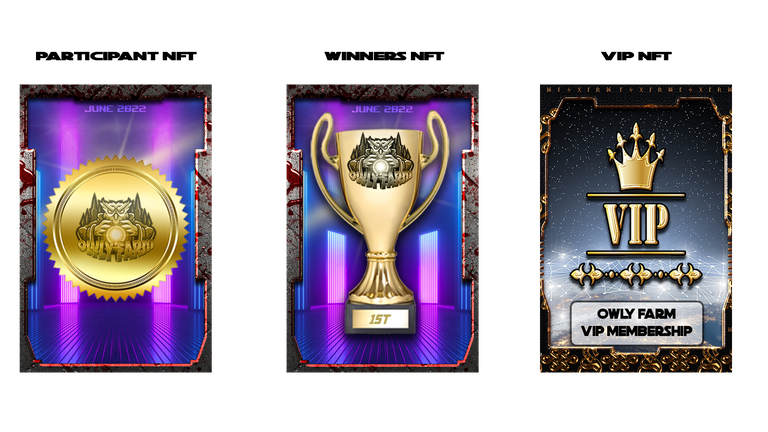 ---
NFT Utility
The team believes that Owly Farm Gaming Community has a bright future ahead as an esports and entertainment company. Aside from being a collectible, Owly Farm Tournament NFTs will have massive utilization in the discord server and, in the near future, in its staking function.
Donma said in the interview that he finds it fun to have a trophy as a reward for Splinterlands Tournaments. It is like having the spirit of a medal or a trophy when you win tournaments in real-life competitions. Since one of the main objectives of the Owly Farm community is to esports in blockchain gaming it (the trophy NFTs) just goes perfectly well with the whole project.
Part of Owly Farm Gaming's plan is to create crypto tokens for the community. Having these NFTs will give holders the chance to stake them and receive crypto tokens as part of the whole project. These NFTs will be backed with WAX tokens too. The number of backed tokens will depend on the earnings from NFT sales and donations from future sponsors.
The bonus VIP NFTs will give holders a 50% bonus for Owly Farm Giveaway tokens. It will also give the holder a special badge on twitch and a special role in the discord server. The badges and roles will be significant in the future big giveaways.
NFT market sales from Atomic Hub will go directly to the community fund where the team gets the assets for the giveaways.
Owly Farm tokens in WAX
Owly Farm finds minting the NFTs on WAX since the tokens will be minted there too. These two projects will go hand in hand so it is just logical to put them in the WAX blockchain. It is better to keep things simple and straightforward to ensure the success of the project.
Although the NFTs are backed with WAX tokens, it will be a challenge for holders to either burn the NFTs to get the backed tokens or keep the reward NFTs for future amazing features in the Owly Farm discord and Twitch giveaways.
---
OWLY FARM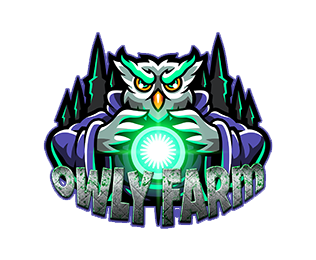 At Owly Farm Gaming we are building a community of crypto lovers. We help each other grow and we share different opportunities with all NFT gamers old and new. Join us today and have access to Awesome giveaways and meaningful content and discussions!
Discord Server: https://discord.i/OwlyFarmGaming
Twitch Channel: https://www.twitch.tv/owlyfarmgaming
---
Twitch Channel:
---
---