They're Out For Your Blood! Share Your Battle Weekly Challenge: Soul Strangler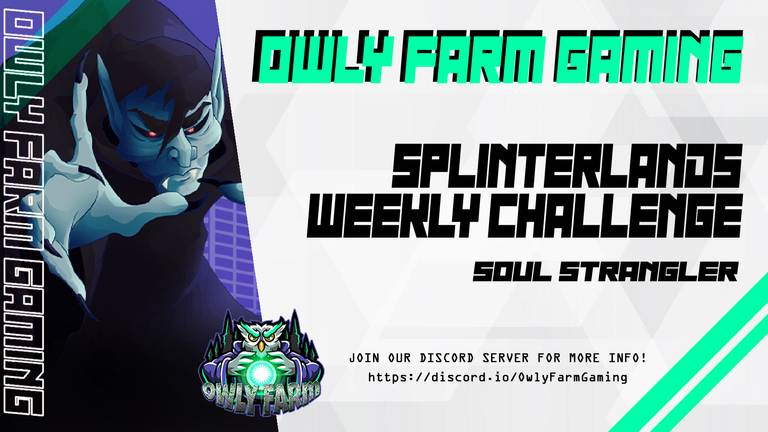 Welcome to Owly Farm Gaming's post for Splinterlands' Weekly Battle Challenge: Soul Strangler. How's your weekend so far? Hope you didn't miss this week's Splinterland Battle Challenge. If you did, then what are you doing? Read more about the event details here!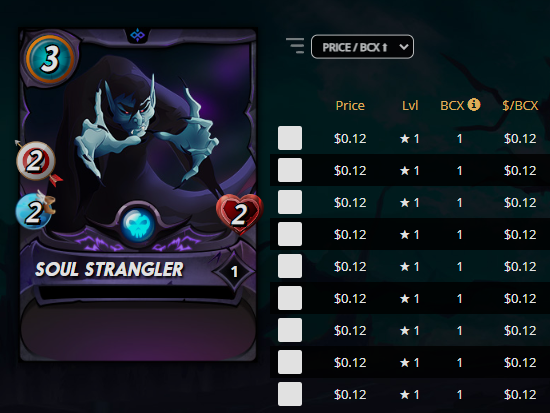 Lore
Before the chaos gate opened, the towered city of Darkholde was peaceful and quiet. Situated in the cold, Blackworth mountain range, it was presided over by a long-standing noble family and governed by Baron Kutziq Neculai. If the citizens knew the truth about their governor, then maybe they wouldn't have been so loyal, but the Baron's tastes were sated with great restraint and he truly did care for them, taking only what he must and never more than he had to. For Kutziq was a vampire, a race as ancient as the stones they'd used to build the city. A man who loved his people in many ways, including their unique flavour.

The soul strangler is a creature of nobility, of good stock and incredible wealth. They live in lavish opulence, wearing the finest attire and moving in the most sophisticated of circles, often engaging with the high born from other cities and enjoying intimate gatherings that last for days.

However, when this vampire chooses to hunt, they take on whole new guise, almost shifting their form to become more accomplished for the chase. Pointed ears extend refining their hearing and their eyes change colour affording the ability to see in the dark – their preferred time to hunt. Long fangs grow from their mouth and vicious talons sprout from their fingers. But what you can't see in either form is the power they hold within their mind, an ability to attack at a spiritual level when they eventually find their adversary, squeezing the very life from them; a ranged attack that if not avoided, will have devastating consequences.
That's a pretty long lore, don't you think? But quite interesting. As expected, they are nobility and despite craving for human blood, they stayed civil towards the citizens.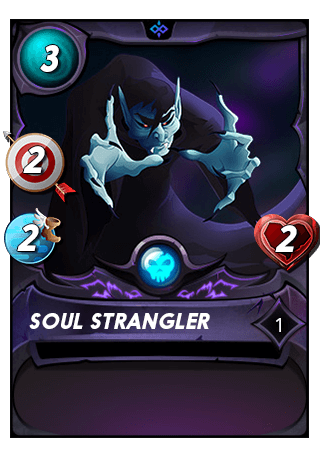 So many number twos for a Level 1 card! This 3-cost monster has 2 ranged attack, 2 speed and 2 health. I usually use the Soul Strangler in low mana battles, especially when the Death splinter is available.

---
Equalizer matches make me tense! This week's battle review covers that. It's going to be my beloved Death team vs a Water team! Check the full replay here.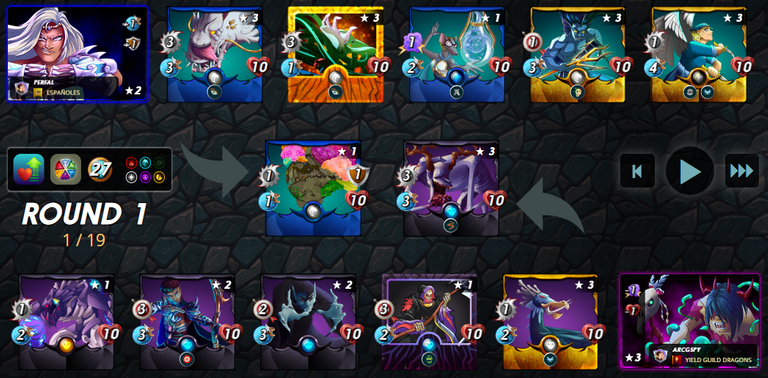 Ruleset


Mana Cap: 27
Equalizer: The initial Health of all Monsters is equal to that of the Monster on either team with the highest base Health.
Taking Sides: Neutral Monsters are not allowed for play.
Splinters Available: All except for the Earth Splinter.

With Equalizer, anything can happen. You could probably throw in your best bet and just have low mana cards as fodder. I'm taking this on with Death as Thaddius could negate some magic damage, Windeku has thorns, and I have a Corpse Fiend.
Team Composition
1st
Cursed Windeku
6
Level 3
3 Melee Attack
3 Speed
10 Health
Thorns
2nd
Carrion Shade
1
Level 3
1 Melee Attack
2 Speed
2 Health
Flying
3rd
Grim Reaper
6
Level 1
3 Ranged Attack
2 Speed
3 Health
Affliction
4th
Soul Strangler
3
Level 2
2 Ranged Attack
3 Speed
2 Health
N/A
5th
Dhampir Stalker
7
Level 2
3 Ranged Attack
3 Speed
5 Health
True Strike
6th
Corpse Fiend
0
Level 1
1 Melee Attack
2 Speed
1 Health
N/A
No shields? Pretty risky, yes. Was I thinking when I played these cards? I am not sure! I was expecting melee attacks coming from the front and the back so why not sandwich my damage dealers in between two meat shields? Playing using Death meant I can deal a lot of debuffs to the enemy.
Enemy Team Composition
1st
Hardy Stonefish
1
Level 1
1 Melee Attack
1 Speed
1 Shield
1 Health
N/A
2nd
Deeplurker
6
Level 3
3 Melee Attack
3 Speed
7 Health
Opportunity
3rd
Feasting Seaweed
4
Level 3
3 Melee Attack
1 Speed
3 Health
Opportunity
4th
Venari Wavesmith
5
Level 1
1 Magic Attack
2 Speed
3 Health
Protect
5th
Merdhampir
4
Level 3
1 Ranged Attack
3 Speed
5 Health
Life Leech
6th
Pelacor Bandit
3
Level 3
1 Melee Attack
4 Speed
3 Health
Sneak
Flying
This match surely took a lot of time to watch. The Merdhampir has Life Leech and the rest of the team were getting shields from Kelya and the Wavesmith. As anticipated, there are monsters with Sneak and Opportunity here.

---
Match Breakdown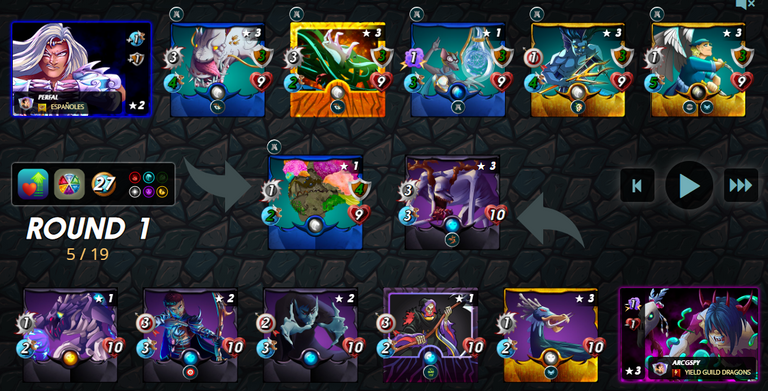 Round 1:
So. Much. Shields. I already wished I placed a magic damage dealer here. Windeku and Corpse Fiend took a lot of damage during this round but luckily, they still had some HP left.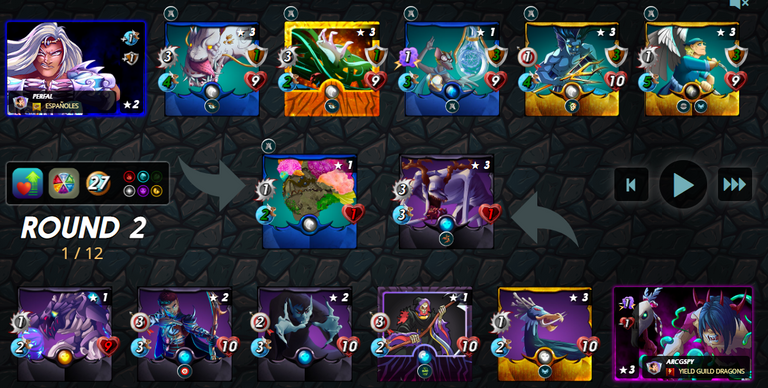 Round 2:
Merdhampir leeched life off of the Cursed Windeku which was ready to die anyway. The Dhampir Stalker took the Hardy Stonefish down. Carrion Shade would be taking hits from this round on. A flying tank can be good too!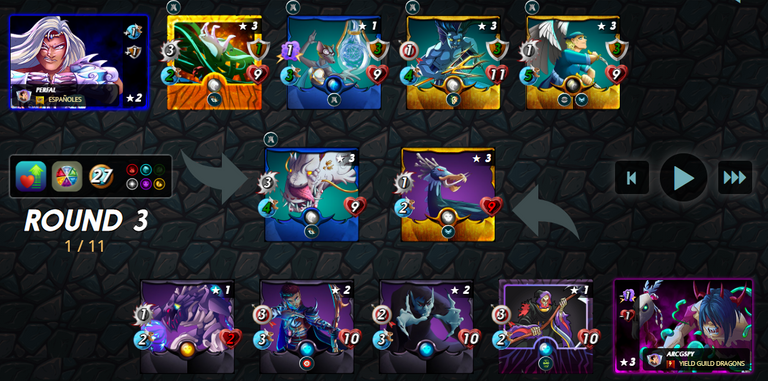 Round 3:
The Deeplurker missed its hit on the Carrion Shade and by the 9th turn, it died. Most of the damage came from my ranged attackers. The Corpse Fiend is holding on to its 1 health. The Pelacor Bandit can just be annoying sometimes...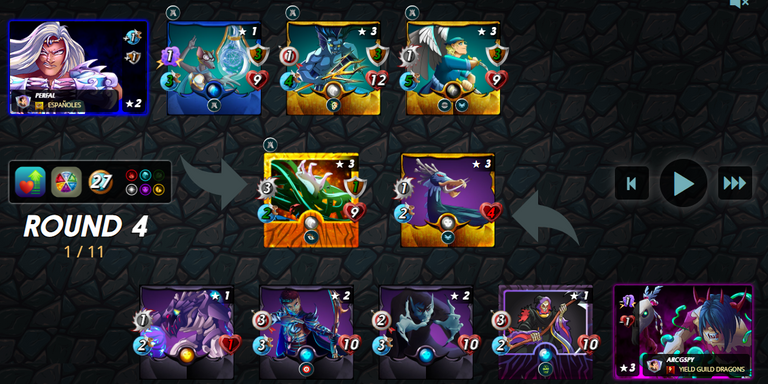 Round 4:
We bid our Fiend adieu. It did a good job protecting the Dhampir Stalker. Carrion Shade survived 10 turns but died by the end of this round. Do I have enough damage to carry on?
Round 5:
The Grim Reaper became useless on the damage dealing side of things the moment it took the 1st position. Luckily, we can still deal a total of 5 damage. The Feasting Seaweed got overkilled by one point and we can probbaly take down the Wavesmith in a bit.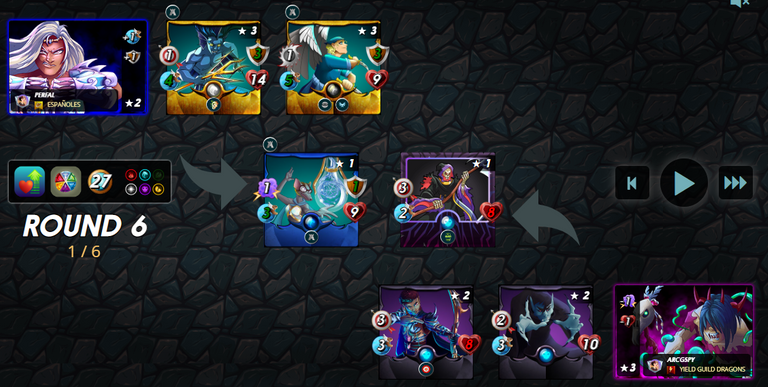 Round 6:
The Merdhampir has so much HP and I was itching to get rid of the Wavesmith. The good thing here is that their damage output is lower than ours. Grim Reaper can chill for a while.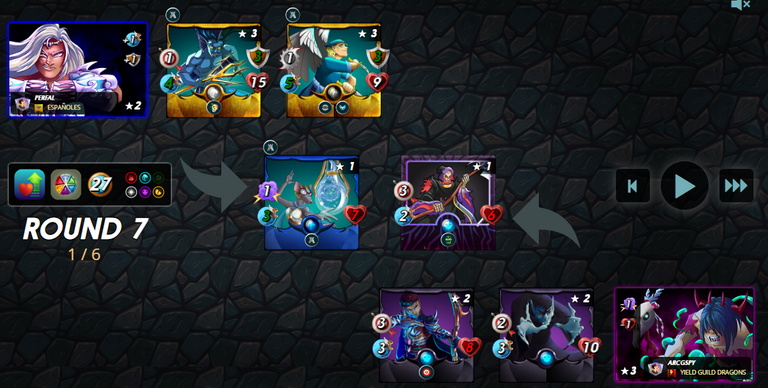 Round 7:
Are we there yet? No, not really. No one died here either.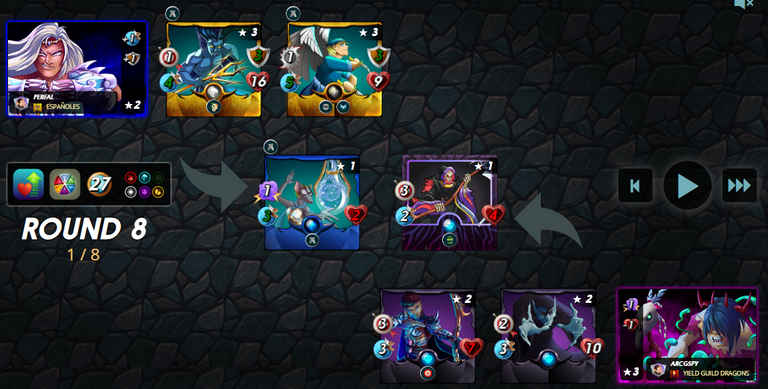 Round 8:
The Wavesmith finally got sent to the graveyard. The Merdhampir can't annoy us any more with that Life Leech!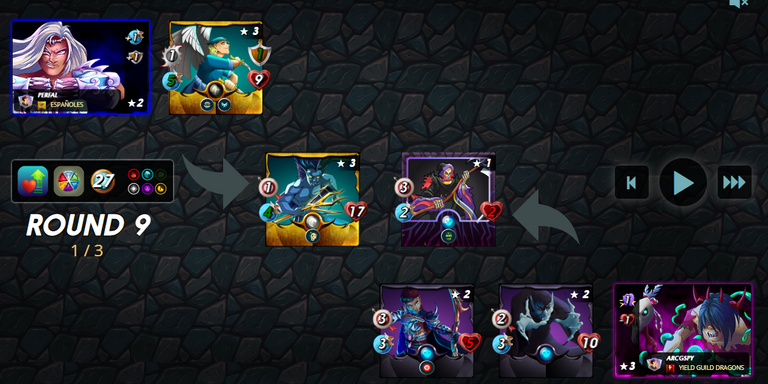 Rounds 9-12:
Another snoozer. From Rounds 9 to 12 my team was just trying to get the Merdhampir off the table. I also thought my Stalker would die from the Pelacor Bandit. But yes, good riddance, Merdhampir.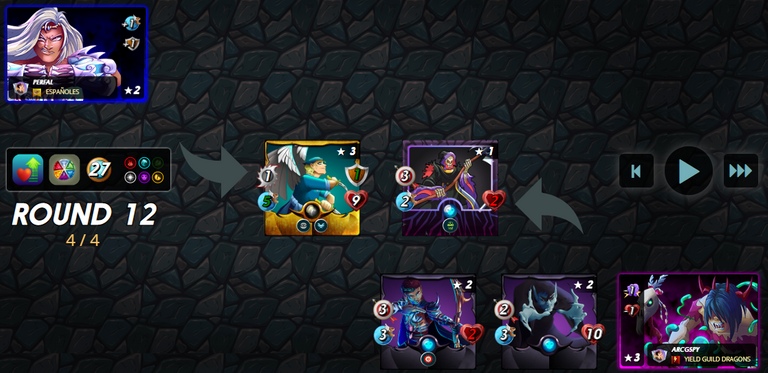 Rounds 13-16:
During these final rounds, the Grim Reaper perished and the Soul Strangler tanks for the Stalker. By Round 16, he gets his revenge from all the attacks he took from the Bandit. Karma works in different ways, yes?

---
Final Notes:
Personally, I'd pick up the Soul Strangler for fights like these. At a low mana cost, it can deal quite a punch when put into a proper position.
On the other hand, I would not use it if I know there's a chance that a monster with Opportunity or Snipe can take it down easily.
---
Thank you for stopping by to another Weekly Battle Challenge post! Don't forget to catch us on Discord and on Twitch.
Cheers!
---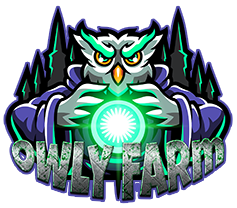 About Owly Farm Gaming
Owly Farm has a dream to reach more people and help more crypto enthusiasts far and beyond. With that, we would like to announce that owly farm accounts on different social media channels will be active soon! We will be posting crypto and NFT news over those channels so make sure to leave a like and a follow on the links below.

Facebook
Instagram
Twitch
Twitter

---
---