Who's afraid of Counterspell? Not me either / Quem tem medo de Counterspell? Eu também não [eng/pt]

na língua mãe, clique aqui.
---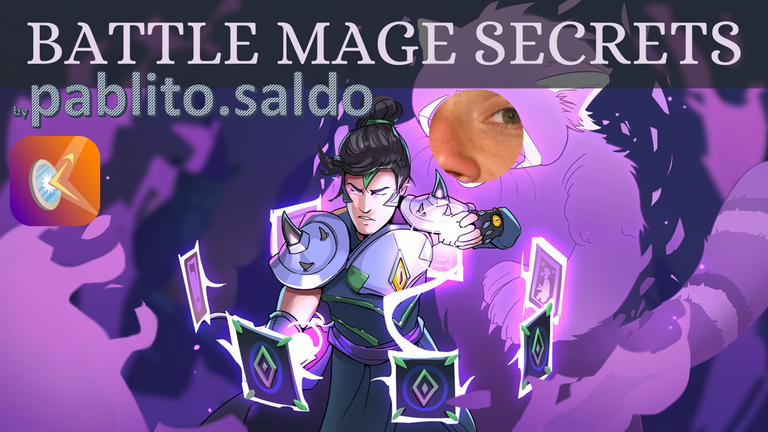 Here's a secret from this humble battle mage: Counterspell is not a rule to worry about.
All monsters receive the Magic Reflect ability at the start of the battle. Enemy monsters that attack with magic receive damage back.
Damage returned is equal to the damage of the attacker divided by 2, rounded up.
Magic monsters with the Reflection Shield ability do not take damage from reflected magic attacks.
The Amplify ability increases damage.
If all monsters will return the magical damage received, should you avoid magic monsters, right? Maybe. Reading carefully how the rule works, you realize that 1: the reflected damage is half of the received damage. 2: magic monsters are immune to reflected damage.
Well then. I had a few matches with Counterspell during these days, almost all of them were obvious ranged+melee battles, within the strategy of avoiding magic monsters. Not very exciting for the weekly challenge, is it?
challenging the system
Until I came across this battle, with good mana availability, Counterspeel and, as a "bonus," Briar Patch (All Monsters have the Thorns ability).

Then I decided to challenge myself to do something crazy: say "screw the ruleset!" and prepare the most vigorous team to face the opponent, despite the rules.
And it worked out REALLY well? Let's see.
If you follow me, you know I'm a fan of Life 😉, it's always my strongest squad and where I play with the greatest confidence in my newbie journey. So, let's call General Sloan to present his platoon:

Sloan in command, Uriel, the Purifier (melee) in the frontline, Lone Boatman (believing that the Purifier will withstand the blow, with the help of "repair and heal"), Djinn Renova with magic damage and reinforcing the lives, Time Mage (more magic damage) delaying the opponent, and that basic pack of Pelacor Arbalest and Venari Crystalsmith in the backline. Everyone at a good level that the Silver league allows us.
I chose two magical monsters to challenge the rule: Djinn Renova will distribute +1 life to everyone on our team, and with that, I think it pays off in the confrontation with the rule since it has considerable damage and speed as well. Time Mage also brings an advantage in speed, slowing down the opponent, and has reasonable damage and speed itself, in addition to receiving life support from Djinn Renova.
What the opponent will have to offer us in opposition?

Okay, we will have a mirror, but I already start with a clear advantage due to the higher levels of my cards, and I think my opponent made a mistake, placing that Scavo Hireling in the frontline, and not exploring fortified ranged attacks by General Sloan.
Let's get to the gameplay:
This is how the game starts, after the effects of summoners and cards are activated: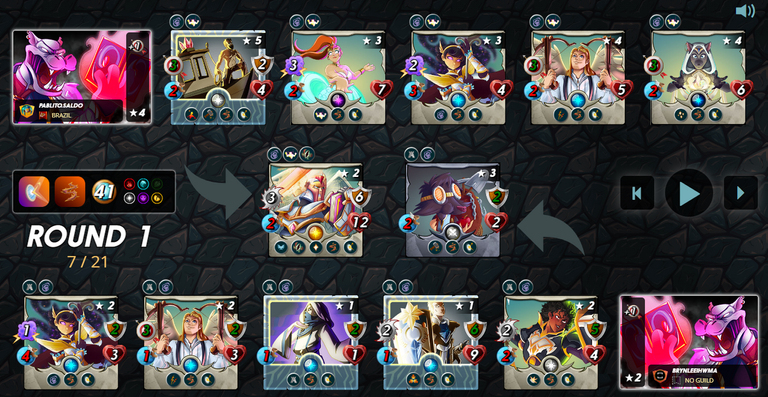 My cards attack first due to the speed advantage provided by higher levels. Only the opponent's Time Mage has an advantage in speed, but its damage is negligible compared to the robustness of my team, and it will pay with life for the reflected damage of its attack (you'll see it).
The opponent's Shielbearer falls, the Pelacor Arbalest misses its 2 shots trying to hit my Purifier (flying and at a speed advantage), and the first round ends with a clear advantage for me: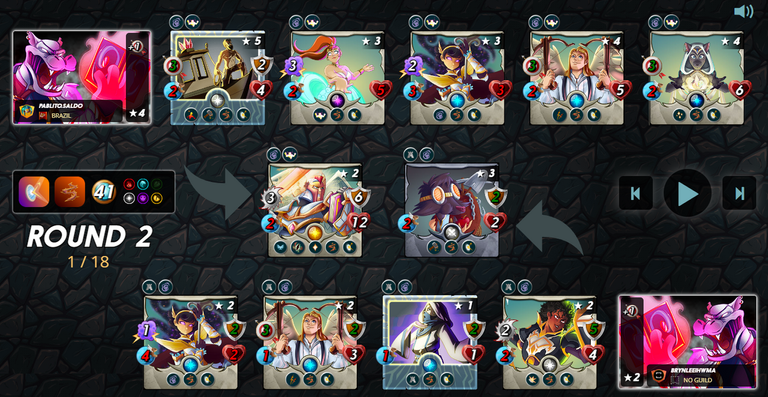 Note the damage suffered by the magical monsters, an effect of Magic Reflect.
The dynamic repeats itself, two opponent monsters "go down", and the advantage is clearly on our side. Thus begins turn 3: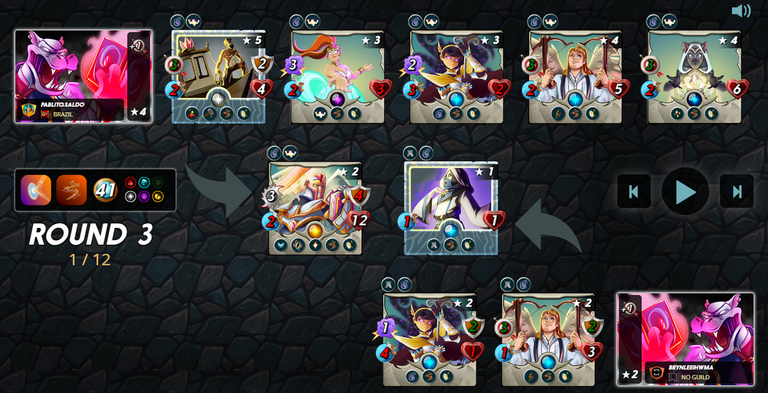 And it quickly ends with a victory without casualties on our side. GG!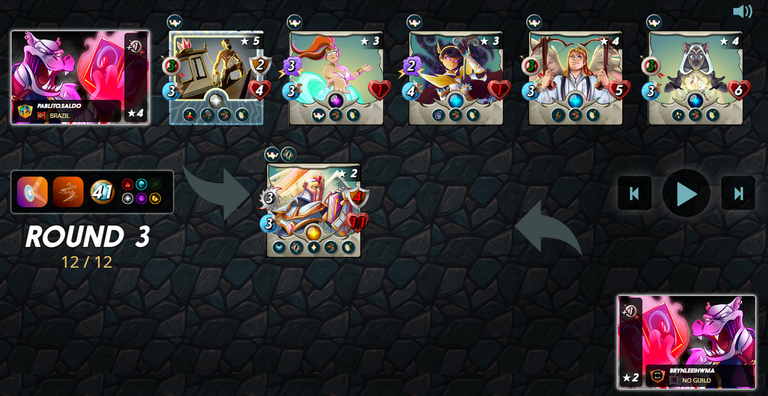 Watch the complete battle: https://splinterlands.com/?p=battle&id=sl_8e00a66333ad46e62e32703c35515c9f
I recommend you watch the match in slow motion to see the Magic Reflect happening.
And that was our Battle Mage Secrets for this week, folks. I hope you enjoyed it. See you next time.
---
pt-br
Quem tem medo de Counterspell? Eu também não.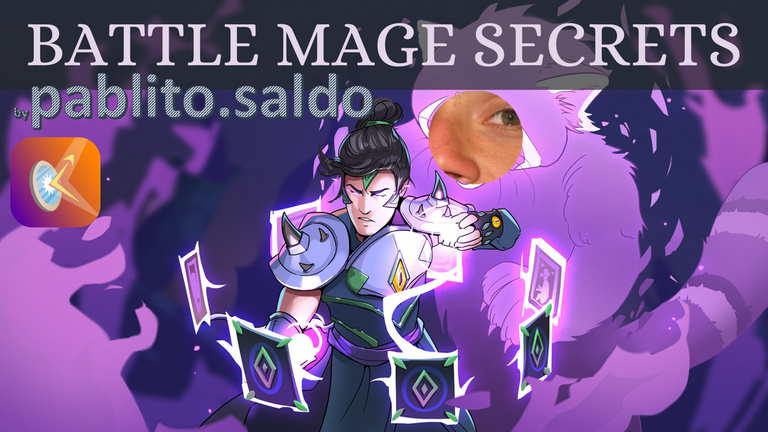 Aqui vai um segredo deste humilde mago de batalha: Counterspell não é uma regra pra se preocupar.
Todos os monstros recebem a habilidade Magic Reflect no início da batalha. Monstros inimigos que atacam com magia recebem de volta o dano.
O dano retornado é igual ao dano do atacante dividido por 2, arredondado para cima.
Monstros mágicos com a habilidade Reflection Shield não recebem dano de ataques mágicos refletidos.
A habilidade Amplify aumenta o dano.
Se todos os monstros devolverão o dano mágico recebido, você deve evitar monstros mágico, correto? Talvez. Lendo com atenção como funciona a regra você percebe que 1: o dano refletido é metade do dano recebido. 2: monstros mágicos são imunes ao dano refletido.
Pois bem. Peguei algumas poucas partidas com CounterSpell durante esses dias, a quase totalidade delas foram óbvias batalhas ranged+melee, dentro da estratégia de evitar monstros mágicos. Sem graça pro desafio, não é mesmo?
desafiando o sistema
Até que me apareceu essa batalha, com boa disponibilidade de mana, Counterspeel e, "de bônus", Briar Patch (Todos os Monstros possuem a habilidade Thorns).

Resolvi me desafiar a fazer algo muito doido: dizer "dane-se o ruleset!" e preparar o time mais vigoroso pra enfrentar o adversário, a despeito das regras.
E não é que deu MUITO bom? Veremos.
Se você me acompanha, sabe que sou fã da Vida 😉, é sempre o meu esquadrão mais forte e onde eu jogo com maior segurança na minha trajetória de novato. Portanto, vamos convocar General Sloan pra apresentar seu pelotão:

Sloan no comando, Uriel, o Purificador (melee) na linha de frente, Lone Boatman logo atrás (acreditando que o Purificador vai aguentar o tranco, com a ajuda de "repara e cura"), Djinn Renova com dano mágico e reforçando as vidas, Time Mage (mais dano mágico) atrasando o adversário, e aquele packzinho básico de Pelacor Arbalest e Venari Crystalsmith na backline. Todo mundo num bom nível que a liga de Prata nos permite.
Escolhi dois monstros mágicos pra desafiar a regra: Djinn Renova vai distribuir +1 de vida para todos do nosso time, e com isso acho que ela se paga no confronto com a regra, já que possui considerável dano e velocidade, também.
Time Mage também traz uma vantagem na velocidade, retardando o adversário, e possui razoável dano e velocidade próprios, além de receber o suporte de vida da Djinn Renova.
O que será que o oponente terá para nos oferecer em oposição?

Ok, teremos uma "mirror", mas já começo em clara vantagem devido aos níveis superiores das minhas cartas, e acho que meu adversário se equivocou, colocando esse Scavo Hireling na linha de frente, e não explorando ataques ranged fortificados pelo General Sloan.
Vamos à Gameplay:
Assim comoça a partida, após os efeitos de summoners e cartas serem ativados: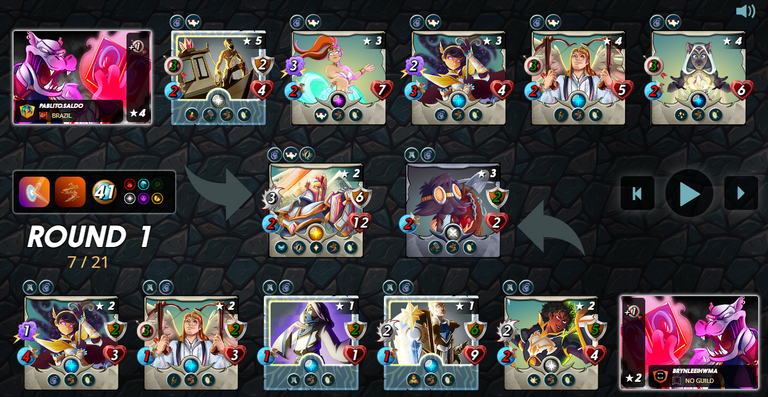 Minhas cartas atacam primeiro pela vantagem de velocidade proporcionada pelos níveis maiores. Só a Time Mage adversária tem vantagem na velocidade, mas seu dano é irrisório diante da robustez do meu time e ela pagará com a vida pelo dano refletido do seu ataque.
O Shielbearer adversário cai, Pelacor Arbalest adversário erra os 2 tiros tentando atingir meu Purificador (voador e em vantagem de velocidade), e o primeiro round termina em evidente vantagem pra mim: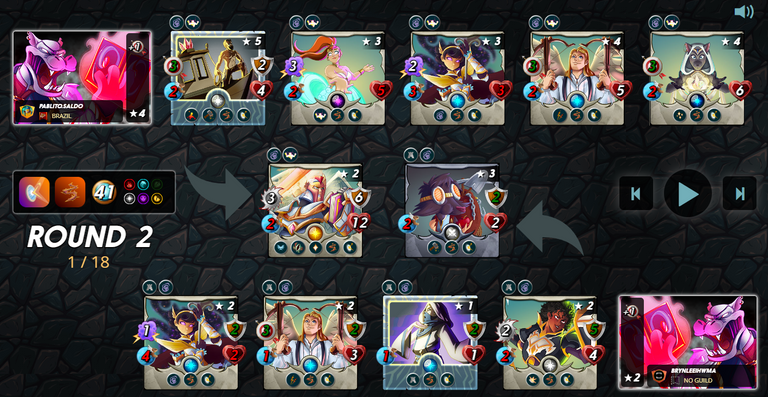 Perceba o dano sofrido pelos monstros mágicos, efeito do Magic Reflect.
A dinâmica se repete, dois monstros adversários "vão de base", e a vantagem está claramente do nosso lado. Assim começa o turno 3: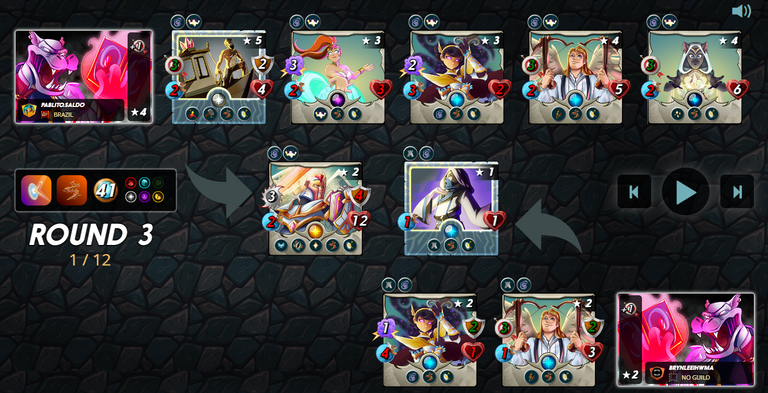 E muito rapidamente ele termina, com uma vitória sem baixas do nosso lado. GG!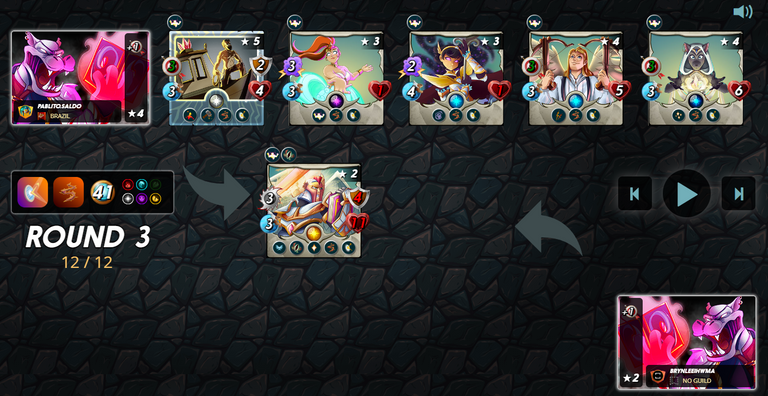 Assista a batalha completa: https://splinterlands.com/?p=battle&id=sl_8e00a66333ad46e62e32703c35515c9f
Recomendo vc assistir a partida no modo mais lento, de forma a perceber o Magic Reflect acontecendo.
E este foi o nosso Battle Mage Secrets dessa semana, pessoal, espero que tenham gostado. Até a próxima.
---
---