34 GOLD CHESTS - Season summary

---
The season spanning over the second half of November ended and here's my usual summary of it.
My incursion in the gold league has paid off. I wasn't able to secure as many chests as I normally would in silver but the quality was definetely improved.
You can easily see by comparing the SPS rewards I got. I closed the season with about 75 SPS to my name (accrued from both battles and chests) while in silver that number used to be somewhat closer to 50.
Card quality seems to be slightly improved as well. Although I didn't pull anything crazy I do have a couple more gold foil commons as well as one extra Djinn Renova.
I also received a pack from my daily focus during the season, bringing my total to 12.
Although the upgrade from silver I to gold III was nice and whatever I achieved, I did with little to no rentals.. I still think it might be more convenient for me to figure out an exit strategy and drop back to silver in the upcoming season.
That's the league where I can be more competitive right now and I don't mind some lesser returns for some additional peace of mind when it comes to battling tough opponents.
I will definetely consider playing in gold again in the future as soon as I will have enough power to be able to fight in the upper divisions; in that sense there's still a bit of a way to go for me but the steady influx of cards from daily playing is muchly appreciated and helps in the long run.
The shopping spree
I couldn't resist the tempting prices, partially caused to drop a bit further by the FTX fiasco from a couple weeks ago and the ripples it caused in the overall crypto market.
Hard to imagine the prices of chaos legion cards will drop much further than that so I figured it would be a good time to take some off the market.
Specifically, I went on a bit of a shopping spree and improved my collection, focusing mostly on chaos legion and death cards.
I now have a Thaddius Brood summoner maxed out for the silver league.
I also, finally, bought some riftwatchers cards. Nothing too crazy, I just purchased a few copies of the most pivotal rares and commons.
Here's a rundown of everything that I bought recently, in spreadsheet form since it couldn't make it into the video for the end of season.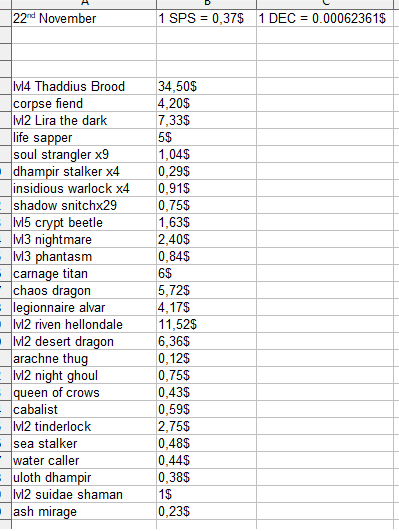 Overall, I spent around 100$ on all those cards and I'm quite happy with what I've got for that amount.
I am very curious to see what the new airdropped cards will be and my next purchases will partially depend on that as well.
In order to be fully competitive in silver I will have to purchase a life summoner as well as a dragon one but for now I'm very happy with what I've got.
Guilds and brawls
I've been enjoying the guild brawls, especially now that there's some extra motivation to do well in them in the form of SPS rewards. I've been getting around 3 or 4 tokens for each brawl and I've donated back those amount to the guild in order to have it grow a bit.
I reccomend anyone who's still sitting on the fence to give guilds a try, there's many that don't require big donations and it's nice to see them slowly improve over time and receive some gladius cards in the process too.
My guild specifically, is looking for more active members so don't be shy and let me know by commenting if you're interested and want to give it a try.
---
▶️ 3Speak
---
---