ANNOUNCEMENT: New PeakMonsters Posting account, Official Social Media accounts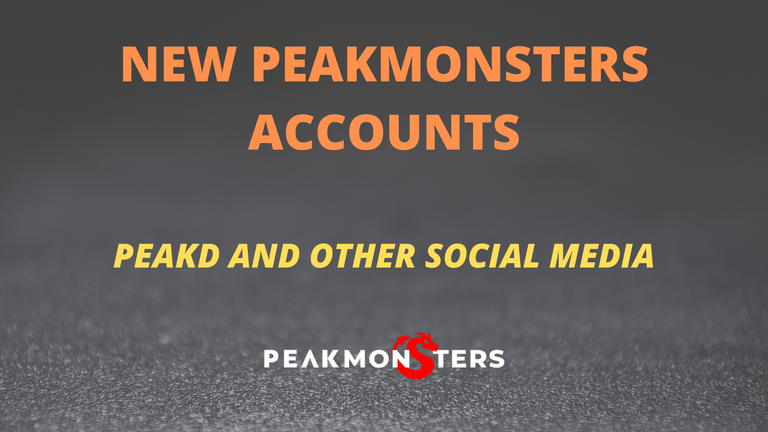 NEW PEAKMONSTERS POSTING ACCOUNT
Starting now, @peakmonsters will be mainly posting from this account (@peak-monsters). This account is handled by our newest addition to the team, @mozzie5.
This is in order to keep peakmonsters.com operations separate from the content publishing. It is a benefit as well for security reasons.

Aside from posting content, we will also be using this account for engaging and rewarding great posts that are helpful to PeakMonsters users. To make sure that we see these posts, please use the #peakmonsters topic-tag for your PeakMonsters related posts. You can also drop a PeakD link of your PeakMonsters related post in our discord under the #user-posts-peakmonsters channel. We love seeing awesome content!
---
PEAKMONSTERS SOCIAL MEDIA ACCOUNTS
We would also like to announce our official social media accounts in the following platforms: Reddit, Twitter, Twitch, Youtube. These accounts will be mainly used for answering PeakMonsters related concerns and engaging in awesome Peakmonsters contents posted outside Hive.
Feel free to tag any of these accounts in the corresponding platforms.
PeakMonsters Social Media Accounts:

Note that our reddit account is peak-monsters

You can also see us in twitter with the @peakmonsters handle
We won't be streaming in Twitch, but you will occasionally see us dropping by in the streams of your favorite streamers. Who knows what PeakMonsters has in store for the Twitch community?
Note that ALL of our contents will still be posted in PeakD using the @peakmonsters and @peak-monsters accounts.
---
---