How to Buy Chaos Legion Packs on PeakMonsters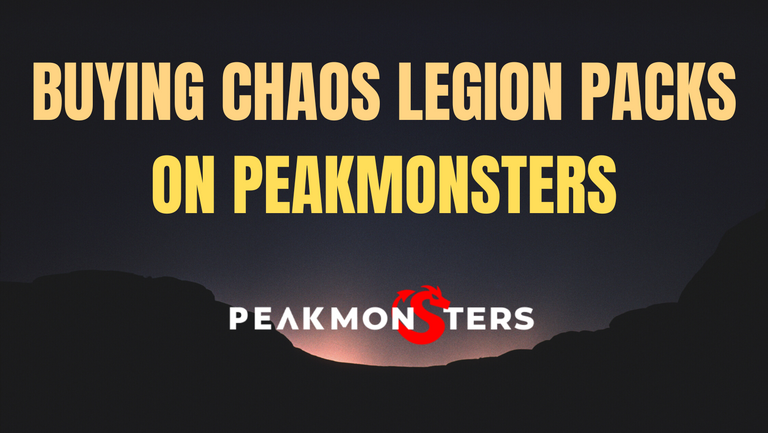 If you are like us who loves doing market transactions easily, then the PeakMonsters Non-Card Market is the perfect place for you! This post is a step by step walkthrough on how you can easily buy Chaos Legion packs (and other non-card assets) on PeakMonsters.

Step 1: Click on Buy Assets
The first step is to click on the dropdown button for Buy tab, then click on Buy Assets.

This will then redirect you to the Non-Card Market page where you can buy Splinterlands assets such as card packs, totems, and plots.
Step 2: Click Buy for the corresponding asset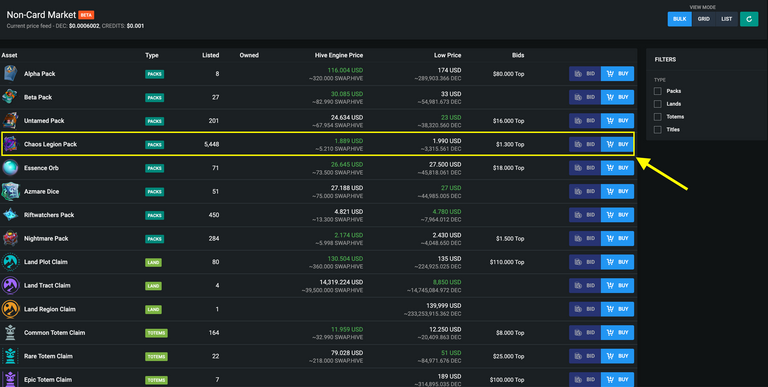 Now that we are in the PeakMonsters Non-Card Market interface, the next step is to look for the asset that we want to buy, then click the BUY icon for that item. In this case, we will be buying Chaos Legion packs.
Note: The screenshot above is using the BULK view mode. Feel free to use any of the three available view modes.
Step 3: Indicate quantity and then Add to Cart

After clicking the BUY icon, the next step is to indicate the quantity of packs/assets that you want to buy. To do this, simply change the number on the field or click the +/- in the corresponding listing.
Once satisfied with the quantity, just click the Add to Cart button. You will now then see the asset that you want to purchase on your cart (top-right corner of the screen).
Step 4: Complete the transaction
The last step is to complete your transaction. To do this, you simply have to click the in-game currency that you want to pay with: CREDITS or DEC.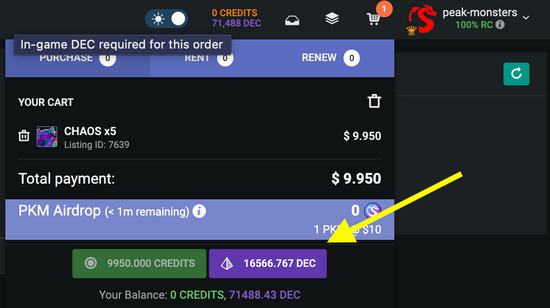 In this example, we are paying with DEC, so we are going to click the DEC section as indicated by the arrow on the screenshot above. Just click that, then confirm your transaction and then you are good to go!
---

As you can see in the Explorer, our first purchase did not push through as someone already beat us to one of the listings. That's why we opted to do another transaction, which was then successful and we bought a total of 5 packs for $9.96.

To view your current assets, we can go to the My Assets tab, which will show us an overview of Splinterlands non-card assets that we have. We now have 5 packs that we can easily sell or transfer from the My Assets section!
There you have it. That's how easy it is to buy non-card assets on PeakMonsters. As always, if you have any questions or suggestions feel free to comment down below or reach out to us on discord.

PeakMonsters and Splinterlands links:
Other Social Media accounts:

---
---