How to Stake HIVE using DEC or SPS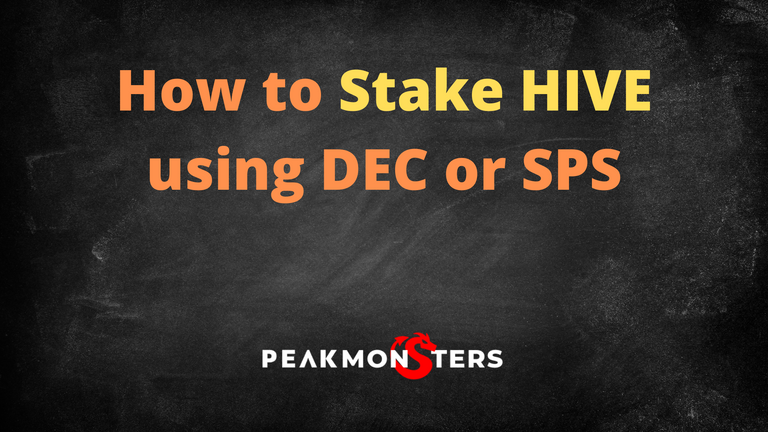 Resource Credits
When doing several transactions in Splinterlands and PeakMonsters, users will occasionally encounter the "Not Enough Resource Credits (RC) error" that should be solved in order to proceed. This error is commonly encountered when doing market-related transactions (e.g. buying and renting cards, placing bids, etc.) as these are the transactions that a Splinterlands player usually spends resource credits on. In this post, we will show you how you can use your DEC or SPS to stake HIVE and increase your Resource Credits (RC) as a result.
Note: Playing Splinterlands matches don't consume RC. So feel free to play to your heart's content!
If you prefer watching a video walkthrough, check out this video instead.
If you would like to know more about Resource Credits, check out this post.

Using DEC to get more Resource Credits
Step 1: Transfer your DEC to your Hive Engine Wallet
You can transfer your Splinterlands tokens to your Hive Engine wallet from your Splinterlands wallet using the in-game interface or the BeeSwap interface. For this walkthrough, we will be using the BeeSwap interface as it will be much easier to do all the transactions in a single tab.
To start, go to your Splinterlands Wallet in BeeSwap. After that, login and sign the necessary transactions in your keychain. Then you can now see your in-game tokens as shown below: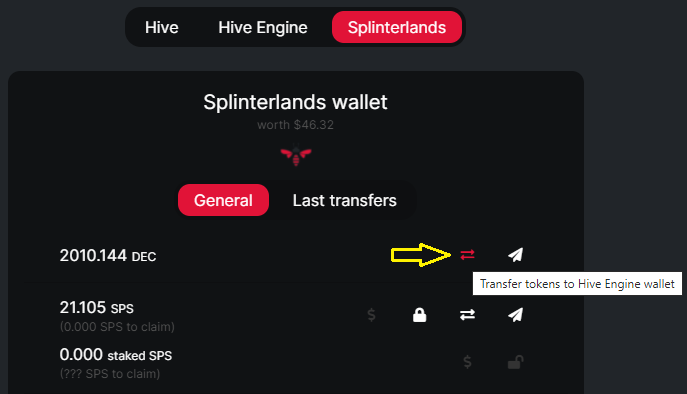 Screenshot of Splinterlands wallet in BeeSwap

Matches the current in-game balance
Then, click on the Exchange icon for the token that you want to turn into Hive Power (in this case DEC) as indicated by the yellow arrow in the above image. Input the amount that you want to use, then confirm.
After proceeding with the transaction, you will usually see the token that you transferred in your Hive Engine wallet in just a few seconds. As you can see, we now have 2,010 DEC in our Hive Engine wallet.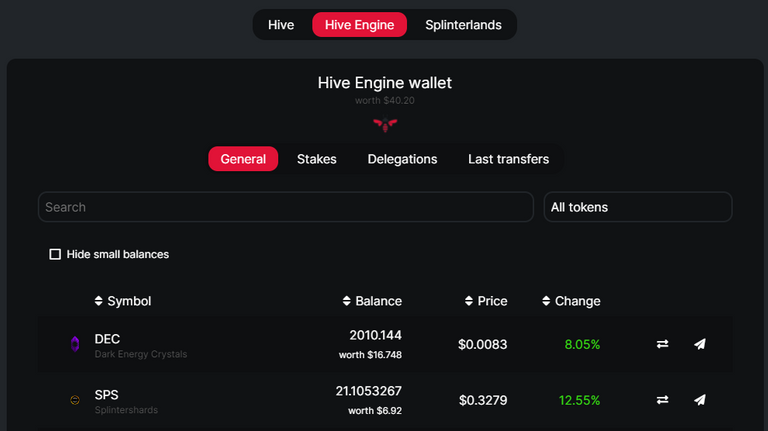 Note: Click on the Hive Engine tab that can be found in the top-most part of the image to switch from your Splinterlands wallet to Hive Engine wallet.
---
Step 2: Convert DEC or SPS to SWAP.HIVE
For the next step, we will swap our DEC to SWAP.HIVE, which will be converted to HIVE afterwards.
To proceed, click on the Swap tab that can be found in the upper right corner of your screen.

It will give you an interface that is similar to the one below. Then, choose the tokens that you would like to swap with. In this case, we are swapping DEC to SWAP.HIVE.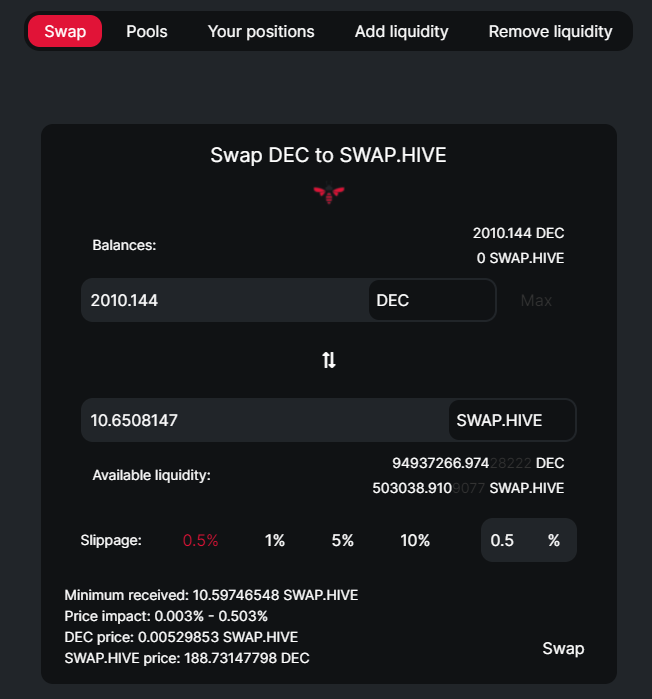 Then, input the amount that you want to convert with and then click on Swap, then Confirm.
Note: If you are converting large amounts, it is a good idea to double check the Price impact part and properly set the acceptable slippage for you.
---
Step 3: Convert SWAP.HIVE to HIVE
Now that we have successfully swapped our DEC for SWAP.HIVE, we can now convert it to HIVE that we can stake.
To do this, click on the Convert tab in the upper right corner of the BeeSwap platform.

After that, you will see a window similar to the down below. Make sure that you are converting SWAP.HIVE to HIVE as illustrated in the image below.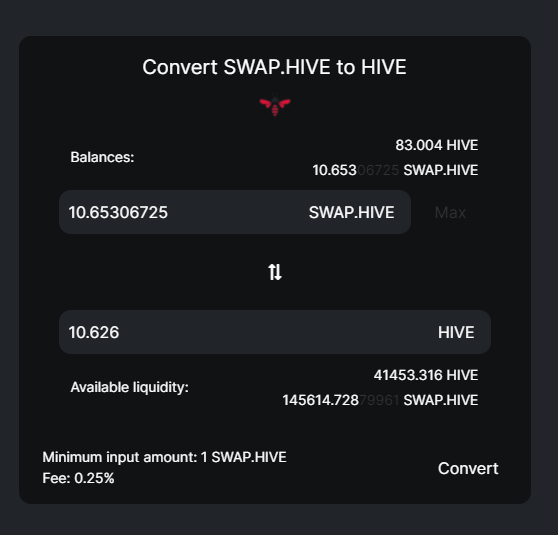 Simply fill out the field with the amount of SWAP.HIVE that you want to convert to HIVE, then proceed with the transaction. You now have HIVE that you can stake to increase your Hive Power and Resource Credits.
---
Step 4: Power up (Stake HIVE)
For our last step, go to your Hive wallet by clicking on the Wallet tab in BeeSwap.

Wallet tab in BeeSwap
Next, click on Power Up as indicated by the red arrow in the image below.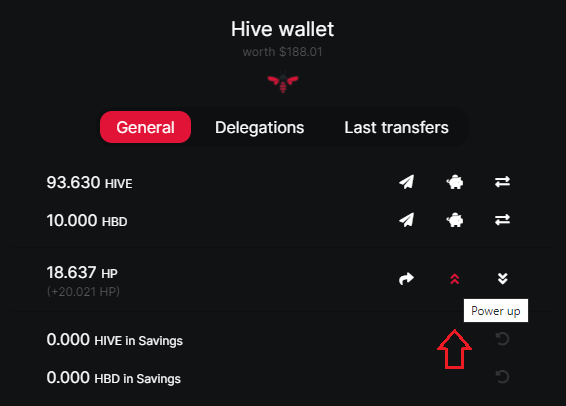 As you can see, we currently have 18.6 owned HP. Let us increase it with the HIVE that we got from our DEC.
After clicking on Power up, this pop-up will show. Just input your desired amount, press Power Up, confirm with keychain, then you are good to go.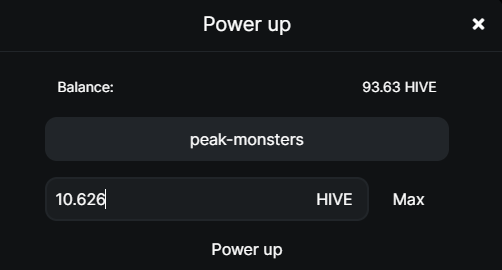 Note: The username below the balance should be YOUR ACCOUNT NAME, not peak-monsters.
And it's done! After a series of transactions in BeeSwap, we now have more Hive Power and Resource Credits in our account.

Resource Credits before and after the transactions:
Since this account already has more than 30 HP prior to the power up and its RC is almost full, the percentage increase after the power-up was just small.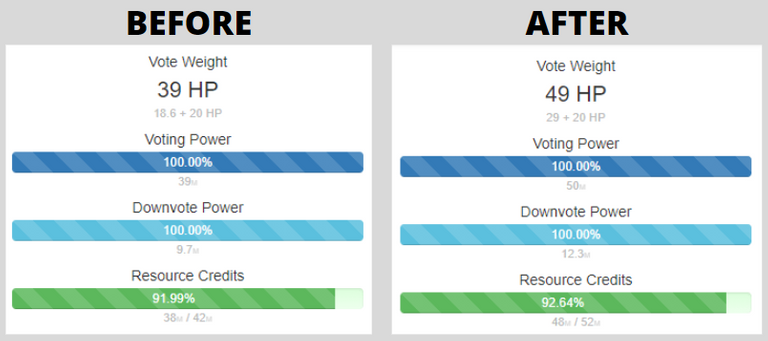 The important part to look at is the 10M increase in the Total Resource Credits that can be seen right below the percentages (before: ~38M/42M, after: ~48M/52M = 92%+).
You can view more details about your Resource Credits and Hive transactions here: https://hiveblocks.com/@username. Just change the username in the link with your own Hive username.

Using SPS to increase Resource Credits
When using SPS, the steps are almost similar as to when you are using DEC. The only difference is that you are choosing the corresponding SPS options instead of DEC. These steps are shown below: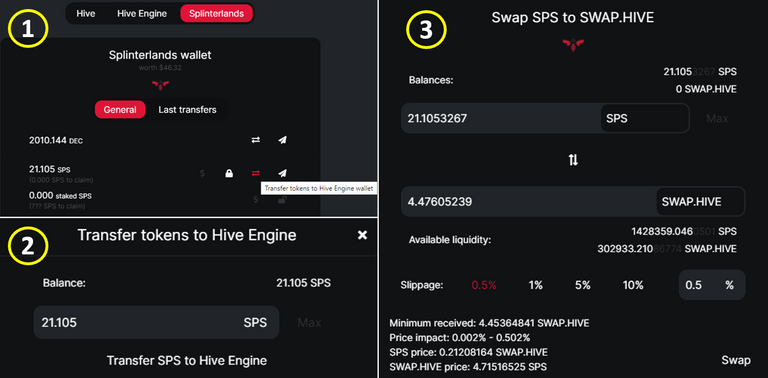 Steps: Swapping SPS to SWAP.HIVE
Summary of steps to swap SPS to SWAP.HIVE:
Click on the SPS exchange icon in your Splinterlands wallet in BeeSwap.
Fill out the amount that you want to use then Transfer.
Swap your SPS to SWAP.HIVE using the SWAP feature in BeeSwap. Fill it out with the corresponding amount, double check the tokens, then click SWAP and Confirm.
After completing these, simply follow Steps 2-4 under the "Using DEC to get more Resources Credits" part in this post. The steps in getting more RC are exactly the same once the tokens are swapped to SWAP.HIVE.
---
Other Options
If you are on a budget and you do not want to spend some of your in-game assets to increase your RC, there are temporary solutions for that. Here are some recommendations from the Splinterlands #tech-support team in discord:

#1, 2, and 4 are temporary solutions to increase your RC; Img Source: Splinterlands tech-support
However, we still recommend going for more permanent solutions given that you are only paying a small price to do more transactions in the Hive blockchain. After all, the Hive that you used is not wasted on fees -- it is just staked in your Hive account.

PeakMonsters and Splinterlands links:
Other Social Media accounts:

---
---