Managing your Splinterlands Collection in PeakMonsters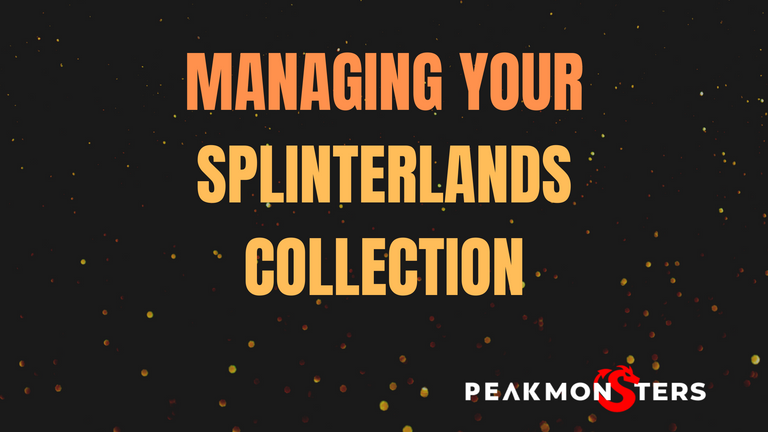 One of the common challenges faced by a Splinterlands player is the increasing difficulty of managing their card collection as it continues to grow. In this post, we will be taking a look at the different parts of PeakMonsters My Cards tab, and how the features inside it can help you easily manage your Splinterlands cards collection.

Card Collection Value
To start, if you are interested in looking at the value of your collection, you can easily see it in the upper left portion of the My Cards tab.

Card Collection Value in PeakMonsters
Total Value (List Prices): Value of the collection based on current Listing Prices in the Market
Total Value (Market Prices): Value of the Collection based on the price that the card has been sold at
DEC: Total Collection Power of the showed Collection
Revenue from rentals: The DEC/day that you are earning from your cards that are currently being rented by other players.
Revenue from rentals (listed): Total revenue that you will get if all your cards listed for rent are rented by other players.
Rentals (not shown in the above image): Indicates how much you are paying per day on your rentals
Note: The Collection Value will adjust depending on what is shown based on Filters. If you only want to see the value for your Owned Cards, make sure that the Owned filter is applied.
---
Filters
Similar to the Buy and Rent section of PeakMonsters, you can also use several Filters to easily manage your collection.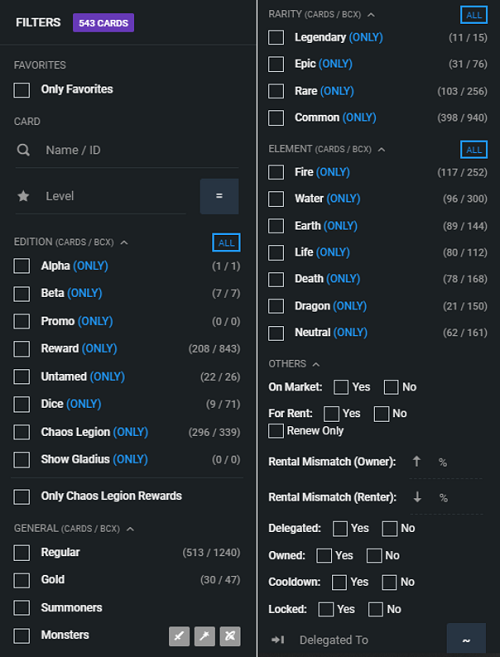 Filters in PeakMonsters
It is best to try it out yourself to see how all these filters can help you, but here are some suggestions to help get you started:
See only levelled up cards by using the Level Filter and setting it to >1.
Filter your collection to see cards that you have listed out for rent or for sale using the On Market and For Rent filter.
Look for cards that you have Delegated To a specific user using the Delegated To search bar
Show only the cards that you are renting with Renew Only filter
Look at a specific group of your collection by using multiple filters at once like: ✔️ Gold, ✔️ Legendary, ✔️ Life, ✔️ Owned. Using this will only show the Gold Foil Legendary Life cards that are currently owned by you!
The ones mentioned are just few examples, and definitely not the limit on how to use these filters. Come and give it a try to see which ones you need!
---
View Modes: Bulk, Grid, List
When looking at your cards in PeakMonsters, you have three view modes to choose from: Bulk, Grid, List. Each view will be shown below with the corresponding advantages for each.
Bulk View

My Cards: Bulk View
Advantages of Bulk View:
Additional descriptive columns (sortable) like CP, Delegated To, Market/Rent Price, etc.
Can use Renew All feature in Bulk View
Gives access to Compare your Rentals feature
Combine icon beside card level
Select Multiple Cards easily with the Select All Column
See more cards in a single screen compared to Grid and List View
Grid View

My Cards: Grid View
Advantages of Grid View:
Each grid shows a specific card, which includes the Owned cards/BCX and On market/Delegated data
Larger card image compared to Bulk View
Clicking on View Cards will show the card stats, market related data, descriptive columns, and gives access to the Combine feature
Shows more cards in your screen compared to List View, but less compared to Bulk View
List View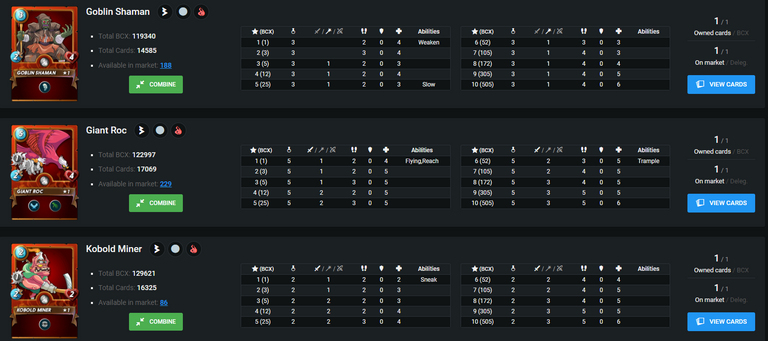 My Cards: List View
Advantages of List View:
See Card Stats, market related, and owned cards data immediately
Access to Combine feature without having to click on View Cards
Clicking on View Cards will show the descriptive columns
You will see less cards at a time, but you get more data at first glance
Overall, it is really up to you how you want to view your collection in PeakMonsters. It mainly depends on which view you find the most suitable for your need!
---
Combine Feature
Another feature that can help you in managing your collection is the Combine feature. Now that we are getting a lot of 1 BCX cards from opening packs, it becomes much more important to have an easy to access Combine feature while navigating through our collection.
Accessing Combine feature from Bulk View
To use this feature, simply click on the arrow icon indicated by the image above when you are viewing your collection in Bulk View. You can also access the Combine feature in different view modes as shown in the previous section.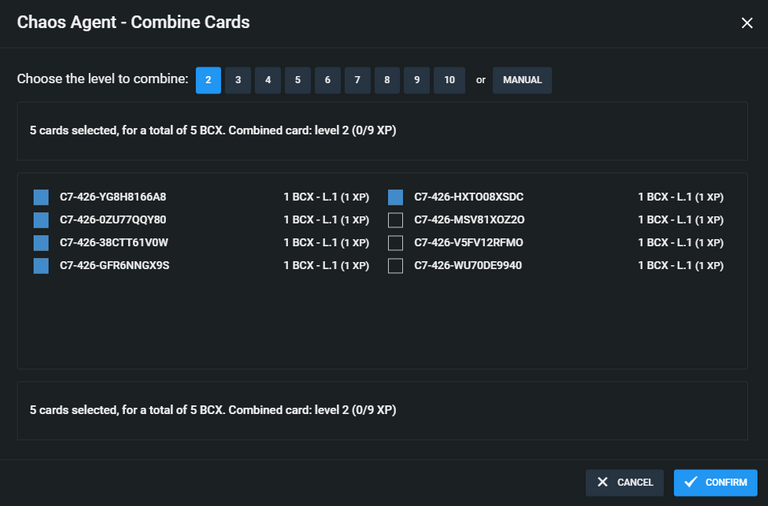 Combine Cards pop-up
After clicking on the green arrow icon, you will now see the Combine Cards pop-up. PeakMonsters will pre-select the cards and level for you, but you can also adjust these manually if you want to. Once everything is set, simply click on CONFIRM to push through with combining your cards.
---
Sell, Rent, Transfer, and Others

Different actions to choose from for your selected cards
Selling and Renting Out Multiple Cards
Selling and Renting Out cards in bulk is also easy to do in PeakMonsters My Cards tab. We won't go into the detailed steps for each, but we will be including a short how-to summary followed by links to detailed tutorials below.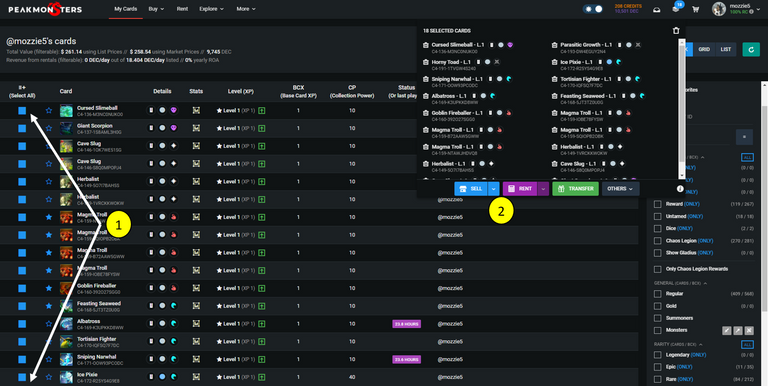 Steps 1 to 2 for Selling and Renting multiple cards

Step 3 for Sell and Rent
Summary of Steps:
Select the cards that you want to list for sale or for rent.
Click the action that you want (i.e. Sell or Rent) in the stack icon on the upper right part of your screen.
Set selling/rental prices manually or use the options available to easily set prices relative to the current market price. Lastly, Click Review and/or Confirm.
Note: You can also try out other options for setting the price other than the ones showed in the screenshot.
Guides:
---
Transferring Cards
If you want to transfer multiple cards at once, it is also easy to do in PeakMonsters. Simply select all the cards that you want to transfer, then click on the Transfer icon as shown in the previous image.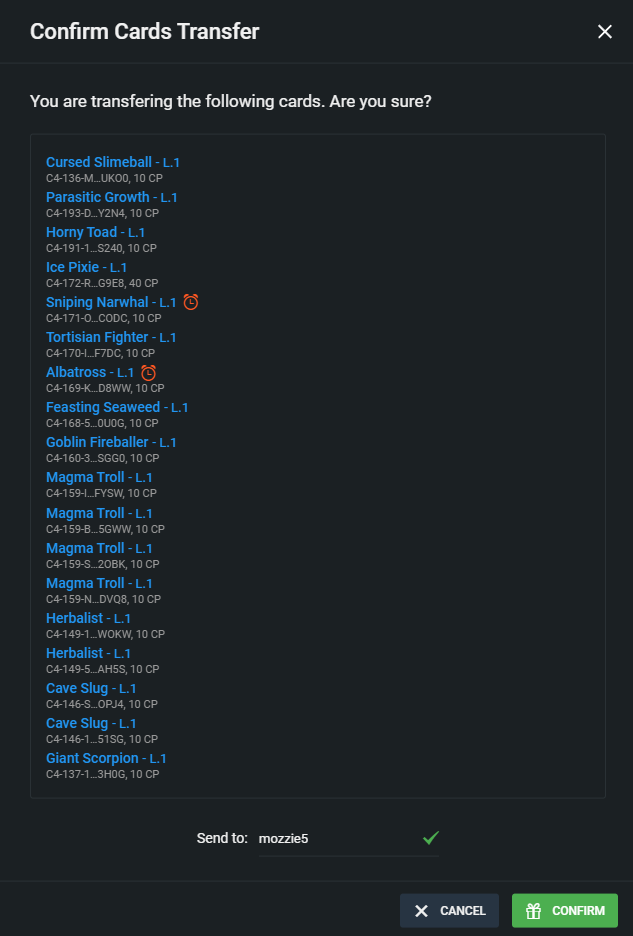 After that, the Confirm Cards Transfer pop-up will show. Fill it out with the account name that you want to transfer your cards, double check the account name, then click CONFIRM.
Others: Card Lock, Delegation, Burn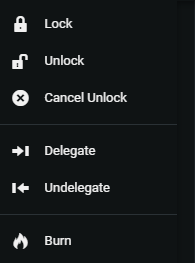 Actions under "Others"
Aside from the ones already mentioned, you can also do bulk transactions for Locking and Unlocking your cards, Delegating and Undelegating them. You can also Burn multiple cards from the PeakMonsters My Cards tab if you want!
To use these features, simply select the corresponding cards, click on the feature that you want to use, then fill out the information needed in the pop-up and confirm.
Transaction Limits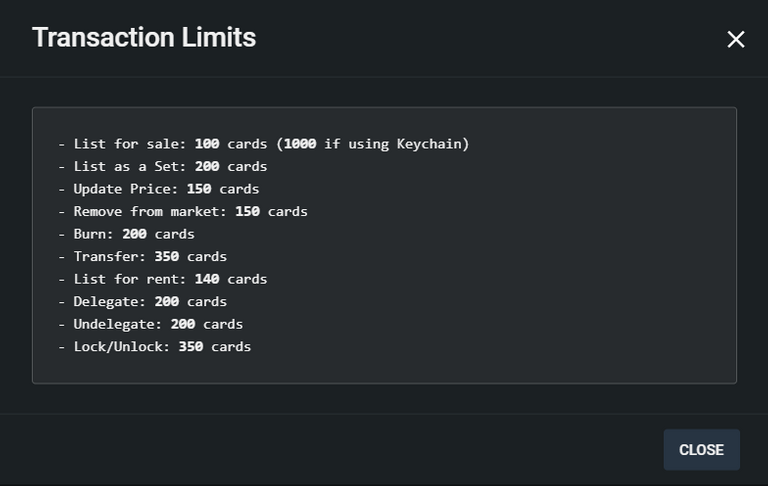 Lastly, it is also important to note the Transactions Limits for each action. If you are about to go past the limit for a single transaction, it is best to divide it into multiple transactions instead.
Note: You can access this limit pop-up by clicking on the information icon beside Others.
---
There you have it! We hope that this post gave you more ideas on how to easily manage your Splinterlands collection with PeakMonsters.
How about you? Which feature in the My Cards tab you find the most helpful? Are there additional features that you want to be included? Let us know in the comments section!

PeakMonsters and Splinterlands links:
Other Social Media accounts:

---
---