PEAKMONSTERS FREE GUILDS - (Sponsored Guilds)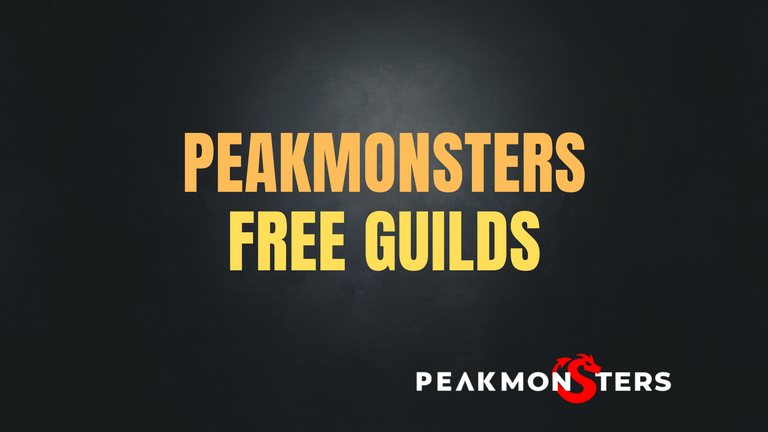 The new Reward updates are likely to make Guilds even more important as they will increase the Rshares (and therefore chests) by somewhere between 6-20%. Thus, we thought it would be appropriate to do an update to PeakMonsters guilds status.

PEAKMONSTERS OWNED GUILDS
PEAKMONSTERS CURRENTLY OWNS 10 GUILDS
7 Guilds are ran by a General who is in charge of all decisions.
You can contact those generals on our discord, some of them are looking for good new players -- especially Gold Foil players.
All PeakMonsters Guilds
3 Guilds are called FEEDER guilds, which basically are a way of saying they're open and we hope our generals keep an eye on them and pick players who are performing well, and move them to their own guild that they manage.
But 2 of the feeder guilds have been converted to regular guilds with someone in the guild stepping up and becoming general. We're hoping the same thing happens with the 3 other feeder guilds and they eventually have a general.
In the feeder guilds, someone goes in maybe once a week and checks the requests and accepts users based on CP and Rating... at the same time removes those who don't brawl or stopped playing based on CP and Rating.

PAYING THE COSTS - SPONSOR
We pay the price of upgrades for the buildings of guilds that we own (aka we have the account with the leader role).
We are not sponsoring other guilds presently.
There has been one case where a small Brasil guild sold us their guild, and we have spent DEC upgrading their guild. In that case, that guild (and all other guilds with generals) are still in charge of their guild and make all their own decisions. But we still require guilds to Brawl and use PeakMonsters marketplace at a minimum. (And be no drama)
With that said, we are willing to buy other guilds but it HAS to be low drama. If there's any hints it's gonna be drama or really involved negotiations, we don't want to be part of it even if it's a good deal, we'd choose no drama. Also, we're mostly just interested in guilds with an actual general so that there is no work on our end except to pay upgrades from time to time.
We are not actively pursuing buying other guilds... we're fine with the 10 we have. But of course, if options pop up we can handle it because we have a great discord where Generals help each other, answer questions, and discuss strategies. Users can come in and ask questions, and other users help each other out. Sometimes they are peakmonsters.com questions, and we have a support staff that can also help.
We focus on upgrading buildings that lead to more crowns in particular. We're a bit worried that as guilds get larger and larger the costs go up and up. But so far we've been able to handle it.
With all this said, we do hope that someday guilds have an actual value or earn something in some future case so it's a gamble so far. But we are fairly confident that someday there will be a reward outside of promoting the PeakMonsters name.
Assuming there is a change later this year or next, and guilds actually earn SPS someday, we will come up with a policy that hopefully helps reward users while paying for the cost of upgrades of guilds via those rewards.

JOIN A GUILD
You can come to the discord and make your case for what cards you have and how good of a player you are to the generals, as they are the ones that make decisions. There is no one part of the PeakMonsters team to appeal to as we make no decisions for those guilds. You can also apply to one or all 3 of the feeder guilds, and wait to see if there is space. These guilds rotate with people being added and removed frequently based on Guild Brawl success. Do a search for Peakmonsters in the guild list find the feeder guilds and request to enter it's that simple.
If we have a lot of requests, we'll start a Feeder 6.
We are specially interested in users with time and good organization/communication skills who may be interested in being GENERAL of those feeder guilds. No one has stepped up yet.
TO BE PART
You must be willing to Brawl and to use the PeakMonsters marketplace for all purchases.

PeakMonsters and Splinterlands links:
Other Social Media accounts:

---
---