PeakMonsters Frequently Asked Questions (FAQs)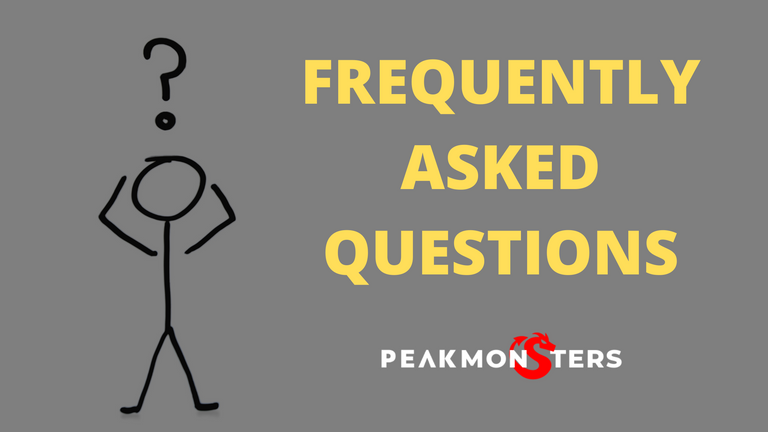 This post contains a consolidated list of answers to questions that are frequently asked by PeakMonsters users.
To easily navigate through it, this post is divided into four categories:
Rentals related questions
Auto Rentals
Buying / Selling cards
Resource Credits, Keys related, and Others

Rentals
Question (Q): When will I get the refund from my rental cancellations?

Answer (A): You will get the refund after the remaining time of your rental contract expires (i.e. once the card goes back to its owner).
Q: Can I change rental price without cancelling rentals?

A: No, this is not yet possible. Because of how the rental protocol currently is, you would have to cancel the rental first, then relist the card with your adjusted rental price.
Q: Will I be able to renew my rental with DEC if I started renting with CREDITS?

A: No. With the current protocol, you have to renew your rental with the similar currency that you initially rented with.
For example, if you start renting a Lvl 1 Fire Spitter with CREDITS, then you have to renew that rental with CREDITS as well.

---
Auto Rentals
Q: How can I cancel or pause multiple bids at once?

A: Go to your PeakMonsters Profile -> Rentals -> Pause or Trash can icon -> CONFIRM.
Q: Can we change the number of days that a card is rented for us in Auto Rentals?

A: No, it is currently fixed at two days. However, you can easily lower the duration for your already rented cards by cancelling it in the My Cards tab. This way, you will only be renting the card for 1 day instead of 2 days.
Q: Why is my auto rental bid not getting filled even if there is an available card that meets my criteria?

A: Currently, the Auto Rentals system grabs the card faster for the newly listed ones compared to re-listings and cards that are already in the market. Another possible reason is that the market feed is delayed, and the ones that you are seeing are not really available anymore.
Q: Auto Rental Collection Power bid stopped below my set Minimum Collection Power. How do I fix this?

A: Normally this happens when the system is having a hard time looking for cards that match the criteria that you set in CP bidding. You can either edit your criteria and make it more lenient or just wait for the system to finish renting cards for you.
Q: If I am the highest auto rental bid for a specific card, and someone lists that card for a lower price. Will I be able to rent it at the lower price or with the price that I placed a bid for?

A: You will be able to rent the card based on the owner's listing price.
For example, if you have the highest bid of 30 DEC/day for a card, then someone lists it at 15 DEC/day, you will be able to rent the card at 15 DEC/day.

---
Buying / Selling cards
Q: Why is a bid (for buying cards) that is lower than my price getting filled first?

A: Usually it's because you either don't have enough DEC in your account OR your bid does not match the criteria of the card being sold. The latter usually happens for multiple BCX card listings.
Q: Can I bid (for card buying) with CREDITS?

A: No, at the moment you can only make a bid for buying cards using DEC.
Q: How do I fix: "Error: You don't have enough DEC to place this bid at your current tier"?

A: Go to your PeakMonsters Profile and check what is the Maximum Bid Commitments for your current Account Tier. If your current Bid Market Commitments are already near that, you have to adjust some of your open bids accordingly.
Q: Does PeakMonsters support buying/selling cards on mobile?

A: Yes. For signing in your mobile device, you can either use SmartLock or HiveSigner.
---
Resource Credits, Keys related, and Others
Q: What are Resource Credits (RC) and how to fix "Not enough RC error"?

A: Resource Credits or RC is what determines how many transactions on the Hive Blockchain you can do. Renting and buying Splinterlands cards are both examples of transactions that consume RC. To fix the Not Enough RC error, you can either stake HIVE (see video below) or ask someone to delegate Hive Power to you.
Helpful resources about RC: RC Explanation | Using Splinterlands tokens to Stake HIVE
Q: How do I fix: "RPC Error: Missing Active Authority"?

A: Login with your Active Key. You can either use Hive Keychain or HiveSigner.
Q: Why does PeakMonsters still show cards that are no longer available? Why is the update in Renter's board taking too long?

A: These two normally happens when there is a lag in the Splinterlands API. The best thing to do in this case is to do other things, and patiently wait for the market to settle down. You can also check the announcements in Splinterlands discord to confirm if there is a lag in the market.
Q: I am getting a random error on PeakMonsters, and it does not match any of the above. Are there other things that I can do?

A: If none of the options above work, you can also try clearing your cache/cookies and refreshing the site. This simple method usually fixes a lot of random errors.
If you have encountered issues that are not solved by any of the above, please post it in our #peakmonsters-support channel in the PeakD Projects discord.

PeakMonsters and Splinterlands links:

---
---