Updates: Bulk Combine for Rewards, NCM Explorer, 30 Minute window and more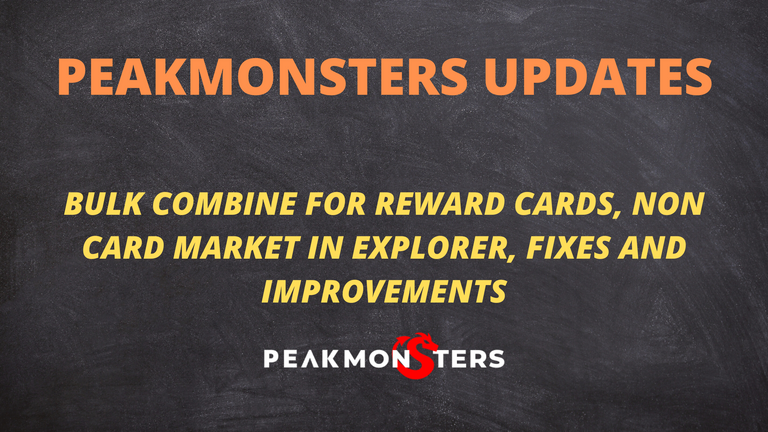 PeakMonsters Updates
Summary of Updates:
Bulk combine for rewards cards
Non-card market transactions in Explorer
ARPA updates (for those with early access)
30 Minute window for PKM earning
Additional fixes and improvements
Full list of updates at the bottom part of the post.

Bulk Combine for Chaos Legion Reward Cards

Aside from Chaos Legion and Riftwatchers cards, we are now supporting CL REWARD cards in the Bulk Combine tool! This should now make it a lot easier for you to combine these cards up to a certain level that you wish.
You no longer have to worry about having a hard time in combining tons of these cards. Feel free to go crazy in shopping these reward cards on PeakMonsters Market!
---
30 MINUTE WINDOW FOR PKM EARNING

As you can see users are already earning based off of many small transactions
Often these are BIDS done across a 30 minute window.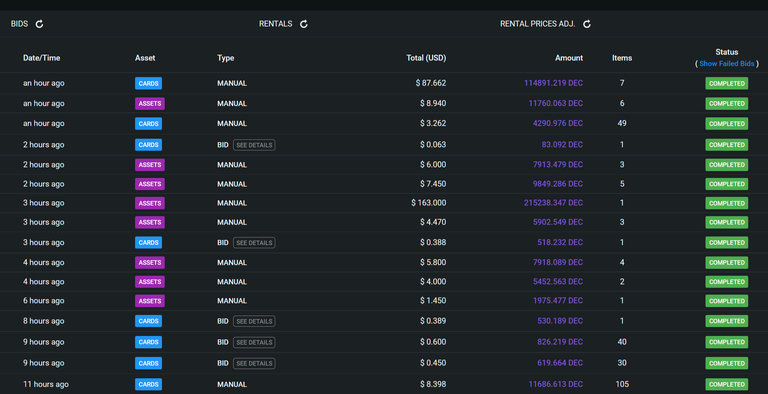 You also earn PKM rewards from Non Card Market purchses on PeakMonsters (coming very soon)
---
Not-Cancelled Filter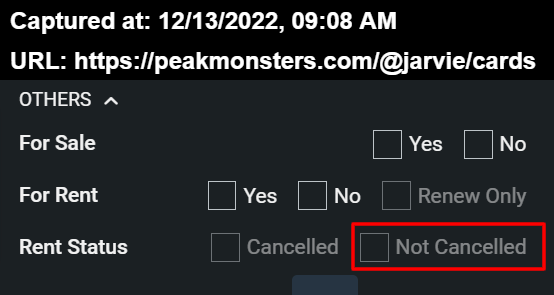 ---
Non-Card Market Transactions on Explorer Page
Next, you may now view non-card market asset transactions in the explorer page. Similar to buying Splinterlands cards, you simply have to go to the Explorer page to see your recent purchases along with the amount and block transaction ID.

Note that as of now Splinterlands does not indicate much information at the moment about these transactions which means that it won't say what was bought and from whom it was bought.
Buying from Non Card Market (NCM)
Looks like the Splinterlands team has solved some issue and we should be able to release our work on NCM soon.
FULL RELEASE NOTES
# New Features
------------------------------
- [new] Add non-card market transactions to the Explorer page
- [new] Support Reward cards (CL only) in bulk combine page
- [new] Show current best bid on bid button
- [new] Show number of rented cards in market table
- [new] Add "unselect all" option in Collection page (grid/list) view
- [new] 30 Minute airdrop window for PKM
- [new] Add a new percentile (90th) to ARPA settings
- [New] filter in Collection page for 'not cancelled' rentals

#Improvements and Fixes
------------------------------
- [update] Update list of maxed out promo card to include expected BCX per card
- [update] Small improvements to bulk modal layout
- [update] Use SPL API for price feed if Coingecko not available
- [update] Allow accounts with multiple posting key to login when using Keychain
- [fix] Fix some filters in Explorer
- [fix] Fix loading issue in 'active rentals' market compare metric
- [fix] Fix card ROA in Rentals page + allow price at level at tier 1
- [fix] Fix card level when adding card to your cart from "compare your rentals"
- [fix] Fix issue with SHIFT+CLICK in List/Grid collection view
- [fix] Fix attack type filter on collection/market/rentals pages
- [fix] Fix "no attack" filter
- [fix] Fix logic for level 1 cards in yROA estimate
- [fix] Fix card relative price when listing maxed promo cards

---

PeakMonsters and Splinterlands links:
Other Social Media accounts:

---
---