Big changes to RENTALS and BIDS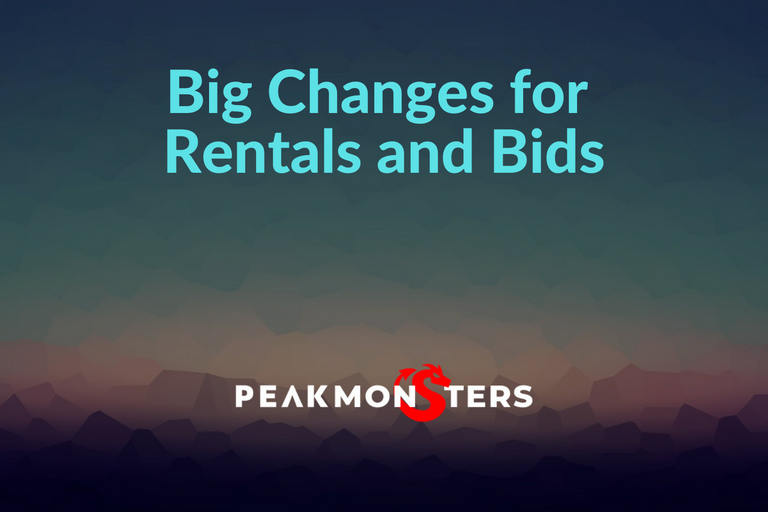 CP per DEC
we are integrating this new stat into our site in many different places
A new column in search Rentals page
Adding this stat in the "My Cards" page
Integration into the interface for listing rentals
RENTAL PAGE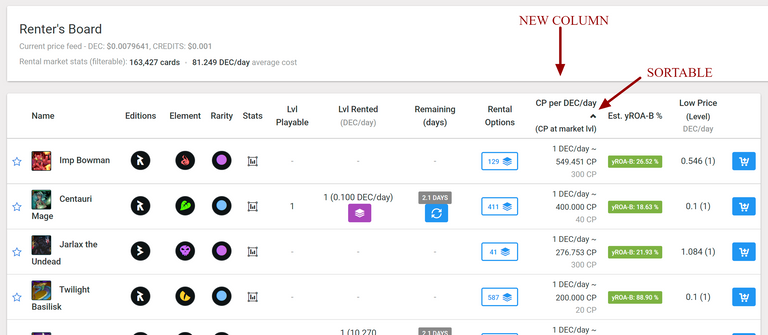 This column is sortable
It only shows info based on your filter
Remember the rental market is auto filtered to lowest level cards if you want to see higher level cards you have to change filters
COLLECTION PAGE


The plan is to soon make this column sortable.
We expect that CP per DEC will become an important metric for both Renters and Owners to evaluate the value of their cards. However we still look forward to the day when we have an API from splinterlands that can help us understand the value of rentals by showing how much cards are actually being rented for... in the meantime CP per DEC will fill a lot of gaps of information we have had previously for both owners and renters.
LISTING RENTALS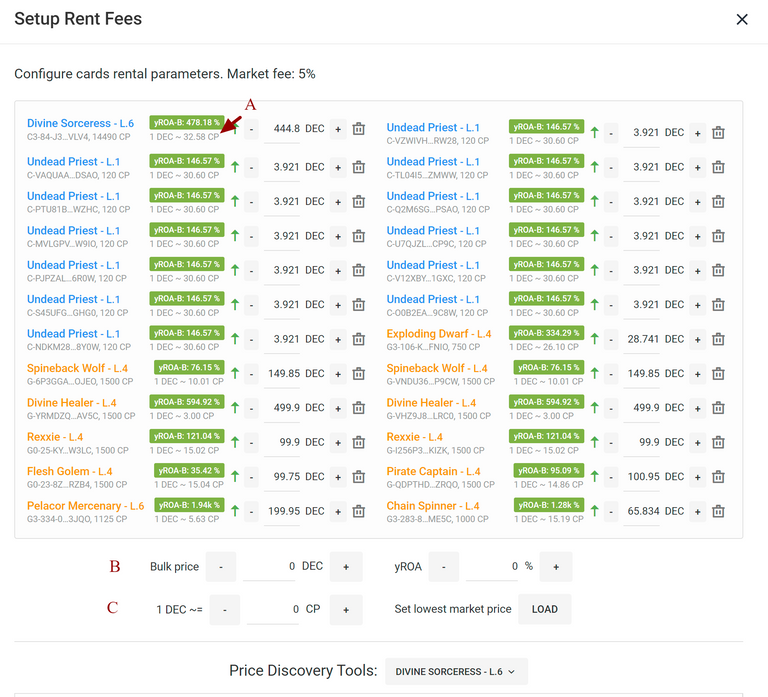 A. Next to each listed price we'll show the CP per DEC to help you make sure that's the price you're comfortable with.
B. We've added a bulk pricing option that will list ALL cards you've selected at that particular price
C. We will allow you to set a CP per DEC rate and we'll change all listings to the DEC price needed
---
BIDDING CHANGE
With this release we improved the Bid System to work also for cards already listed on the market. So starting in about 10 hours from now PeakMonsters will fulfill bids also with cards available on the market that match the bid parameters (price, bcx, ...).
This does not means that bids are "guaranteed" to be fulfilled immediately with those cards. But PeakMonsters will constantly and relentlessly scan the market and will try to grab the best deals for bidders and cards that have not be purchased as soon as they were listed on the market.
Ways this will help:
Takes less time and effort to buy. Simply state your price and we'll go buy cards from the market for you based on your bid.
If you bid in DEC there is a chance that a card that has been listed for a long time will suddenly come into your price range.
If you make a mistake while doing a bid and bid for way too high and ignore our warning you should protected in that we will buy some cards that are already in the market at lower prices than your mistake bid. Previously those who made mistakes often had someone see their bid and sell at the full extent of their mistake bid.
BID CHANGE STARTS IN ABOUT 10 HOURS
To give you time to add or remove bids we have given some time. Also we wanted to launch the CP per DEC features first while the season was ending as that was more important timing.
---
---