JOB OPENING: PeakMonsters Outreach Specialist - (Community manager)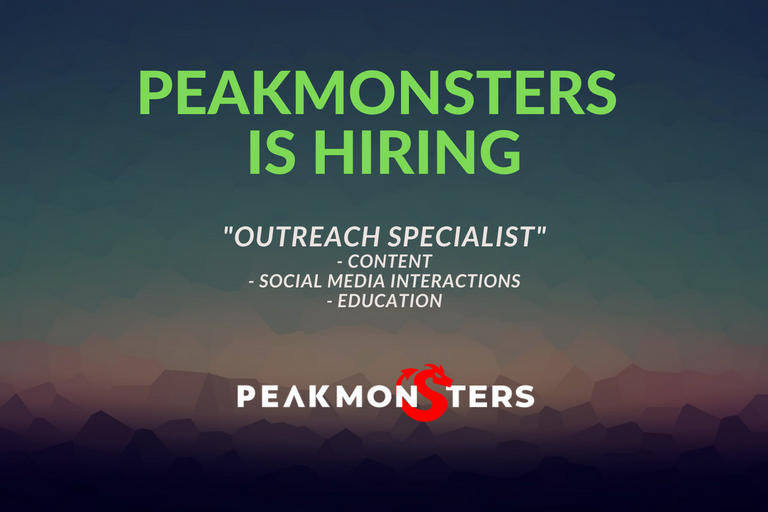 ADDING TO THE TEAM
We have a couple official paid support staff that answer discord support questions
https://discord.gg/NhW4ucNvV5
We have lots of very smart users who help PeakMonsters users and write posts and we reward those people as well even if they're not officially on the payroll we still consider them valued part of the greater PeakMonsters team.
JOB TITLE: "OUTREACH SPECIALIST"
In some worlds you'd consider it a "Community Manager" it's partly being in charge of the education and creating awareness of the product in different locations. It's a bit Social Media upkeep and promotion.
Interacting, Education, Promotion
Creation of Tutorials and Informational posts

Short How-To comments all over the web.
(Reddit, discord, YouTube wherever our users or potential users are looking for information)

Curating great PeakMonsters content
Giving them votes, tips and most important getting helpful content viewed.
(Sharing them and even putting them into Curated Collections #c-c-c)

Sharing good PeakMonsters content on other sites like reddit and twitter
Meaning access to Social media accounts and then following up.

Manage questions on our Discord (with help of support team)
Answering questions will be part of the job specially if they're quick "how do I do this?" questions. Harder issues they may choose to direct them to go to discord support.
TIME COMMITMENT
We do not know how much time this will take but we envision it at least HALF TIME... meaning at least 20hrs a week. If the person is proactive and able to find or create a lot of opportunities we could see it going to full time specially as Splinterlands and PeakMonsters continues to grow.
PAY, LOCATION, REQUIREMENTS
It's remote work capable and located anywhere in the world if you have good communication skills. Good English communication skills are required and other languages are a nice bonus.
We will have a base hourly rate and if needed will raise it if needed to a accommodate those who have a higher cost of living in their country.
The plan is hourly but are willing to change to monthly/weekly rate if and when full time.
We will pay in either USD or SPS or another crypto.
We will pay a solid wage according to where you work and raise the rate to reward increased capability and long term loyalty. If you are serious please inquire.
We need the person to have a decent knowledge of Splinterlands, PeakMonsters and also PeakD.com and prefer knowledge of at least a couple other social medias.
NEXT STEPS IF INTERESTED
We are using TestGorilla.com to do a job skills assessment and see who is actually interested in a job. We will follow up those who do the assessment with ~Subscript~a formal interview.
https://assessment.testgorilla.com/testtaker/publicinvitation/8beb69b4-8e25-471b-a288-6a442c5e5393
---
---