Doubling my GLX Stake as my Year end Investment Gift
Hello lovely friends on Splinterlands community and Hive blockchain. We've come this far in 2022 and it's time to show gratitude for we've achieved through the year. In 3 days, we will be onto a new year and I pray it would be the best of years so far for all of us.
One thing I am very happy for my 2022 is growth in many areas, one of which is my finances. I have been able to take responsibility in investing and that in crypto. How time flies and things change. This is me two years ago that a total dummy when it comes to tech.
Today, I stretched in my investment reach into Splinterlands' Sports gaming platform known as Genesis League Sports. The decision to do that was necessary as we wound off the year. Now, I've grown from not being a sports lover to become an investor. All thanks to Splinterlands and Hive.
Before we continue, please use my Splinterlands referral link to start off your game earning journey in splinterlands. Let's win together. Thank you in advance.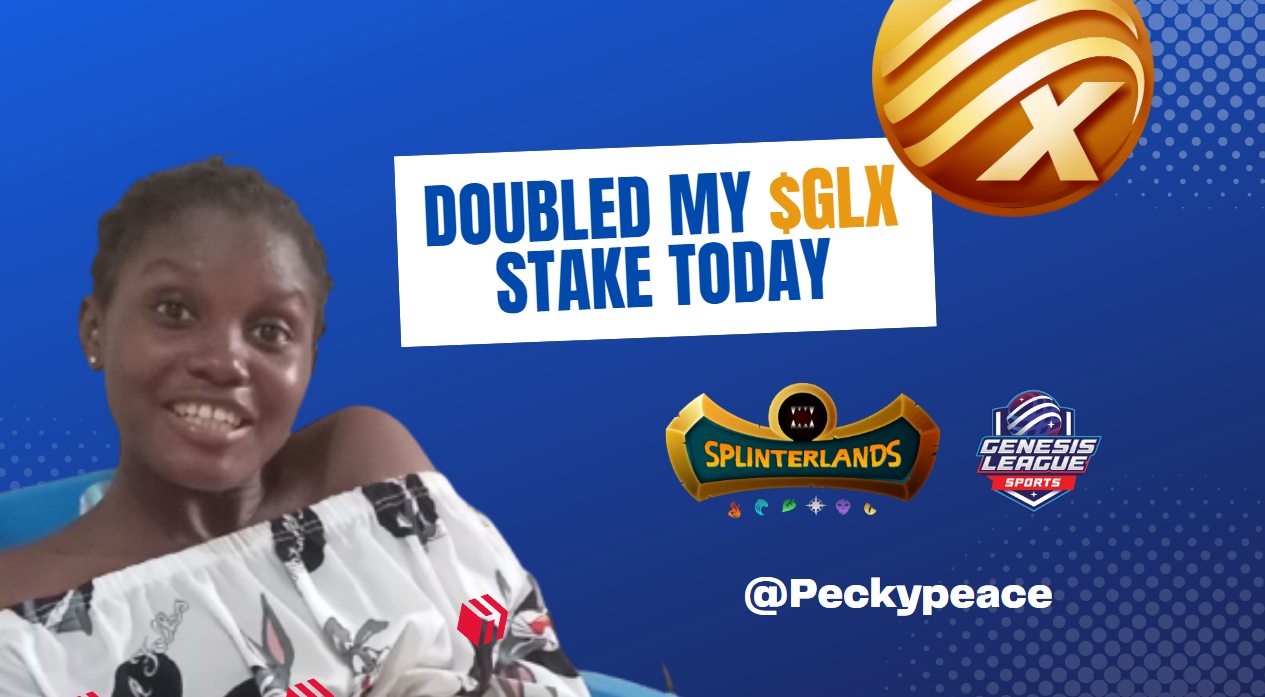 How my GLX investment all started...
My interest in GLX started when I started receiving GLX as an airdrop
for staking SPS token. I think I have a little about 200 SPS staked and that fetched me about 0.2 GLX everyday, I do not know how much that is presently. Though I could see my GLX balances but I didn't know how precious they could be in terms of price until when GLX price rose to $0.3 weeks ago.
After reading so much about the token and how it seeks to make money for sports lovers, first bought 20 GLX and staked. I later added more to 55 GLX and to 100 and then I took a pause at 150 GLX staked.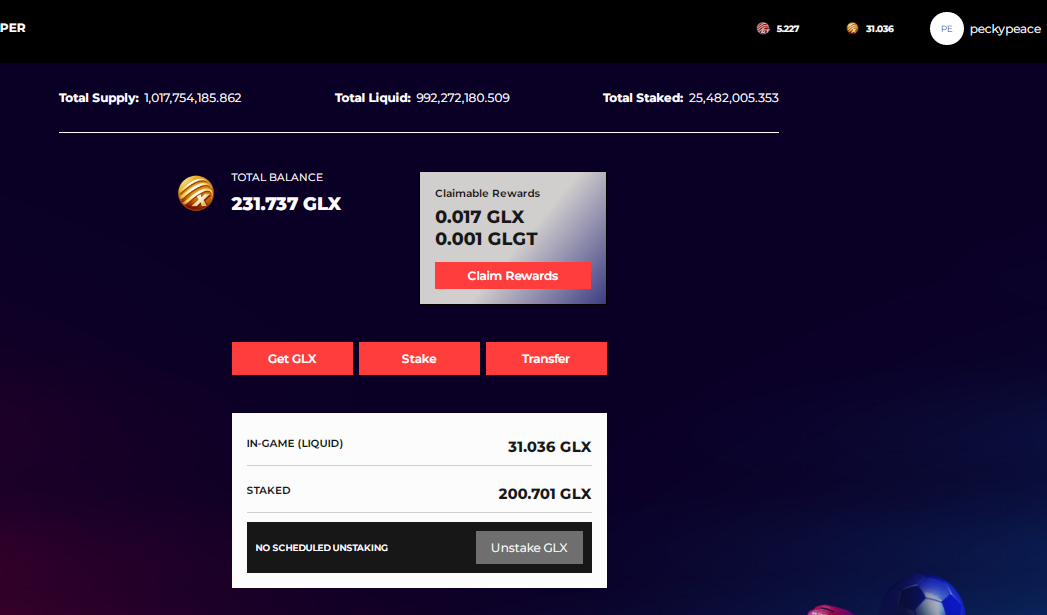 The 150 GLX I staked kept on yielding more until I reached the 200 GLX stake milestone and more were still added. I felt I could stop there since it was same balance with my SPS stake but I saw the prices go down. That was a buying opportunity for me.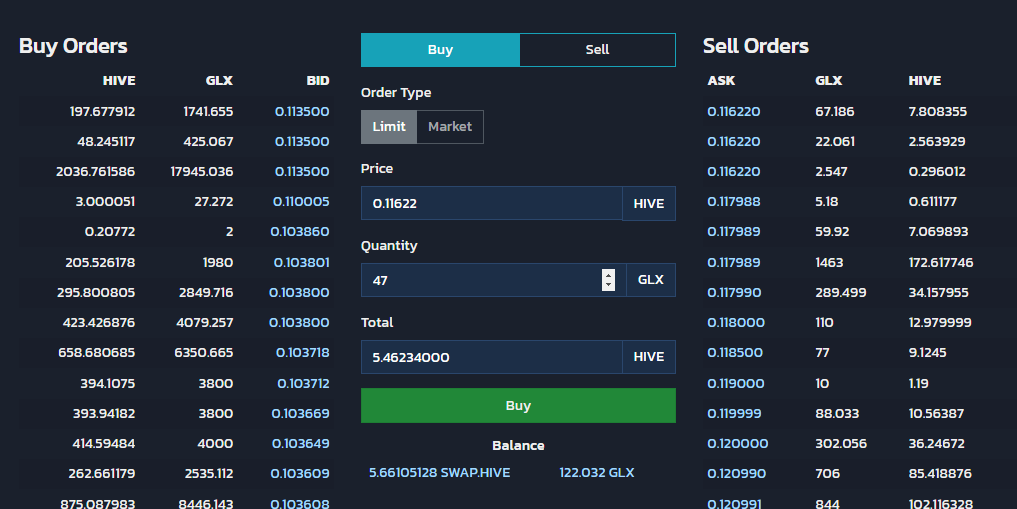 Two days ago, I discovered that my staked GLX earned over 31 tokens, I decided to buy more fro the tribaldex market. I bought 122 yesterday and this morning I bought more 47 GLX making a total of 169 GLX bought in the few days. Here is my last buy transaction:

200 GLX added Today
I moved all the 169 GLX bought into the Genesis league Sports Market and behold my 200 GLX tokens were ready for staking. I am so happy that staking 200 more GLX token helps me double my previous stake and brings my total stake to 400 at year end.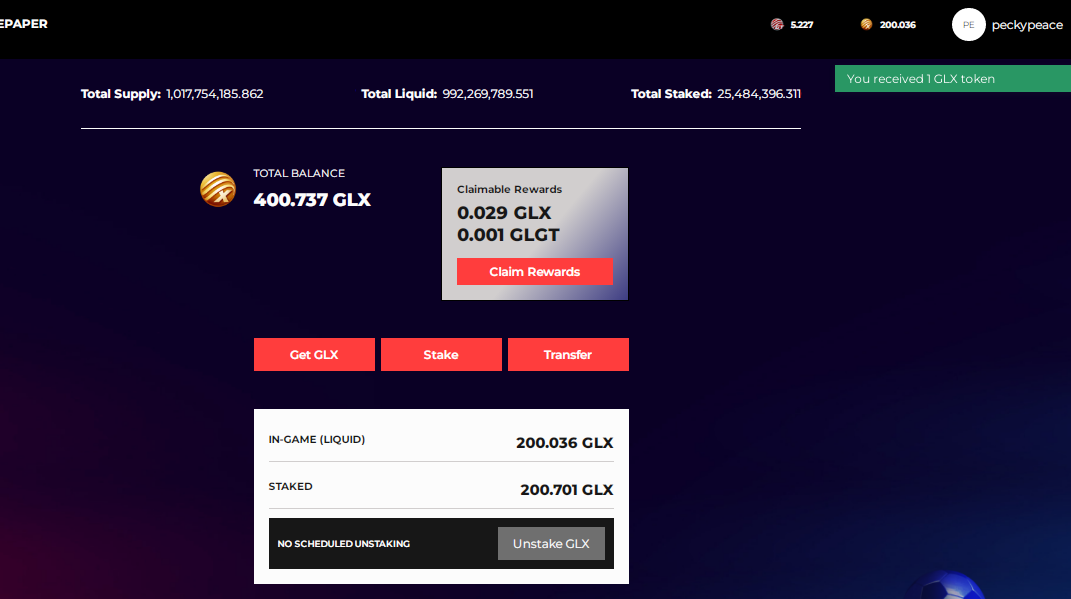 Transaction link for staking 200 GLX: https://hiveblocks.com/tx/4fbdfa41c8b95173e443cdbab81f2ae969f381eb
400 GLX Milestone Reached
With today's stake, I have reached 400 GLX stake milestone. I cannot tell if I would buy more this year but it would be lovely to reach 500 mark before 31st December. If I have the resourced to do that, I would gladly do. At today's price, I would need about 12 Hive to reach the half a Thousand stake milestone.
If you ask me, I would say I am happy, very happy for this growth. It means a lot to me as a woman and a student. I am sure that by next year I would be able to take more financial responsibility for myself, siblings and parents.
I do not know the future of GLX but for all I've read, the creators of splinterlands are doing a lot of work and the token may gain some big value in the future. Thank you to everyone that has inspired my growth in this direction.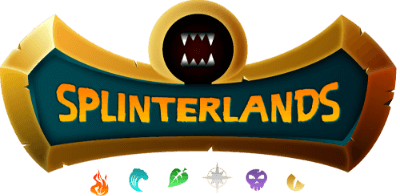 Thanks to @Steemmonsters @leo.voter @leofinance that has been supporting my #splinterlands contents on Splinterlands investment so far. Their upvote support has helped me to gather more HIVE tokens to buy more SPS tokens.
If you are new altogether, don't forget to use my Splinterlands referral link. Please use the link and start off your game earning journey in splinterlands. Let's win together. Thank you in advance.
Please use the share, and upvote buttons while you also share your thoughts in the comments section.
I love you all.
I am @Peckypeace.
---
---