Splintershards airdrop, easy money!
Compounding at 29 %
While everybody is still talking about Polycub and XPolycub, we would loose eyesight on the extreme opportunity there still is going on with Splinterlands.
And no pun intended with Polycub, it is a great opportunity to profit from DeFi2.0. The airdrop of Splintershards is still also a great way to make money.
Just having Splinterlands cards, Dark Energy Crystals or SPT tokens is enough to get an airdrop daily of Splintershards, the new native token of Splinterlands.
Which is at a stable value right now of around 0.11 $. I have a decent amount of DEC and some cards which bring me a daily return of just shy of 4 SPS. Those I stake, because these give you a daily return too, just less of 29 % right now.
If that isn't easy money, well, then I am probably a moron. But hé, it is up to you to decide on that.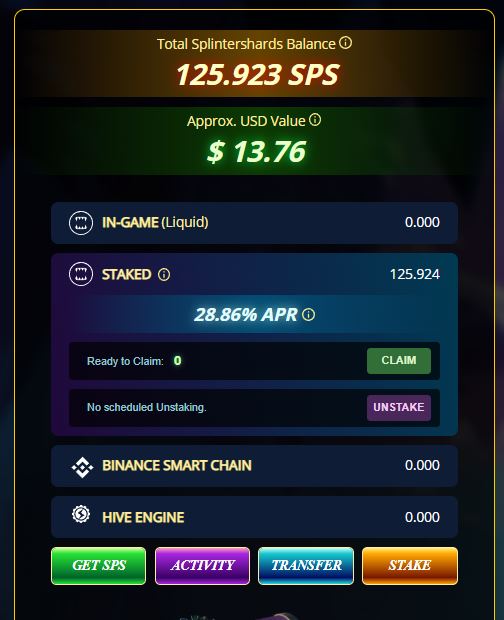 More baskets for your eggs
I am just informing you about this opportunity, once again, as this airdrop still has 121 days left, so, the opportunity to profit from it, is far from over. And investing in Polycub is good, very good. But as Warren Buttet said it, multiple streams of income is the way to go. Or as the old saying goes, don't put all your eggs in one basket.
Don't say I didn't inform you about this one. It has brought me about 15 extra Hive right now, in about a month. So, I don't mind that really. I actually am pretty fine with that return. And it is quite safe.
Sincerely,
Pele23
Posted Using LeoFinance Beta
---
---