Bad season to rent out?

So this season of Splinterlands I decided to rent all my playable cards out instead. Partly because the game just irritated me and possibly since it would then give me the option to just play silver 1 vs the hassle of being Gold 3 or 2 for no real benefit other than chest value.
If I gain less but have less effort required that is always a good trade for me vs doing more for insignificant gain.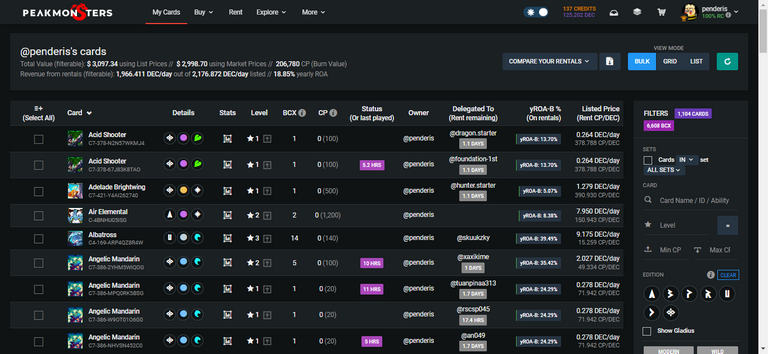 Renting
On average it seems I am making about 2000 DEC a day from rentals, and on first hearing about the new SPS rewards FOMO almost made me think to pull my cards and play instead.
I did start power down of SPS a bit ago to get quarter of my SPS as liquid. Instead of removing my rentals though I will keep renting out until next season and make my measly 2000 DEC a day.
Ontop of that the biggest part that made sense to me was to not be holding liquid SPS right now and I changed it over to DEC until it reaches peg.
How long will that be? Fuck knows.
I will just assume not too long and having changed my SPS over at 0.0065ish per DEC I will be making a little ontop.
With more SPS being liquid I will also assume I can buy back all my SPS and then some in not too long a time. Possibly that is why the Riftwatchers announcement did mention SPS and Vouchers for purchasing in the hopes to completely FOMO the price. I would like to think we are over that bullshit by now though, and will correctly not buy any inflated nonsense.
Playing
Over the next couple of days the Chest values should start showing up and as it stands it is still better to rent out vs playing albeit a slight loss. Again loss for less effort is always fine with me.
Considering I don't need to do anything now or spend time playing the I will napkin calculate the 50% loss in earnings is really not a problem.
Whether I play Silver or Gold next season will mainly be determined by the effort involved to get my average 10-15 chests a day and expected value there.
I will hazard a guess that with a little patience I will still go for Gold but with a far more optimized team rental if needed. The main aim for each day would be to speedrun the average required.
Last season I did not rent at all and it did become quite frustrating. However, I will have a look at options to generate teams as needed so I also do not have to keep playing the gamblers' game too often.
It is simply a case of there being optimized squads and if you spam them you will win more often than not.
Pretty sure Archmage etc them all run similar builds so I guess scraping for those accounts' data would be the simplest... Anyway, the latter is just musing.
---
Bye
Obviously nothing is set in stone so if I see it is best to stop renting and instead just play the last couple of days then I will do that. If anything, any choice I make is almost solely dependent on how much of a pain in the ass it is and as always. If I lose but it is less effort then so be it.
Pretty sure that has become my Splinterlands mantra.
---
---