First Wild Modern Season? I forget.
I think this was our first Wild and Modern League season, and by looking at the leaderboards I guess some people got fucked over.
It hardly matters since the leaderboard is just a bonus for those who play to be on it. Makes the "investment" worth it or whatnot. Each to their own, as for this pleb I just cruised along with my little deck and its little buddy.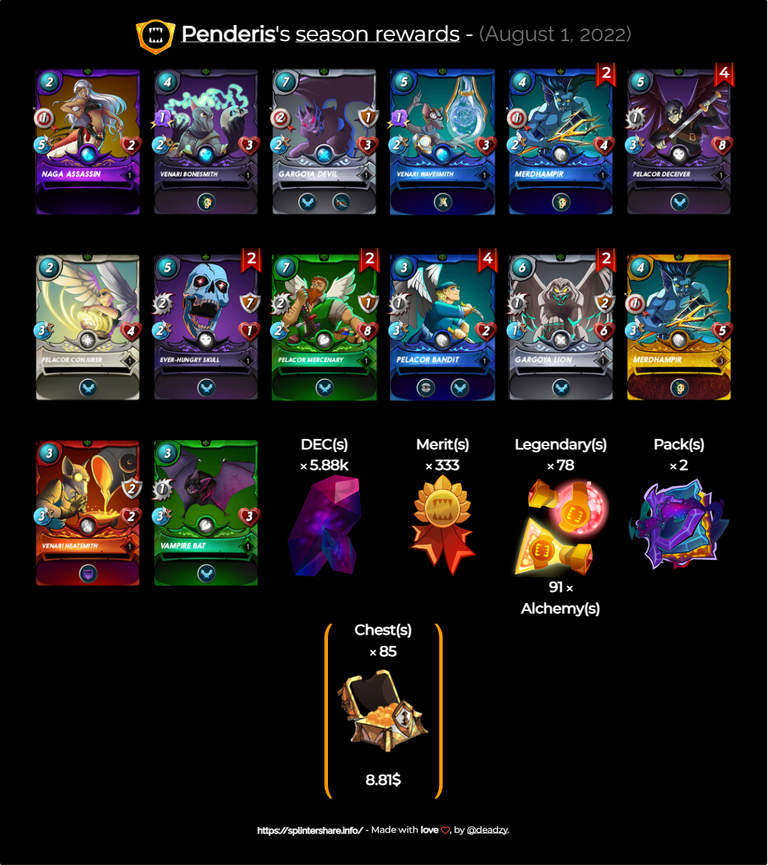 Screenshot made by Splintershare.info
Faux Gold
It seems my EOS rewards for gold are only about 2 cents under par from what is shown on Splintercards.com which is not bad I guess if you are a diamond player I would think it is best to just play 2 gold accounts.
I guess it is not bad, and really I have no expectations aside from hopefully seeing some real improvement overall in my assets.
That part gets tricky since a big chunk of my cards are old ones which cost slightly more and are for the most part under level.
So even though I am adding a ton of new cards it can still feel underwhelming when you view the $ amounts. Frankly, I would do without the DEC and Potions and Merits and only get a chunk of rewards cards but then again you should be careful what you wish for.
So all in all with a July value of $27 which consists of at least 80 cards I don't think it is all that bad.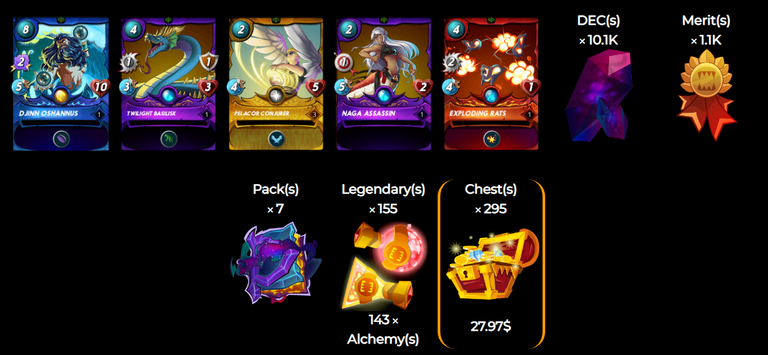 I guess I am also fortunate and or lazy that I do not need to sell cards, but lazy in that I don't try flipping them either since well that takes a fuck ton of effort to analyse opportunities.
So we keep stacking
Bronze... Aka Child labour account
It felt like my toddler account did ok at the start then hit a sharp dive near the end of season mainly because it firstly only plays Modern, secondly, I tend to not like playing repeating decks. Ie I know the bitch ass coming with their little Sloan squid and shields or Thorns and canon fodder or Fire bareback riders.
Yet I will try play different and then I lose. Oh well , it hardly matters though since firstly this is just a game. I do think I will try wild bronze though for this coming season purely for variety.
There is no good reason to play modern only unless you have modern only and even then I feel sorry for you. It has probably been the most boring 3 weekish season of my life playing modern bronze.
So much I either go Wild and keep rentals low or just gun it to Silver just to feel pain but in a good way.
Anyhow here are the bronze results for Bronze EOS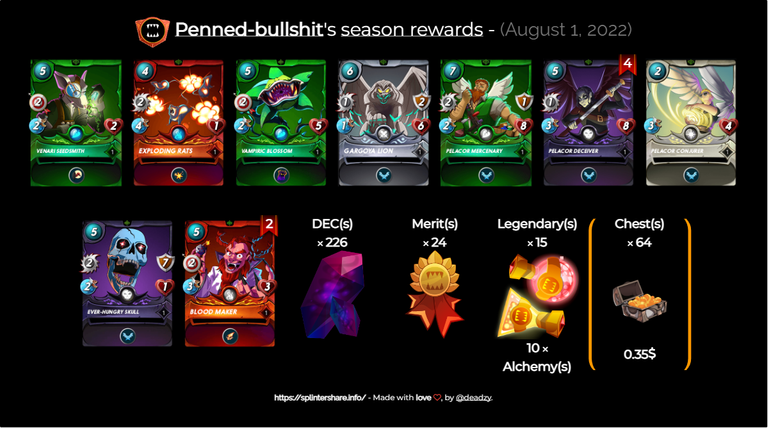 Screenshot made by Splintershare.info
With a total rewards count for July at $4.43
Not too shabby considering I only delegate it my dupes from gold and then rent for filler.
What else
Now since I did not get 200K DEC in my chests I unfortunately cannot buy my packs then sell for a validator but maybe soon.
I stopped staking my SPS and am trying hard to hold liquid, albeit very little at only 500 SPS, I do agree with @Belemo that DEC is mostly useful for acquiring packs and would add cards.
My main strategy this season will be to cut rentals which for the most part I already did since mid season.
There really is no point aside from key cards so to rephrase I am trying to rent optimally.
I am still considering moving bronze over to a bot account but will tentatively ponder that.
As for the liquidity pools, I really have no set choice yet, as my SPS is more than likely a lot more worth outside of such a risk factor unless it is with something negligible as I have with the PKM pool. Ie I only have a couple of $ PKM, so I guess what I am saying if I go into a pool it would be bits and bobs slowly adding and just forgetting. Not all in.

On a surprising note my Chaos only cards, excluding reward are worth more than I thought. Which is why I do want to keep adding every card I can and just like a liquidity pool just forget about them till that number becomes a lot higher.
So I guess keep playing for the potential.
---
---