Splinterlands Social Media Post - Earnest Samurai JPN "Wanted to go to Splinterfest!!!" Bronze Tournament Debrief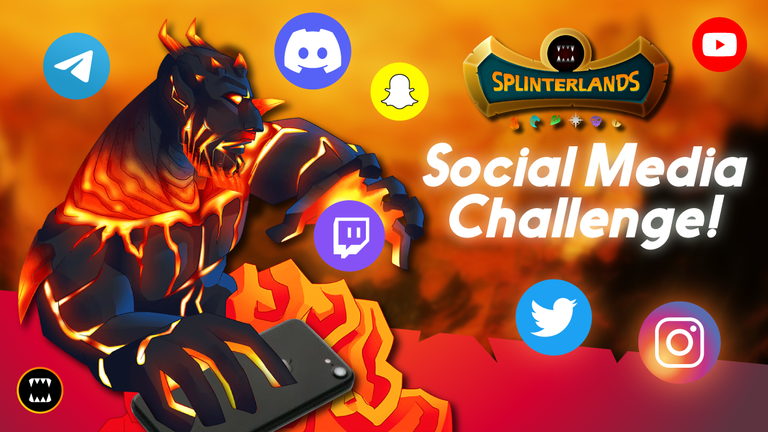 Tourney Time
I did not get tickets for Splinterfest, and I saw this 24-hour tournament pop up on Wednesday night. I also just have more time to play on the weekends so I entered for the heck of it.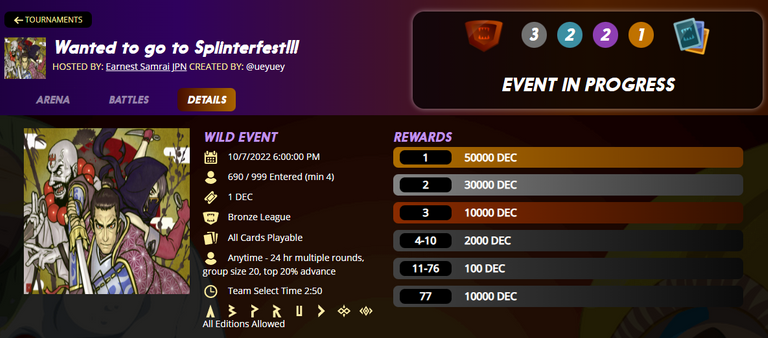 It was a Wild, 24 hour anytime Bronze tournament with groups of 20. I was looking forward to using my Riftwatchers cards at Bronze level, because I haven't leveled up the Summoners yet! The event started with a whopping 690 players, which is an incredible number of participants for any tournament.
The lineup submission process for 19 lineups was so long I had to take a soup break in the middle.
Meanwhile at Splinterfest the team debuted a new tournament style using Ghost cards where everyone will have the same available cards at the same level to amplify the consequences of your lineup choices! Right now I don't know all the details, but look forward to finding out more.

First Round
I got a lot of use out of Ilthain, and wanted to feature two of those battles from round one. So far in Silver I have definitely gotten some use out of Ilthain, but I have to play it at a disadvantage because I still only have a level 1. However, this will definitely be the RW Summoner I will invest in first!
Ilthain vs. Yodin #1
The ruleset was Even Stevens with a 16 mana cap and fire, life, and death splinters available. I looked at past lineups to see what Summoners my opponent had, and was sad to see Yodin. Although I wasn't SURE they would play it because it eats up 7 mana, I still tried to both counter and also make sure the lineup was a solid play against other life lineups (death doesn't have very many good even cards in my opinion so I sort of didn't consider it too heavily). Also I wasn't too afraid to put low health in the back because most sneak cards are odd (although Kobold Miner exists I decided to take the risk).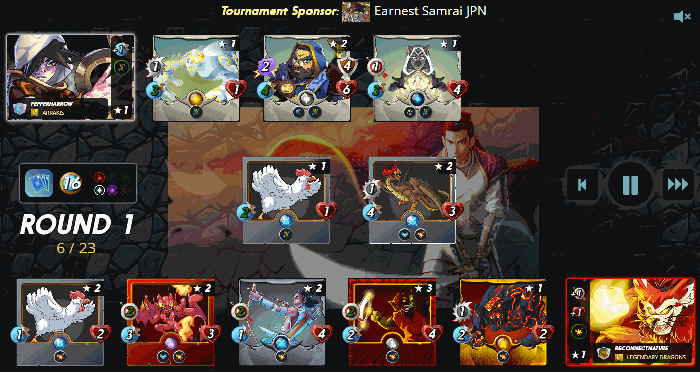 Watch the Battle!
The strategy worked out really well because playing Yodin meant for my opponent that the cards they had left were low mana and health, even though they received a ranged bonus and blast. The return fire from Ilthain, and the three extra mana I could spend on monsters was critical. Also, Time Meddler garnered a ton of misses with his speed boost and dodge ability. I ended up getting a heal from Crystalsmith and a few key misses that helped with subsequent backfire.
Ilthain vs. Yodin #2
I also threw a much stranger, panicked lineup together against Yodin, where I decided to bury Pelacor Conjurer inside the lineup thinking he was going to be my sole survivor. It wasn't a good idea at all. But thanks to Ilthain and luck I pulled it off. So, if you're often frustrated by Yodin and looking for a counter, maybe consider getting an Ilthain!
Watch this other, weirder battle!
I ended up in first place after the first round with 3h35m to go, then I went outside to ride bikes. Final round 1 was I W-16, L-3. It was a very different experience than my first tournament in which I paid 10 DEC to get eliminated during the qualifying round.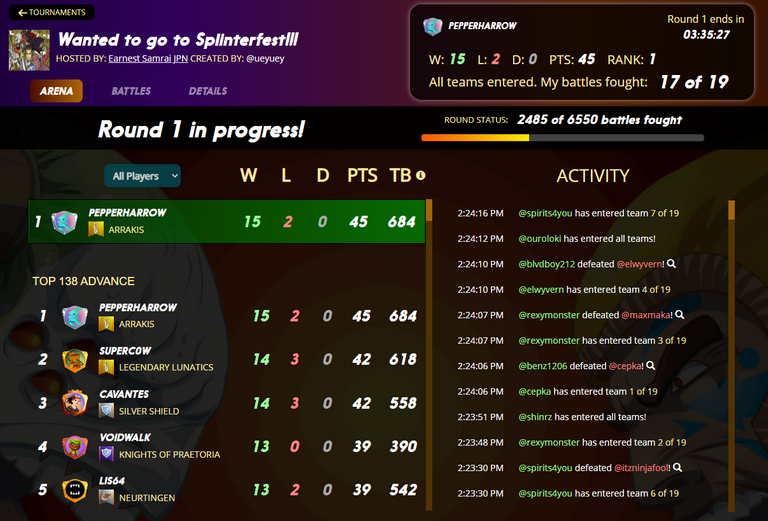 Second Round
I picked it back up on Sunday evening after I forgot about it completely with 32 minutes left. This is the brain I have to live with everyday of my life. I once entered a tournament that started in 6 minutes only to forget about it until the next morning, it was not a 24 hour tournament. Well, so round two was a speed run!
I lost a lot more in the second round trying to speed through more challenging players! And a lot of the rulesets were low mana played a lot of Obsidian + Queen Mycelia + magic damage. I recently bought a Queen Mycelia and I use her all the time.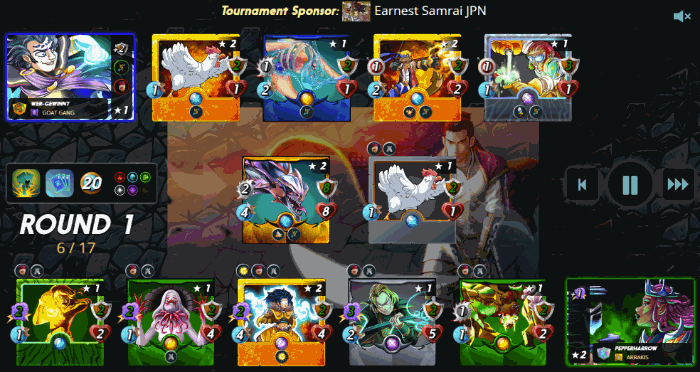 Low mana magic - watch the battle!
It works so nicely because magic subverts shields, no monsters at bronze level can evade magic because they don't have phase yet (unless you use Sthispa!), and they're a pretty powerful especially against low health monsters.

Prizes!
I placed 67th overall, won 100 DEC, and had a lot of fun.

Thank you to ueyuey and the Earnest Samurai JPN guild for putting on a tournament with great prizes for everyone who didn't make it to Splinterfest!
It is also @atbui89's birthday soon so I made him a cookies and cream ice cream cake using an excellent recipe from Sugar Geek.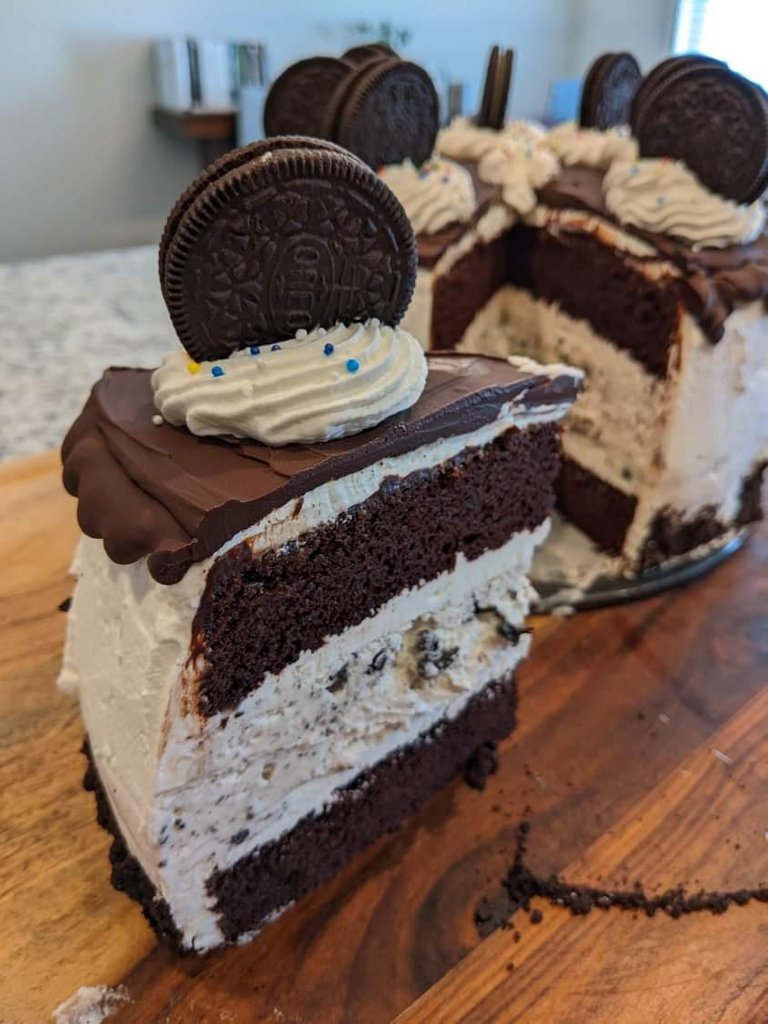 Thanks for reading!
---
---