LORE FOR DUMMIES - ep 5 - DEFENDER

Don't have the time or the patience to go through all the Splinterlore texts and videos?
Don't worry, I did it for you and now we have a shorter, funnier and dumber version. Enjoy!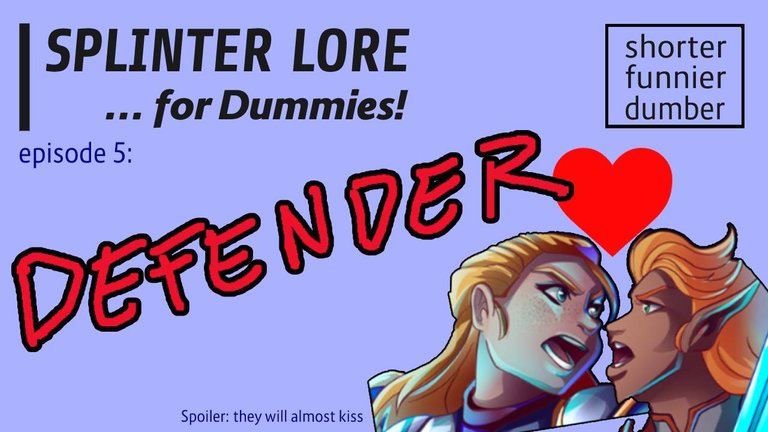 The action in this story is VERY short and can be compacted into this:
Bera Dallin and River Hellondale were flirting by the balcony when weird octopus tentacles and blue energy light beams out of Mount Praetorous. The earth shakes. They freak out and flee the city with their army until they are surrounded by monstrous creatures.
That's the story.

BUT...
Maybe you got curious about the "flirting in the balcony" part. Well, let's dig into that juicy bit:
Today is national Praetorian day. But in spite of recent foul events and the creeping plague, there is no celebration at all.
Bera Dallin (remember the dwarf from episode 2?) is at the balcony of New Everitt's city hall. She stares at the deserted streets and sighs. A glass appears in front of her. She turns around and sees River Hellondale, the handsome Elf leader that runs the city. He offers her the drink:
for you
A margherita?
Well, it's a Lemoncello
Lemoncello?? I hope my soldiers don't see me drinking this candy crush cocktail, or I'll lose all my dignity.
Hellondale smiles, he knows Bera's temper and sense of humour. He could have brought her a large pint of beer but he knew Lemoncello would create a funny impact. "Let's toast!", he says. They raise their glasses, they look at each other.
And they hold there.
Starring.
as if time stood still.


The air gets warmer around them. Her palms get sweaty. He finally cuts with a remark:
You shaved your beard.
Yeah. You like it?
Any news from Kai?
Nope.
He loved your red beard.
Yup.
Any news?
No news from Kai. Still.
He was very sweet.
Yup.
He liked you.
Argh, this lemoncello is so damn sweet! You wanna give me a sugar rush or what!?
Bera disrespectfully throws the glass drink off the balcony into the street, smashing it into pieces. She seems upset.
Look, Bera, I know you and Kai were close...
Do you, really!? Maybe you know how close I can be with you, but do you know if I can really get to someone else? Well, I can't! I just CAN'T!
Bera, I...
I know, I know. You're an elegant elf from a noble lineage and I'm just a stupid muscled dwarf.
Don't say that. You're beautiful inside.
Says he, touching her face. Bera turns and steps a feet away.
Don't touch me. Just... don't. Dwarfs don't cry.
That's a popular song title.
It should me more accurate, like "dwarfs don't cry unless they fall in love with a tall elf and spend a night together after a victorious battle and then the Elf pretends it never happened". How popular would that be?
Hellondale takes a step back and smiles, as if trying to transform that accusation into a casual joke and lighten the mood. Bera's eyes are a bit watery now. He changes the subject:
Speaking of popular... I got turned into a card.
Oh.
Wasn't expecting it, really.
Hmmhmm. That's... yeah.
It's just a card. I mean... of course I'm happy for the distinction and all.
Yeah, congrats.
Just a card.
Some people fight their ass off and don't make it into one.
Look, I'm sure they have their eyes on you...
Me? I don't care! I have battles to fight! And who's "they", anyway? Who the hell decides... ah, screw it.
Yeah, screw it.
Rare?
What?
Rare card?
Hmm no.
Oh those guys. Couldn't they at least rare you? You deserve more than uncommon. It's just disrespectful.
Look, they... made it legendary.
WHAT!??
Yeah. I guess rarity is just random. There's no criteria.
Bera did not notice but she picked up Hellondale's drink and drinks it, distracted.
I'm happy for you. You are a Legend, right? I mean... tall cute elf, beautiful eyes, charming voice, you know how to make an impression at a council meeting. And you come from good families.
Bera, I don't think that make any difference
Your father was part of the high council, wasn't he? It's good to have connections.
Come on, that's unfair. It's not a big deal, just a silly card.
IT'S A DISTINCTION OF MERIT!!!
Look, even monsters turn into cards.
Well, YOU certainly did! Monster...
Bera, you're overreacting
Maybe it's because of the way you GHOST your lovers. Because THAT was certainly very LEGENDARY! What abilities did they give you? Dwarf Charmer? Invisibility? ...magic lips?
Resurrect.
OH! Great! Makes sense! It took me months to get back from the dead after you and I... and yeah, I'm resurrected, look at me. Ipy-ay-ey, mf!
Bera, it was just a one night stand. We're just too different.
Let me see that card!
Hellondale reluntactly shows her.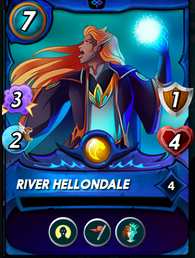 Dispel! Please use it on me! Dispel this damned curse! Please!
She holds her arms around him with her face against his lower chest. Bera is a wreck.
Look Bera, I'm sure you will also be legendary, they're just figuring out your stats. You'll probably get a lot of health and armour.
Because I'm a tank, I know. I'm just a stupid tank with a purpose... take hit after hit and hold the pain. Suffer in silence. I am ridiculous.
Hellondale goes to his knees, becoming face to face with Bera. His voice softens almost into a magic enchantment.
Bera, you are not at all ridiculous. You are one of the most amazing beings I have ever met. And I did not forget what we had together. Looking at you now I feel my heart pumping.
Me too.... me too...
Their faces slowly get closer.
And then the earth starts shaking
I feel my world shaking
Me too. Like an earthquake in my heart. Kiss me, please.
Bera...
River...
Bera... it's an EARTHQUAKE!

They break out and look around. City Hall is crumbling apart, and so is the whole town! And now you know the rest of the story:
Bera Dallin and River Hellondale were flirting by the balcony when weird octopus tentacles and blue energy light beams out of Mount Praetorous. The earth shakes. They freak out and flee the city with their army until they are surrounded by monstrous creatures.
THE END
---
---
Long story short (with link to previous stories):
1- THE VOICE - Geeky doc becomes badass dr Blight
2- MESSENGER - Nerdy folk overpacks his bags for his mission
3- CREEPING - cute pirate orphan faces scary music
4- PROTECTOR - Retired mage leaves comfort and goes on a last battle
5 - DEFENDER - Leaders bring up romantic issues before being attacked
(to be continued)
If you enjoyed this revamped story, any token of appreciation is welcome. ;)
And if you want to read the ORIGINAL Splinter Lore stories, go to https://www.splinterlore.com/chaos-legion
Want to join Splinterlands? Use my referal and we both win: https://splinterlands.com/?ref=petroni7
---
---