[Ended] Splinterlands Card Giveaway! Three (3) Winners This Time! Venari Heatsmith

A person I follow regularly gives away Splinterlands cards. It is a pretty cool way to be involved in the community and give back.
Check out me opening 1000 packs of Chaos Legion. Since my collection is pretty big now I thought I'd start giving away some stuff. I did Pelacor Mercenary first then Pelacor Bandit. Today it is Venari Heatsmith!
I decided to spice up the rules a little this time. I'm going to wait a little longer to pick winners and there will be 3 winners this time! I'm also going to give you more chances to win. You don't have to do this to win but if you upvote you get an extra chance, if you reblog you get an extra chance, if you upvote my 1000 Chaos Legion Video you also get another entry and same if you reblog it.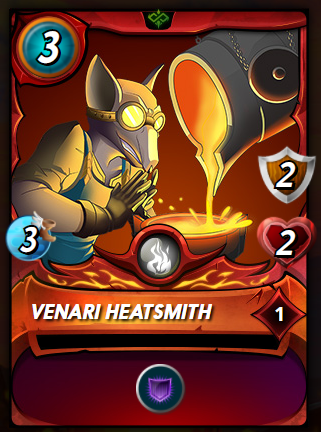 How To Win
Comment on this post with your Splinterlands name to be entered. That's it! (Make sure it is your in game name to which I can send the card!)
How It Works
Upvote, follow, re-blog is appreciated but not needed to enter. However, as mentioned above, they will get you extra entries this time! (You still have to comment WITH your in game name to actually win though!)
Using this tool a winner will be chosen. If that tool is not working for any reason I will find another or manually randomize comments to choose a winner. I will then send the card in the game and edit this post to show the winner has been chosen. If I cannot send the card to you in the game for any reason (e.g. your name is wrong in the comment) I will just re-roll the winner before posting here. For this one I will probably manually assign numbers to entries and roll a dice.
There is no exact time/comment limit before the winner will be chosen. Either I will check back in a day or so (Probably 3 for this one!) and reward the card or if I happen to check earlier and a lot of people have commented I may go ahead and reward it so I can start another giveaway. So it will benefit you to follow me and check the feed to see if more giveaways are happening.
Your comment CAN be more than just your Splinterlands name, as long as the name is there.
What Cards Will Be Given Away
Mostly reward cards will be given away. Probably commons, maybe rares. However, I may try to spice it up and add some of the new Chaos Legion cards sometimes. Or more rare cards. There may be special rules if I do that. Stay tuned!
GOOD LUCK!
Going Oprah style on this one! Since 5 people entered, I'm just going to say everyone won! All 5 people that commented get a card!
---
---