My second investment as a budget player in Splinterlands

INTRODUCTION
I discovered Splinterlands at the end of March 2022. I decided to give it a try and bought a spellbook immediately. After some power delegations from some nice guys at discord, I was able to play very fast in Bronze III and Bronze II - and in at least my oppinion - I was doing quite well. I also tried some tournamants after I got some expierience, especially in Novice / Bronze tournaments with only Chaos Legion (CL) cards allowed withoug legendarys.

To compete in these tournaments, I did my first "buy in" into splinterlands and boughth every epic monster from CL. Also I bought some cheap Collection Power to play in higher leagues, Silver was my goal! With this improvment for my deck (at this time, I got all the starter cards + epic CL cards), I was able to play in Silver II, sometimes in Silver I.
The next buy-in I would not count, because I did not improve my deck at all! It was due to the big change, where Starter Cards will not give rewards any more. This investment was neccessary, but was not that exciting!
Today followed my second bigger investment to improve my deck! I wanted to use the current market phase and use the low card prices. Let's have a look into my investments:
THE SUMMONERS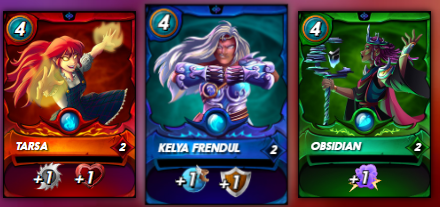 I am still playing in Silver, but I am still on a budget, so I decided to went for a bronze leveled deck. I also wanted to have at least 2-3 decks to switch, and the choosen ones are my favorites (Life and Death are skipped immediately, for Dragon I should go for a Quix some day...).
THE COMMONS



Pretty simple, just maxed out for Bronze level!
THE RARES



The same story as for the commons, just maxed out Bronze!
THE EPICS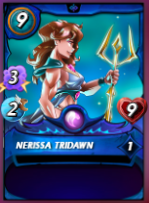 As mentioned earlier, I bought initially all epic cards from CL to compete in tournaments and ranked play. For some reason, I missed Nerissa, so I picked her up. Also I decided to went for level 1 epics to stay cost efficient. The level 2 epics just get +1 health or +1 speed, which isn't a big game changer in my opinion.
THE LEGENDARYS

I don't get all legendarys that I wanted. I have some active high bids, so maybe one or two will join my collection in the next days. But for the moment, this should be a decent setup to work with!
WHAT'S NEXT
I am very happy with my cards right now. I hope I can pick up some more legendarys soon to have a full leveld CL Bronze deck (despite of the epic ones...). In the long run, I would love to get a Quix to get some more choices. Currently I don't know if I would level up my Death and Life splinter as well, or pick one of these three and go for a level 3 deck. Firstly I want to have a look how I can compete in ranked (modern) play. Also I wanted to get ready for the Riftwatchers release, where some epic summoners should follow!
Thanks for reading. If you want to start playing Splinterlands, please consider to use my referral link.
---
---