Phoenix Arcade: Graveyard Wars Themed Tournament Starting May 12th!
Welcome to Phoenix Arcade!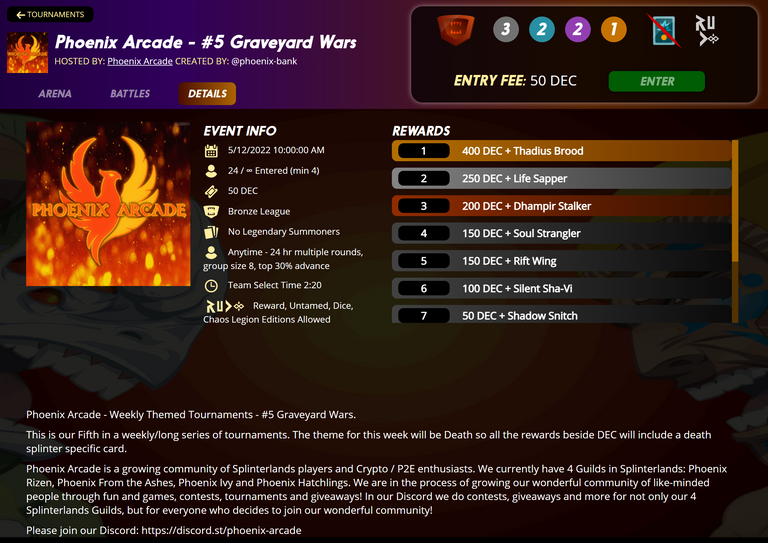 Graveyard Wars Tournament Starts May 12th 2022
We launched our fifth and penultimate tournament in this series of Themed Tournaments for @splinterlands! This new Tournament is Death Themed! All prizes aside from DEC rewards will be Death Splinter cards!
As we begin to round out this inaugural series of tournaments from the Phoenix Arcade Team, we just want to give an extra Thank You to everyone who has participated so far! It's because of this great community that we do what we do. Thank you all!
You can get more information on Graveyard Wars here: HERE
Make sure to claim your spot for Graveyard Wars before it starts: HERE
Sneak Peak at Next Week's Tournament
Dragon Clash:
Bronze
Anytime
24hrs
Multiple Rounds
Min - 4
Max - None
Group 8
2:20 TTS
Modern - Chaos Legion - Untamed - DICE - Rewards
No Legendary Summoners
50 DEC Fee
All prizes will be DRAGON Themed! Stay tuned right here for more information!

Join us for fun and games, contests and prizes in our Discord: HERE
Follow us on Twitter: HERE
---
---