Phoenix Arcade Is Recruiting For Phoenix Hatchlings!
Phoenix Arcade Is Recruiting!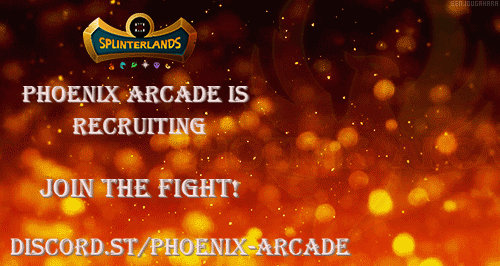 Welcome! Phoenix Arcade is Recruiting new members for our various @splinterlands Guilds! We currently have 7 Guilds in our ever-growing community, some of which we're actively recruiting new members for! Find more information below!

Phoenix Hatchlings
We have several open spots in Phoenix Hatchlings! Want to grow together with a team and climb the ranks in Brawls? Phoenix Hatchlings is the place for you!



Here's What We Have In Phoenix Hatchlings
Hall/Lodge: Level 3 (+3% RP Bonus in Ranked)
Arena: Level 2 (Tier 1 Brawls with 1.5x Crown Rewards)
Barracks: Level 2 (Can Use Gladius Cards Up To Bronze Level Cap)
Store: Level 2 (+20% Merit Bonus on Brawl Participation + Can Buy Gladius Packs From Guild Store With Merits)
Here's Who We're Looking For
Must Have a Spellbook
All players need to be active in Ranked battles, either Modern or Wild
Must be able to participate in Guild Brawls
Contribute to conversations and help others if you're able
Contribute to Guild Dues, currently 175 DEC Per season total. *See Guild Guidelines Channel in Discord for breakdown. *Amount subject to change as guild grows.
No Alt Accounts (we have another guild for Alt accounts for members of Phoenix Arcade)
Must join our Discord server for coordination and guild decisions, we also do Giveaways almost every week!
English Speaking Guild


If you're interested in Joining our wonderful team and growing with us, apply in-game Here and contact us in our Discord server in the Recruiting Channel!

Check Out All Our Guilds!

Join us for fun and games, contests and prizes in our Discord: HERE
Follow us on Twitter: HERE
---
---