Phoenix Arcade Themed Tournament #2: Underwater Skirmish!

Welcome to Phoenix Arcade!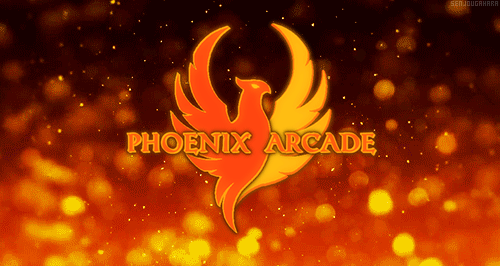 We're a group of Splinterlands Players with a passion for Crypto and P2E projects. We currently have 4 Guilds in Splinterlands; Phoenix Rizen, Phoenix From the Ashes, Phoenix IVY, and Phoenix Hatchlings. We're in the process of growing our wonderful community of like-minded people through fun and games, collaboration, contests, tournaments, and giveaways!
Our previous @splinterlands Tournament, and very first in our series Through the Fire and Flames went really well. You can see the results HERE

Phoenix Arcade Themed Tournament #2: Underwater Skirmish!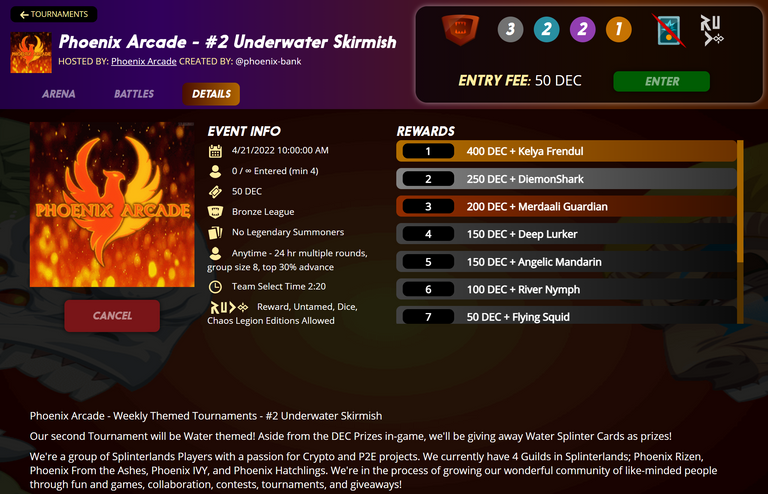 Our second Tournament will be Water themed! It'll Start on Apr 21st with Multiple Rounds. Aside from the DEC Prizes in-game, we'll be giving away Water Splinter Cards as prizes! We're trying to make sure as many people can participate as possible, but still keep it competitive, so we'll be making this tournament Bronze League with a pretty low buy in, just like the previous one!

Here's the Details!
Deadline for Entry: Apr 21st 2022 11:00AM ET
Bronze Cap
Anytime
24hrs
Multiple Rounds
Min - 4
Max - None
Group 8
2:20 Team Set
Chaos Legion, Untamed, DICE, and Rewards Cards
No Legendary Summoners
50 DEC Entry Fee
Prizes!
1st - 400 DEC + Kelya Frendul
2nd - 250 DEC + DiemonShark
3rd - 200 DEC + Merdaali Guardian
4th - 150 DEC + Deep Lurker
5th - 150 DEC + Angelic Mandarin
6th - 100 DEC + River Nymph
7th - 50 DEC + Flying Squid
8th - 50 DEC + Hardy Stonefish
9th - 50 DEC + Kulu Swimhunter
10th - 50 DEC + Cruel Sethropod
You can join the tournament here: HERE
Please join our Discord to claim your card prizes: HERE
We're currently doing weekly @splinterlands Chaos Legion Pack Giveaways. You can find more information on our current one HERE

Join us for fun and games, contests and prizes in our Discord: HERE
Follow us on Twitter: HERE
---
---