Rolling the Dice on some New Ability Speculation
There have been mentions from the @splinterlands team throughout several previous town halls that we've got new abilities brewing in the pot, to be rolled into production via the upcoming Riftwatchers expansion set and the Rebellion full set...

...And we thought it would be fun to speculate with a few of our early calls on some of these, so without further ado, let's get into it.

Void Protect
We've got protect, the ability granting all friendly monsters a +2 repairable armor buff, however, we are still waiting on the granting of a void armor buff.
That said, the first ability we are predicting that we'll see in these impending sets will be something to this effect - and it can come into play in one of a few ways
Most traditional approach to this - a +1 or +2 void armor buff to all friendlies - as with the protect ability, this would be a repairable armor

An alternative, and perhaps more interesting, twist to this would be to turn all current friendly monster armor into void armor
First Strike
We've got double strike, opportunity, reach, and sneak that allow for variation in the world of attacks for monsters. The next ability we think could enter the arena is yet another iteration of attack - a first strike type ability.
Whenever a monster, regardless of position, is targeted for an attack, and likely specific to melee-only attacks, the first strike endowed monster would be granted the ability to "swing first".

This would equate to damage being dealt prior to receiving any incoming damage, and therefore potentially thwarting the attack entirely.
Disillusion
This last proposed ability may be the longest of long shots speculated upon here, but it's an interesting one to think through nonetheless.
Operating in a similar vein to dispel, this ability would enable monsters to remove summoner buffs from targets, bringing the Yodins and Llamas of the universe back down to the land of mortals.

We wouldn't expect this to remove summoner-innate abilities, ie., Llama's cleanse, Kitty's tank heal, etc...

We'd love to hear your thoughts on these proposed abilities - shoot us a comment with your own dreamt-up abilities!

Join us for fun and games, contests and prizes in our Discord: HERE
Follow us on Twitter: HERE
Phoenix Arcade is Recruiting! Find out more: HERE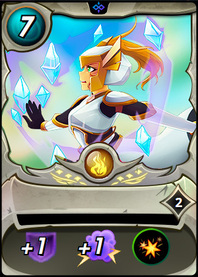 ---
---