Splinterlands! Updates, Chaos Legion, Bronze nerf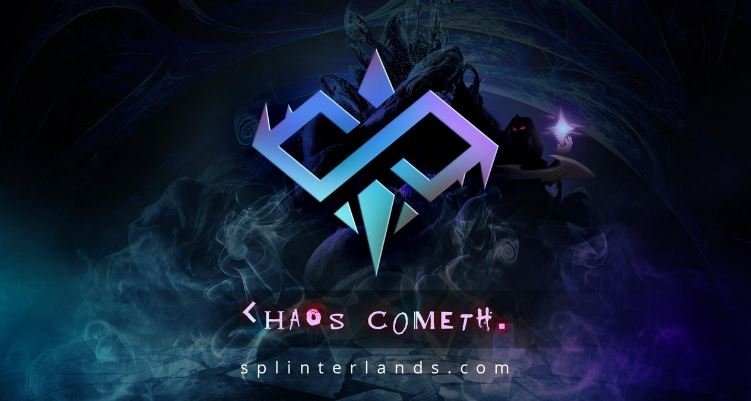 It's almost time for a major Splinterlands update! Are you ready for it?
Here's what's going on, my thoughts on it (which are just thoughts, not financial advice), and what's going to go on in the future.
Chaos Legion.
It's coming! And will definitely be the best time to get into Splinterlands if you haven't already.
I love the fact you can get a pack of 5 cards for $4. They increased the price of the packs, but didn't print as many. I love that. Seriously, an overly high circulation of any NFT kills the after market values.
How can you get a pack? If you don't have any SPS staked you are out of luck. As of writing this i have roughly 1200 SPS staked.
With that much staked (roughly $450). I should be able to get around 15 packs during the pre-sale. I was planning to buy more, but the fact you need that much SPS staked, makes it too costly for me.Splinterlands is wildly popular. It's #1 on Dappradar right now, and by limiting it, everyone gets a chance.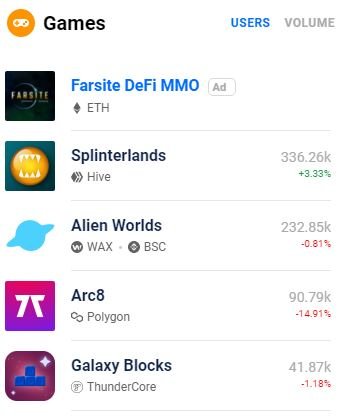 The pre-sale gives huge bonuses for buying the packs before the general release.
"As with past pack sets, there will also be bonus packs given out for larger pack purchases in a single transaction. The bonus levels are planned to be as follows:
100 - 499 - 10% additional pack bonus
500 - 1999 - 15% additional pack bonus
2000+ - 20% additional pack bonus"
To get the discount you have to buy 100 packs at once minimum. So I definitely will not be qualifying for that. Insert sad face here.
What about getting together with your friends and splitting 100 packs? Nope. Bad idea, here's why.
"Airdrops
Similar to what was done with the Untamed and AZMARE Dice editions, new cards will be introduced periodically over the life of the edition and airdropped to players who have previously purchased Chaos Legion packs.
There will be a total of 13 airdrop cards released as part of the Chaos Legion set as well as one special limited-edition promo card that will be airdropped at the end of the presale (more details on that below). A new card will be released and airdropped to all previous pack purchasers after the next batch of 1M Chaos Legion packs have been sold.
This mechanism strongly encourages and rewards players for purchasing Chaos Legion packs early as each of the first 1M packs purchased will have a chance of receiving ALL 14 airdrop cards!"
Those airdrops will only count for the person who actually does the buy. So you can't split it up among you. And whoever buys it gets the presale airdrop, even if they give/sell you a pack.
So if you can't get any/or only a few pre-sale, don't lose hope. You'll get a chance to buy them with everyone else when the regular sale starts.
Don't worry, they allocated only one million out of the possible 15 million packs for the pre-sale. You'll be able to get them, don't panic.
And you should definitely get some packs, look at the prices of some of the older cards.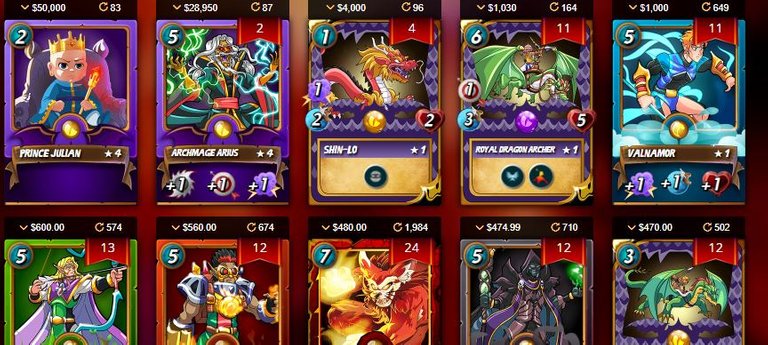 What other big changes are coming up? Bronze nerf. If you start the game you need to get out of the baby bronze league as soon as possible. They will be reducing the chances of bronze league getting cards as rewards, and removing DEC as an award.
What this means is players will need to spend about $100 to get the power requirements (plus winning enough matches)to get to the silver league.
This should increase the price of cards, as people buy them to power up.
I'm loving the changes they made to bronze league, because in addition to changing the rewards, they are putting a cap on how much you can earn in each league. This is a great relief for players, because currently people will camp out in lower levels like bronze, for huge end of season leader board rewards. These are people with huge power scores, that have no reason to be in those leagues!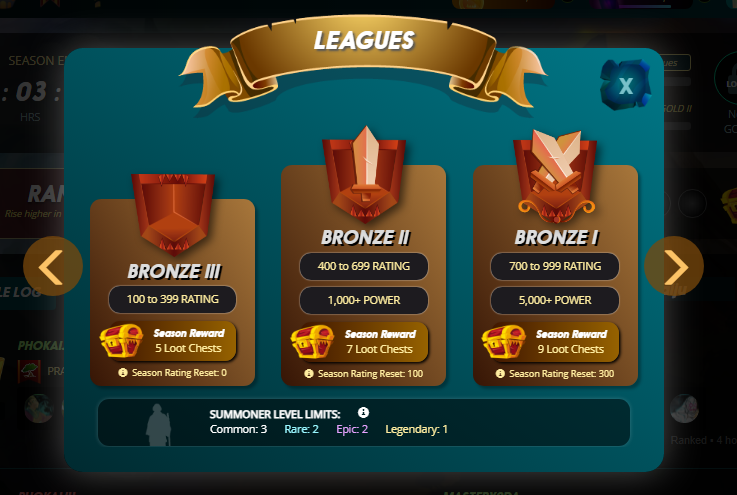 Great news for all Splinterlands fans and, I look forward to seeing you all in game.
---
---