Guild Vault Idea? THIS NEW FUNCTION WOULD BE SUPER SWEET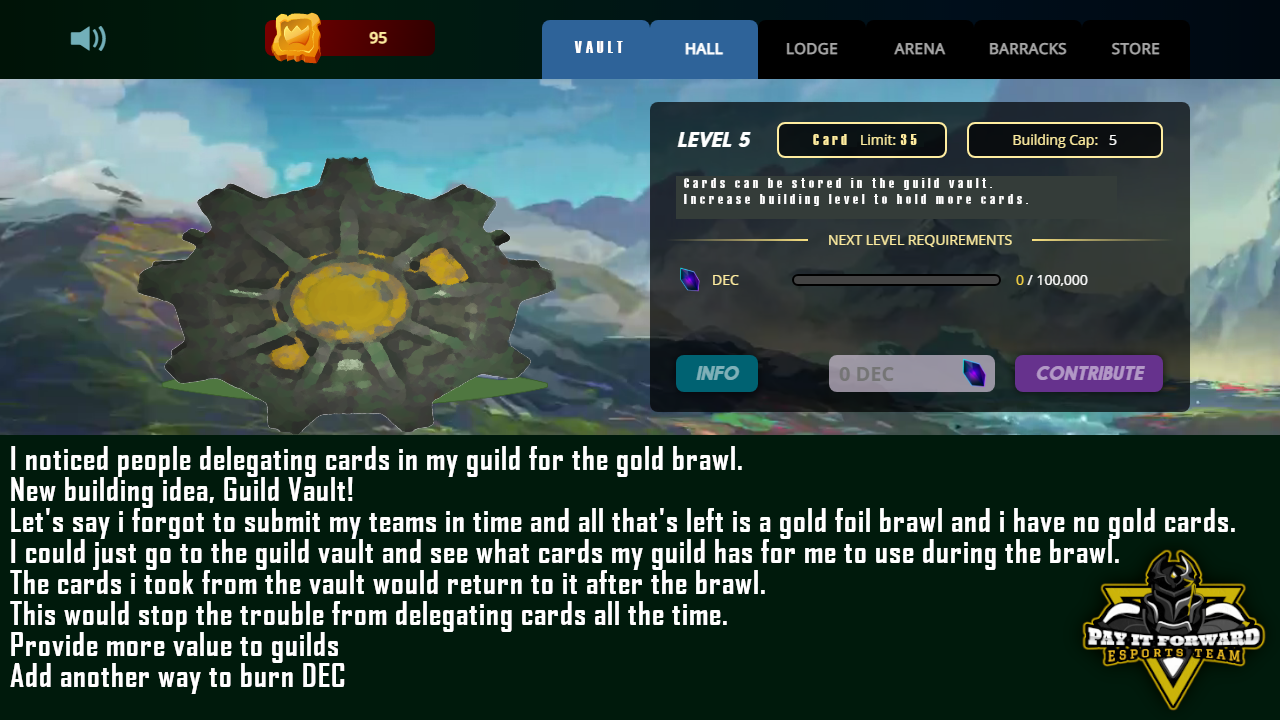 Hello everyone!
I am here today to discuss an important thing for everyone that is in love with Splinterlands and want to see more cool and awesome features added to make the game even COOLER!
We all know that there are a ton of people delegating cards in their guilds for brawls right?
Sometimes its such a hassle to go and rent cards, PLUS, not everyone can afford renting for brawls!
Well we have the perfect solution for this! Hear me out.
New building idea, Guild Vault!
Let's assume all my guild mates have taken all the frays available and all that's left is a gold foil brawl and i have no gold foil cards, or untamed brawl and I have no untamed cards. What to do?
Well now with this Guild Vault. I could just go to the guild vault and see what cards my guild has for me to use during the brawl. The cards I took from the vault would return to it after the brawl ends. And the more the building is leveled, the more cards it can hold. Awesome idea right?
Whats in it for the people who add cards to the pool you might wonder? Well an incentive can easily be implemented like these cards could farm DEC, or SPS, or have a % of the winning go to the owner for example.
What this would achieve?
1- This would stop the trouble from delegating cards all the time.
2- Provide more value to guilds.
3- Save us so much money trying to rent cards, speciall end of season.
4- Add another way to burn DEC.
5- Adds a whole new value on being in a guild.
6- This will create SO MUCH stronger community, teamwork and co-operation between the guild members.
IF YOU LIKE THIS IDEA PLEASE UPVOTE AND SHARE IT EVERYWHERE SO WE CAN GET OUR VOICES HEARD AND HAVE THIS AWESOME FUNCTION ADDED TO OUR AWESOME GAME!
---
---