Pay it Forward Qualifiers for the Ultimate Guild vs Guild Showdown Update!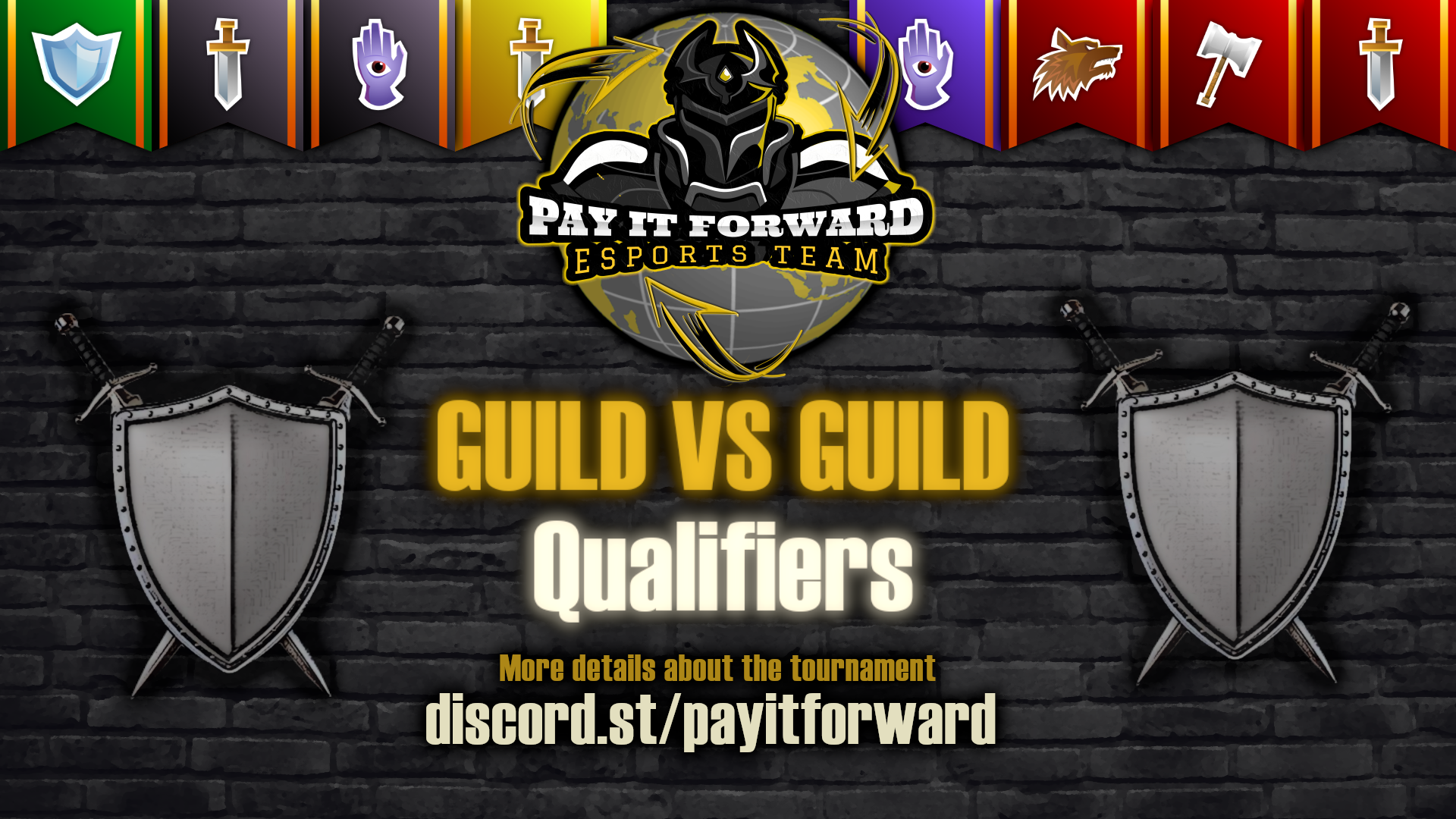 Hello,
An update regarding the Ultimate Guild vs Guild Showdown (Main event)!
The qualifiers for it will be on March 10. The League for the 32 Guilds that will advance will start on March 17.
A remainder about the format for the Main Event:
There will be 4 Groups of 8 Players each. Fighting over a span of 8 weeks.
Week 1 Group A ( top 4 advance )
Week 2 Group B ( top 4 advance )
Week 3 Group C ( top 4 advance )
Week 4 Group D ( top 4 advance )
Week 5 (Group A TOP 2 VS Group B Bottom 2) + (Group A Bottom 2 VS Group B TOP 2)
Week 6 (Group C TOP 2 VS Group D Bottom 2) + (Group C Bottom 2 VS Group D TOP 2)
Week 7 (Final 8)
Week 8 (Grand Finals)
The format has been changed to a Silver level to allow everyone a fair shot.
Also for the main event every week will have specific card sets available. For exemple one week you will have to pull your Yodin and Kitty in battle on the Untamed+Dice+CL rules and the next you will have to fall into the deeps of Chaos with the Chaos League rules.
Prizes are going to be awarded for the whole guild through the guild leader, then the guild leader is free to distribute the winnings which ever way he chooses.
To be eligible to qualify for this event, you will need to participare in the qualifiers tournament on the 10th of March where all the guilds are able to participate through an invite, to get that invite password please join our Discord Server https://discord.st/payitforward and ask for participating in the guilds-showdown Channel. If you already joined to old qualifier you will need to ask for a new key for the new one, since we created a new tournament.
Everyone is able to join no matter which guild they belong to, and every guild can have multiple participants for the qualifiers. But only 1 Spot will be awarded for each guild. The players that finish at the top 32 are going to earn a spot for their guild to participate and not for their individual self, each guild leader is going to pick who is going to represent his guild for the main event.
**If we fail to get 32 unique guilds, there will be a round 2, an open qualifier, and the top 16 guilds in each qualifier will be advancing to the main event.
**
Are you ready to be known as the BEST SPLINTERLANDS GUILD?
Are you ready to be known as the CHAMPION?
Over 6000$ in Prizes and much more for the viewers during our live streams!
---
---