Battle Challenge with Soul Strangler!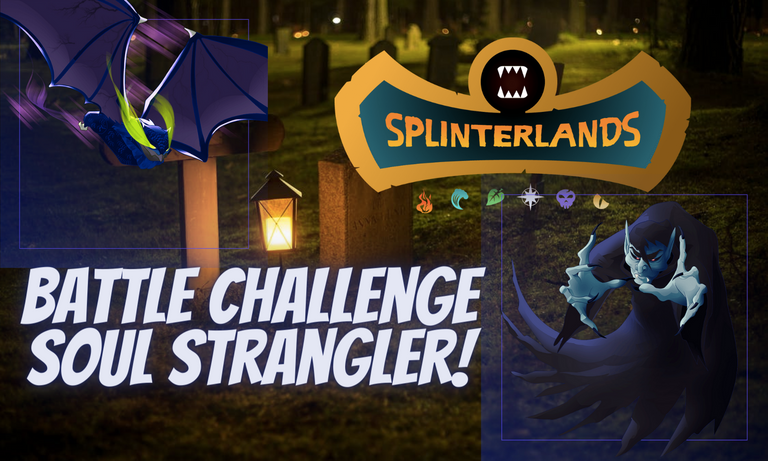 Hi guys,
here's my battle for this weeks Battle Challenge. The card to use is the Soul Strangler. I'll show you my tactic for the battle and give you my thought on the card.
Watch the full battle here
Let's go!

The Card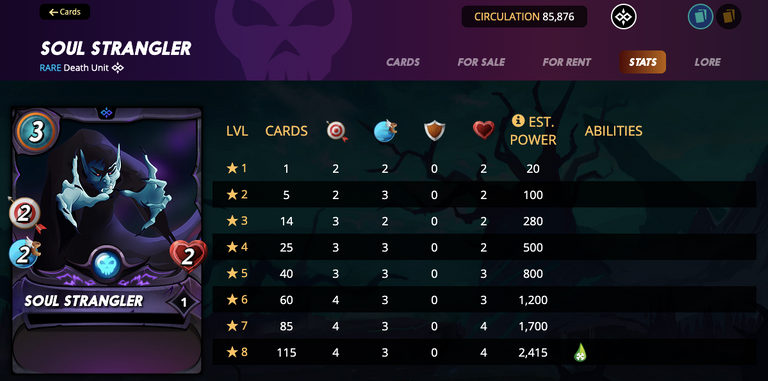 Soul Strangler is a 3 mana cost ranged attack death card from the Chaos Legion edition. It has only one ability, Poison, which it gets at level 8. Its stats are what makes this card really strong, though. Right from level 1 you get 2 attack for 3 mana and if you level it up to silver level (3 or higher) it gets 3 attack for 3 mana! It also has decent speed for a low mana cost card. Health is definitely it's weak point as you can't really play it in Earthquake or Noxious Fumes rulesets and need to be careful not to place it too far back in your line up, so it doesn't get taken out by sneak attackers.
It's really great in low mana matches, Rise of the Commons and Back to the Basics rulesets, as it has no abilities (unless you play at max level) and is super cheap.
I personally use this card a lot, because death has some great low mana teams and 3 attack is very powerful.

Price wise it's still on the cheaper side of cards for a rare of the Chaos Legion set, but with all cards being extremely cheap right now, I'd definitely max out a copy for your league if you play death!

The Ruleset

The rules for this Battle were Silenced Summoners and Little League with 54 mana and all splinters available but Earth and Life.

The Line Up & Strategy


Like I said death has some really good Little League monsters and since summoners didn't give any buffs, I decided to go with death. The first two cards I always use are Venari Bonesmith and Life Sapper, because they can gain more health through their Lifeleech ability and become great tanks for the later rounds. I put them in the middle so they would get 1-2 rounds to stack up health, before taking the first position. Next I put in my damage. Soul Strangler and Weirding Warrior. 5 attack for 5 mana is very good. Because ranged can't attack from the first position I put them at the very end of the line up, with Soul Strangler in the second last spot to ensure it doesn't get taken out by sneak so easily. Lastly I put two tanks in the first and second position. I went with Xenith Monk, because of his high health and heal and Riftwing behind that, because it can gain some health with Scavenger and is quite evasive, in case they bring melee or ranged attackers.
The strategy behind the line up is very basic: Have tanks in front to soak up damage, off tanks behind that, that will gain health throughout the battle and damage dealers in the very back that take out the enemy. I did leave myself open to sneak attacks and might should've put the Riftwing in the back to protect against that.

Round 1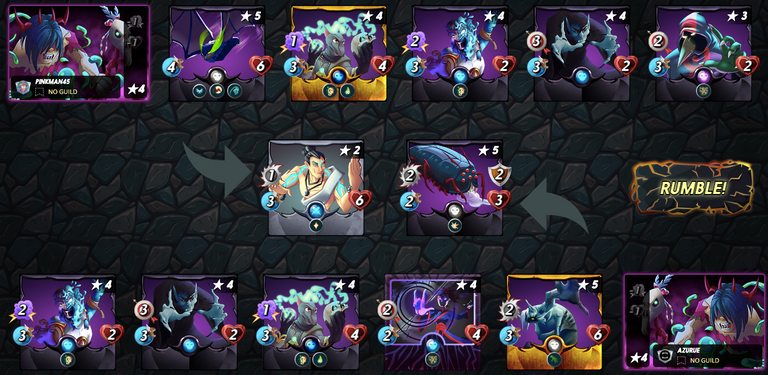 My opponent also went for a death team with similar monsters. However, they brought a Crypt Beetle as their main tank with a Shadow Snitch as behind as an off-tank. They also brought a Dark Astronomer instead of my Weirding Warrior, which has no Shatter, but more health.
The round starts with both teams magic attackers hitting the tank and leeching up health. My Monk goes down to 3 health, but their Crypt Beetle instantly dies. This is why I didn't bring one myself - because of the low health it's too easy to kill with magic. I deal a lot of damage to the Snitch and it misses its attack on my Riftwing and dies to the backfire. Monk dies before he can heal himself, though.
---
Round 2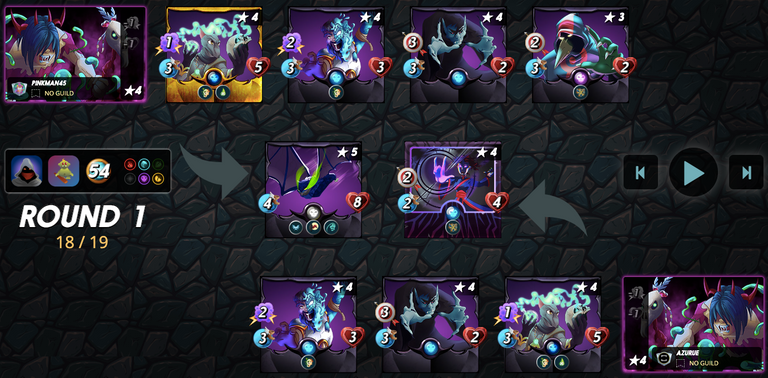 This looks pretty good. My Riftwing is up to 9 health (took the screenshot too early, before the scavenge) and their Astronomer sits in first position where it can't attack. This is the Problem when placing archers too close to the front.
Not much happening in this round, we both hit all our attacks. Their Astronomer dies and Bonesmith is pulled into first position. My Riftwing is still alive after all the attacks.
---
Round 3
They take my Riftwing down to 1 HP, but in return I kill off the Bonesmith and the Soul Strangler and the Riftwing gets back up to 3 health with Scavenger.
---
Round 4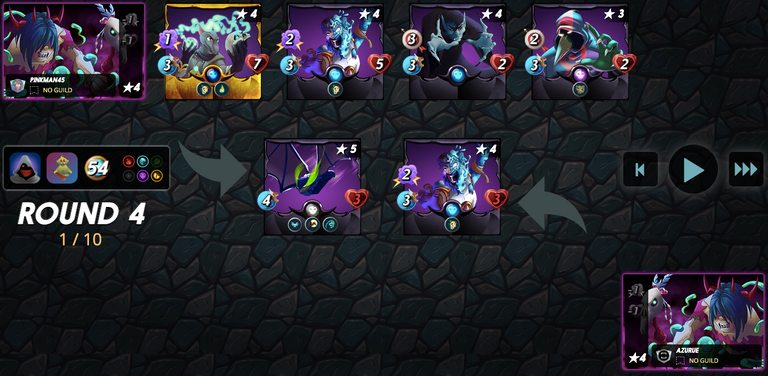 Riftwing stands tall and even survives the last attak from Life Sapper, then I finish it off and take home the win!

Conclusion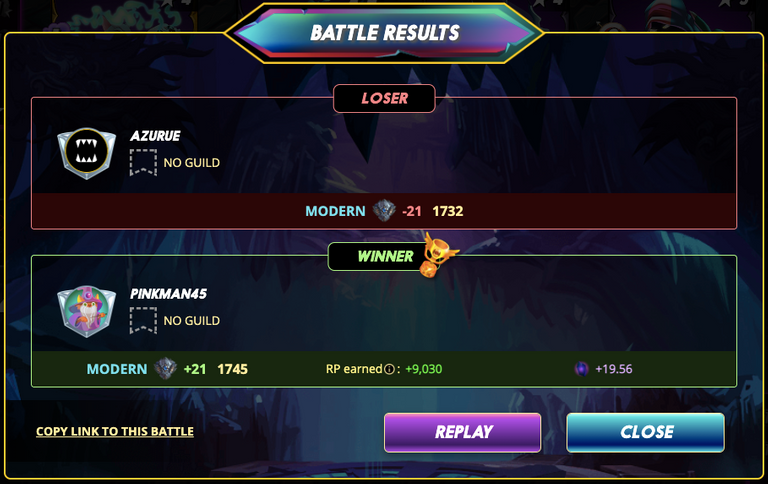 In the end I didn't need the Bonesmith and Life Sapper as tanks with their leeched up health, because Riftwing was just too strong! My strategy therefore worked and my tank picks Monk and Riftwing were just better than theirs (Beetle and Snitch). Soul Strangler was really strong on both teams, inflicting a lot of damage. I think they also made a mistake with putting Astronomer so close to the first position, because it didn't attack once the entire game.
At the same time I guess I got a little lucky they didn't bring any sneak monsters, because they would have gotten through Weirding Warrior and Soul Strangler rather fast.
All in all it worked out though and I think it's clear that Soul Strangler is an absolute staple for everyone playing death. It's cheap both price and mana cost and deals tons of damage!
---
Disclaimer
None of this is financial advice. These tips are for educational purposes only and might all fall out of date as both Splinterlands and the Crypto Market in general are subject to constant change.

Referrals
Start playing Splinterlands today!

Thanks to Carrie Allen for the amazing Markdown Tutorial
and to Chris Roberts for this Thumbnail Tutorial
Background Thumbnail image is from Pexels
Free image editing software used Canva
---
Older Posts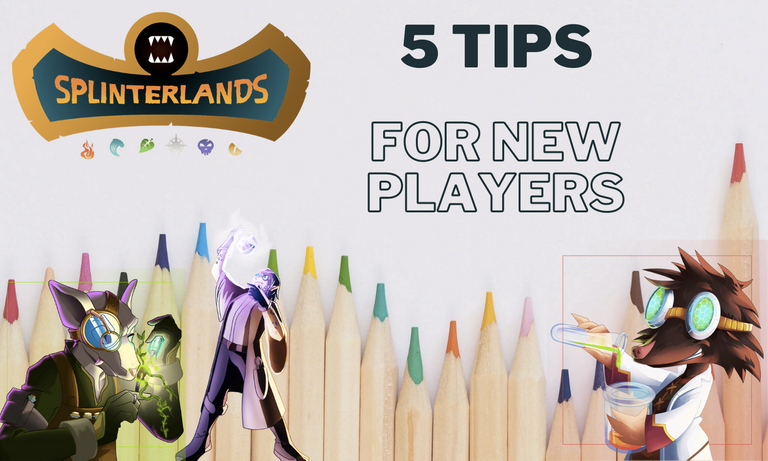 Check out my 5 tips for new players series: Part I, Part II, Part III
---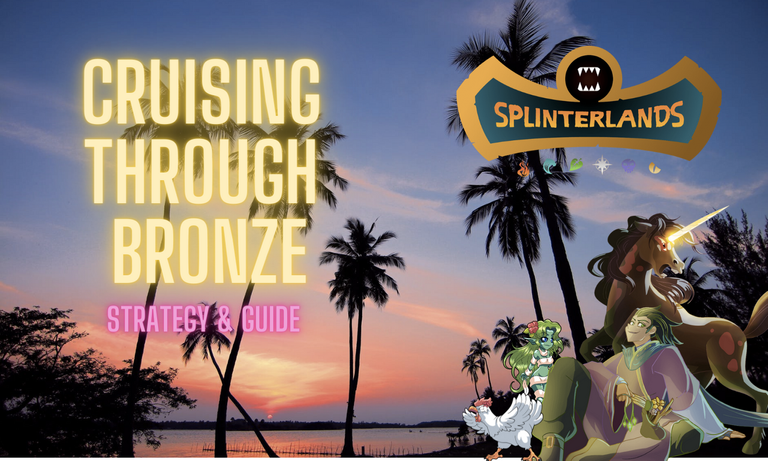 Check out my Bronze league strategy guides: Part I, Part II
---
Hope you enjoyed the read. Have a great day and until next time!

Pinkman45
---
---