Pushing to Gold League Pt. 4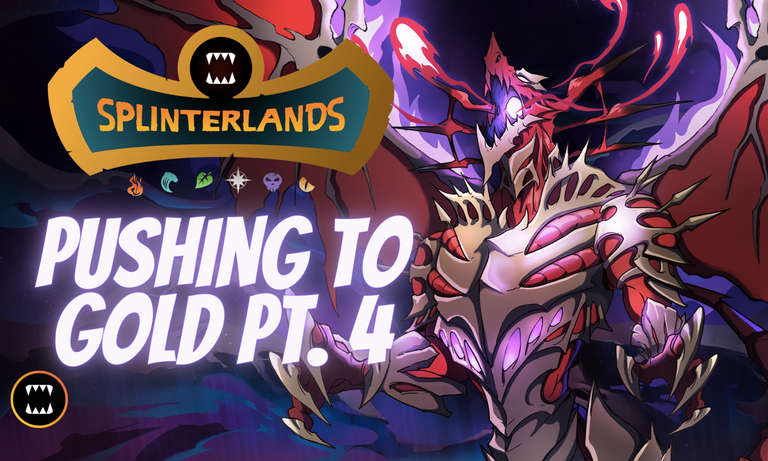 Hey guys,
here's an update of my journey into gold league. I haven't posted one last week so I'll try to cover everything that has happened in the last two weeks in this post.

Recap
About a month ago I decided to sell my earth and death silver decks to upgrade life, water and dragon to gold and try and earn in gold league. In the beginning I had little success, but the last season went a whole lot better and I managed to win 8 to 11 daily chests in gold 1 for the most part. Gameplay wise it's a lot more fun playing in gold as it feels fresh and more complex.
---


I did enter the Ghost Card tournament where every player has access to every card, but as you can see I didn't do very well, essentially losing 20 SPS. Since I'm getting quite a bit of SPS on a daily basis and it's not that valuable at the moment I was okay with that. I love the idea of ghost card tournaments and wanted to participate for the experience. However I was a little overwhelmed with all the possibilities and don't know the gold meta well enough. I'm not sure if I'll compete again as it is highly competitive and I'd really have to dig deep into the meta and strategies to perform better.
Other than that tournaments haven't been very lucrative for me, mostly only making back my entry fee.

Current Season

I managed to get back to gold in like two days this season, which was way faster than last season. I don't really feel it's because I have gotten better, but more like I'm facing weaker opponents, lol.

With a current win rate of around 56% I'm very happy and if I can keep it up I should hit gold 1 in the next days. Last season worked out quite well towards the ending, spending the last couple days in gold 1 and getting a decent amount of chests (between 8 and 11) each day.

Earnings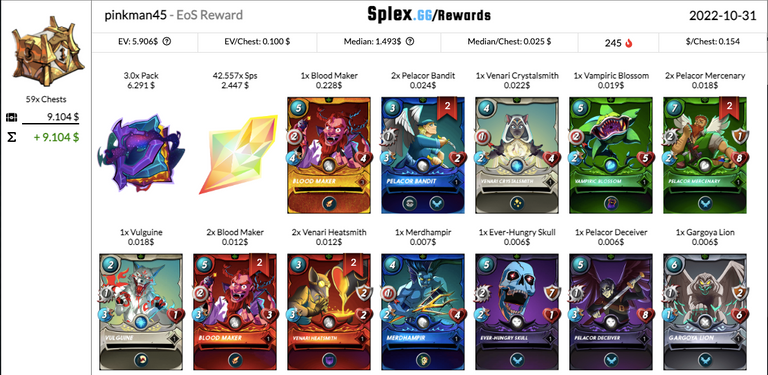 I was happy with my season rewards, sending all the excess cards to my second account and renting them out for some passive income.

I always open my packs, because they don't generate any value (where as cards that I can rent out do) and because I want to make use of my potions. I got lucky and pulled a Legionnaire Alvar, which I need another 4 copies of, so that was a great pull for me.

Also on my very first day of the season I pulled a Countess Sinash in a silver chest, which is awesome. I also need 5 more of her and she does generate some good rental value.
Over all the rewards / earnings feel quite nice and both my rental account and SPS stock are growing slowly but steadily.

Market Moves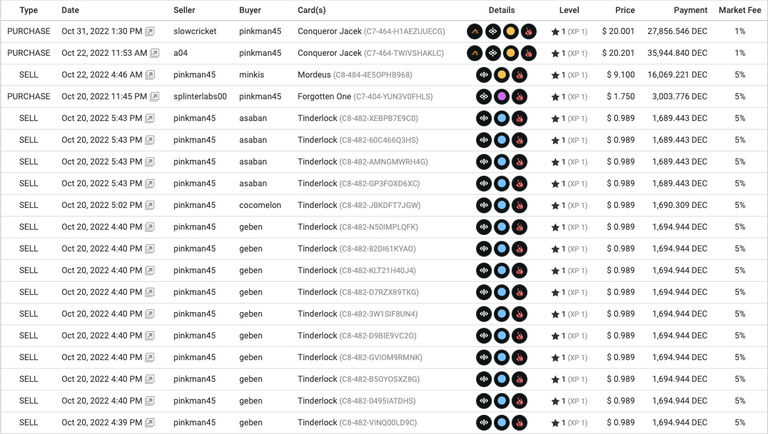 I sold all my Tinderlocks which I purchased when they were around 70 to 80 cents and also my Mordeus, which I bought for something like $7.60 - making a small profit. Also DEC had a nice rally, making the deal even better.
On the other hand I picked up two more Jaceks now being only one copy away from maxing him for gold league, which will finally give me another splinter. I also bought a Forgotten One, because I needed a better fire tank.
I'm currently not looking to purchase anything for flipping or to rent out as I want to get that last copy of Jacek first.

Future Plans
I feel confident in getting to gold 1 every season now and will try to improve my win rate and get there faster.
Deck building wise I'm still looking to upgrade my fire deck. Like I said I only need one more copy of Jacek, which I will probably be able to get this week. The next most important target will probably be getting a level 3 Forgotten One which should also not take too long, depending on what the price is doing and if I can get some bids in.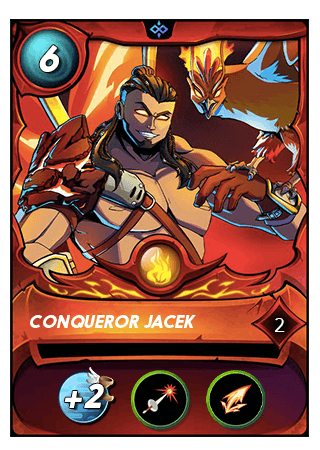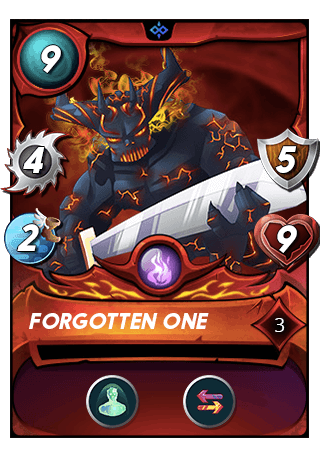 In terms of deck building I'll be buying a Forgotten One asap, because I'm lacking a good fire tank and he's really strong in Noxious Fume rulesets and synergizes well with Jacek. Ideally I want a level 3 copy for the Retaliate, but I don't have the funds for that right now. Medium to longterm I'm still looking to get another 3 copies of Jacek to max him out for gold, which will be quite significant.
---
Disclaimer
None of this is financial advice. These tips are for educational purposes only and might all fall out of date as both Splinterlands and the Crypto Market in general are subject to constant change.

---
Previous Posts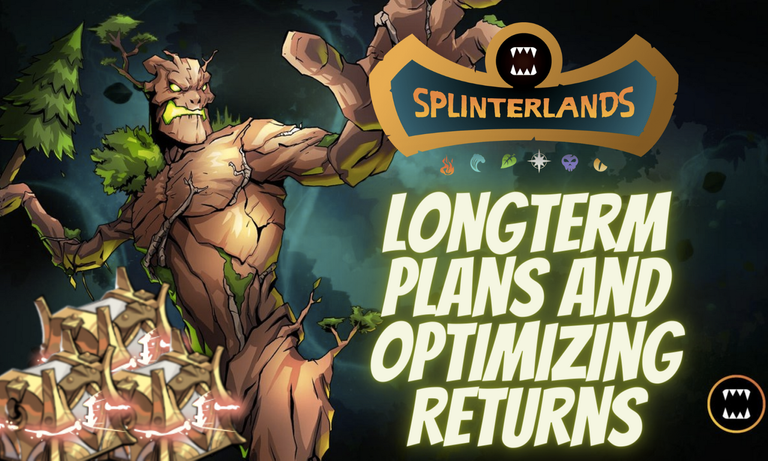 Check out my push into gold league: Part I, Part II, Part III
---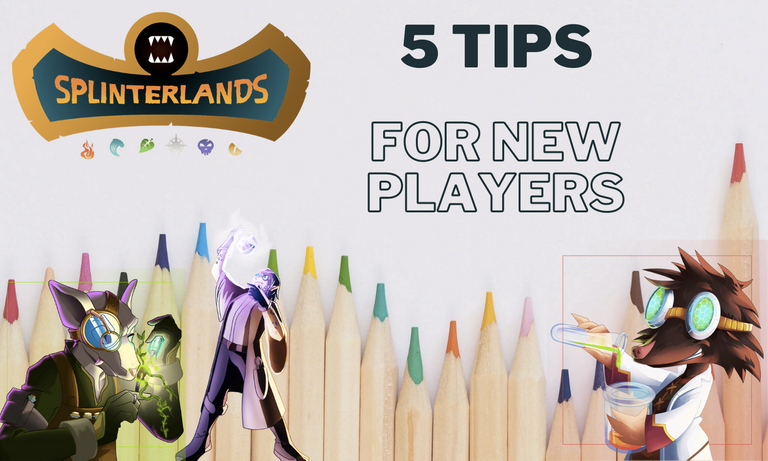 Check out my 5 tips for new players series: Part I, Part II, Part III
---
Hope you enjoyed the read. Have a great day and until next time!
Pinkmank45
---
---