Finally! Credit Card Purchases for DEC and SPS is OPEN! (Final Updates)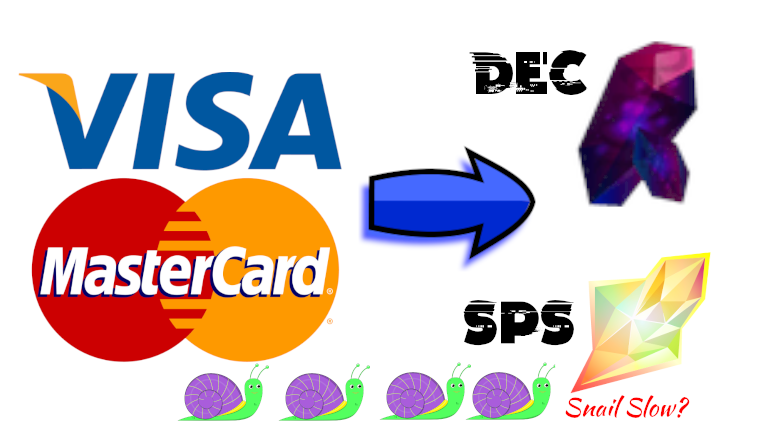 Self explanatory cover image 😁
Recently with the slow down in Crypto-verse and the bearish sentiments all around, prices of DEC and SPS have taken quite a hit. Today upon checking the options to purchase SPS and DEC, I finally see the sweet sweet option of using credit cards to purchase these cryptos.
Let's take them for a whirl!
The Updated Page for Buying SPS and DEC: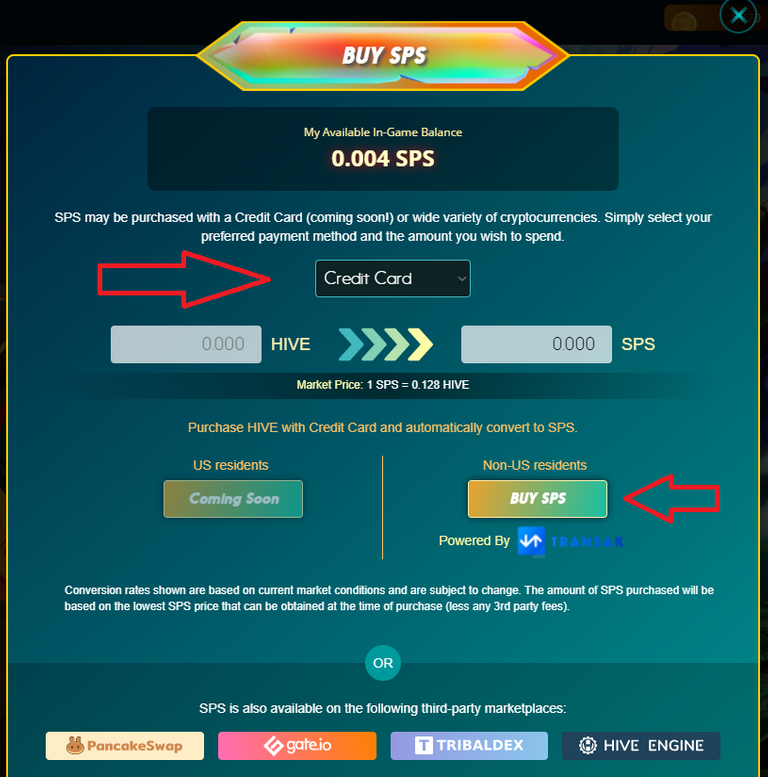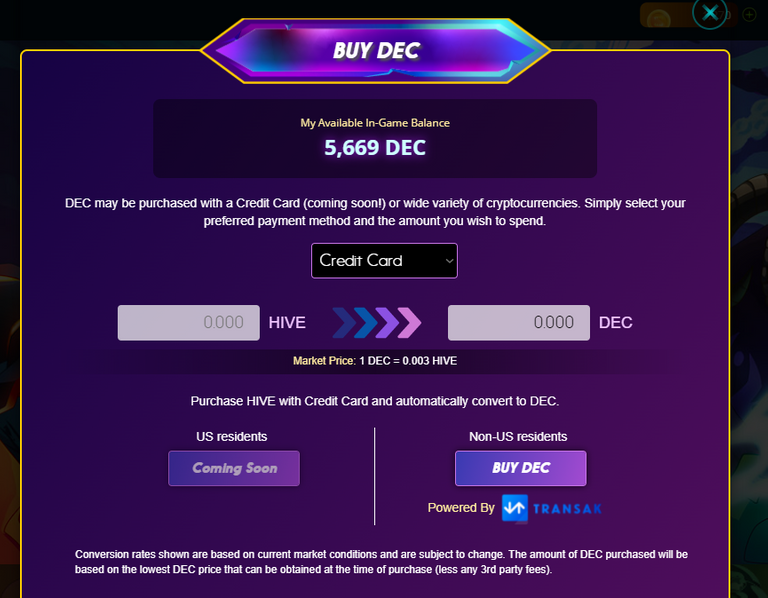 Now to try out buying SPS with Credit Card:
We can see that only Euros is supported currently. The minimum buy amount is set to be more than 26. This probably is linked to the prices of SPS and will be bound to change from day to day. There is also the SEPA bank transfer option which is great for Europeans.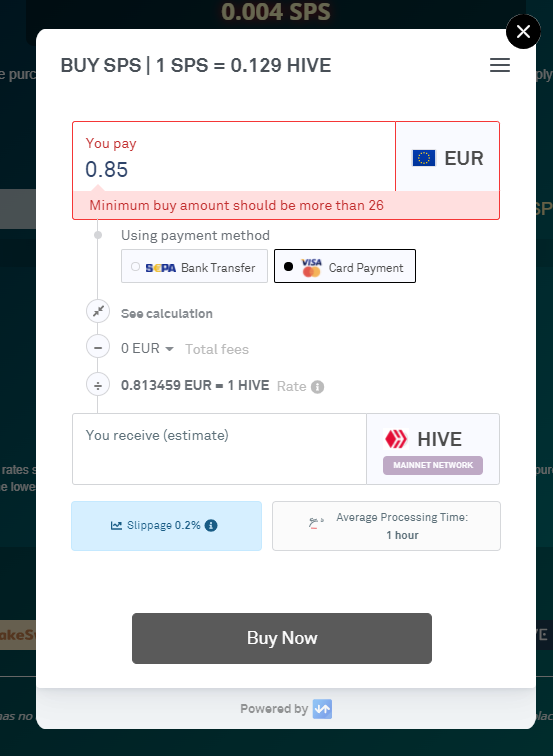 For my testing I will be buying some SPS, the fees for card payment and bank transfer seems quite similar surprisingly a little higher for bank transfer. Fees are about 3.5% when I calculated.
At the time of posting 1 Hive = 0.78 Euros, and splinterlands is giving me 30.92 Hives for 26 euros, so that makes it around 0.84 Euros for 1 Hive.
The difference is actually 8%!! 🤣
After making the following calculation, I actually heavily considered skipping the testing and use my usual method of buying LTC and then sending it to the LTC address using the Crypto method to purchase SPS. But for the sake of just trying it out, here goes.
Starting Steps:
Put in the amount in Euros >= 26 Euros
After selecting "Buy Now", select "Buy Hive"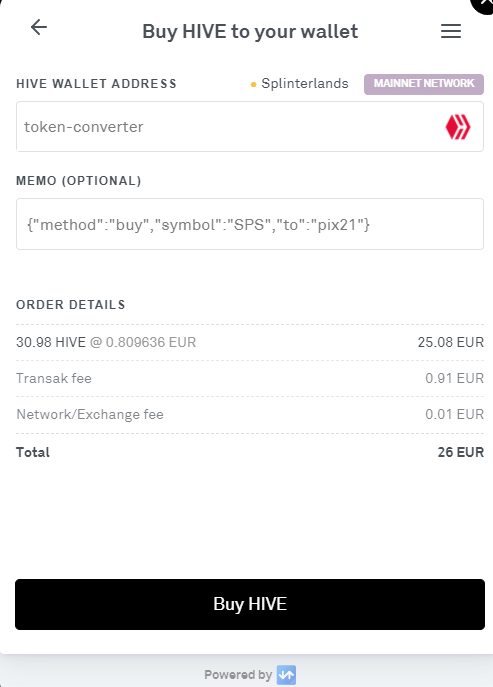 Next comes email address: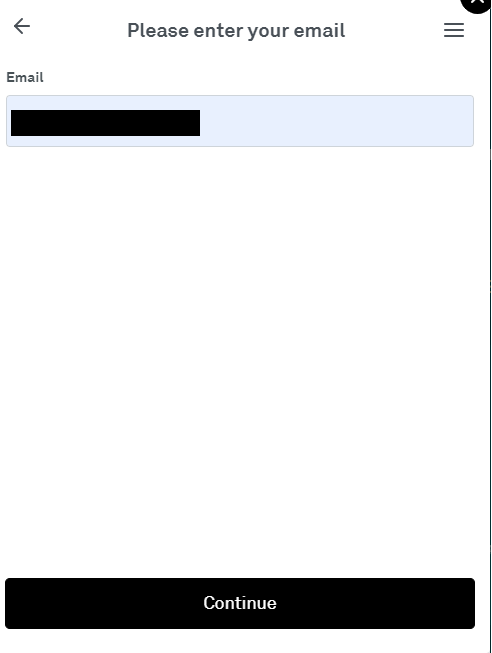 Then, verify email with the verification code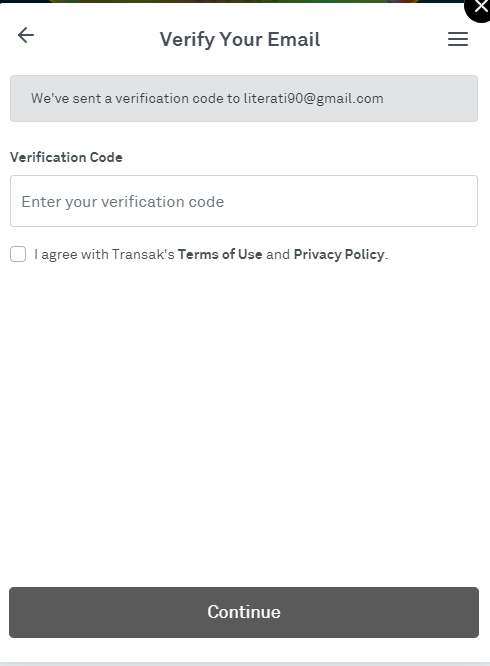 Personal Details next: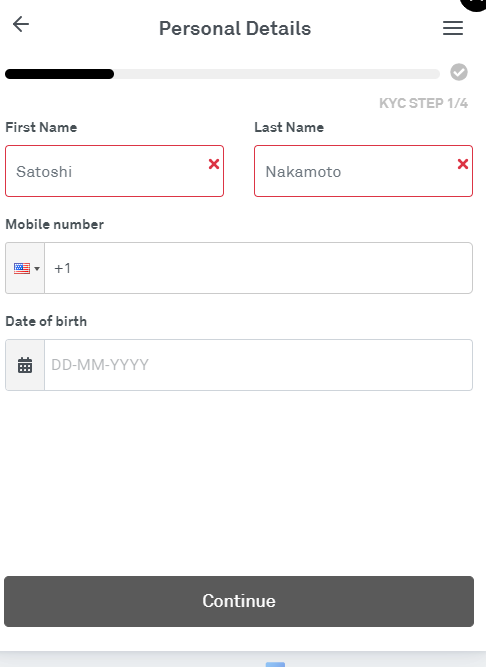 I am actually not that comfortable providing details such as D.O.B to be honest.
You will also need to input your address in the next dialog.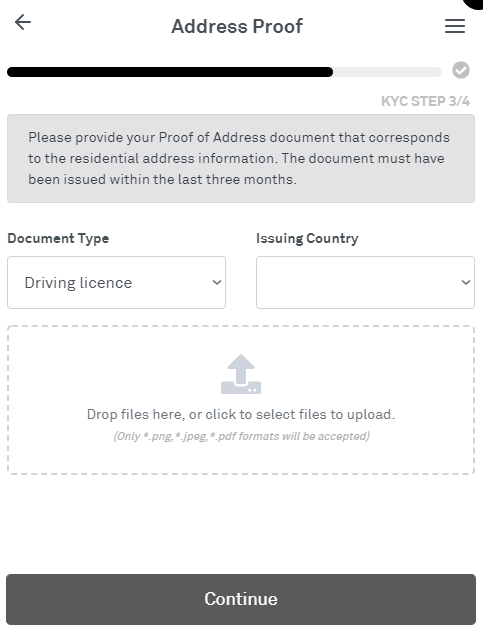 So far it is going smooth, but the pain comes at the next KYC.
Webcam selfie, and documents upload. Seems quite the trouble.
Last step is awaiting verification: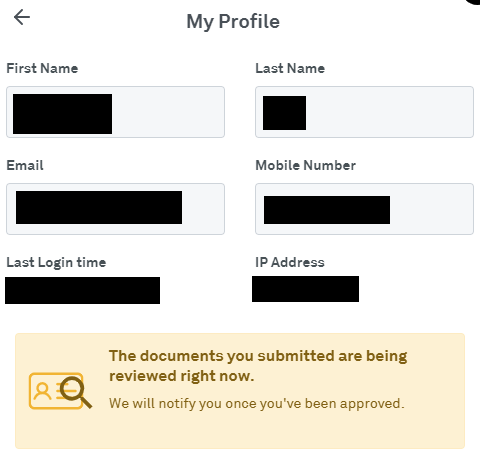 Surprisingly verification was actually quite fast. For my case it was complete in less than 1 minute though they did mention it can take 5-10 minutes.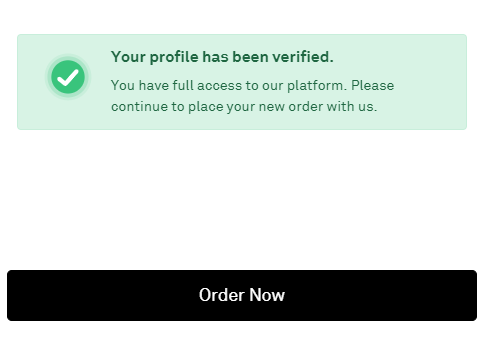 Almost finishing: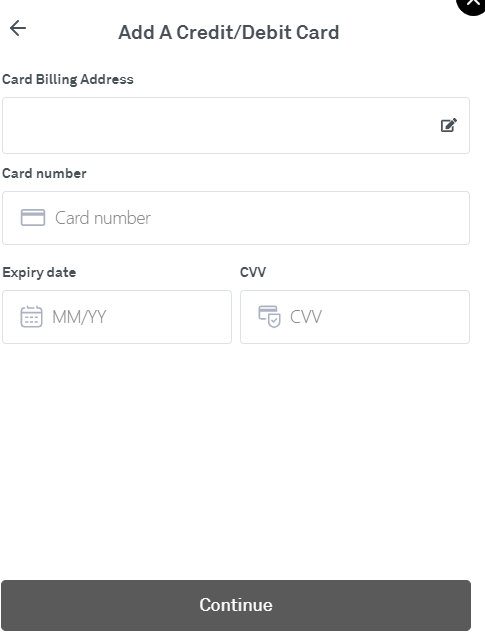 Fill it up with your card details!
Confirming once more what we want to do: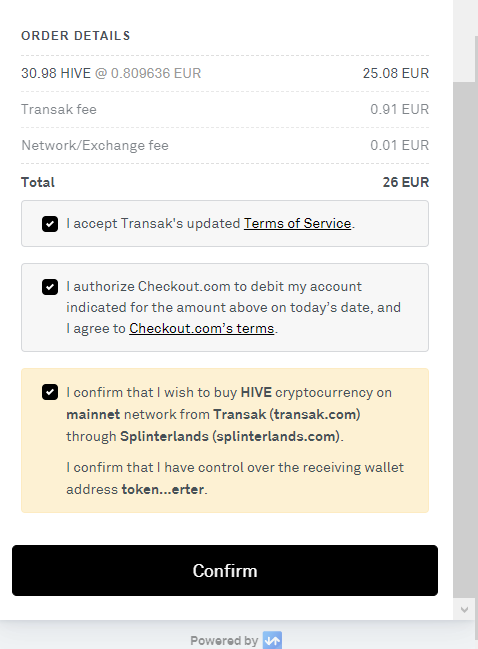 Are you really really sure?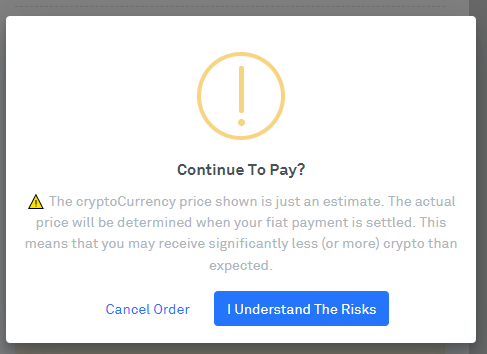 Payment Successful @ 12.46PM !!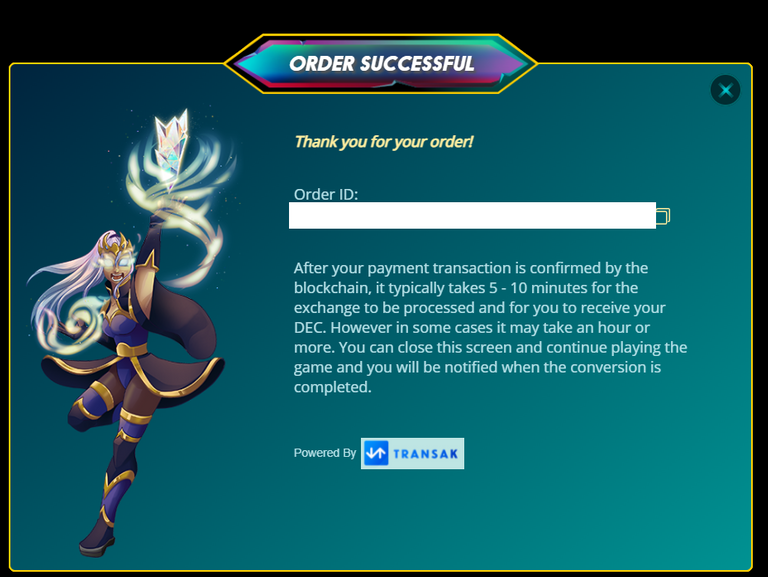 Well I suggest to keep the order ID just in case anything happens.
It's a bit hidden but under order history, if you reopen the dialog you can see the progress of the order:

From my experience the processing time of 1-3 minutes can't really be trusted.
It's been 9 hours and the status is still... I am not sure how long this will take so I will edit this post again once it is definitive.

Subsequent Purchase
For subsequent purchase you stroll right through to the confirmation page, no more KYC, just direct to the confirmation page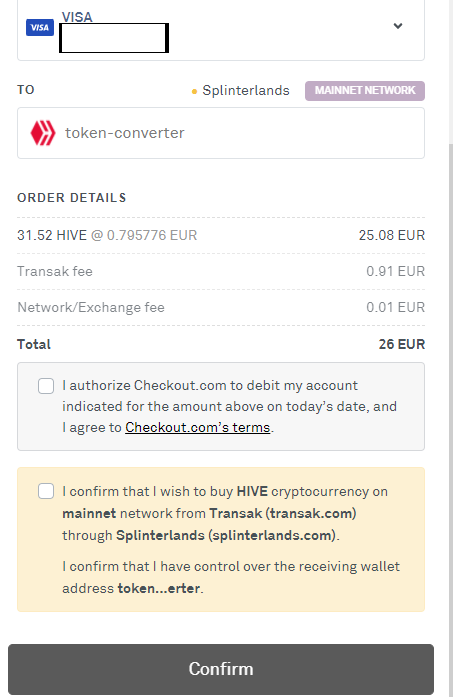 Useful Menu: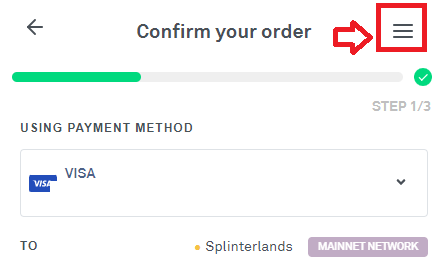 You cannot set your limits in "My Limits". For my case I can only see what are the limits.
You can check for order history here to know what is the status. There is a logout but I have not tested it yet.
Overall my thoughts on the process:
It wasn't as bad as the KYC I had to undergo for Gate.io to be honest. Only gripes probably is that the spread as calculated being 8% makes me think twice if I would use this method or the traditional method of purchasing LTC and sending it in game. Let me know in the comments if you would like to know more about using LTC to purchase SPS or DEC.
And the long wait time is a real pain! Contacted their customer service twice and they don't bother to want to cancel the order so it remains stuck
1 Hour after payment was completed:
We would like to inform you that we have received your payment and there has been a delay in sending out the crypto from our side. I am sorry for this. I am looking into this personally and we are getting it fixed as soon as possible. There is no further action required from your side.
9 Hours after payment was completed:
We do not have time line but I'm personally follow-up this issue once we get an update their end keep you posted. We appreciate your time and patience.
Based on the Hiveblock transaction, the Hive order was completed at around 2.26 PM in my timezone, so overall it took 26 Hours for the process to go from Euros to Hive. No SPS yet still in sight. Awaiting conversion from Token-Converter

Also would be nice to know the progress of the purchase which is very visible when I am using SimpleSwap, eg confirmations, conversion etc. With the credit card, I finally found it in Order History section
Also I am not able to remove my credit card details on the platform. Something which I am also not comfortable with. Maybe in future if we integrate paypal like for credits or allow Credits to SPS / DEC conversion things will get much easier.
But truly this is a nice step forward, when I was a beginner, it took much reading and exploring just buy a few SPS (and DO NOT buy SPS from Gate.io as the fees there are extremely high, especially if you are looking at just buying a few SPS). This credit card purchase is a very good channel for beginners to get their initial DEC or SPS, however to be considered the minimum purchase required. So for example someone wanting to just purchase 1000 DEC at the current price won't be able to use this method as the minimum of 26 euros is around 9K DEC.
This post will get it's final update when I receive the SPS....

If anyone has not signed up with the game feel free to use my referral link
Splinterlands is quite a fun game!
---
---