Platypus-Dundee's Hints & Tips post #1

Welcome to the old and new. Here you will find some handy links to sites that I find useful and hints and tips that I've picked up for splinterlands and anything slightly splinterlands related. Todays post will be about the https://www.splintercards.com/ by @tehox
This site while still in Beta phase and constantly being improved on, is one of the most useful sites for any game I've ever come across. No seriously there's not much you can't find out here, the only complaint I have with this site is that there is no 'Night' mode and while the clean cut feel of the white background is appreciated, the burning of my eyeballs is not but because it is so well made and has everything you need, it is something I am willing to put up with and I'll bet so are you.
To start with, on the front page it has all the pricing for anything of value in the game, From DEC / SPS / HIVE prices to market volume and sales, season end time counter, leader-board leaders and more.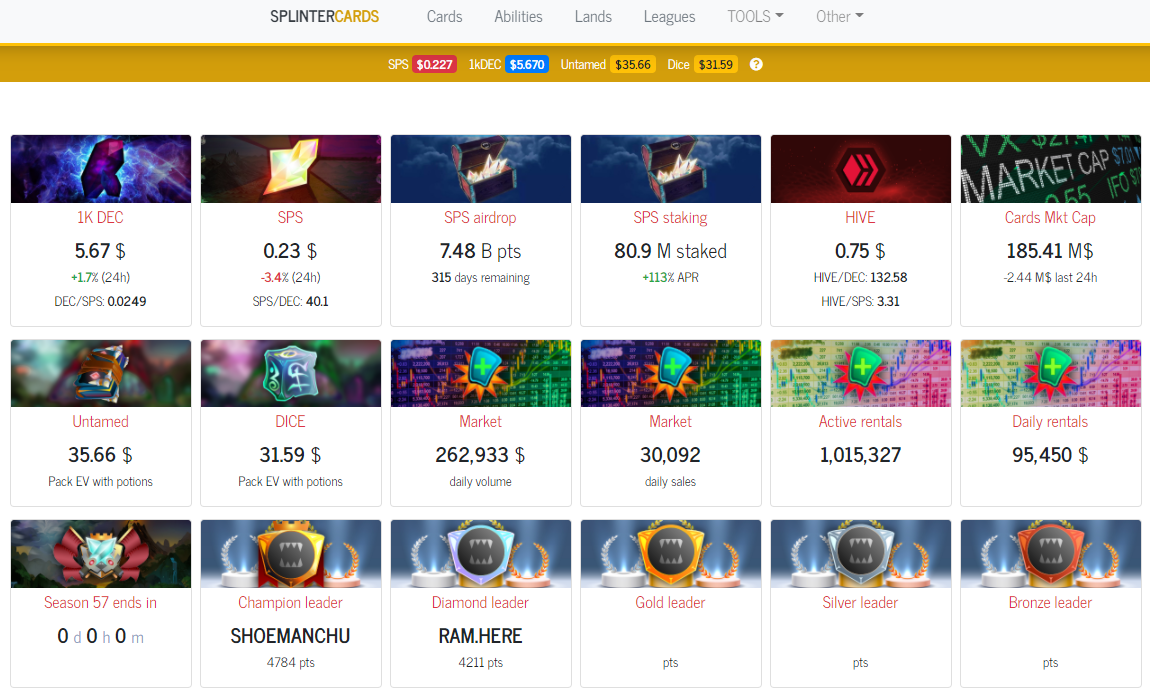 At the top of the page there are handy TABS to help direct you around the site.
The first one 'Cards' brings up every card in the game, which can be drilled down and sorted by intuitive search feature.
The next one 'Abilities' I keep on speed dial and is super handy when coming across something unfamiliar or you just want clarification on what an ability actually does. Just hover over the ability in question and click. A description will be shown along with every card that has that ability attached to it.

The 'Land' tab follows with everything you could ever want to know about land, there is far to much to list so you'll just have to check it out for yourselves :)


'Leagues' is next. This page has every league and tier requirement. Rating req. Power Req. Summoner caps, daily loot chests, EOS loot chest and even a break down on loot chest content chance % and has been updated to account for the new reward edition starting from the 13th of Sep 2021. Very, Very handy.

Ok and if that was enough the next tab is the 'Tools' tab that has a drop down menu.

The first tool is a card pack value calculator, this thing is wild, it takes the cost of pack purchase, guild % discount, any bonus pack purchase, potions etc and then calculates the probability of the value of the pack!

Second on the tool list is the Loot Chest Value Calculator, while no inputs are made the chart is very handy and easy to read to figure out what the probability's are.

The third tool 'Missing BCX' is for those completionists out there. Just type in your account name and boom it will show you how many BCX you have of each card, how many more you need to max out that card. It even shows you the price based on current market conditions for the cost to max out that card. Amazing!

Forth tool in the menu is an SPS calculator. Just click on import you account data, put in your account name and hey presto! your calculated holdings for the rest of the air drop right before your eyes. You can even do a manual calculation to see what you'd get if you invested more assets.

The fifth tool is a simple SPS Staking calculator. Just enter the number required and all the data is displayed.

The next two are 'Low price gap' & 'list price analysis'. These are two of the best tools you will find when buy and selling cards and really if your playing the market are essential.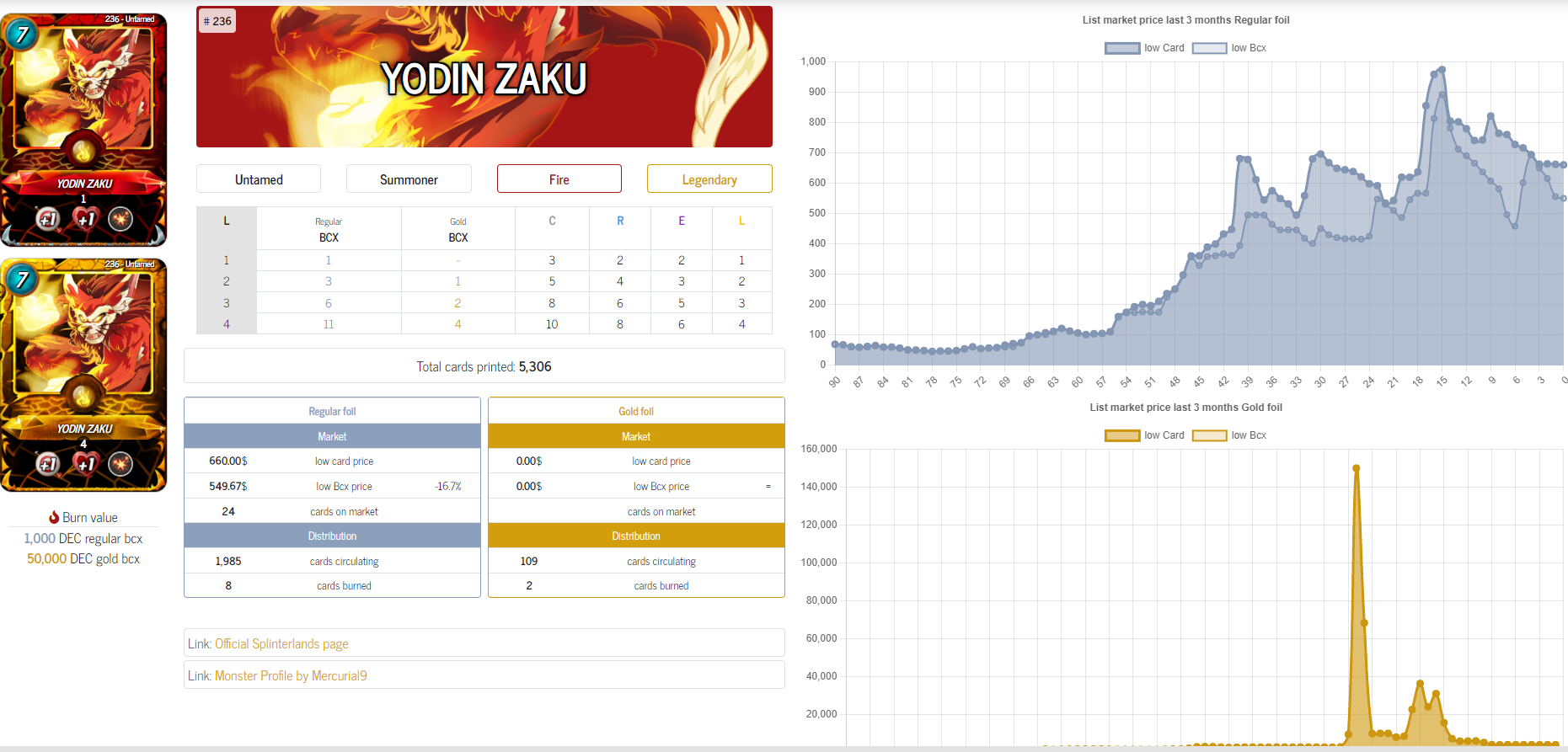 Ever curious about how many of what card is out there in the wild? Well then this next tool is for you! Total BCX printed? check! Total amount of cards? Check how many of that card burnt, never to see the light of day again? Check! Really is a data nerds heaven :P


Account info is next. Enter yours or anyone's else's name and see exactly what that account holds. Remember this is a blockchain game and everything is there to be seen.

And finally, ever wanted to know who the whales are, who's holding what? well then this is right up your ally the Top 200 Rich list. DEC / SPS / Credits / Collection Power / Land
Well that's about it and honestly that's enough, you can spend hours on this site trawling through all the data but it is so nicely presented and easy to read (minus the burning retina's) that it is a real joy and super educational. Till next time
---
---