Hive Blogging: What You Need to Know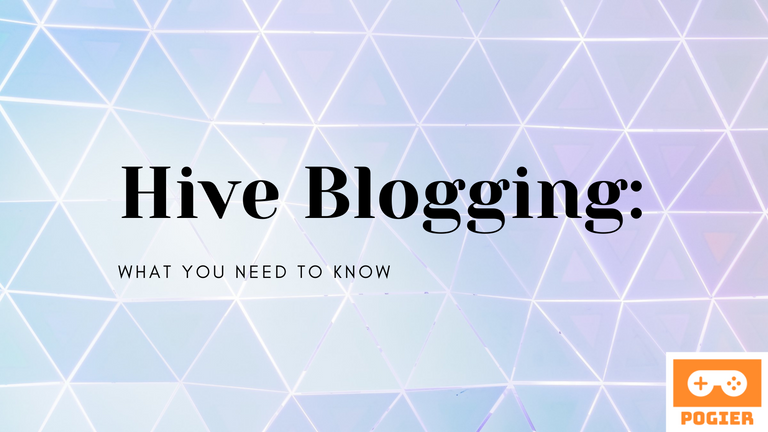 Story Time!
A few days ago, I came across a blog by @ecosaint. Check it out here! Honestly, it was very mind opening. I started to realize a lot of mistakes I've made, as a person new to decentralized social media. Their blog made me realize that I haven't been tagging properly. I thought you could just tag if you feel that it fits, but apparently there are actual rules to follow. There are even some people who will educate you on the proper use of certain tags. However, I've yet to have such an encounter but no time like the present for change to come from within.
What else is there?
This was a question I asked myself. With a quick google search, I read several articles that discuss different rules of the decentralized social media. Then I searched for articles on Hive, because those were actually more important for my question. This led me to two other articles by @pitboy: "How to Use Tag in Hive Blog: a Beginner's Guide" and "Top 7 Mistakes You Should Not Do on Hive". His articles are a year old, but they are still relevant to any newbie on the Hive Platform.
Some Rules of Tagging
These are my most used topics tags with a short explanation on how it should be used.
SPT - Use when you're discussing anything related to the SPT Token.
Splinterlands - Use when your post has anything about Splinterlands
LeoFinance - Use this when you're discussing content that has something to do with the financial/ monetary side of cryptocurrencies.
Splintertalk - Use when you'll be discussing anything related to Splinterlands.
OneUP - Use when you're talking about anything blockchain gaming related.
Hive-13323 - This is Splinterlands related posts.
Important Reminder
Always make a good thumbnail. It helps make your article look better, and should help attract people to click on it. The more you write, the better you will be. If you look at my earlier posts, you'd see significant improvements in my format and content (or at least I hope so)
---
Remember, be responsible in what you post and how you post it. By following the rules, you will see people would be more inclined to follow your content and be more inclined to reading your content. I'm still new to the platform but I hope to use the comments and posts of people to improve my content and become a bigger contributor to this awesome decentralized social media platform.
---
---