Daily Questing with my favorite Splinter !
Hello everyone !!!!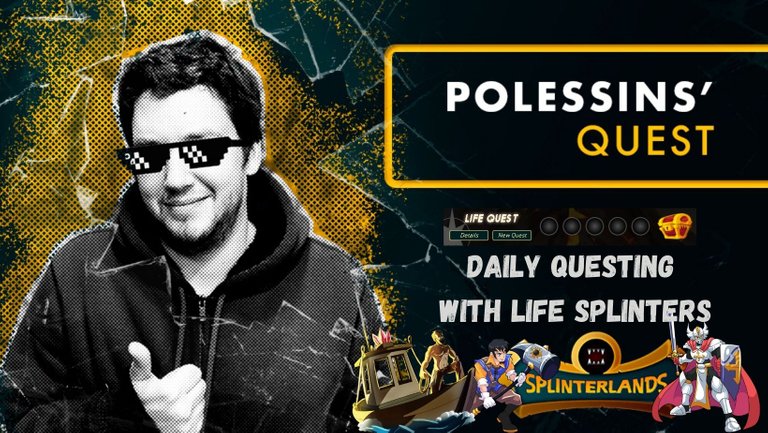 I just get happy when i open Splinterlands and see this :

I love doing my daily quests, but when its Life Quest, things get MUCH more fun !!
Life Splinter was the one i got hooked into when i first start playing the game. Since the game had almost no strategy guides when i first started, i had to sit down for a while and take a good look into all the cards available, and the ones i could afford to rent in the market using the Hive tokens from my first posts.
So i found out that the Life team had some really cool units. But the ones that really got my attention were these ones :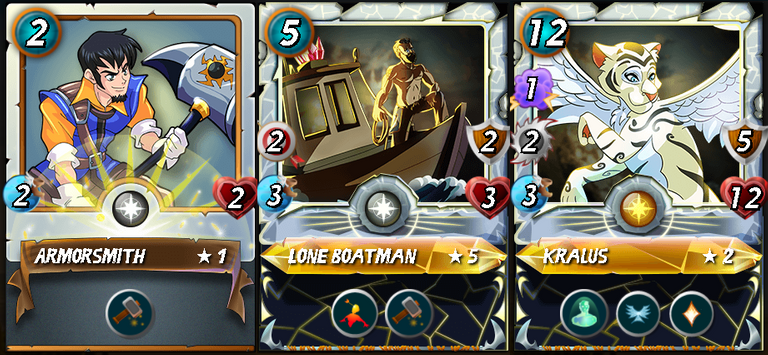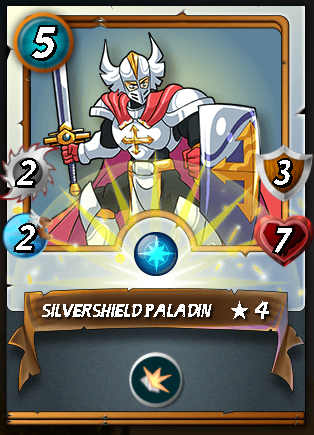 What really grabbed my attention was the "Repair" hability in general. Semmed like a way overpowered hability. "Armorsmith" can pretty much cancel any melee unit for only 2 mana cost. Lone Boatman can also repair, and even snipe units with a 2 damage attack and only 5 mana cost. And well, KRALUS seemed to me the BEST card ingame for matches with the "noxious fume" and "earthquake" rule.
Every deck need a good tank, and Silvershield Paladin is a big one !
With shield ability, and some amazing stats, this 5 mana tank is picked 90% of the time in my formations, except when KRALUS step in in 42+ mana battles.
So let me show you how cool it is to play with these guys :
Battle 1
https://splinterlands.com?p=battle&id=sl_cf79468354f58a5bc7700e2eebe34daa&ref=polessins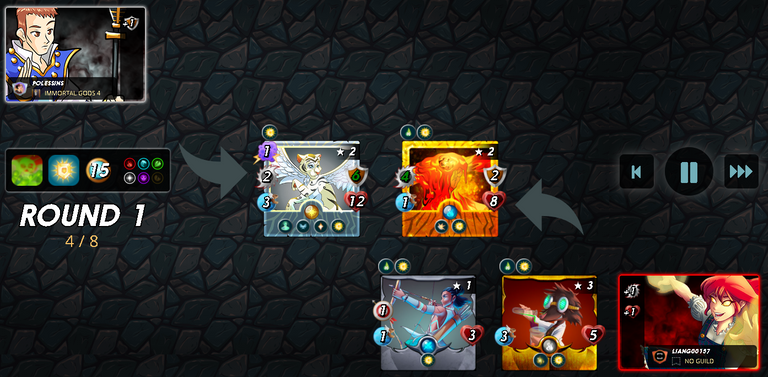 A great start for me. a 15 mana battle with "noxious fume". I think i have never lost a match with these stats if Life splinter is available, lol. In this battle KRALUS could easily handle all the enemies. With a 4 heal every turn, and some great chances to dodge, while not taking damage to the "noxious fume" this guys is almost invecible.
Battle 2
https://splinterlands.com?p=battle&id=sl_a5484f69cb848a269d7311af828e4cd7&ref=polessins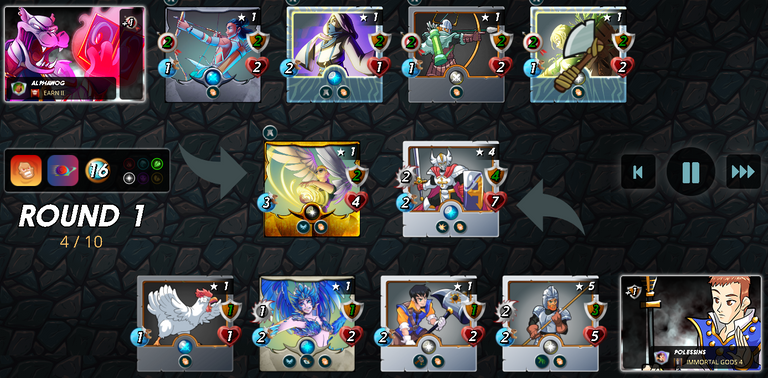 One of the collest formations i saw after the Chaos update. My opponent used very well the "spreading fury" rule. and his Pelacor Conjurer managed to dodge several attacks. My tank was receiving a rain of arrows, but Armorsmith kept repairing him until we could finish his annoying flying unit. Well after that was a massacre. Sweet formation tho.
Battle 3
https://splinterlands.com?p=battle&id=sl_d8c3c83b01f6bf1f34787df2710822f0&ref=polessins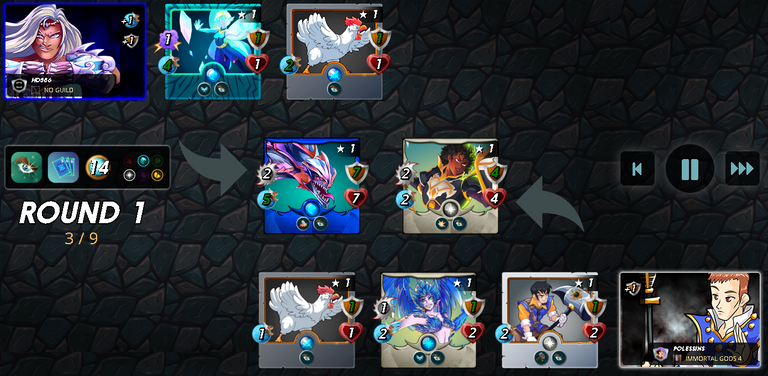 A tricky one ! The "even stevens" rule is a bad one for my setup. So i all could really rely on was the Armorsmith. The opportunity Rule is also present, so the real battle here is between the Armorsmith and the Ice Pixie. Since my units have 2 health, he will be forced to kill the chicken first. So my chances are really big here !! Not a very safe battle, but another win ! and one step closer to the daily prize !
Battle 4
https://splinterlands.com?p=battle&id=sl_2d380c1af50ab76e495a1d24ac1f11aa&ref=polessins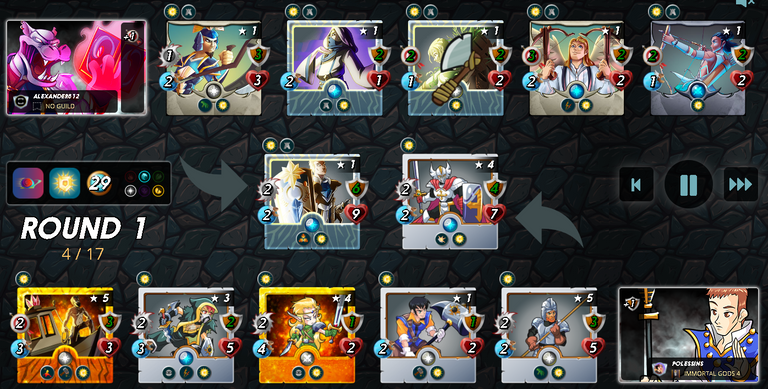 29 mana battle is a really safe place for me. I can bring my whole squad, even the Silvershield Assassin, wich cost 7 mana. His double attack is sick ! my Opponents Pelacor Arbalest did some heavy damage into my tank, but Lone Boatman and Armorsmith combo are just too though i guess !! The winning streak goes on !
Battle 5
https://splinterlands.com?p=battle&id=sl_fbe845bda17a5845b5ec5b8e0f0cbf45&ref=polessins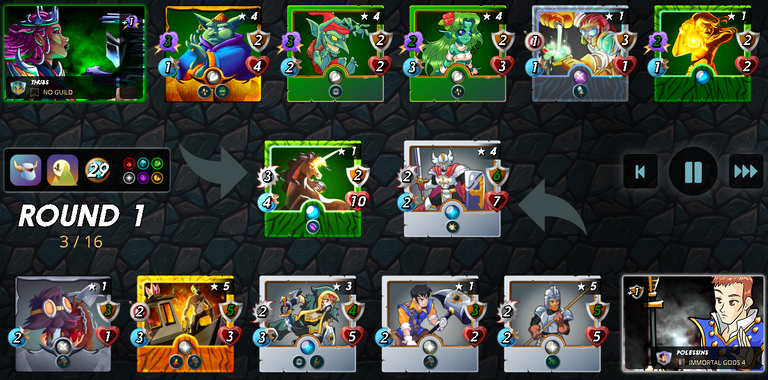 Ouch !! I realized i had a third unit with armor now, and i decided to use it lol. Not a great idea. Still, my team is VERY weak against magic, and this new Earth Magic team can kick some heavy ass, just like it kicked mine. Though loss. Gotta get back to my winning streaks !
Battle 6
https://splinterlands.com?p=battle&id=sl_c5974aacb8aa140a12743f4d9168e8b1&ref=polessins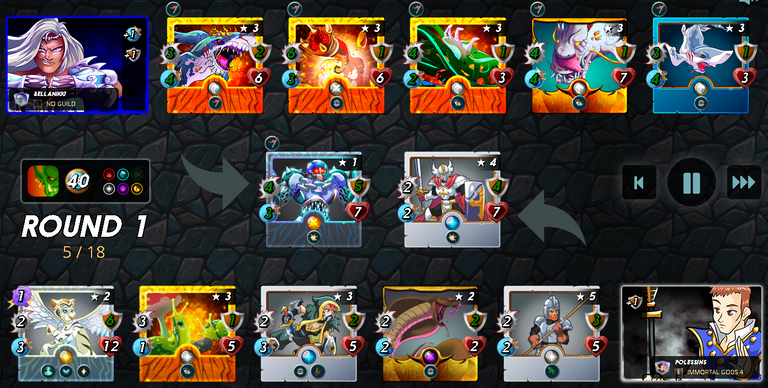 Long time no see the Chain Golem ! Such an amazing tank. This battle got me pretty scared to. But usually in battles with "Up Close & Personal" Rule i place my KRALUS in the back. Is very common to see a lot of sneak units and he can handle them pretty well with some dodge and an awesome healing. This was a close combat, but i managed to win thanks to kralus, and now it is time for my reward =D
---

And here we go ....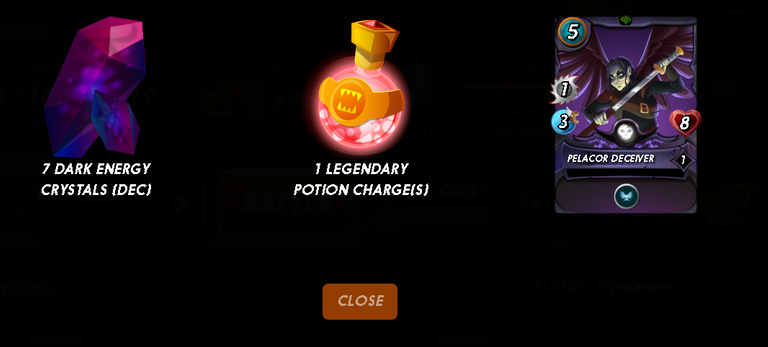 It is not much, but was honest work.
Hope you guys enjoy the reading, the SPS is in dip and i shall get some more!
I just don't want to miss it when it moons agains !
Good Battle and good profit everyone !!

STILL NOT PLAYING SPLINTERLANDS ??
JOIN US CLICKING HERE
WANT TO JOIN THE SOCIAL MEDIA CHALLENGE IN @SPLINTERLANDS ?
JOIN THIS CHALLENGE BY CLICKING HERE !


source : https://splinterlands.com/
---
---