[SPLINTERLANDS] 5000SPS STAKED AND SOME RENTING
Hello Splinter players !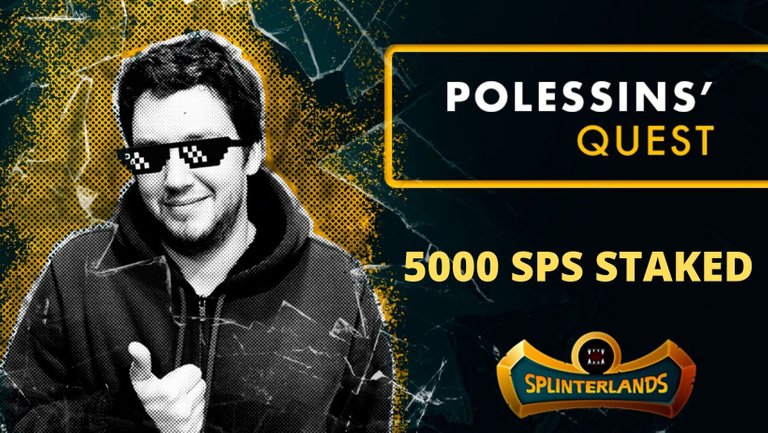 It has been a while since my last post here, i had to stay away for a month, and was unable to make any posts while away, but now im back and very happy with splinterlands, my first real #play2earn
As the launch approaches, i decided to stake some more SPS in order to get more vouchers. they've been selling a lot in the market to those who want the new promo cards, and is a good opportunity for some extra gains !
the SPS price has moved a lot between 40-50 cents, and ive been able to grab some at a good price, i do believe SPS will be over 1 USD soon. Right now there is a big hype in Brazil over newly weird CRYPTO GAMES. A lot of people have been falling into scams and games that just can't deliver what they promise. i am pretty sure people will soon realize which ones are good and strong projects, supported by a great community and an awesome dev team. While this does not happen around here, i am staking SPS and raising my future fortune !
Right now i am just seting up a new buy. SPS just hit 39cents.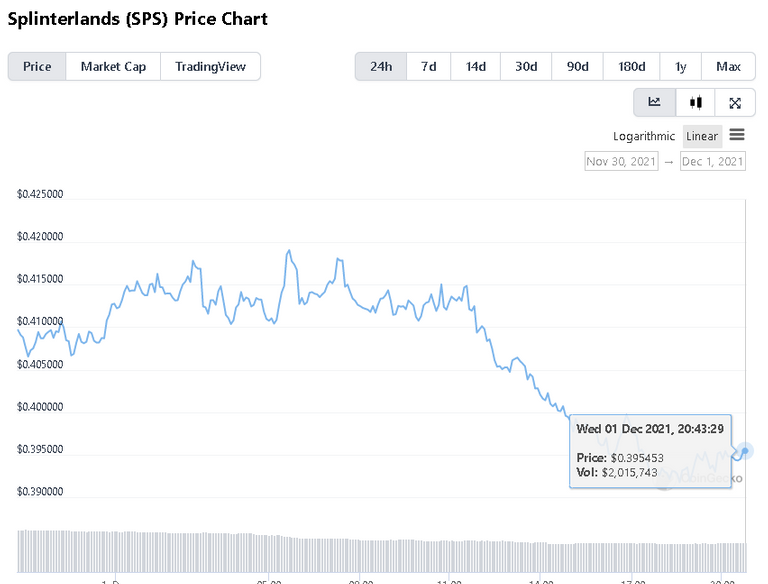 screenshoot from coingecko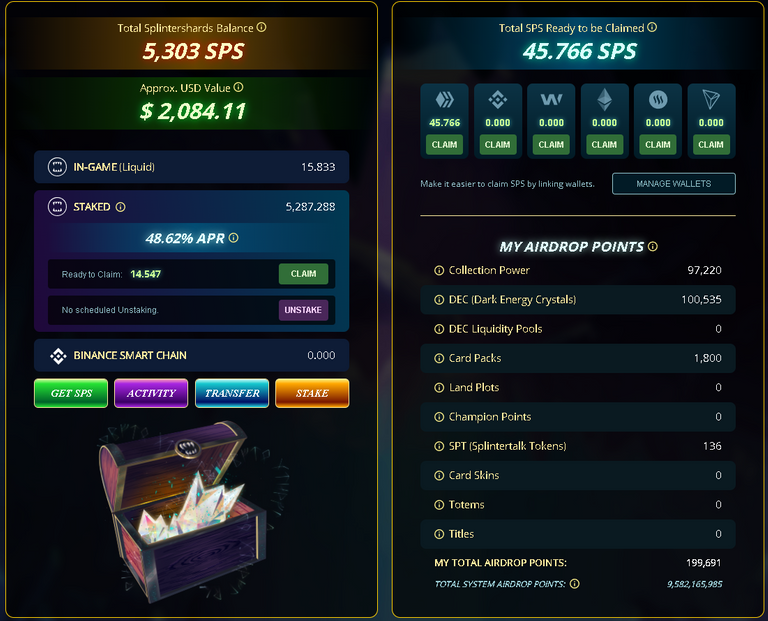 ---
While i was away and unable to play, i decided to put my best cards to rent, in order to make some extra DEC while not being able to play. The thing is that the results was pretty good. I was able to make around 450 dec per day by renting cards. So i decided that for this season, i will stay with my Life and Earth teams, while renting all my other valuable cards. I couldn't learn how to use the bulk renting system, so i ended up renting one by one, lol. Peakmonsters have been doing an awesome job in order to help the game development, very sweet =D
Gold cards was one of my best investments in this game, a lot of them have got a 10x price increase by now.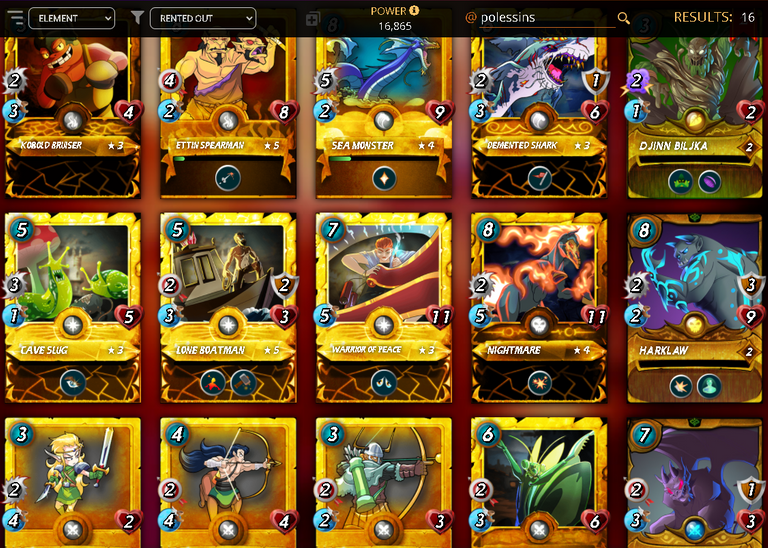 ---

I have been able to gather over 10k USD in cards, SPS, and DEC in around 7 months. The awesome part is that all invested in this game was 10 USD for the speelbook, and 2 extra USD for rentals. With this i was able to scale until here. Always buying cards on Monstermarket for the cashback, every time i forget to use their page i get ultra upset... lost some good cashbacks already for just forgeting to use it =[
Posting was also one of the major factors that got me here. A lot of support from the community was given, and 100% of that redirected into splinterlands. My goal is to reach at least 30k USD until may !
---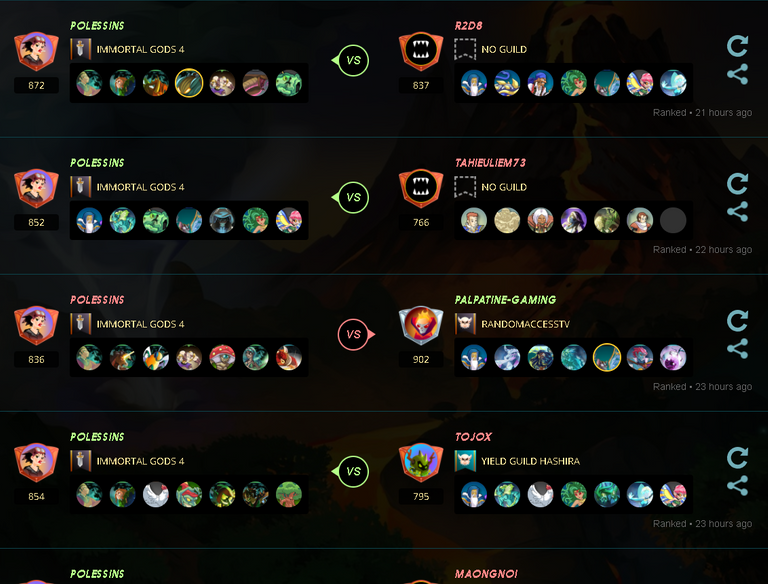 Now its time to climb until Silver 2, which is what i can get with my current deck, without any rents.
Luckly i didn't rented out my bronze climbing team, so i can reach silver 3 as fast as i can, and start geting those awesome 2 daily chests.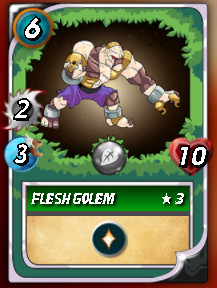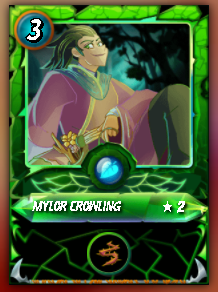 These 2 cards are pretty much carrying me all the way. Tanks with heal in bronze league are just too tough to beat.
One thing that has been ruining my matches is this guy :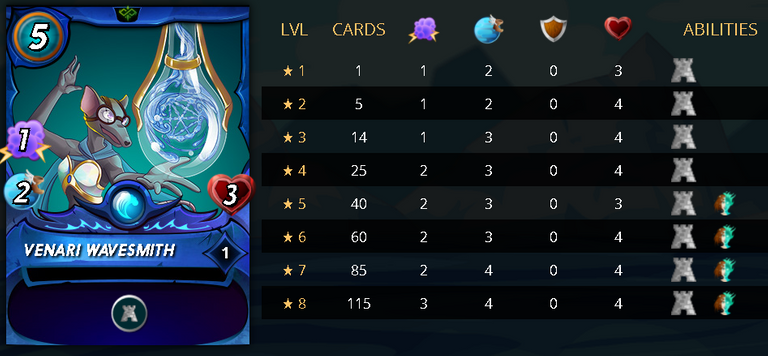 This was of the nicest cards that was added in the reward card pool so far. Water teams have gotten really powerfull and hard to face now.
---
DEC OR SPS STAKING ?
Before i go, i would like what you guys are doing. You would rather stake DEC in order to get more SPS in the daily airdrop, or hold SPS to get some use on that 48% APR ? it seems right now its best to hold dec then SPS to increase gains. Devs might be working around this, but we need some better use for sps to worth and incentive players to stake it. I am happy with vouchers drops, but we need something more..
Thanks every one for stopping by and good luck on the pre-sale !!
---
screenshots taken by me from the official website (www.splinterlands.com)

STILL NOT PLAYING SPLINTERLANDS ??
JOIN US CLICKING HERE
WANT TO JOIN THE BATTLE CHALLENGE IN @SPLINTERLANDS ?
JOIN THIS CHALLENGE BY CLICKING HERE !

---
---