[Splinterlands] - Giant Roc... Why not ?
Hello everyone !!!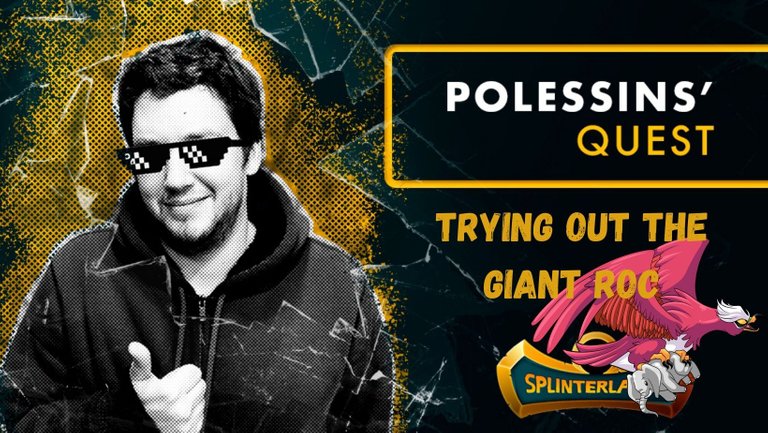 This week challenge actually was pretty interesting. I was playing a lot of fire matches these days, but i never really used the Giant Roc. Most of the times i would just go with Fineas Rage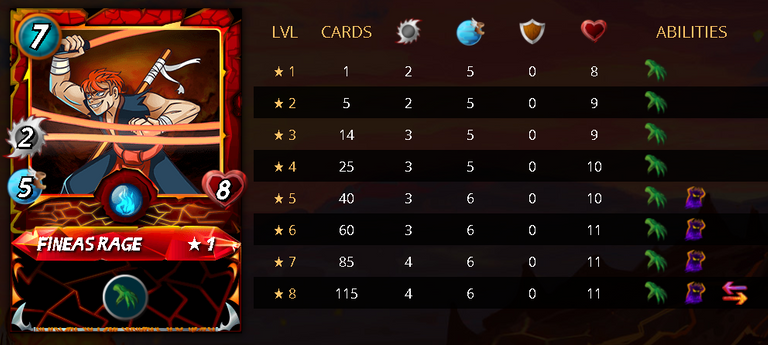 Creatures with "reach hability" are a must have in any battle in my oppinion. These units usually have awesome stats and can work like a second tank, which is a great thing to have in your team. More stats should be more % of winning right ? lol
So.. in fire battles, i would just got with Fineas Rage or skip the reach unit in my formation in case the battle has a short mana rule condition. But after taking a look into Giant Roc, he is actually an awesome option to replace Fineas in low mana cap Battles.
Lets take a look into this unit :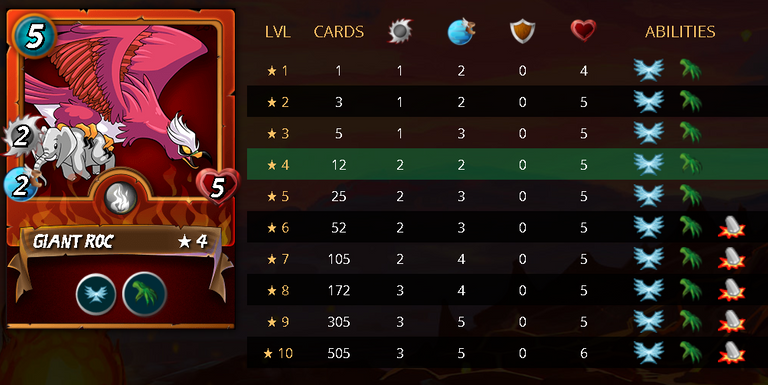 As i am playing in Silver 1 Right now, i went for a lvl 4 Giant Roc in the market. It was just 2 dec each day for the rental, Pretty Cheap !
Checking up its stats in lvl 4 this unit have 2 damage, which is pretty good for a 5 mana cost card, 2 speed which is not a lot, but this unit has also the "flying hability" which will give it a good bonus in dodge against physical damage. The awesome "reach" hability, which makes this unit pretty usefull in almost any formation, and 5 Health. 5 Health isn't really what i am looking for my second tank, but let's hope the RNG will help us in the matches !
---
Battling with the Giant Roc !!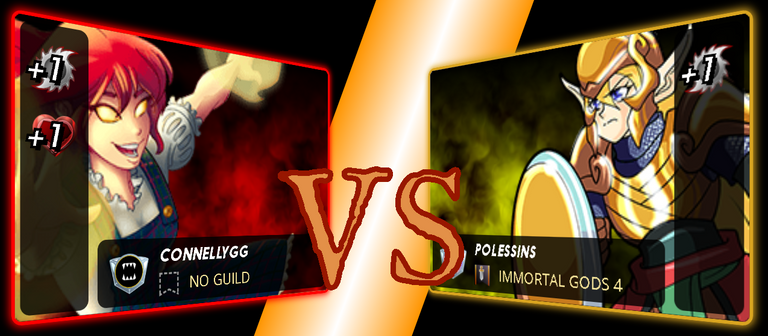 I took him into battle to give it a try, and i will share this battle with you guys...

It was a 50 mana battle, a high mana cap battle where you can mostly use any cards you want ! The battle had 2 rules, Close Range, which allow ranged units to attack in the first position. The rule Reverse Speed was also present, and it will make monsters with the lowest speed attack first and have more chance to evade ! The available Splinters were Fire, Water, Earth and Dragon.
---
I Decided to build a team with the Dragon Splinters, using Daria Dragonscale as my summoner.
I Used the Following formation in this match :
1 - Lvl 1 Robo-Dragon Knight : Awesome tank with Void hability and incredible stats, good tanking option.
2 - Lvl 4 The Giant Roc : My reach unit in test ! With reach hability i hope he can deal some damage to clean the tanks !
3 - lvl 2 Lava Launcher : Good damage unit, with awesome HP and Armor. Will also make a good tank if the giant roc die.
4 - lvl 4 Prismatic Energy : This unit has Magic reflect, good magic damage, and a lot of HP, i love it !
5 - lvl 1 Fire Elemental : I love the "blast" hability it has. 2 damage and fly hability with 4 speed, for only 5 mana.. well im using it.
6 - lvl 5 Ettin Spearman : Pretty cheap unit, with 4 attack damage, and 8 health, have also piercing hability. I like having him in the back of my formation since he can tank a lot of damage !
Well. lets check the battle
You can watch the full battle in the following link :
https://splinterlands.com?p=battle&id=sl_bb68bbbf245a5169d05993824c5d9201&ref=polessins
Round 1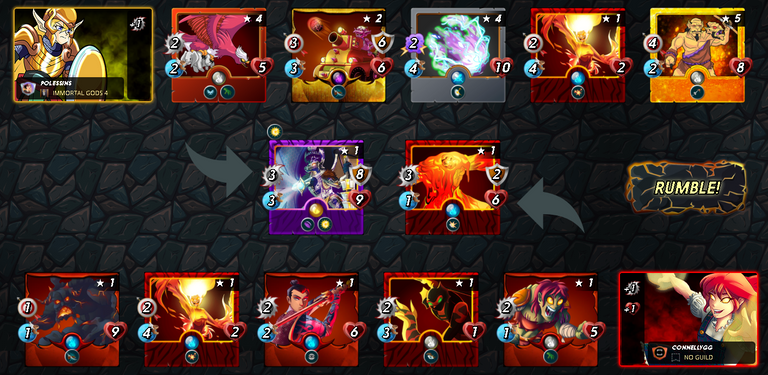 Before the fight start, i can see my units are a litte bit better leveled, but my opponent picked low speed monsters, which was pretty smart. He was also with a very cool Melee Formation, taking good advantage of his Summoners Habilities. I am still not used to Chaos Creatures, so i keep geting my self surprised lol.
---
Round 2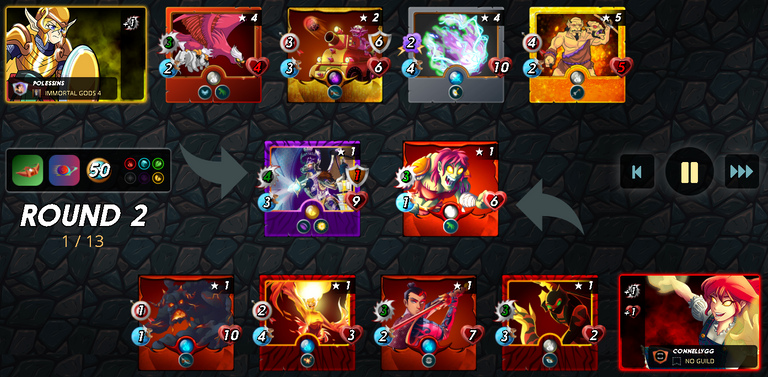 My opponent managed to kill my Fire Elemental with his opportunity unit, which was sad. But my massive damage focussed on the tank worked fine. Now my way is clear to inflict tons of damage. My Ettin could tank some damage in the back, so i still had a lot of damage to do on the next round !
---
Round 3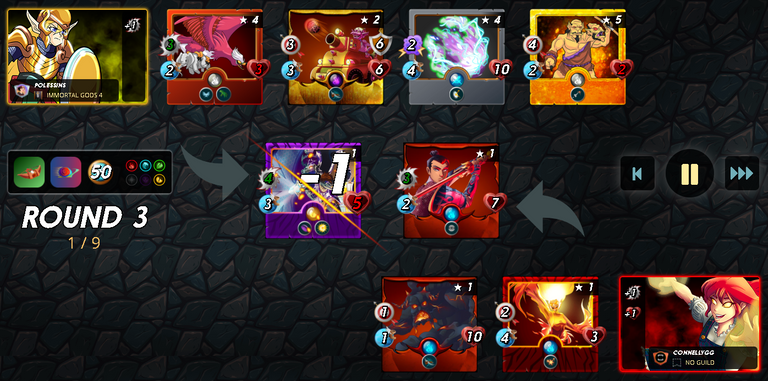 Both my tank and my ettin could survive the split attacks once again. My opponent has already lost 2 more units and definitely won't be able to deal enough damage to turn this match around at this point.
---
Round 4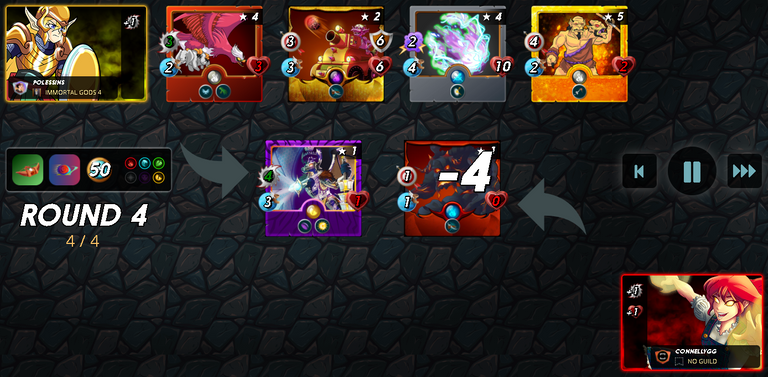 Round 4 was just the clean up. Funny that my tank could still survive with 1 HP lol.
---
Resume of the day
My opponent really surprised my with his awesome formation. The lvl difference between units really made the difference here. I should start looking into some awesome chaos units and buy them quick while they are cheap as hell ! Chaos proves to have brought us a lot of great units. This next season is gonna be incredible. I just must catch up with it.
In the battle my strategy to focus damage on the same unit worked pretty well. I Usually bring an opporunity unit in my formation, but focusing unit in first position have been working pretty well lately.
---
Hope you guys enjoyed this battle with the Giant Roc, and i hope to meet you all in battlefield !

STILL NOT PLAYING SPLINTERLANDS ??
JOIN US CLICKING HERE
WANT TO JOIN THE BATTLE CHALLENGE IN @SPLINTERLANDS ?
JOIN THIS CHALLENGE BY CLICKING HERE !

source : https://splinterlands.com/
---
---