[SPLINTERLANDS PRE-SALE]] - GETTING READY FOR DAY 18 !
What's up Splinter PLayers !!!!!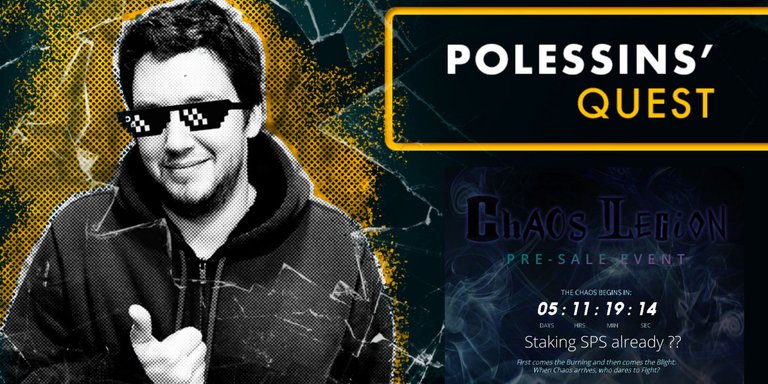 So, we are almost on 18/10, and i pretty excited for the Chaos Release !
This is going to be my first sale in splinterlands since i joined the game 5 months ago.
I've been preparing myself for this moment from the time i saw the Update post from #splinterlands
So, how is it going to work ?
---
Geting your packs
1 Million packs will be release in the pre-sale. They will cost USD 4.00 each. As usual, 5 cards with at least 1 rare or above. There will be a bonus if you purchase a lot of packs in one hit.
100 - 499 - 10% additional pack bonus
500 - 1999 - 15% additional pack bonus
2000+ - 20% additional pack bonus
source
This looks like a great opportunity for bigger players. unfortunately i won't be abel to aquire such ammount.
You can buy packs using DEC, Credits or SPS (SPS will give you an 10% extra disccount on your purchase, if you convert your sps into dec or credit to make the purchase, you will loose the bonus tho.. be carefull)
---
The Vouchers
Vouchers is something that most of players might still be unnawared of.
They will be essential if you wan't to take part on the on the pre-sale.
How do you get yours ? By simply staking SPS.
This was an awesome move from splinterlands, which will keep players staking their SPS and making its price keep going up !
As you can see it, it already started !

SPS hit over 1 dollar 2 days ago, and this correction to 0.81 seems completely normal.
By staking your SPS, you will get a daily ammount of Voucher's drop.
You can use this calculator in order to see how many you will get : https://www.splintercards.com/tool-vouchers.html
You will need 1 voucher for each pack you want to buy. So expect the vouchers price also rise, since they will be also used for many other things in the future of the game. This features should be announced as they get closer to be launched. But, you can expect a lot of benefits by holding SPS and Vouchers in the future. I guess everyone should start staking their SPS right now. In the future im pretty sure it is going to be an awesome investment.
Vouchers will also be tradeble in third part markets before the release of the Chaos Collection, so in sure people who does not have SPS staked should be buying some, a good opportunity for those who have some farmed to make some nice cash probably.
---
My Stakings
I am a humble player, but i am pretty happy with the share i was able to gather and stake.
Around 2,400.00 SPS So far.
I will be staking these last 30 SPS available today, and after that i will start saving some to buy the packs with the 10% disccount.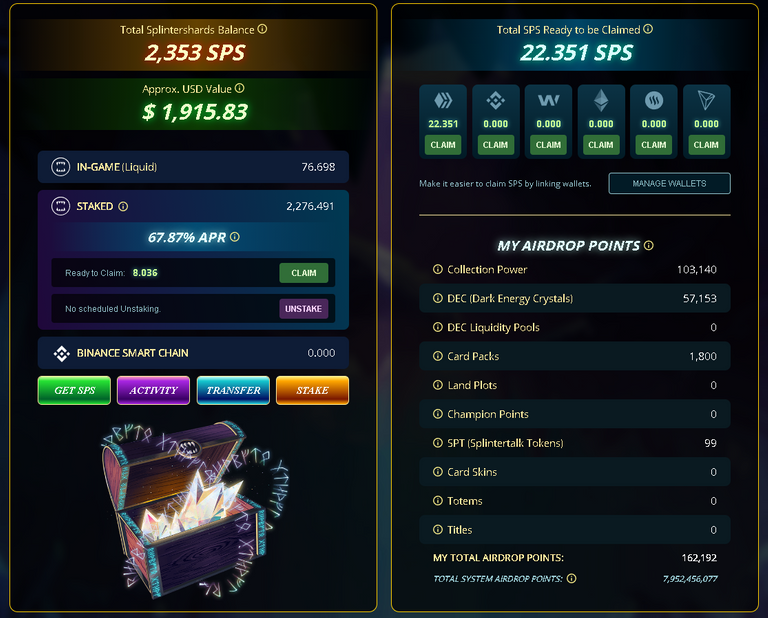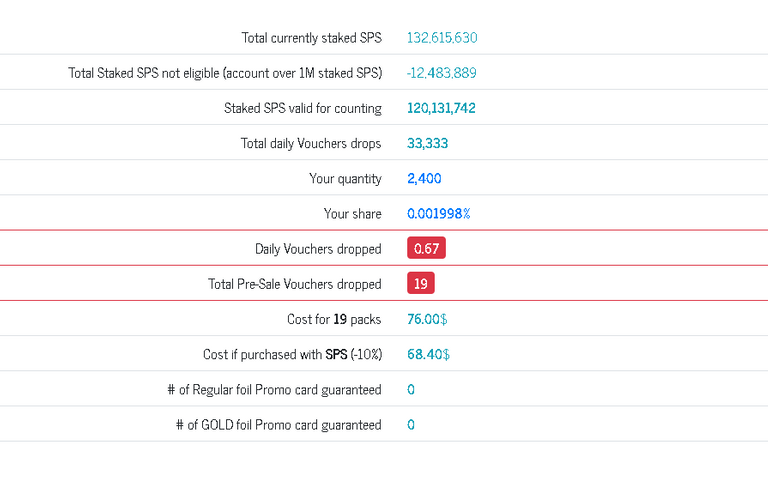 As you can see, i wil be able to get around 20 packs, which i will definitely buy them all. I am sure this will give a nice pump in my account.
Don't forget your potions before opening the packs !!!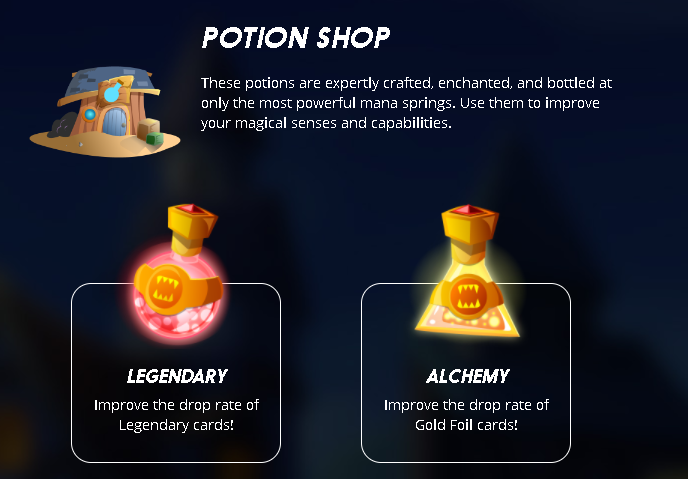 You will need 5 Alchemy potions and 5 Legendary potion to open each pack. I Highly recommend you to only open the packs if you have the potions available for each of them. This will highly increase your chances to grab that Legendary and gold foil cards, Maybe a gold Foil Legendary huh ?
---
My Current goal beside staking SPS
I invested a little bit more in some Gold foil Epic and legendary cards.
I can say this was a pretty good investment, since all of these cards i bought had a price increase of 100% already.

I also decided to sell My Gold Foil Oshannus, in order to start building my Silver League Water team. I was pretty lucky into finding it on a daily reward, and after a huge pump into it's price, i decided to convert it into some different cards to help me win a few more matches.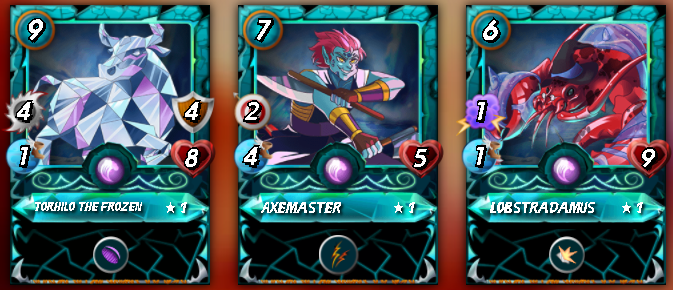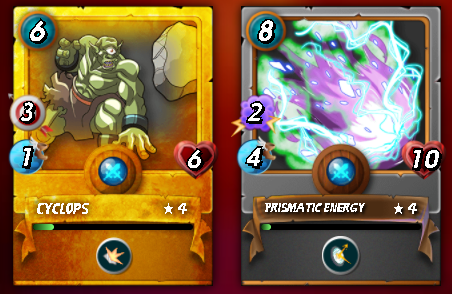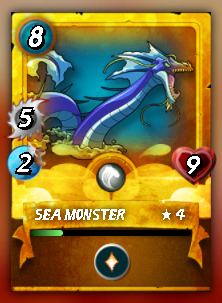 I guess it is already looking good. Still need some improvement and a good summoner, as Daria Dragon Scale is my only choice right now. I am really looking into a good Bortus opportunity so i can get this team ready for some #play2earn !
---
Thanks everyone and Good Luck with the PRE-SALE !!!
I hope this post could help you guys to get ready for the pre-sale in case some of you missed the updated.
Thanks every one for the support and good luck all !!

STILL NOT PLAYING SPLINTERLANDS ??
JOIN US CLICKING HERE
WANT TO JOIN THE BATTLE CHALLENGE IN @SPLINTERLANDS ?
JOIN THIS CHALLENGE BY CLICKING HERE !

image source : all screenshots were taken by from the official splinterlands website and from splintercards calculator
---
---