[Splinterlands] - The Good Old Spineback Turtle
Hello Splinternerdz !!!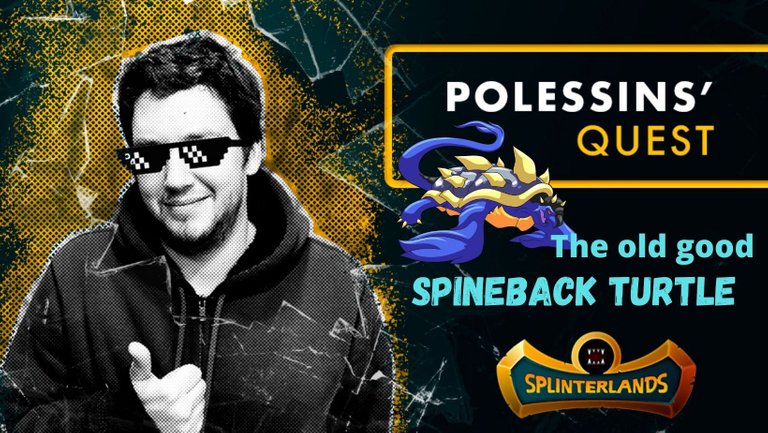 Today i will talk about one of my first favorite units in this game !
When i first started in splinterlands, Water was my favorite splinter due its awesome magic power. Every 5 fights, i would fight water at least 3 times, and that made me decide to build a Water Team !
One of my first creatures to add was the Glorious Spineback Turtle :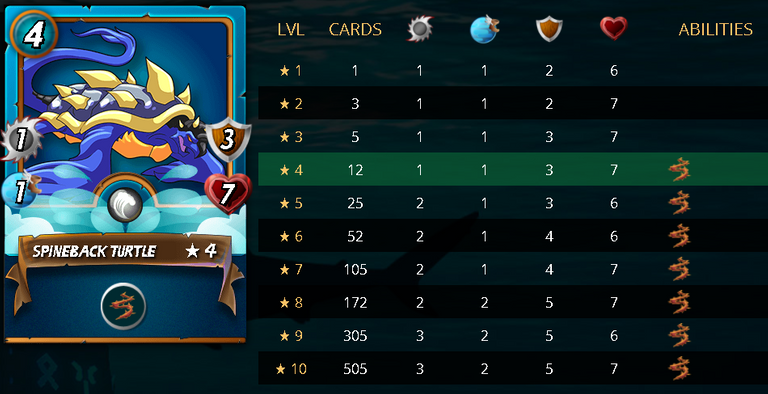 As i am Silver league player, the lvl 4 Spineback Turtle is an amazing option for pretty much any build !
Lets first know our unit a little bit more :
At lvl 4, this unit has 1 attack, 1 speed, 3 shield and 7 Health. But what makes it so powerfull is the low mana cost per stats. 10 HP in a 4 mana unit is just awesome. And to make things even better, this unit has one of my favorite habilities. "Thorns". This will reflect all kind of melee damage back to the attacker with a 2 damage return. Which makes it Perfect for a good Tanker !
The tanker IMO is the most important unit in my formation, so i will always invest in a good one in order to secure a better winning rate in my matches.
Well it is time to get it in action, let's battle !!
The Battle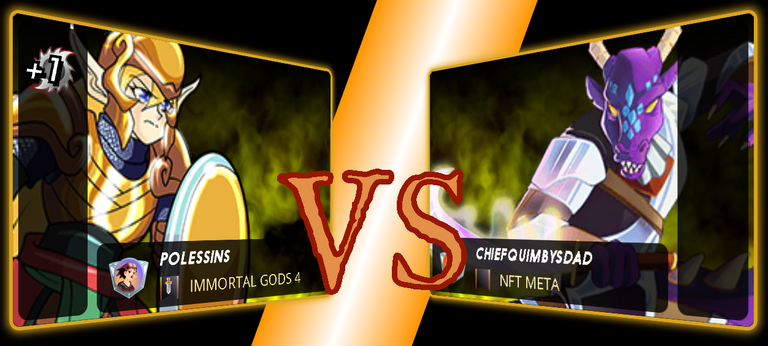 This Battle was set in Silver 2 League.
I picked the Dragon + Water team. My oponnent went for the Dragon + Death team.
This match had a 24 mana cap.
Available Summoners : Water, Life, Death and Dragon.
Battle Rules :
Equal Opportunity (monsters will attack enemies with the least ammount of HP).
Close Range (Ranged Monsters can attack from any position).
My Strategy
My plan here was to use Daria Dragon Scale to buff my melee units, and use the maximum melee units i could bring to use the buff the best i can. So i Went with the following formation :
1 : Spineback Turtle lvl 4
2 : Manticore lvl 2
3 : Uraeus lvl 3
4 : Baterring Ram lvl 1
5 : Axemaster lvl 1
6 : Chicken lvl 1
The reason i decided to bring Axemaster is due the opportunity rule. This will make him a beast sniper, who will be able to easly clean any unit with low HP on the back.
Round 1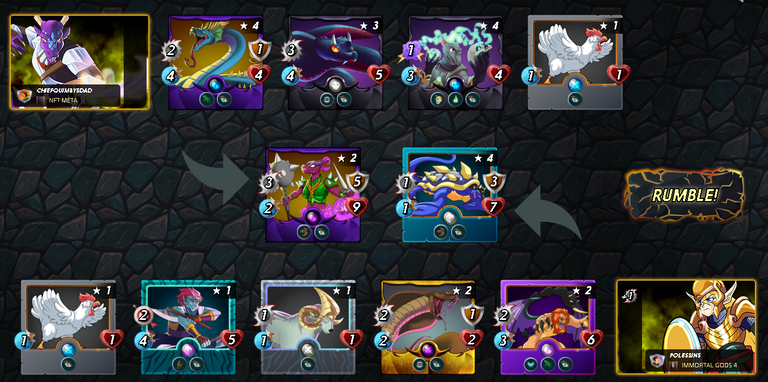 When my opponent formation showed up, i got pretty scared.
Mostly due his tank, "Djinn Chwala" which also has the "thorn" hability, and some very good stats. This would is going to be tricky. His units also had a little more lvl then mines, so i knew it was not going to be a easy match...
Round 2 :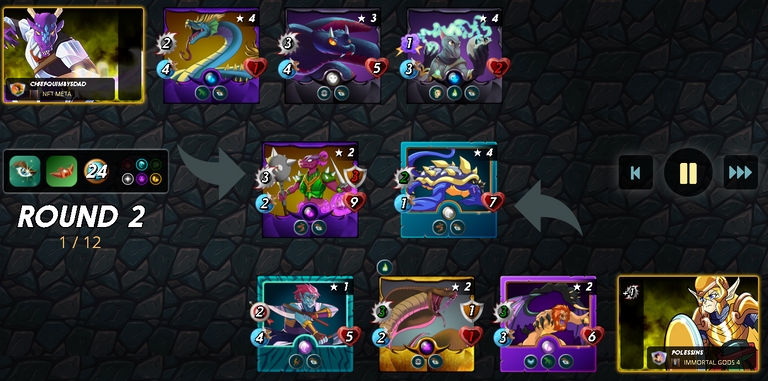 Both chickens worked fine as a bait, but my opponent managed to clear my Battering Ram before it could move, and my Axemaster could not finish enemies Venari Bonesmith, poison units are really harmfull, and my Uraeus was already doomed.
Round 3 :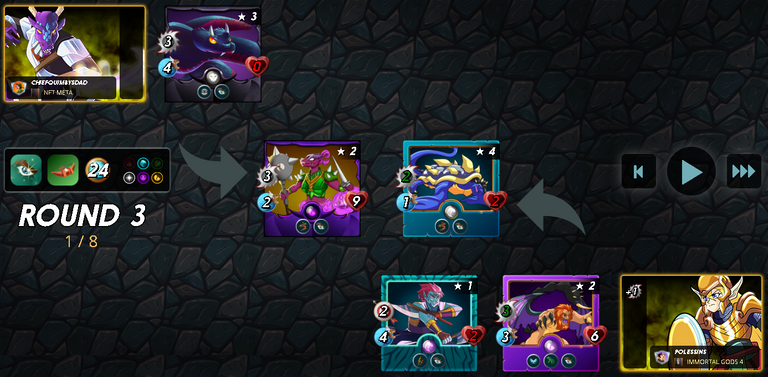 Luckly in round 3 the Axemaster paysout ! He managed to secure 2 kills in his turn, which made him survive for a final attack, exactly what i needed to keep my team breathing.
Round 4 :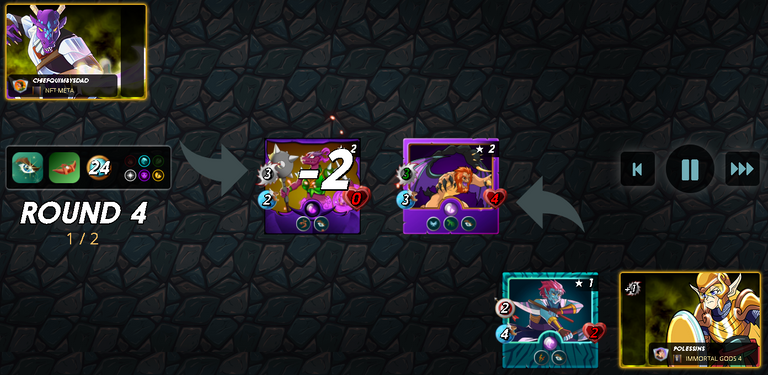 This is the last hit from this battle. Such a close one !!! The Axemaster 5 HP was a risky choice for this match, but luckly he made it through it. As he started geting focused, i though my chances were down to 0. Double Strike is a really good hability, which should be used in a lot of matches, specially the ones with opportunity and Blast !!
Match Resume
Sometimes our plan won't go 100% as we expected, and this is what makes this game awesome. Building your team without knowing what you opponent my bring is pretty fun. Everything is a possibility here.
Still, The low cost Spineback Turle did a great job. He managed to tank the whole battle, and his low cost allowed me to bring Axemaster, a very good unit 4 damage each round.
Link for the full batle :
https://splinterlands.com?p=battle&id=sl_e14412d6569702c1a406d9ef671b61c1&ref=polessins

STILL NOT PLAYING SPLINTERLANDS ??
JOIN US CLICKING HERE
WANT TO JOIN THE BATTLE CHALLENGE IN @SPLINTERLANDS ?
JOIN THIS CHALLENGE BY CLICKING HERE !

source : https://splinterlands.com/
---
---