Splinterlands Social Media Challenge! Testing new Strategies with CABALIST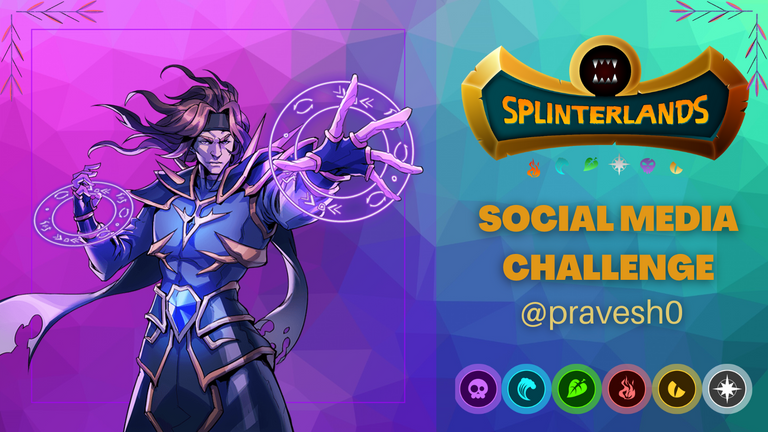 ---
Hello guys, this is my entry to the "Splinterlands Social Media Challenge!". If you want to participate and/or read more about the challenge, click here.
It is the start of a new season and once again we are testing new cards and forming new strategies which will help us in the rest of the season. With this in mind, I went out looking at the rental market and my eyes caught this impressive unit, it goes by the name of Cabalist. I am sure, you have seen or perhaps used this card before. I have not used it a lot. But let's focus on this one.
It is a rare death unit and comes with a hefty price of 7 mana. Can it justifies this high price, let's talk about its stats in detail.

Cabalist
| CARD | |
| --- | --- |
| EDITION | RIFTWATCHER |
| RARITY | RARE |
| ELEMENT | DEATH |
| LEVEL | 2 |
| MANA COST | 7 POINTS |
| ABILITIES | Amplify |
Cabalist is a rare unit that deals with magic attacks, it comes with 7 mana cost but has some nice stats. It has a unique ability called Amplify, which increases the magic reflect, return fire, and thorns damage by 1.
I used a level 2 unit which deals with powerful 2 magic attacks and 2-speed points and comes with a relatively lower amount of health of just 5 hp. For the cost of 7 mana, it does feel a bit low. Can it be a worthwhile addition to your deck? Let's find out and try to use it in a battle.
Now, let's talk about my lineup.

My Lineup
This is my lineup for the battle
| Position | Summoner/Monsters | Abilities |
| --- | --- | --- |
| Summoner | Thaddius Brood | -1 magic attack -1 health |
| Position 1 | Djinn Muirat | Void armour, knock out |
| Position 2 | Magi Necrosi | Snipe, camouflage |
| Position 3 | Kain Hace | Blast, Reflection Shield |
| Position 4 | Cabalist | Amplify |
| Position 5 | Scavo Technomancer | Blast |
| Position 6 | Revealer | Stun |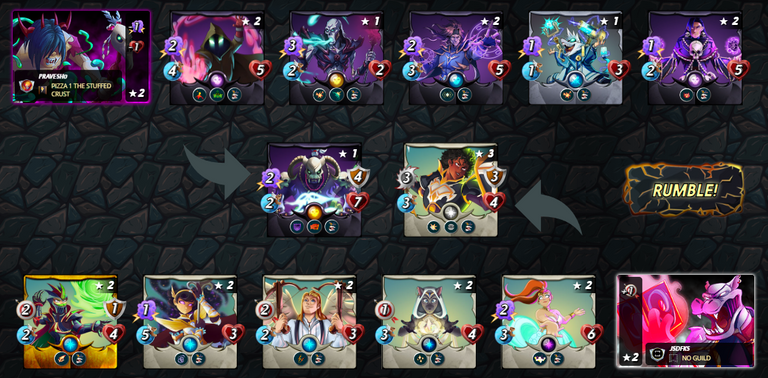 ---
It was a whopping 43-mana cap battle with some interesting rulesets. There were two rulesets:
Super Sneak i.e., All melee monsters have the Sneak ability
Ferocity - All monsters have the Fury ability
Both of these were not restrictive in any way. Every splinter was available for this battle except Fire and Earth. I went with death, of course.
---
I used the Thaddius Brood as my summoner which removed 1 health point and 1 magic damage to all the enemy monsters.
In the first position, I used the Djinn Muirat as my tank. It is one of the best tanks in death splinter. It comes with a hefty price of 9 mana but its 7 health and 4 shields complimented with abilities like Void Armor and Knock Out make it a perfect absorber of hits. Also, it deals with 2 magic attacks which are very useful in this case.
In the second position, I used the Magi Necrosi, another mage with great attacking strength. It deals with 2 magic attacks with great speed (4) and has decent health (5hp). Snipe and camouflage abilities help it to remain undefeated for much longer during any battle.
In the next position, I used the Kain Hace. It is a powerful striker which deals 3 magic damage on its own but comes with mere 2 health points and has to be protected well. The imbalance between its attacking and defensive ability makes it an interesting choice for me. Also, it comes with Blast ability which is super useful at times.
Cabalist came in the fourth position in my lineup. Overall, a balanced unit which deals with 2 magic attacks and comes with 7 mana. The only downside is its 5 health points but still, it is much better than most units in my lineup. It's Amplify ability comes in handy sometimes, but not in this particular case.
Next was the Scavo Technomancer, another mage (you can see that I used a heavy magic attack in this battle) in my lineup. It also came with Blast ability. Costing 5 mana, it only had 3 health points. So, I didn't want it to be placed at the end of my lineup.
Last but not least was the Revealer. Costing just 4 mana it had a very useful ability called Stun which has a chance of freezing an attacker for the current round. This ability complemented Djinn Muirat's Knock out ability beautifully.
Now my lineup was all set and it was time for battle.

I will share my battle here, which I have uploaded to YouTube.

My Strategy
I went with a heavy magic attack while taking measures to defend myself against it. As it was a high mana cost battle, I went with death splinter as I like the mages I got.
Djinn Muirat proved to be an excellent tank as it resisted for a long time while my mages inflicted heavy damage on the enemy units.
Being 43 mana battle, I had the utmost freedom to choose my units and I used heavy attackers without worrying about the cost of those units. Also, the rulesets didn't put restrictions on any cards.

Conclusion
Cabalist is a powerful mage which comes with decent speed and health. Its Amplify ability with some specific ruleset can cause havoc for the enemy team
It cost 9 mana but justifies this heavy cost by providing a lot of attacking strength as well as some defensive capabilities mostly with its powerful ability.
It should be present in every player's deck as high mana battles are not that uncommon in higher leagues. I recommend it without any doubt.
Thanks for reading...
---
---
Splinterlands is a popular NFT-based play2earn game. If you have not joined the game yet, then you are missing a lot of fun. You can join by using my referal link.
Note:

| SPLINTERLANDS.COM | SPLINTERSHARDS (SPS) | BLOG | DISCORD | TELEGRAM |
---
---