SplinterForge - My Month Trying It Out - Hope or Hype?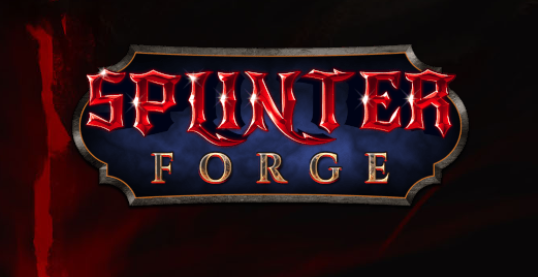 The idea of using Splinterlands assets I already bought to play a new game and earn crypto was super attractive to me. Therefore I was really excited to hear the announcement of Splinterland's Tower Defense game. But as weeks turned into eons, it became clear that there would be plennnnnnnty of time for a competitor to use that same idea and attract the legions of Splinterlands players.
Enter SplinterForge!
The idea of SplinterForge is that you can sign up, and let your cards do battle with Bosses for Forgium token (FORGE). You could sell FORGE or use it to buy crates of gear to outfit the base Hero they give you to battle with.
It seemed like a no-brainer. My deck is worth ~$150 according to PeakMonsters. This is a fraction of what I paid for it. I know my timing and luck have always been terrible, but during the time since my pack value plummeted there have been many changes to rewards, literally millions of new cards flooding the market, and other alterations to the game. When added together, these changes have cost me not only money but my affection for playing the game. Could SplinterForge save me??
Initially, I was excited for sure! There were cool twists that made gameplay less stressful and unique. Below is a screenshot that shows the main mechanics. You select a Boss to battle - in this case the weakest one is Blagor. Then you can select 2 Summoners. That is the coolest idea right there - two summoners create new possibilities for card enhancements in battle. I circled my two summoners. I also circled that I get to choose 7 battle cards and that my total Mana limit at this level is 45, including summoners.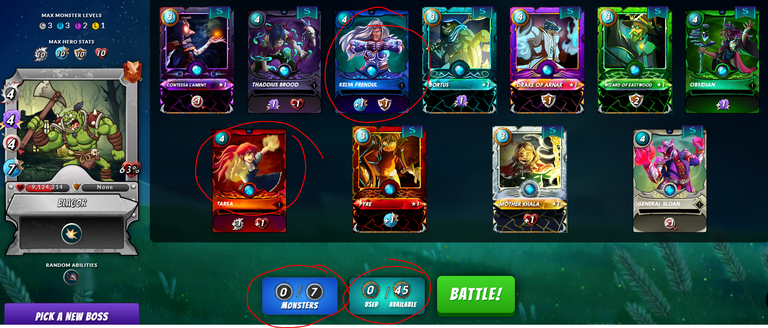 Once you select your summoners, the whole starter deck and any active cards you have within your summoner's splinter and the neutral splinter can be selected for battle. When I first started playing, I had almost all of my cards out for rent and used the Starter deck. At first, they did not reduce earnings if you used Starter cards, but they introduced a -20% per card earnings penalty like Splinterlands has after a couple of weeks. So, I pulled cards from the rental market that I thought would help me in SplinterForge.
I started saving up FORGE to buy a crate. Ideally, I wanted to build my Hero up enough to be able to use Gladius cards, which is another awesome idea. Eventually, full of excitement and impatient, I supplemented by FORGE stack with DEC and bought a Crate, excited to see the immediate impact of all that gear on my Hero!!!
Here is what that process looked like: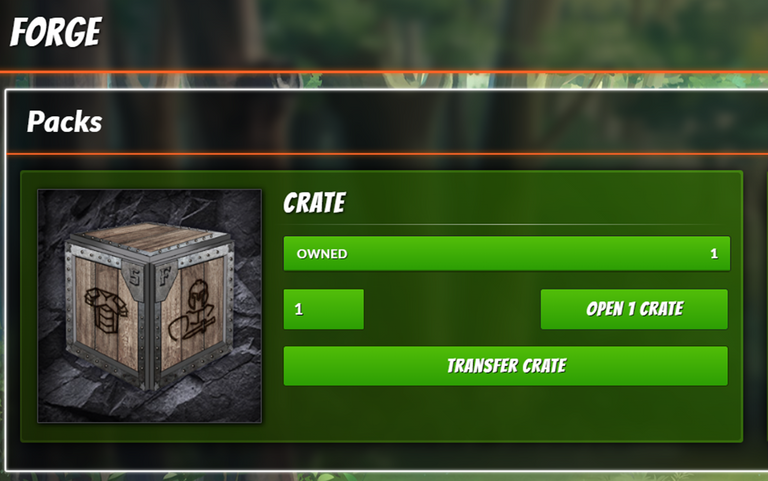 So that was my haul. Did it propel my hero into Might?
No.
It did not.
Here is my fighter fully decked out.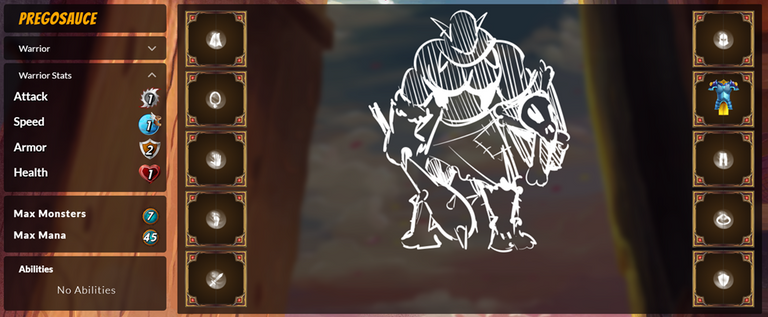 wow
I struggle to control my enthusiasm. +1 Armor.
I also got a Rare wizard health thing that added +2 instead of +1. Yippee.
Anyway, in an effort to get the full effect, I wanted to explore adding sockets to my armor in case I could get that fine Gladius gem that would allow me to fight with my Gladius cards. It was easy, and uses the other ingame token: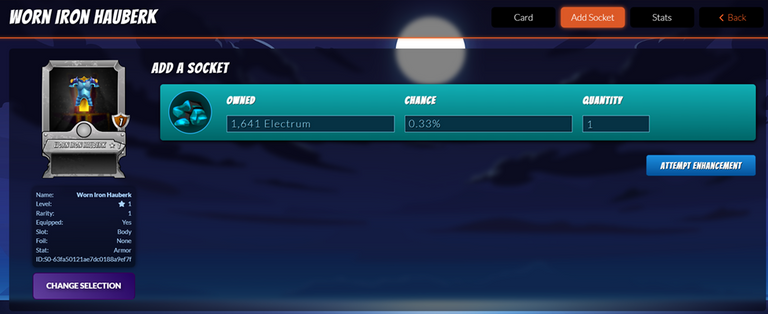 just keep adding Electrum until your odds improve

Then, I got a little more curious about how many crates it would take to actually see my hero improve in non-microscopic increments. This is the leveling up chart for equipment: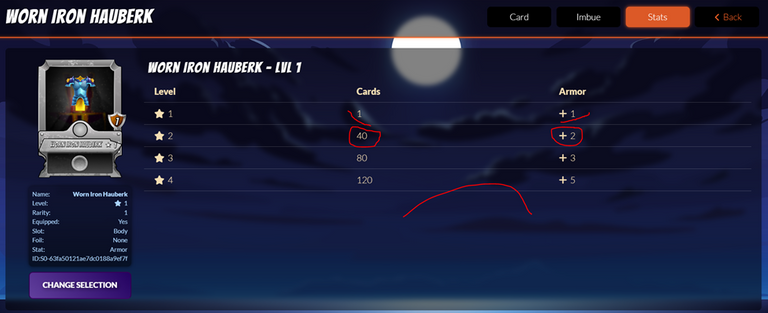 I got 2 of these armors in my first Crate, so I only need 38 more in order to get +2 Armor. That is... something.
Assuming my battles are consistent (which they have been). Here is my calculation of how many times I would need to battle in order to get that incredible +2 armor: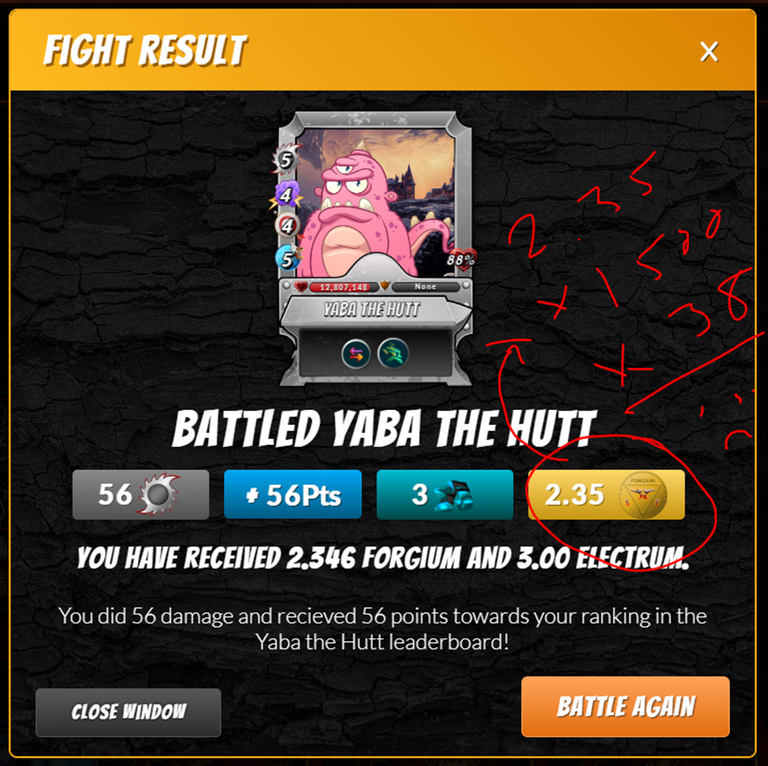 I will let the math curious calculate out exactly how many battles @2.35 FORGE, but if I make it easy on my self, it is 1500 battles at 2 FORGE to get enough for 1 Crate. And I need 38 Crates. So... many battles. Is that worth it?
Who cares? Because right after I did all of this I noticed another nerfing. Or, call it a "tweak" - here is the announcement from Discord:


To be honest, I don't understand any of that. What I did understand was the difference in FORGE earned from that earlier fight above to this: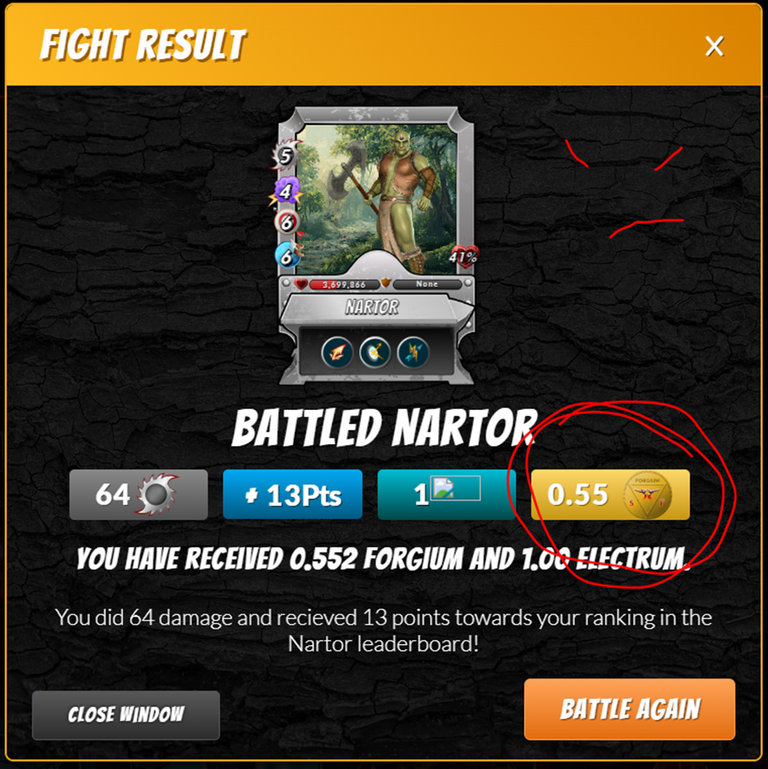 EPIC NERF!
I fought several more battle to make sure. Whatever combo of cards I used now earned 20% of what I had been getting for the damage I did. That is all I needed to see.
Man, I wish they'd rolled this nerf out before I bought that Crate.
So, is SplinterForge a new and valued part of my Play2Earn and Blockchain Gaming future?
I have a few thoughts about that.
First, if you have a monster deck and many high level cards, you can probably make money on this game and feel awesome about the dual earning potential of the two Splinters, -Lands and -Forge. But, if you have a deck like mine, worth only $150 and without lots of leveled up cards, your earnings will be almost nothing. Or, at least my earnings with my deck were nerfed into nothing with each successive "tweak" and "improvement".
Second, even if you decided the path to glory led through buying tons of Crates, the payoff is weak. At least from my single crate. Before the latest nerf, I figured it would take 1200 to 1500 battles to "play to earn" a second crate, and would take 30-40 crates to level my hero up to a degree anyone would notice. That is a minimum 36,000 to 60,000 battles. After the latest nerf (with more undoubtedly on the way as devs and whales freak out about poor minnows and shrimps actually still having some hopes of earning something), it is closer to 180,000 to 300,000 battles. That is crazy. Even for a cheap ass like me.
Third, I don't know what the future of blockchain gaming is, but it seems like chasing whales is the main game. So many games are very expensive, and almost seem to aspire to operating on a feudal system basis. Splinterlands seems particularly smitten with the sweet words of its whales, and SplinterForge seems to have gone in that direction as well. For sure, somebody is buying all these assets in game after game after game, but at least in my experience the promise of "play2earn" is really at risk. Who are all of these games trying to appeal to? Are there really enough whales to keep all the hungry devs afloat? This is certainly not the first game I have seen where "tweak" after "tweak" and "improvement" after "improvement" would only benefit people with lots of money or assets, aka the whales. Yes, it makes short term profit sense for devs to chase that money. I don't judge that negatively. But, the future of blockchain gaming can't only be the groveling glam of a Dubai luxury mall with everyone stroking the egos of whales to part them from their cash. Or at least I hope that isn't the future.
In the end, I am turned off by the trajectory SplinterForge took. Nerf after Nerf, tweak after tweak...I've seen that before. That's why I got aggravated by Splinterlands, which is, ironically, why I was so excited about SplinterForge in the first place.
I know this may sound like greed and sour grapes and wanting a free handout on my part, but let's look at what I really was hoping for. I hoped, with my $150 deck, to be able to earn 2 FORGE, or the equivalent of 1.7 DEC for fighting a battle. I bought a Crate with FORGE I had earned before the 2nd nerf as well as DEC I had earned through renting my cards. I brought in outside assets just like the devs may have wanted. But even so, that 1.7 DEC per battle was too extravagant for them to allow. Think about that. I mean, even if I was using Starter cards and earned that 1.7 DEC without ever buying a single Splinterlands card, is that really such a steal? And why do they give a crap anyway if you buy cards from someone else's game? Why have a high price bar on someone else's assets in order to allow earning in your game? Why get twisted about that and nerf new players into dirt? Isn't the Play2Earn promise that you can start with nothing or very little and grow?
But no. Not in anything starting with the letters S-p-l-i-n-t-e-r I guess. Now imagine that instead of having a deck that had fallen in value to $150 I actually just bought $150 worth of cards now. Sure, I wouldn't buy the cards I actually have because the rules changes and new packs and all that, so let's say I paid $50 for all new cards so that I could play SplinterForge. Well, is 0.55 FORGE per battle, or something like 0.4 DEC anything short of crazy, or even insulting?
Anyway, maybe your ROI is better than mine and I hope that you have a much better deck. I will keep playing great games in ecosystems that are truly Play-to-Earn, and I will keep investing my assets in them. There is always #MuTerra, #RisingStar, #dCrops, #Realm, #Warsaken, #Acryptia and all things #Taco and - especially when you think about the value of gameplay relative to the cost - the stunning #PsyberX.
I guess I hold out hope that there is still a future of nice games for little people that want to grow together.
Anyway, I wish you and the devs the best of luck but for me, SplinterForge is Splinter-Forget-able.
---
---