Challenge Semanal Tematic Antoid Platoon.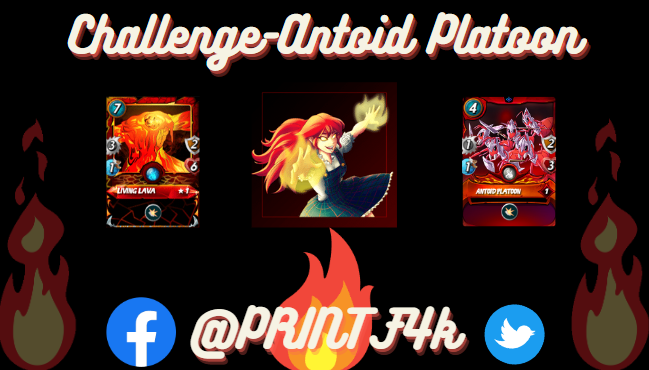 Best regards, my friends
A happy start of the week my dear Hive users, this time I will post about the great weekly challenge offered by our great game, Splinterlands. I loved this challenge because they used one of my favorite cards inside the fire splinter and the truth is very useful in any situation of danger. Once again I reiterate my favoritism for Splinterlands, it is a game that I really like and with that said, let's start with the challenge.***Let's start with the game!

Challenge Card: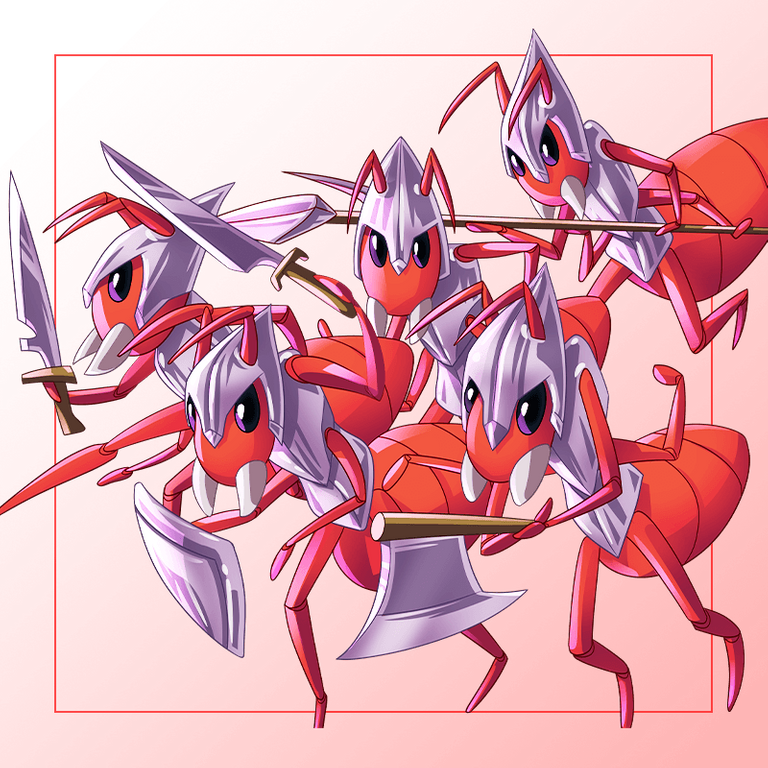 The card designated for this challenge is Android Platoon, this beautiful card has a really great design, it has a series of giant ants of a crimson red tone and are wrapped in a very shiny silver armor, they are also armed with sharp swords and a large silver shield, all this incredible animation under a red background, very dark.
It has very good stats and abilities, among them are 2 points of armor, 3 points of life, 1 point of speed and 2 points of melee attack and an ability to reduce the melee and ranged attacks of the enemy. For all of the above, this monster is considered one of the best cards that can be found in the game, even if it is a common rarity card.

Prepared:

For this battle I had a considerable amount of mana points (29), which allowed me to make or devise a strategy a little calmer, choosing cards with good life points and melee damage that would be buffed by our summoner and thus get the most out of the cards, I also wanted to combine them with a magic attack card.

Strategy:
My strategy was very offensive, placing in the first two positions 2 tanks and that one of them in their skills is to attack the last monster in the enemy deck, also putting a very useful card in position 4 that also attacks the cards that are in the last positions and this generates a continuous wear for the enemy. This strategy worked quite well for me to tell the truth and at some other time I would be able to use it again.

DevelopmentFarewell
My strategy worked quite well because the last two cards of my enemy had few life points, which generated that my second card annihilated in an instant his last card, then, the combination of my second card with my fourth card annihilated the penultimate card of my enemy making him vulnerable. Although his magic attacks and did me a lot of damage I was able to control the situation and win the game, next I will show you the information of each of my monsters.

Strategy information:

Our summoner is Tarsa, this beautiful summoner with smooth and fine skin has a great hidden power capable of destroying any monster that gets in her way. Classified as a goddess and loved by her followers, she is capable of granting each one 1 life point and 1 melee attack point.

Living Lava: This atrocious monster that emerges from the depths of volcanoes has a bright and viscous appearance capable of blinding any enemy monster due to the incredible radiant light emanating from its body. This monster has incredible stats which are 2 points of armor, 6 points of life, 3 points of melee attack and 1 point of speed making it a real tank capable of resisting the worst enemy attacks. And if that wasn't enough, he is able to reduce the damage of enemies attacking from a distance and melee.

Tenyii Striker: This species is a samurai with a vibrant red clothing and a very defined sword that cuts with incredible precision, his name is recognized in different parts of the world and he is very feared for his great power. In its statistics it has 6 points of life, 2 points of melee attack and 2 points of speed, it also has a special ability which is to target or mark the enemy that is in the last position of the deck.
enemy

Djinn Apprentice: This bright red monster with pointed ears is one of the princes of the underworld, he is very feared and stalks all the monsters that roam without any kind of consent in his precious lands, his statistics are very balanced, he has 4 life points, 2 points of magic attack and 2 points of speed making him a very effective demon to execute assassinations in the battlefield.

Serpentine Spy: This dark entity has great mobility to perform the most dangerous missions that his summoner can grant him, he does it in such a fast and efficient way that he is considered one of the favorites among the fire sliver. It has 1 health point, 3 speed points and 2 melee attack points, in addition to having a special ability that allows it to attack from any position and mark the enemy with less health point.

Antoid Platoon: These incredible giant ants have a great fighting spirit and are armed to the teeth with an incredible silver armor, swords and a shield. They have 2 points of armor, 3 points of health, 1 point of melee attack and 1 point of speed, they have an ability that reduces the enemy's ranged and melee attack which is very useful when defining a battle.

Radiated Scorcher: This terrible creature that was thrown into intense fire was brought back to life to torture all those who mistreated him, leaving no trace of his terrible punishments, with 2 health points, 1 melee attack point and 2 speed points, which is very balanced for his style.

Synthesis:
The truth is that I did not expect my enemy to have so much magic attack among his cards, however, the good amount of life points that my monsters had could give me the advantage on the battlefield and the individual abilities of each monster played an important role to achieve victory. The weakening and attrition of the rival monsters that were in the last positions were very important in the definition of the game.

Good Bye:
I send a big hug to all the community and to those who play this amazing game. The truth is that every time I have to make a post about it I love it, I like to give details of my cards and the battle, I hope to continue doing this for a long time, see you soon!

Attached is my link for you to register.
I attach my Twitter
I attach my battle link
---
---