Challenge Semanal Tematic Xenith Arche, Neutral.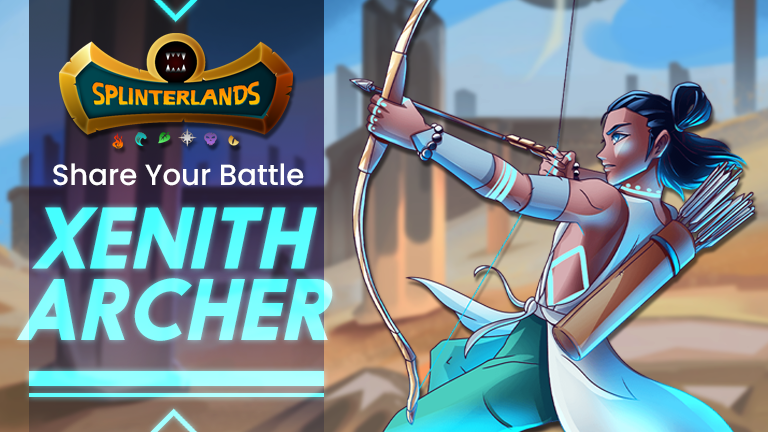 Best regards, my friends
Have a very nice midweek my dear friends, I come excited to tell you what happened in the Weekly Challenge of the exquisite Splinterlands game found in the beautiful platform of Hive. I have gotten used to the game and I know with more knowledge how the different tabs found in the game interface work, I have also familiarized myself with the cards and mostly how to get the most out of the Summoner-Monster relationship. In this installment I bring you a new epic battle that had a bit of difficulty, let's see how the game unfolded.***Let's start with the game!

Limitations on starting

In this difficult pitched battle I was able to obtain 19 mana points that will serve me to acquire 1 summoner and 4 monsters, it is the first time that I could not reach the limit of monsters that can be summoned and it was something that instead of making me feel nervous caused me euphoria because I wanted to prove that with limitations you can succeed.

Training and strategy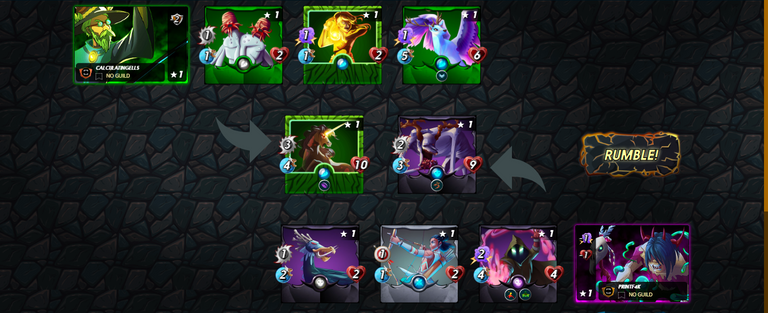 Next I will explain the formation of my cards during the game, in addition to providing information about the cards.
Summoner: The being that comes from the darkest lands comes to scourge the world and to snatch all traces of life in its path, we speak of the all-powerful Thaddius Brood, the lord of darkness that generates fear just by seeing his presence has in its statistics with 1 point of life and 1 point of magic damage that greatly enhances the power and abilities of the allies. The design of the card is scary and exotic, I particularly liked it.

First position: My first card was Cursed Windeku, this abominable monster with a really creepy look that leaves any living being breathless, this monster was important because it had the function of being a tank, resisting the strongest attacks of the rival monsters. Its special ability is that when it is hit by a melee attack, the damage received is returned to the attacker, a very convenient ability. Among the statistics it possesses we find 9 points of life, 2 points of melee attack and 3 points of speed.

Second position: We find Carrion Shade, this kind of dragon that flies in the dark sky and plummets with great speed to get rid of their enemies in the blink of an eye is very feared among mortals, its large fangs destroy any monster that gets in its way. Among his stats he has 1 point of melee attack, 2 points of speed and 2 points of life. His design is somewhat simple but looking at his face in detail is where he stands out.

Third position: In this position we find mythical Xenith Archer, this powerful archer is not in this position by chance, she was put here with a double intention since our deck needed a type of ranged damage behind two monsters that received all the enemy attack, the beautiful archer counts among her stats with 1 point of ranged damage, 1 point of speed and 2 points of life. Her design is beautiful, showing empowerment in a subtle and elegant way that every player likes.

Fourth position: In this last position we have what comes being in best monster that is formed on the battlefield, this dark entity coming from the bowels of the planet perplexes any opponent, within the total darkness can only be perceived its glowing eyes which causes extreme terror.

That's right, we are talking about nothing more and nothing less than Magi Necrosi, the creepy dark wizard has some very aggressive skills where the first one is called Snipe, this skill marks the enemy monsters that have ranged attacks, magic attack and no attack that are not in the first position. His second ability acts as a kind of defense but only for himself, as he cannot be attacked unless he is in the first position, he is untouchable.

In addition, this monster has 2 points of magic damage, 4 points of speed and 4 points of life. As additional information this card was rented.

About the battle
When I found the game I could notice that my opponent did not follow a concrete pattern to form a strategy, faced with the battle condition of 19 mana points I could make an ingenious combination between my summoner and my monsters. The battle developed between what we consider celestial, the war between good and evil, between life and death. In order to undo and avoid the progressive regeneration of my opponent's life points, I summoned the best monsters in my arsenal, and I also rented a card to improve my chances of winning.
Noticing that my opponent did not follow a fixed strategy I could not really know how to build my deck so I did not go with so much attack power but I put my faith in the unique abilities that each monster has, putting in the front of the battle a card with enough life points to receive all possible damage and any trickery that the opponent has up his sleeve.
My battlefield formation had an amazing performance and performed too well partly thanks to two cards that helped me a lot as one had the goal of providing magic attack and another provided ranged attack; The battle was not easy for not having a clear idea of how to make a strategy but certain factors that played an important role in my deck I got my victory!

Battle Details
First of all I must say that I knew how to manage very well the mana given by the game, I knew what cards to draw to achieve my victory, it was one of the few times that I had to think about a strategy because I had no concise information about my opponent. I think it was a very good idea to put a kind of tank at the beginning of the battle to receive all the damage in the first round of the game.
This glorious battle took me a big sigh, the card I could rent (Magi Necrosi) helped me a lot to get the victory, his abilities were amazing and very useful as well as Xenith Archer, his ranged attack increased the damage inflicted to the opponent since I only had melee monsters. These small decisions make the difference on the battlefield and ensure you a nice victory at the end of the day.

Farewell
I am once again happy to share with you my posts in this beautiful Hive platform, I am getting more and more familiar with the addictive and fascinating Splinterlands game, each game is a different experience where you don't know what you are going to find in the next game. I look forward to each Weekly Challenge and express to you with great excitement every detail of the game, once again I reiterate to give me your opinions and criticisms regarding my writing although personally I think I have improved a little; Without more to say, see you in the next installment.

Attached is my link for you to register.
I attach my Twitter
I attach my battle link
---
---