Social Media Challenge -Life Powe, Sun Flower.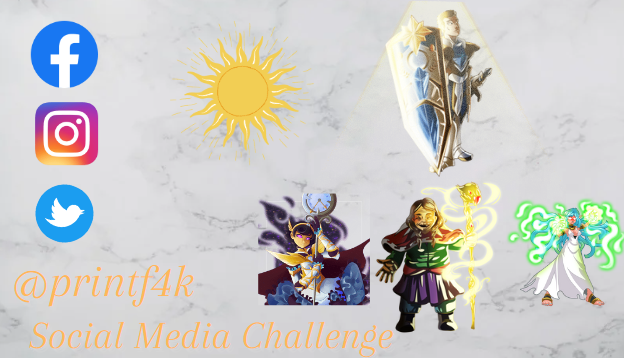 Greetings
Very good mid week my dear friends, we are just half way through the month and I must say that it has gone by very fast. This time I will post for the beautiful Hive community about the wonderful and amazing Splinterlands game. I feel more and more confident in my posts as well as every time I have to do the Weekly Challenge and it is thanks to you for allowing me to express my ideas, I am completely grateful.

Prepared for

This time I had a very good amount of mana (28) that allowed me to develop a good strategy to face a very hard battle against my rival. With the amount of mana I was able to select cards with very good life points and with different abilities that helped me win the game, plus I made a very good combination of attack: melee attack with magic attack, the result was impressive.

Strategy
My strategy was made to wear down my enemies in a direct and indirect way, attacking from any position and making their attacks in the first round go towards my first card, giving me a very good advantage for the development of the battle. I also organized my cards according to the usefulness of each of their special abilities and according to the stats they have, placing in the first line those with the highest resistance (life points) and leaving behind the "weaker" ones, so that each of my cards would have their chance to shine and bring out their full potential and do what was necessary to ensure the so precious victory at the end of the day.

Development of the battle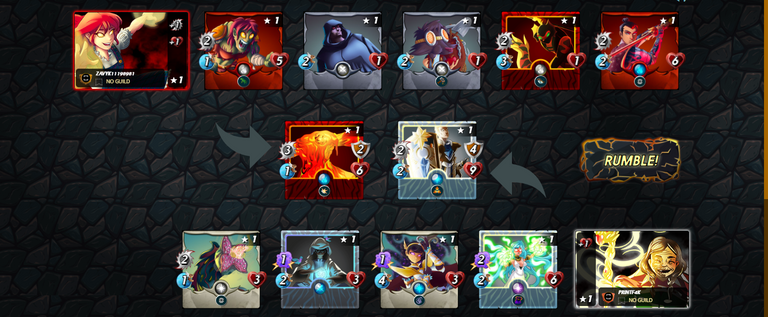 Link Battle
The first round of attack went as expected, however I expected my initial card to stand a little longer, I did not count that my opponent's summoning card gave each of his monsters 1 point of melee attack and this was what generated the rapid fall of my card. Anyway, my other cards were able to take full advantage of this sacrifice and did a lot of damage to the opponent's monsters, which produced my predicted victory.

Card and strategy information:
Our valued summoner is Mother Khala. This amazing old woman possesses a great wisdom and the years do not seem to have passed for her, she still has the energy and charisma of a young warrior. In her great staff she stores all her power of which they say that it is monstrous and that she possesses a great level that is able to grant to all her invocations 1 point of additional life, something very incredible and generous on her part.
generous of him.

Shieldbearer: This wonderful warrior is the true definition of giving everything to defend the weakest, his presence is warm and gives a sense of protection that goes beyond the physical world, his incredible stats make him a true defender of the injustice that plagues the world: He has 9 points of life, 4 points of armor, 2 points of melee attack and 2 points of speed. It is a very complete card and its unique ability makes it even more useful: All enemy monsters have to target Shieldbearer if they are able to do so.

Lunakari Mistress: The beautiful lady with her light blue hair resembles a goddess, Lunakari has very fine features and a delicate skin wrapped in an elegant white dress. Her stats are out of this world: She has 6 health points, 2 magic attack points and 2 speed points and she also has a very special ability that consists in doing double damage when she attacks an enemy that does not have melee, magic and ranged attacks.

Time Mage: This beautiful archmage possesses a great hidden power that has only been seen in a few battles, her presence emanates a dark and heavy aura and envelops her beautiful and dazzling white armor. His stats are impressive: 3 health points, 1 point of magic damage and 4 points of speed that make her imperceptible, she also has an ability which reduces the speed of all enemies, making them slower and less able to inflict repetitive damage during attack rounds.

Elven Mystic: This beautiful sorceress is able to see everything in the battlefield, she is able to foresee enemy movements with incredible precision through her crystal ball, she has a large white robe that covers the part of her eyes making her enigmatic. Her statistics are as follows: She possesses 3 points of life, 1 point of magic damage and 2 points of speed. Although he does not have a unique ability, his stats reward him and his position within the strategy is very convenient and he was able to give his all to help achieve victory.

Stitch Leech: This terrifying plant is difficult to get it out of the ground once planted, it has a grotesque appearance and is a very large plant where from its mouth comes out a pestilence that is capable of destroying any enemy. Its statistics are very interesting: It has 3 points of life, 2 points of melee attack and 1 point of speed and as if that were not enough, it has a special ability that consists of targeting the last enemy instead of the first enemy.

Synthesis
Although I got the victory I did not expect the summoner to give his allies melee attack points which produced the rapid fall of my first card, despite this little mishap my cards behaved as expected and their great stats and unique abilities was what counteracted the enemy damage. The constant weakening and attrition suffered by my monsters managed to break my opponent little by little to the point of reducing each of his monsters to nothing, the combination of melee attack and magic damage really worked very well and I hope to repeat this strategy later on.

Farewell
To all the community and the incredible players of Splinterlands I send you a big hug, once again I feel proud to represent and be within this beautiful platform that has given me the opportunity to make my way every week and improve in every post I've made, thanks to you is that I have been able to evolve in every aspect of creating content. With nothing more to add, I say goodbye and have a nice day and a good week.
Attached is my link for you to register.
I attach my Twitter post.
---
---