Social Media Challenge - Life prevails over all destruction.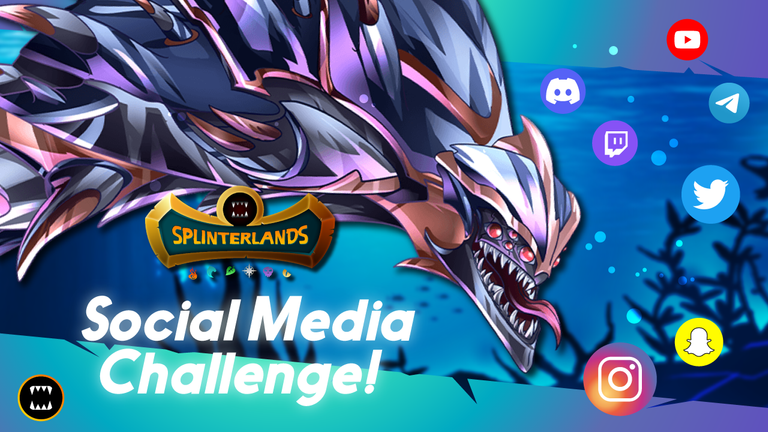 Greetings
A big greeting at the beginning of this week my friends of Hive, I must apologize for not posting anything last week, some things got complicated and I was very short of time, however, I will give all my effort for the following publications and make up for the time I was absent. That said, let's start with a fabulous analysis of an epic battle in the world of Splinterlands.

Prepared for

We will now review the initial conditions proposed by the game:
Standard: the rules are not modified during the game.

Mana: 99 mana points available to spend on summoner and battle monsters.
We can see that the amount of mana is the maximum that the game can offer for a game, which gives both my opponent and me a wide margin to play with our best cards without fear of being short of mana. This also implies that we must have a strategy based on defense and attack that is more complicated than normal to face, that is, it should not be easy to defeat our respective rivals.


Strategy
By visualizing very well the game history of my opponent I could see that lately he had used many monsters with a lot of physical damage (melee damage and ranged damage) and knowing the initial conditions of the game I knew that he was not going to save anything, that he was going to show the full potential of his cards in a very direct strategy. Having a clear idea of what my opponent can use in combat, so I wanted to specialize my attack with magic attack monsters along with support monsters to have more support in the battle.

Development of the battle

Link Battle
The battle lasted 4 long rounds of attack, at first glance I saw that my opponent had a lot of melee and ranged attack, as I had predicted when I studied his record. However, I could notice a very serious error in his monsters and that is that 4 of his monsters had the ability Sneak, which allows you to attack the monsters that are in the last position, I consider it a very good ability but carrying 4 cards with that same ability I think deprives you of many other things you can do to win a battle.
In the first round of attack there were several attack exchanges where my cards managed to get rid of two rival monsters, in the next round they were able to finish off two of my cards but I was able to defeat two monsters and also lower several life points to the enemy monsters. In the last two rounds I finished with the life of the last monsters of my enemy and I could take the victory.

Card and strategy information: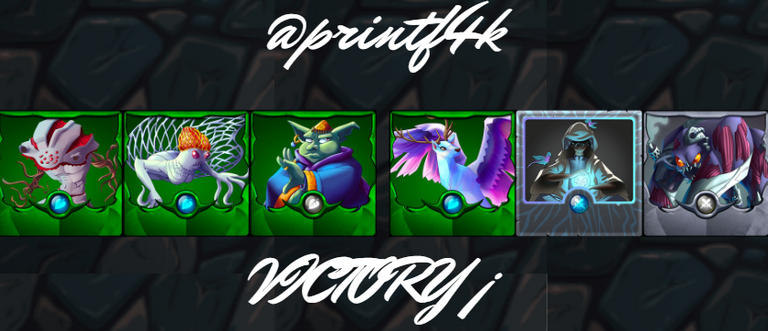 The summoner is Obsidean, this great woman makes all her allies have a magical attack increase of 1 extra point. She is a summoner that I know very well and I know the scope she can have in the development of a game, as her main ability is the magic attack, she can combine very well with monsters that are support to prolong the life of the monster that is in the first position, at least that combination has worked in an incredible way on more than one occasion.

Mycelic Infantry is the one who leads the allied attack group, this incredible monster can be considered as a tank, he has very good stats to prove it: 7 health points, 3 armor points, 3 melee attack points and 1 speed point. He has an ability that somehow helps him to resist a little more in the first line of attack, this ability is Shield that allows him to reduce the damage of those melee and ranged attacks of the enemies. It largely resisted because my enemy didn't have so many monsters that attack Mycelic directly.

Mycelic Slipspawn is behind Mycelic Infantry. This great card acts as bait to make his teammates do as much damage to the enemy as possible. The ability of this monster are the following: 10 health points, 2 magic attack points and 2 speed points.Slipspawn's ability makes all enemy attacks go straight to him, if they can, of course. It is for this reason that I said it is a card that sacrifices itself for others and acts as a bait.

Goblin Psychic is in the third position and its purpose on the battlefield besides damaging enemies is to be a support card, thanks to its ability that allows it to restore a portion of life points to the monster that is in the first position. Goblin's stats are as follows: 3 life points, 2 magic attack points and 1 speed point, not bad stats for a support card.

In the fourth position we have Regal Peryton, is a card that I know very well since I have used it on numerous occasions and has never let me down, his incredible ability allows him to increase the chances of dodging melee attacks and ranged attacks of his enemies who do not have this same ability. Ragal's stats are as follows: 6 health points, 1 magic attack point and 5 speed points, he is a very complete card for his ability and boosted with Obsidean he is a machine.

Eleven Mistyc is in the penultimate position, it is a card without splinter that I have used few times and I usually choose them as a complement when I go with magic attack monsters, Eleven's stats are as follows: 3 attack points, 1 magic attack point and 2 speed points. It is worth mentioning that this card does not have an ability like the others.

In the last position we have Disintegrator, like Eleven, this card does not have a Splinter. However, in my opinion it is a slightly better card than Eleven for the simple fact of having an ability that allows it to reduce the damage of the melee attacks of the enemies. The stats of this monster are as follows: 2 points of armor, 5 points of life, 2 points of melee attack and 1 point of speed.

Synthesis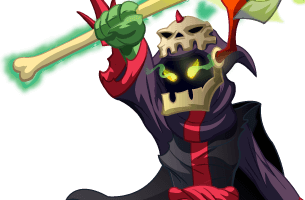 I think that the battle was defined since I noticed that my opponent had 4 cards with the Sneak ability, although it is true that you finish with the cards that are in the last position leaving without support your card that is in the first position. Thanks to that carelessness of my rival I was able to get ahead in the game causing the first and second casualty of my rival, also highlighting the skills of my monsters that did everything possible to take the victory that belonged to them. Whenever the game gives us an excessively large amount of mana we must take advantage of it to know under what conditions a card is really strong and when they are weak, I really like when the amount of mana is very high.

Farewell
With this analysis I say goodbye to all the people belonging to Hive, later in the week I will be back on this platform to bring you a new publication regarding the weekly challenge that awaits us Splinterlands. I am anxious to write a new story about the epic battles of this great game, with nothing more to add, I say goodbye and see you next time.
Attached is my link for you to register.
I attach my Twitter post.
---
---