weekly Challenge - Heart Savage.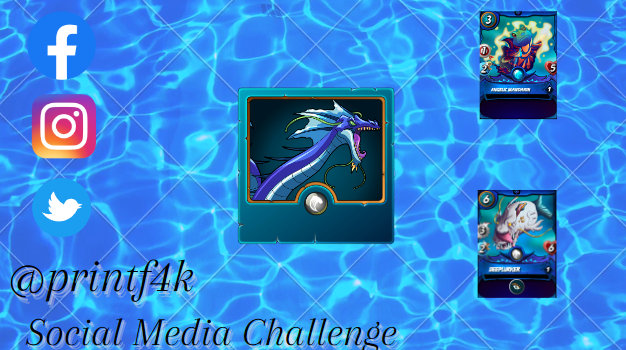 Greetings
Have a great day dear friends, in this new opportunity I come to bring you a new publication about a wonderful battle played in Splinterlands. In this battle I will use again one of the Splinters that have been one of my favorites but with a slight change compared to the others, I will be playing with a new card that has fascinated me since the first moment I saw it in the store, it has very good stats and a very good ability that is very useful for long battles. Let's see how we did in battle, folks.

Prepared for

Let's review how the battle was planned:
Standard: rules are not modified on the battlefield.

Amount of mana: 22 points of mana available to spend on summoner and monsters.
The amount of mana to spend is tight, with a good summoner and a good card you can be short of mana. So you have to think very well how and what strategy you want to do, so it is up to you to take risks. Whether to spend a lot of mana on one or two extremely good cards and the rest on regular cards or choose cards with which you can defend yourself together with support monsters, there are infinite combinations.

Strategy
When studying my enemy I realized that lately he has been playing in a very aggressive way, with a lot of damage in the front line and with a few attrition monsters in the back of the formation, cards that I know very well how they are and the damage they can cause if one manages to make a mediocre strategy. For this reason I chose a monster with the Opportunity ability with enough life points and damage to deal with this type of attack, in addition to this monster I had the opportunity to summon cards with good life points and attack to resist as much as possible and thus achieve victory at the end of the day.

Development of the battle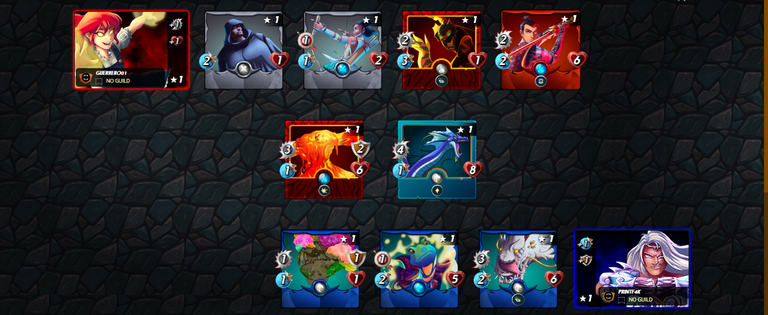 Link Battle
The battle lasted a long 7 attack rounds where the opponent started with a very notorious offensive, for my luck I had armor points that somehow or another minimized the enemy attacks, this helped me to endure longer the incessant attacks not so much to my monster that was in the first position but to those who were in the final part since my opponent had two monsters with the ability Sneak and Opportunity, we know beforehand how annoying they can be these types of monsters with this kind of ability. Had I not had enough protection I would have easily lost the battle in less attack rounds.

Card and strategy information:
Kelya Frendul is our summoner, I have always had a great appreciation for this summoner, it is a summoner that serves for every type of situation, you can say that it is very versatile. His role in the battlefield can be summarized in the fact that he is able to give an extra point of speed to all his allied monsters, as well as increasing the armor by an extra point. These two features allowed me to hold a little more in the attack rounds and be faster in terms of attack.

Sea Monster is a new card that I bought recently in the game, I really loved it and although it seems simple in terms of design it still has that elegance and details that Splinterlands users like. The function of Sea Monster in this game is to hold as much as possible in each round of attack, I can not consider it a "tank" type card because it does not have a type of armor even though it has a good amount of life points, I would put this monster in second position in another opportunity but as the summoner provides a point of armor it fits like a glove. The stats of this monster are: 8 health points, 4 melee attack points and 1 speed point, it also has an ability that allows it to restore certain health points for each round that passes.

Deeplurker is in second position in the attack system, I must say that his performance was one of the best I've seen, he had an excellent game and eliminated several enemy monsters throughout the battle, Deeplurker is one of the best cards I've had in the game and is one of the best of the Water Splinter. The stats for this card are 6 life points, 3 melee attack points, and 2 speed points. He has an ability that allows him to attack from any position to enemies that have few health points, without a doubt this ability made him abuse my opponent.

Angelic Mandarin is after Deeplurker, I started using this card recently, I think after the Weekly Challenge a few weeks ago and from that moment I loved it and it is a very useful monster that gives the allied attack a freshness because of its ranged attack. Angelic's stats are as follows: 5 life points, 1 ranged attack point and 2 speed points, adding the stats offered by Kelya Frendul made Angelic survive more rounds and help as much as possible to wear down the enemy on the front line.

In the last position we have Hardy Stonefish, this monster serves as support for the monsters in the first positions, as they allow him to give the last coup de grace to the enemies. The stats of this monster are as follows:1 point of armor, 1 point of life, 1 point of melee attack and 1 point of speed. Thanks to the extra point of armor Hardy was able to resist two withering attacks of his enemies, and although it seems little gave us time to take advantage. Hardy's main enemies are the monsters that have the Sneak and Opportunity abilities.

Synthesis
From the first round of attack we saw that each of us suffered losses of monsters, we can say that the monsters eliminated in the first instance were the weakest. Both my rival and I had truly incredible monsters, with good life points and good attack points, what meant my victory was the incredible performance of two monsters such as DeepLurker and Sea Monster (with the help of the other monsters of my team, of course), their great damage and skill points marked the end of my rival's step.

Farewell
That's all for today, fellow Hive members. In the next hours or days I will be back with you bringing a new publication about the Splinterlands Weekly Challenge. I appreciate every day and for every publication that I am accepted in this great platform, I also want to emphasize that I am happy for the new cards that I recently acquired, thanks for the advice and for making me renew my cards, it really feels a change in every game I play and I hope to continue buying new cards in the course of my stay within Hive. With nothing more to say, see you in the next installment, greetings and a big hug.
Attached is my link for you to register.
I attach my Twitter post.
---
---