Weekly Challenge- Tenyii Striker.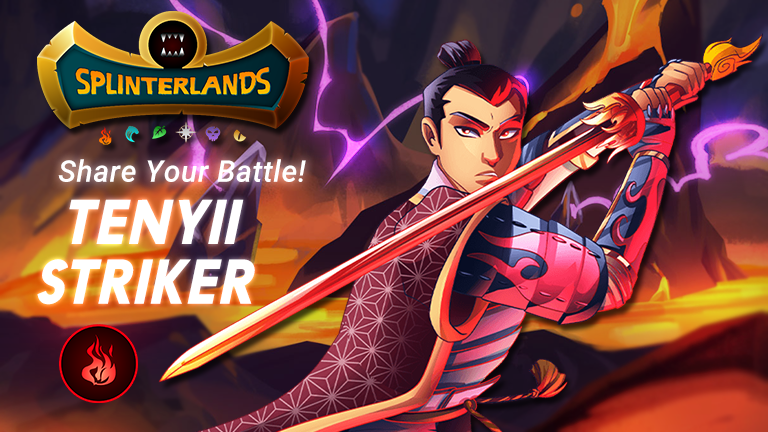 Best regards, my friends
Welcome back my dear colleagues, this time I come to bring you my analysis on the Weekly Challenge offered by the Splinterlands game, for this challenge we will be concentrating on a card of the Splinter Fire, we speak particularly of Tenyii Striker, this card is one of the most versatile of this Splinter and I am pleased to know that I will play with it as it is one of my favorites. Before I start I want to thank all the people present in Hive, I send them a big hug; Now yes, let's start with the combat!

Challenge Card: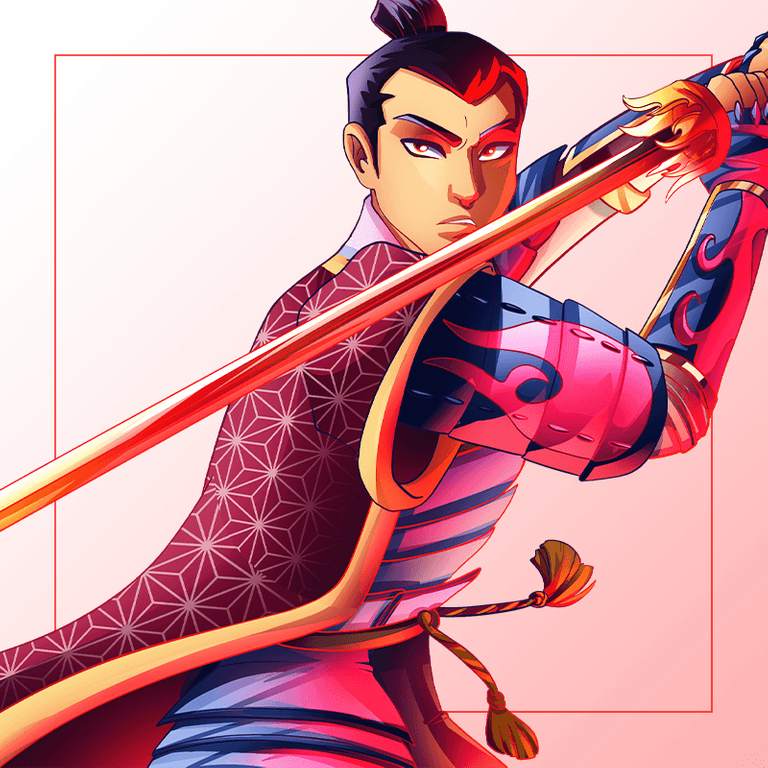 This time the card of the Weekly Challenge is nothing more and nothing less than Tenyii Striker, this monster is one of those cards that can be exploited by the peculiar ability it has. It can give its full potential if placed strategically in the third, fourth or fifth position on the battlefield, it is not an easy card to take out of combat due to its great stats and in combination with good cards Tenyii can achieve wonders. Without a doubt this card is one of my favorites and it is a fixed monster in almost all my games when I play with the Fire Splinter.

Prepared:

For this battle we are granted two conditions:
Standard: The rules are not modified.
Amount of mana: 25 points of mana available to spend on monsters.
The amount of mana for the development of the game allows me to build a strategy with very little range of error, so I will have the luxury of taking very good cards to ensure my victory, so I chose 5 cards to represent my summoner: Tarsa. Of these 5 cards I mentioned there is a combination of physical attacks (melee and ranged).

Strategy:
Being the Splinterlands Weekly Challenge there is not much to analyze from the games played by the opponent because the essence of the challenge is to form a strategy based on the card that the game gives, in this case, Tenyii Striker is the card to shine in this battle, being a melee attack monster I did not hesitate to combine it with Tarsa, a summoner that offers increase in allied stats. In turn, I surrounded Tenyii with monsters of the same attack and ranged attack, I guess my opponent will also make a similar strategy but it all comes down to the positioning of the cards.

DevelopmentFarewell
The battle lasted 5 rounds of attack that went rather quickly, the constant siege of my cards made my opponent was weakening at every step he managed to take. I was quickly causing casualties to my enemy while he was unable to inflict enough damage to bring down one of my cards. It also helped a lot to have a support card that was restoring part of the armor to my monster in the first position, for this and other reasons I consider that I took the victory.

Strategy information:

Tarsa is our summoner, is a card that can be used mostly to exploit the direct attack of the monsters, is one of the most used summoners in the Fire Splinter and its main attribute is to provide all all allied monsters 1 point of melee attack and 1 point of life, so they can do more damage to enemies and resist more attacks and therefore not be knocked down so easily.

Living Lava is at the front of the attack and is a very good option to lead the other monsters because it can be considered a tank, has armor and good life points that we will review below:
-Life points: 6 points.
-Armor points: 2 points.
-Attack points: 3 melee attack points.
-Speed points: 1 point.
He also has an ability that allows him to reduce the damage of physical attacks (melee and ranged).
Scavo Hireling is behind his companion Living Lava as a support, this little monster is very useful for those cards that have armor in their stats, because with its unique ability it allows you to restore some armor points of the monster that has received the most damage. The stats of this monster are as follows:
-Life points: 1 point.
-Armor points: 0 points.
-Attack points: 0 points.
-Speed points: 2 points.
Serpentine Spy is one of those cards that are increasingly wearing down the enemies by the incredible damage it presents, it is characterized by being fast and stealthy in the assassinations in which it takes part. His great ability allows him to attack enemies from any position and focuses on those who do not have many life points, for this reason Serpentine Spy is a very good idea to take it to the battlefield, its statistics are as follows:
-Life points: 1 point.
-Armor points: 0 points.
-Attack points: 2 melee attack points.
-Speed points: 3 points.
Lava Spider is in the penultimate position, this incredible monster stands out for attacking from long distances and for being very difficult to attack due to the fact that it hides in places very difficult to access. Its ability is one of those that resembles at some point to the ability of Serpentine Spy and consists of targeting enemies that do not have some kind of attack, that have ranged attack or magic attack that are not in the first position, it is a selective monster. Its statistics:
-Life points: 4 points.
-Armor points: 0 points.
-Attack points: 1 ranged attack point.
-Speed points: 2 points.
Who closes the attack is Tenyii Striker, the card of the challenge that can be used in multiple occasions and will have a spectacular performance, his constant attrition to the enemies is his trademark and it is very difficult to eliminate him quickly unless he is unpositioned. His ability allows him to attack the last enemy instead of attacking the first, which he does with ease because of his damage. His stats are:
-Life points: 4 points.
-Armor points: 0 points.
-Attack points: 2 melee attack points.
-Speed points: 2 points.

Synthesis:
When I saw that my enemy put Tenyii Striker in the first position I knew I could win the game, it was a big mistake to put that card in that position because you are not letting him develop and get the best out of himself, you are repressing his potential and not letting him increase his ability to eliminate monsters, for my part, by putting him in the last position you can see that he is wearing down his opponents little by little until he annihilates the last survivor left standing. For this reason, among others, I managed to win this great challenge.

Good Bye:
This has been all for this time, I am fascinated and excited to be part once again in the weekly challenge that offers us the spectacular game Splinterlands. Next time I will come back to analyze a new game. See you soon, thanks for everything!

Attached is my link for you to register.
I attach my Twitter
I attach my battle link
---
---