LVL Pool Rewards expanding our reach!
LVL Pool Rewards expanding our reach
Recently "someone" still remaining anonymous from the PSYBER X community setup pool rewards on the DEC:SPS liquidity pool.
Those providing liquidity to these pairs will now receive LVL tokens as small rewards. This will appear in their wallet and further increase the exposure that LVL token will have, and increase the chances of them researching our project and joining the community.
Since this was implemented we have added rewards to many other liquidity pools piggybacking on the great idea of our anonymous Good Samaritan.
You can find most of the pools we have added rewards to on Tribaldex, but we'll list them so you don't have to go searching.
Swap.Hive:DEC
Swap.Hive:SPS
SPS:SPT
BEE:Swap.Wax
BEE:Swap.BUSD
BEE:SWAP.HBD
Pizza:DEC
CENT:LEO
Swap.Hive:ONEUP
Swap.HBD:CENT
CENT:POB
ONEUP:SPT
Sports:swap.hive
Again these are to gain exposure for the LVL token and further the reach of others discovering our project and finding out about our fundamentals of the overall project of PSYBER X.
Overall these are small amounts that are being rewarded as to not upset the LVL market.
This is a small price to pay for decent marketing and overall marketing exposure for the game we are continuing to build.
Make sure to check out @dynamicrypto social media challenges!!
https://peakd.com/psyberx/@dynamicrypto/psyber-x-social-media-challenge-joins-splinterlands-and-oneup-current-challenges
He even made a cool graphic with our poster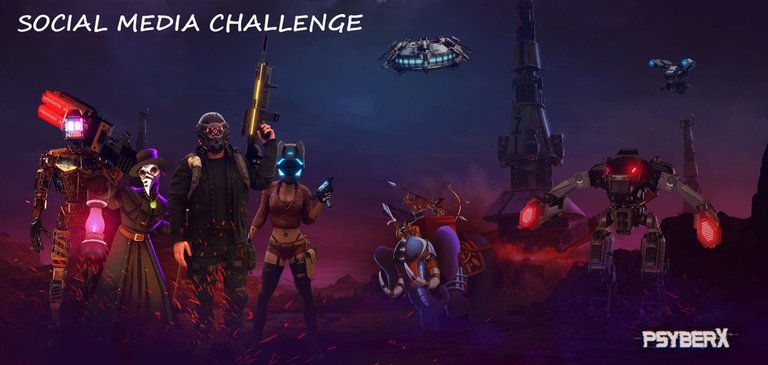 If you missed our last post about the NFT drop on November 10th check it out here:
https://peakd.com/oneup/@psyberx/founder-edition-2-and-3-coming-to-an-end-soon-and-a-social-media-challenge
Also let us know if there are any pools the community would like us to add to that we missed!
Thank you everyone that has supported us so far!
Make sure to join us on discord for the most up to date information:
---
---