THE DJINN INSIDE SPLINTERLANDS [ENG/ESP] LOS DJINN DENTRO DE SPLINTERLANDS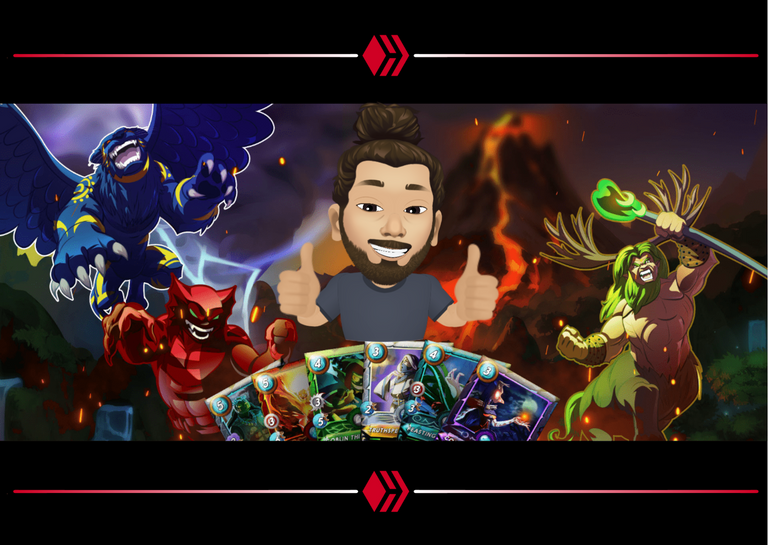 I recently started with a new dynamic to learn a little more about the entire universe of splinterlands and the story that this great game tells us in its letters; in this dynamic I am getting to know the families of beings that live within splinterlands, on the previous occasion I shared

LOS VENARI

, this time I brought a bit of the history of the "DJINN" some very powerful beings who have had to endure many injustices to be able to live peacefully inside their splinters.

Hace poco comencé con una nueva dinámica para conocer un poco mas todo el universo de splinterlands y la historia que nos narra en sus cartas este grandioso juego; en esta dinámica estoy conociendo las familias de seres que viven dentro de splinterlands, en la anterior ocasión compartí a

LOS VENARI

, en esta oportunidad traje un poco de la historia de los "DJINN" unos seres muy poderosos que han tenido que soportar muchas injusticias para poder vivir tranquilos dentro de sus splinters.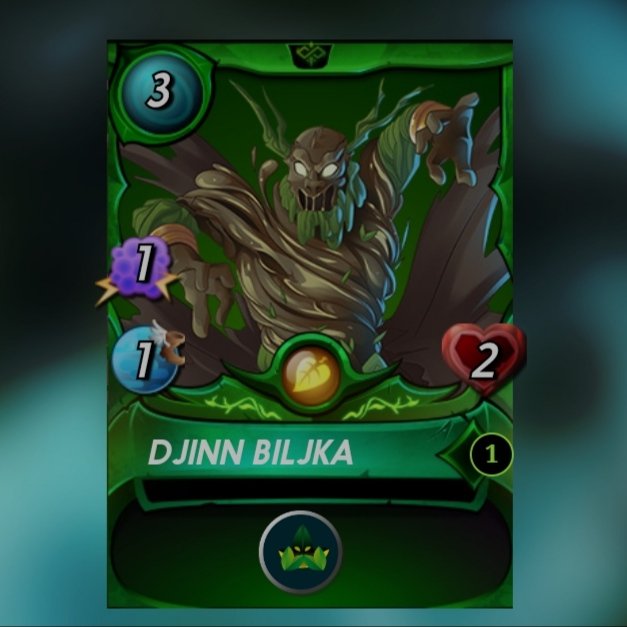 ---
DJINN BILJKA
---
Dawn of the Djinn 1 of 4 - The Thousand Year War before the Splintering never really ended. Dozens of Belludae (ancient demons of war) officers had been taken prisoner, but their fates had yet to be decided. Belludae sorcerers of such a high degree were notoriously difficult to kill, so other plans had to be made.

El amanecer de los djinn 1 de 4 - La Guerra de los Mil Años antes de la Fragmentación nunca terminó realmente. Docenas de oficiales Belludae (antiguos demonios de la guerra) habían sido hechos prisioneros, pero sus destinos aún no se habían decidido. Los hechiceros Belludae de tan alto grado eran notoriamente difíciles de matar, por lo que había que hacer otros planes.
---
The most powerful and oldest of the Belludae could not simply be killed by any physical means. They are able to change forms and escape nearly any situation. Just a few years before the Splintering, an Efreet magical discovery made it possible for Belludae souls to be captured from unmoving Belludae bodies. The trick is to trap the Demon in an item of value. Some of the Belludae elite were placed in jeweled flasks, while others were locked in chests. They were trapped in lamps, vases, ornate boxes and urns. All these objects, once sealed, were placed in a secure vault underground, and a few weeks later, the Splintering happened. A massive schism split the vault into pieces, warping and dividing the land and carrying the Belludae soul containers to different locations. There the containers rested for nearly 900 years.

El más poderoso y antiguo de los Belludae no podía ser asesinado simplemente por ningún medio físico. Son capaces de cambiar de forma y escapar de casi cualquier situación. Solo unos años antes del Astillado, un descubrimiento mágico de Efreet hizo posible que las almas de Belludae fueran capturadas de cuerpos inmóviles de Belludae. El truco consiste en atrapar al Demonio en un objeto de valor. Algunos miembros de la élite Belludae fueron colocados en frascos enjoyados, mientras que otros fueron encerrados en cofres. Estaban atrapados en lámparas, jarrones, cajas ornamentadas y urnas. Todos estos objetos, una vez sellados, se colocaron en una bóveda subterránea segura y, unas semanas más tarde, ocurrió el Astillado. Un cisma masivo partió la bóveda en pedazos, deformando y dividiendo la tierra y llevando los contenedores de almas Belludae a diferentes lugares. Allí reposaron los contenedores durante casi 900 años.
---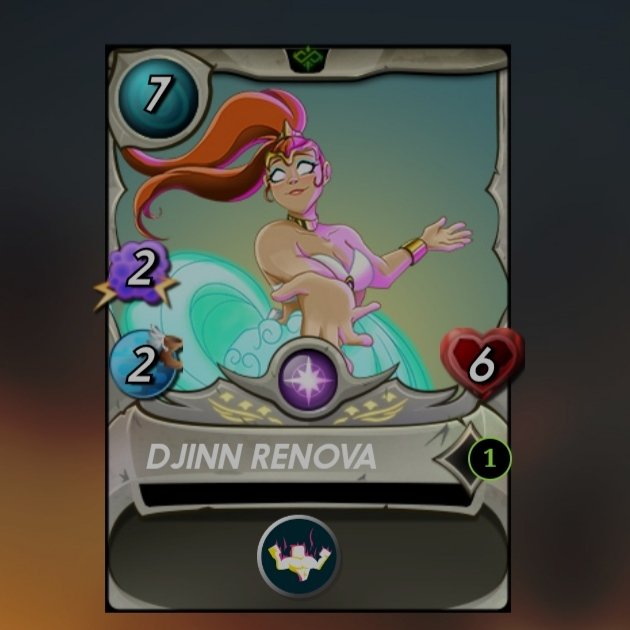 ---
DJINN RENOVA
---
Dawn of the Djinn 2 of 4 - Once the fifth mana gate was unlocked, the Planet knew that Mount Praetorus in the Splinterlands must be protected. The sixth and final mana gate was now all that prevented the dreaded Chaos Legion from conquering the world. The Planet had some tricks up its sleeve and plenty of magic of its own, so it took action. Calling to each of the trapped Belludae souls throughout the world, the Planet extended them an offer of freedom. None of them refused the offer.

El amanecer de los djinn 2 de 4: una vez que se desbloqueó la quinta puerta de maná, el Planeta supo que el Monte Praetorus en Splinterlands debía ser protegido. La sexta y última puerta de maná era ahora todo lo que impedía que la temida Legión del Caos conquistara el mundo. The Planet tenía algunos trucos bajo la manga y mucha magia propia, por lo que tomó medidas. Llamando a cada una de las almas Belludae atrapadas en todo el mundo, el Planeta les extendió una oferta de libertad. Ninguno de ellos rechazó la oferta.
---
The Planet used its delicate but powerful forces to destroy each enchanted vessel that contained the trapped Belludae souls. Then as they were going free, the Planet ensnared each of them into a new type of confinement. They were each trapped by one of the magical elements, unable to change physical forms or leave the territory of their element. With each of the Belludae a deal was struck. They would henceforth be called Djinn, and their service would be complete once the Planet was free of destruction at the hands of the Chaos Legion.

El Planeta usó sus delicadas pero poderosas fuerzas para destruir cada recipiente encantado que contenía las almas atrapadas de Belludae. Luego, mientras salían libres, el Planeta atrapó a cada uno de ellos en un nuevo tipo de confinamiento. Cada uno de ellos estaba atrapado por uno de los elementos mágicos, incapaces de cambiar de forma física o abandonar el territorio de su elemento. Con cada uno de los Belludae se llegó a un acuerdo. De ahora en adelante serían llamados Djinn, y su servicio estaría completo una vez que el Planeta estuviera libre de destrucción a manos de la Legión del Caos.
---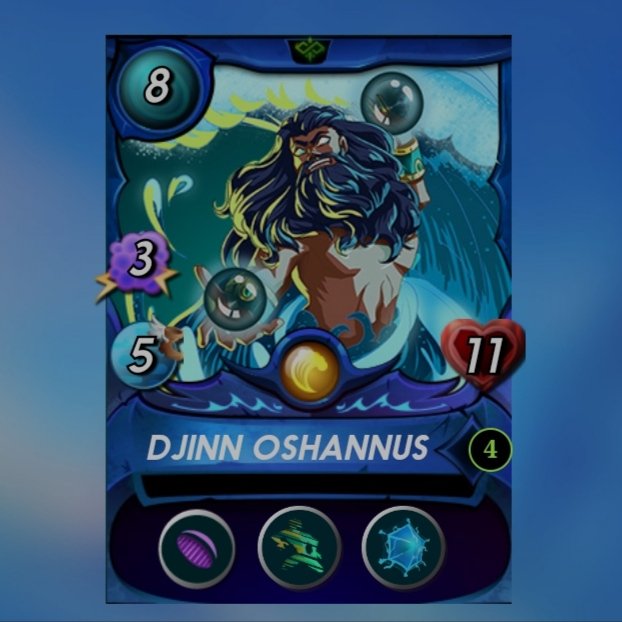 ---
DJINN OSHANNUS
---
Dawn of the Djinn 3 of 4 - The Djinn are angry at the way they were tricked by the Planet, but also appreciative that they can now enjoy this limited freedom, each trapped by natural forces. The Djinn possess powerful ancient magic of their own, which is now charged into the force of one element for each of them. The ancient demons of war are an awkward bunch to be chosen as a planetary defensive force, but they are also impressively capable of the job. As long as they are bound by the Planet, they will do its bidding. Whatever their would-be choices and allegiances, they will fight against the Chaos Legion to protect the sixth mana gate.

El amanecer de los djinn 3 de 4: los Djinn están enojados por la forma en que fueron engañados por el Planeta, pero también aprecian que ahora puedan disfrutar de esta libertad limitada, cada uno atrapado por las fuerzas naturales. Los Djinn poseen una poderosa magia antigua propia, que ahora se carga en la fuerza de un elemento para cada uno de ellos. Los antiguos demonios de la guerra son un grupo incómodo para ser elegidos como una fuerza defensiva planetaria, pero también tienen una capacidad impresionante para el trabajo. Mientras estén atados por el Planeta, cumplirán sus órdenes. Cualesquiera que sean sus posibles elecciones y lealtades, lucharán contra la Legión del Caos para proteger la sexta puerta de maná.
---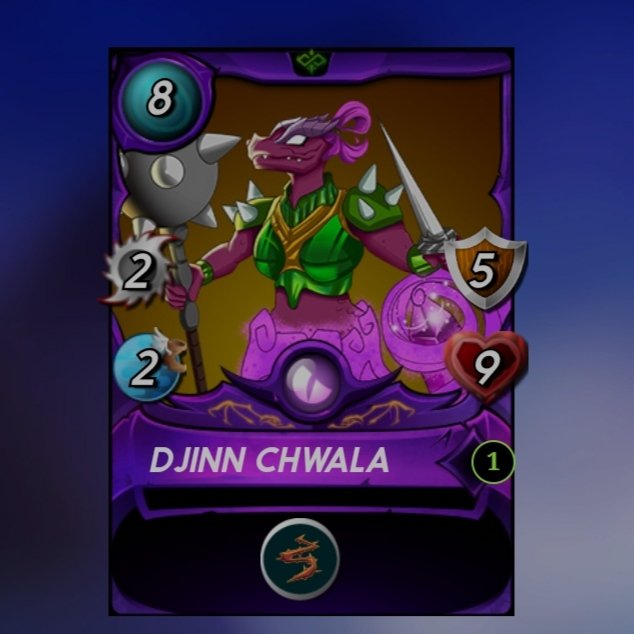 ---
DJINN CHWALA
---
Dawn of the Djinn 4 of 4 - Only a short time after the Djinn were released, most of them were already seeing their elemental captivity as a blessing rather than a curse. They had far greater power than before, now that they were working with the force of the Planet at their backs. Pursuit of power was at the core of Belludae beliefs, so most of them would make small sacrifices for greater power.

El amanecer de los djinn 4 de 4: poco tiempo después de que los Djinn fueran liberados, la mayoría de ellos ya veían su cautiverio elemental como una bendición en lugar de una maldición. Tenían un poder mucho mayor que antes, ahora que estaban trabajando con la fuerza del Planeta a sus espaldas. La búsqueda del poder estaba en el centro de las creencias de los Belludae, por lo que la mayoría de ellos harían pequeños sacrificios por un mayor poder.
---
The Djinn have not all found one another, and it will be difficult for them to do so since many of them reside in different elements. This is why several of the Djinn have submitted themselves as cards in the Moxian games, so they can connect with their lost brethren. Gradually they will come together to Praetoria as part of the last lines of defense, channeling the power of the Planet into an impenetrable wall to hold back the Chaos Legion.

No todos los Djinn se han encontrado, y les será difícil hacerlo ya que muchos de ellos residen en diferentes elementos. Es por eso que varios de los Djinn se han presentado como cartas en los juegos de Moxian, para que puedan conectarse con sus hermanos perdidos. Gradualmente se unirán a Praetoria como parte de las últimas líneas de defensa, canalizando el poder del Planeta en un muro impenetrable para contener a la Legión del Caos.
---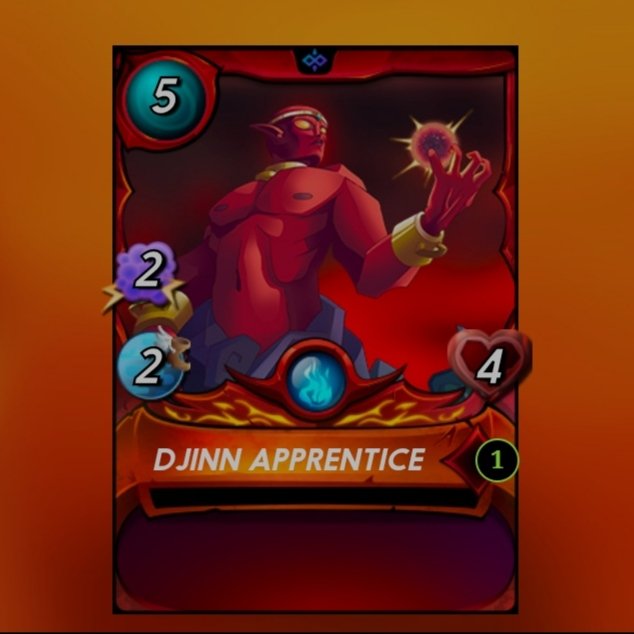 ---
DJINN APPRENTICE
---
Djinn Apprentices prefer to study under more powerful djinn to hone their magic. While not as strong or cunning as others of their kin, they are just as dangerous to untrained warriors.

Los aprendices de djinn prefieren estudiar con djinn más poderosos para perfeccionar su magia. Si bien no son tan fuertes o astutos como otros de su especie, son igual de peligrosos para los guerreros no entrenados.
---
When the Chaos Legion arrived, it had a diverse effect on the djinn. Not a unified race by any means, some chose to align with the Chaos Legion, some chose to defend against it, and others chose to go their own path and leave it all behind. Djinn Apprentices chose to align themselves with Djinn Inferni, believing in his mission and his vision.

Cuando llegó la Legión del Caos, tuvo un efecto diverso en los djinn. No es una raza unificada de ninguna manera, algunos optaron por alinearse con la Legión del Caos, algunos optaron por defenderse de ella y otros optaron por seguir su propio camino y dejarlo todo atrás. Djinn Apprentices eligió alinearse con Djinn Inferni, creyendo en su misión y su visión.
---

---
The Djinn Apprentices kneeled before the powerful form of Djinn Inferni. The heat of the volcano was immense, but it did not affect these beings of fire and magic.

Los Djinn Apprentices se arrodillaron ante la poderosa forma de Djinn Inferni. El calor del volcán era inmenso, pero no afectó a estos seres de fuego y magia.
---
Djinn Inferni looked across the row. "Djinn Muriat has betrayed our kind. He has aligned himself with the foul Chaos Legion. He has corrupted the name 'djinn' and all it stands for. We will no longer sit in silence as his darkness spreads. It will take all of us to face him. Will you join me?"

Djinn Inferni miró al otro lado de la fila. "Djinn Muriat ha traicionado a nuestra especie. Se ha alineado con la inmunda Legión del Caos. Ha corrompido el nombre 'djinn' y todo lo que representa. Ya no nos sentaremos en silencio mientras su oscuridad se extiende. Nos tomará a todos enfrentarlo. ¿Me acompañaras?"
---
"We will!" the Djinn Apprentices exclaimed as one.

"¡Lo haremos!" los Djinn Apprentices exclamaron como uno solo.
---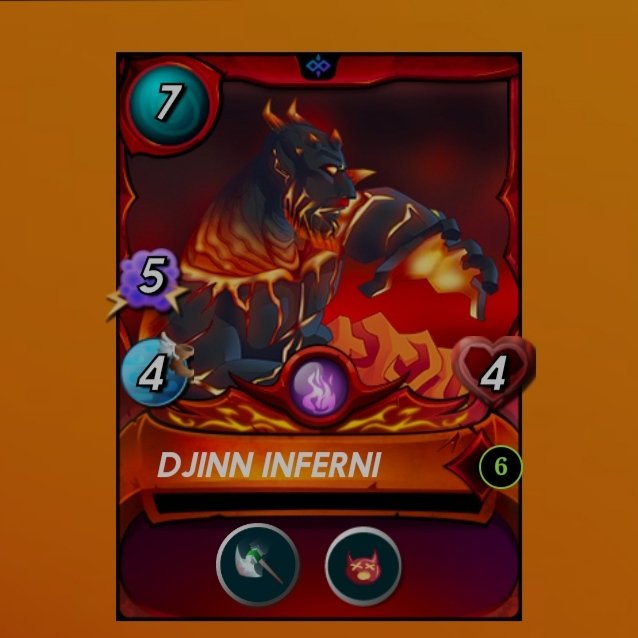 ---
DJINN INFERNI
---
Djinn Inferni is the eldest of the ancient wardens of fire, spirits of flame that dwell in the deepest rivers of stone. Second only to Lord Janai himself, he is prideful and cunning, but fiercely loyal to his master. With the opening of the rift and the betrayal of Djinn Muriat he has taken up a blood oath of vengeance against the chaos exercitus, rising to the surface to lay waste to the enemies of stone and fire.

Djinn Inferni es el mayor de los antiguos guardianes del fuego, espíritus de llamas que moran en los ríos más profundos de piedra. Solo superado por el propio Lord Janai, es orgulloso y astuto, pero ferozmente leal a su amo. Con la apertura de la grieta y la traición de Djinn Muriat, ha hecho un juramento de sangre de venganza contra el caos exercitus, saliendo a la superficie para arrasar con los enemigos de piedra y fuego.
---

---
The singing stones had whispered at their coming, the Great Legion, agents of chaos from beyond the void but Lord Jannah had not listened. When the rift finally tore open the world the veins of the mother called to me, her vermarine song of quartz and ash a lament to the war above. I rise to the surface now, enduring the stink of water and flesh for a chance to turn the odds in our favor. With fire and death we will restore these lands and end her lament. On the mother's heart I swear it.

Las piedras cantoras habían susurrado a su llegada, la Gran Legión, agentes del caos de más allá del vacío, pero Lord Jannah no los había escuchado. Cuando la grieta finalmente abrió el mundo, las venas de la madre me llamaron, su canto verdemar de cuarzo y ceniza fue un lamento por la guerra de arriba. Salgo a la superficie ahora, soportando el hedor del agua y la carne por la oportunidad de cambiar las probabilidades a nuestro favor. Con fuego y muerte restauraremos estas tierras y acabaremos con su lamento. Por el corazón de madre lo juro.
---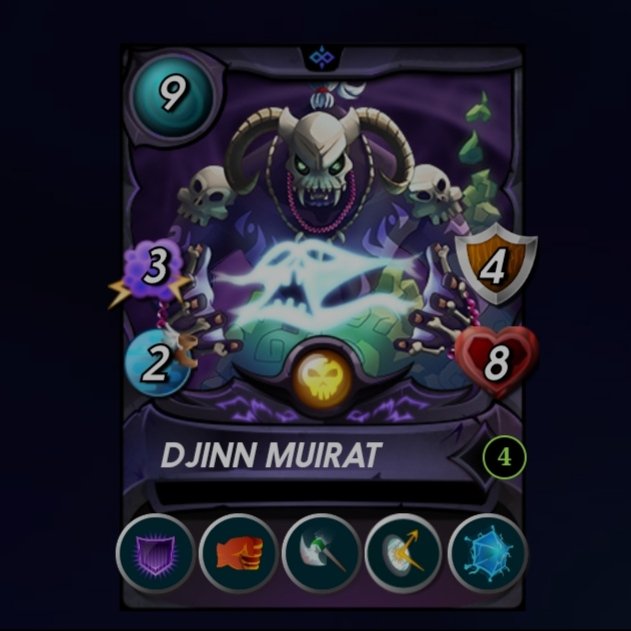 ---
DJINN MUIRAT
---
All rumors whispered in the darkest corners guess at where Djinn Muriat came from. Some say a union with death and darkness manifested him. Some say an underground rift opened and he clawed his way through. And others say a great dragon of darkness breathed its necrotic breath into a sacred temple, and the mixing of mana created Djinn Muriat.

Todos los rumores susurrados en los rincones más oscuros adivinan de dónde vino Djinn Muriat. Algunos dicen que lo manifestó una unión con la muerte y la oscuridad. Algunos dicen que se abrió una grieta subterránea y él se abrió camino. Y otros dicen que un gran dragón de la oscuridad exhaló su aliento necrótico en un templo sagrado, y la mezcla de maná creó a Djinn Muriat.
---
The Djinn rules deep underneath Mortis, seated on a throne of skulls within his home, the Palace of Bone. He has hundreds of servants in his command, and even more people under his influence.

El Djinn gobierna en las profundidades de Mortis, sentado en un trono de calaveras dentro de su hogar, el Palacio de Hueso. Tiene cientos de sirvientes bajo su mando, e incluso más personas bajo su influencia.
---
Through centuries many have tried to claim the Palace of Bone for themselves. For within lies ancient treasures, powerful spell scrolls, and long-buried secrets. Djinn Muriat repels each one. The most powerful to have tried was the great serpent dragon Gamadan the Earthquake. It slithered its way into the palace, consuming all of Djinn Muriat's soldiers that stood before it, until it came to the throne room itself. Djinn Muriat killed it in a single blow, and now has its skull mounted above his throne.

A lo largo de los siglos, muchos han tratado de reclamar el Palacio de Hueso para sí mismos. Porque dentro se encuentran tesoros antiguos, poderosos pergaminos de hechizos y secretos enterrados durante mucho tiempo. Djinn Muriat repele a cada uno. El más poderoso que lo intentó fue el gran dragón serpiente Gamadan the Earthquake. Se deslizó hasta el interior del palacio, consumiendo a todos los soldados de Djinn Muriat que estaban frente a él, hasta que llegó a la sala del trono. Djinn Muriat lo mató de un solo golpe y ahora tiene su cráneo montado sobre su trono.
---
Many powerful people seek an audience with the dark Djinn, hoping to exchange favors and get access to his magic. But Djinn Muriat manipulates each deal, wish, and exchange. And through the years he's controlled kings, emperors, and sorcerers.

Muchas personas poderosas buscan una audiencia con el Djinn oscuro, con la esperanza de intercambiar favores y obtener acceso a su magia. Pero Djinn Muriat manipula cada trato, deseo e intercambio. Y a través de los años ha controlado reyes, emperadores y hechiceros.
---
While Djinn Muriat rarely leaves the Palace of Bone, when he does it is a monumental occasion. The ground shakes as he walks, and the shadows coil around him like snakes. Any in close proximity hear whispers in the air that drive the weak-minded mad. Djinn Muriat has been known to walk directly to the fortresses of his enemies, or the lairs of great monsters that oppose him, and deal with them single-handedly.

Si bien Djinn Muriat rara vez abandona el Palacio de Hueso, cuando lo hace es una ocasión monumental. El suelo tiembla mientras camina, y las sombras se enroscan a su alrededor como serpientes. Cualquiera que esté cerca escucha susurros en el aire que vuelven locos a los débiles de mente. Se sabe que Djinn Muriat camina directamente a las fortalezas de sus enemigos, o a las guaridas de los grandes monstruos que se le oponen, y se ocupa de ellos sin ayuda de nadie.
---
Throughout the centuries Djinn Muriat has earned many nicknames. "The Nightmare in Bone", "He on the Skull Throne," and "The Conjurer of Death".

A lo largo de los siglos, Djinn Muriat se ha ganado muchos apodos. "La Pesadilla en los Huesos", "El en el Trono de la Calavera" y "El Prestidigitador de la Muerte".
---

---
Soldiers raced to the battlements, the moonlight glinting off silver armor. Commands were shouted and weapons dispersed. No one was prepared for this assault. And it was clear on each soldier's face. The fear and the shock.

Los soldados corrieron hacia las almenas, la luz de la luna se reflejaba en las armaduras plateadas. Se gritaron órdenes y se dispersaron las armas. Nadie estaba preparado para este asalto. Y estaba claro en la cara de cada soldado. El miedo y el shock.
---
Those that stood on the battlements could look across the flat plain before them, veiled in the darkness of the night. But only miles away a figure was barely perceptible. A massive creature walking towards them. Even from this distance, the ground shook with the creature's footfalls.

Los que estaban en las almenas podían mirar a través de la llanura ante ellos, velados en la oscuridad de la noche. Pero solo a millas de distancia una figura era apenas perceptible. Una enorme criatura caminando hacia ellos. Incluso desde esta distancia, el suelo tembló con las pisadas de la criatura.
---
"What is it?" one soldier gasped, clutching his shield tighter.

"¿Qué es?" un soldado jadeó, agarrando su escudo con más fuerza.
---
All eyes turned to the captain of the guard. A woman who had roamed the wastes of Mortis and defeated great monsters. A single scar ran across her face, and her expression was hardened. She was a woman of great respect, that was already written in the histories as a hero of renown.

Todos los ojos se volvieron hacia el capitán de la guardia. Una mujer que había vagado por los páramos de Mortis y derrotado a grandes monstruos. Una sola cicatriz atravesaba su rostro y su expresión se endureció. Fue una mujer de gran respeto, eso ya estaba escrito en las historias como una heroína de renombre.
---
But at the sight before her, she paled. "He has come. The Nightmare in Bone."

Pero ante la vista ante ella, palideció. "Él ha venido. Pesadilla en los huesos".
---
All on the battlements knew they would not live to see the dawn.

Todos en las almenas sabían que no vivirían para ver el amanecer.
---





It is very interesting to begin to know everything related to this great card game, little by little I will be sharing more beings living in splinterlands so that together we can increase our knowledge about the history within the splinters. I hope you like this post, good vibes 🖖🏼.

Es muy interesante empezar a conocer todo lo relacionado con este grandioso juego de cartas, poco a poco iré compartiendo a mas seres habitantes de splinterlands para que juntos podamos incrementar nuestros conocimientos sobre la historia dentro de los splinters. Espero que este post sea de su agrado, buenas vibras 🖖🏼.


MANY THANKS / MUCHÍSIMAS GRACIAS






All images and texts cited in this publication are my own authorship.

Todas las imágenes y textos citados en esta publicación son de mi propia autoría.

---
---