Splinterlands Dilemma - Why did I win a Sea Monster v Sea Monster battle?
Splinterlands is a NFT powered decentralized blockchain game created in 2018. The multiplayer fantasy digital collectible trading card game provides 1v1 monster battles from various splinters: Fire, Earth, Water, Life, Death, Dragon, and neutral mercenaries. It's one of the best Play2Earn blockchain games, and one of the fastest growing games by number of players.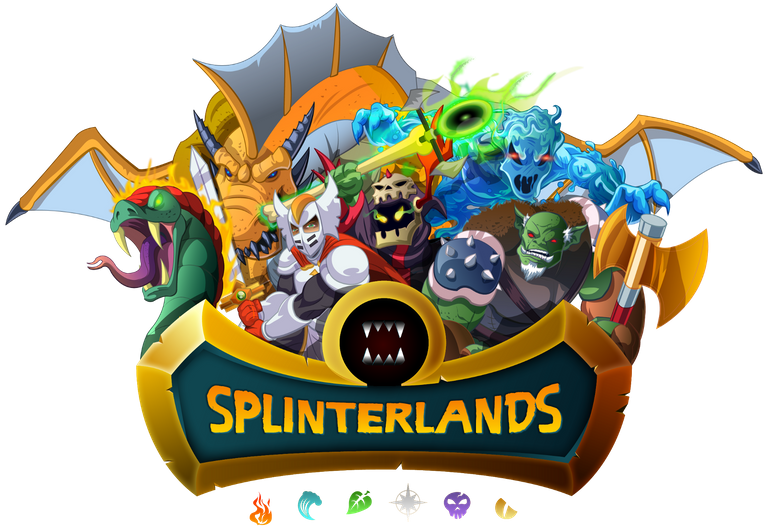 I started playing Splinterlands on 26th of December 2020, and months after I still struggle. I already played 3366 games and won only 1404 , which is less than 42%. However, proud to have a 10 battles win streak as the longest unbeaten run. Only have few upgraded cards and only four summoners upgraded at level two. I managed to reach Silver II once but lately I struggle to finish the season at Bronze I for some unknown reason.
The game strategy, deck value and mechanics will determine the winner but what if the two teams are identical? Then luck, random events and a series of unexpected events will decide the outcome of the battle. But .... with so many options of summoners and cards feels impossible to have two identical teams! Well ... here's the proof that nothing is impossible! 
Team details and battle rules
True Aim with 14 mana cap, meaning that all ranged and melee attacks will always hit their targets. The game didn't load properly and when it did I had only 6 seconds left. I done a quick selection and pressed "Battle" and rushed so much that I didn't added the Furious Chicken in the squad.
Bortus (summoner): -1 Spell Power to enemy monsters
Sea Monster - Main Tank with Heal
Crustacean King - Support  card with Heal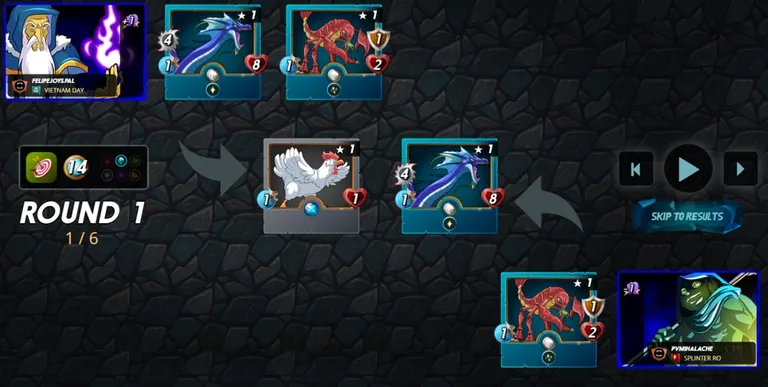 The enemy team had Alric Stormbringer as a summoner, which adds one spell power to the friendly team, so his effect was nullified by Bortus. Anyway, the spell power didn't mattered as no one had spellcasters in the team. He had the same team I had, plus the Furious Chicken. From the start, I wasted one attack on the chicken and I didn't have a chicken in my team to use as decoy. It went all level up to Round 3, with both Sea Serpents at full health!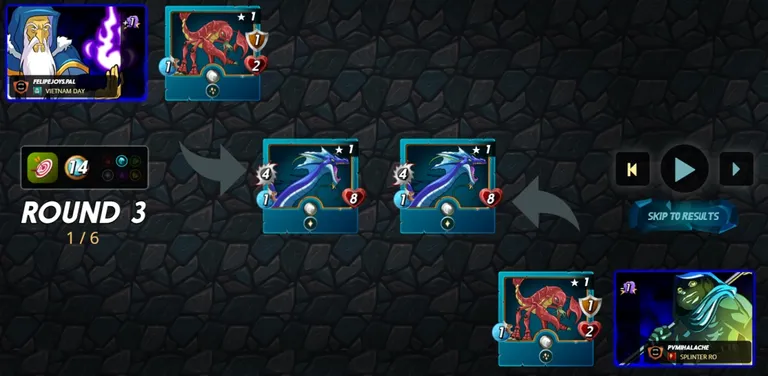 Thinks were looking gloom and doom at the start of the next round, with my Sea Monster down to 2 Health Points. If the Crustacean King heal will not sync with the Sea Monster's heal, then the next enemy attack will be a killing blow! 
I was lucky and I survived, then I went back to 2 HP with the opponent at full health, and survived again. If this was tennis... I just saved two match points. During Round 6 the battle flipped and it was my opponent who was at 2 HP, hoping to avoid a killing blow!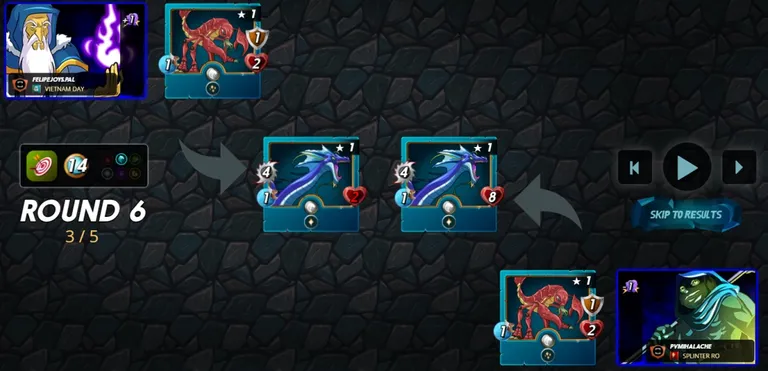 The enemy hit and healed but surprisingly his Crustacean King didn't followed. My Sea Monster was healed by the magic lobster and I was expecting this action to be mirrored by the opposite team but ... it didn't happened! My monster landed the blow with surgical precision and was now game, set and match! See the full battle here!
Luck is part of the game and part of life! I was close to lose the game twice and ended up winning it a battle which I started as underdog. With all monsters set at 1 speed, a clear order was missing, making it hard to predict the outcome. Splinterlands is great because it's fun and unpredictable!

Residual Income:
DeFi bounty at ++CakeDeFi++ with $30 DFI for new users
The fountains: PipeFlare ZCash, GlobalHive ZCash & Get.ZEN
Publishing bundle: Publish0x, ReadCash, LBRY & Presearch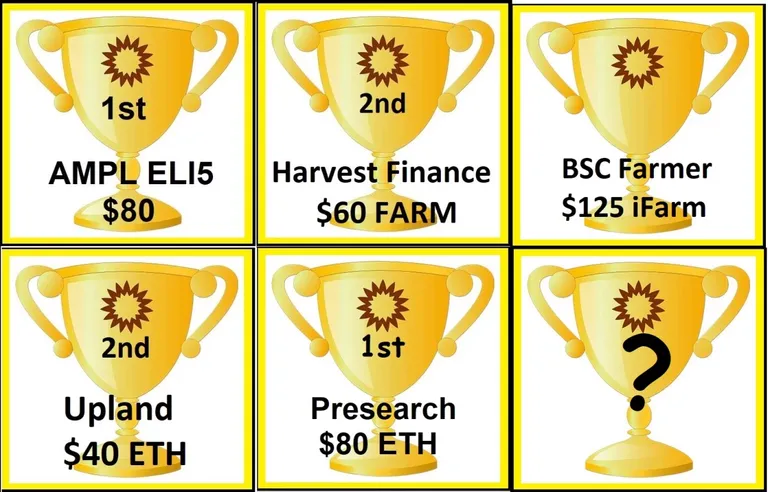 ---
---